There's little doubt that Australia plays host to some of the most fantastic and diverse tourist destinations in the world.
Yet as such a huge country, with everything so spread out, getting between these beautiful locations can be an issue.
Cue: a good road trip!
Campervans are one of the easiest and cheapest ways to see Australia as they have a bed, mini-kitchen and living area all combined, ready to go and under cover.
However, their downside is that they do limit drivers to sealed roads only.
This can make getting away from the crowds to some of Australia's more unusual destinations hard.
However, if you're keen to get off the beaten track and travel more independently, perhaps to reach some of the country's more unique spots, then fear not!
Here are 7 unusual places to visit in Australia that you can easily explore with your campervan.
---
Related Posts
---
This page contains affiliate links meaning Big World Small Pockets may receive a small commission on any purchases at no extra cost to you.
---
#1 Cooktown
If you're looking for the perfect remote experience from your Australian road trip, then you must make a serious effort to explore Cooktown, which is located in the famous Cape York region of Queensland.
This town is one of the best places to visit in Australia for history and nature lovers, especially those who enjoy exploring marine heritage and beautiful beaches.
With sealed roads all the way, Cooktown is an awesomely far-flung destination you can still explore without a 4wd.
And, with plenty of caravan parks that allow visitors to spend a few precious nights here, it's a perfect destination to visit with a campervan.
If you are planning on heading to Cooktown, then there are some great walks to enjoy there, as well as an amazing view from the lighthouse and one of the best museums in Australia.
For more ideas, check out my list of the 10 best and cheap things to do in Cooktown, or read about our time there in week 7 of our budget road trip around Australia.
#2 Agnes Water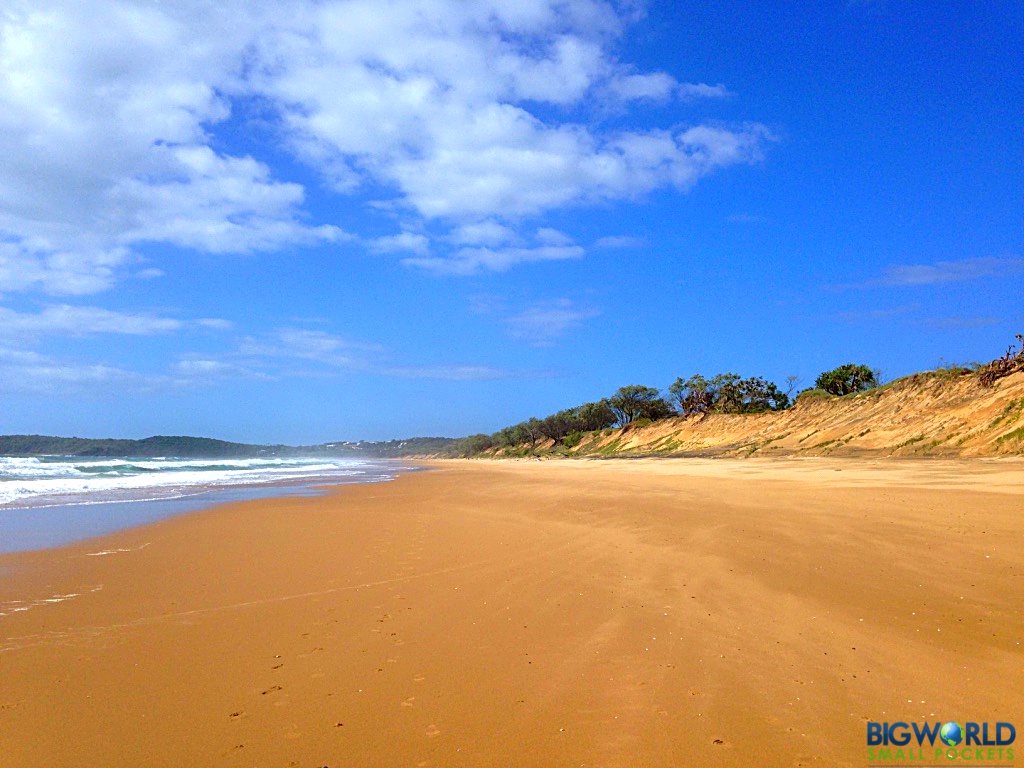 The little town of 10 Best Free Things to Do in Agnes Waters in Queensland is definitely one of the best places to visit in Australia with a campervan!
With stunning beaches, great surf and a small community, it is the perfect, relaxed road trip stopover, where you can easily kick back for a few days … or weeks!
The nearby, and rather strangely named, enclave of 1770, is also worth a visit. This is where Captain Cook first stepped foot on Queensland soil and the town is named after the year in which this took place.
Whilst the towns of Agnes Water and 1770 are on the tourist map, they are hardly major destinations – as such, do expect some other tourists, but don't expect crowds. That is, apart from the last weekend in May when the towns celebrate the landing of Captain Cook with a great festival. Things can get pretty busy then!
There are a ton of campsites to spend the night at in the Agnes Water / 1770 area, including Agnes Water Caravan Park, right on the beach, and the brilliant Workman's Beach Camp Ground, which costs only $7 AUD p/person a night – bargain!
Check out week 2 of great budget road trip around Australia when we visited Agnes Water / 1770 to find out what we enjoyed doing there.
#3 Port Macquarie
If you are someone who loves sun, sea and sand, then Port Macquarie in New South Wales, is one of the best places to visit in Australia for you!
This quieter city between Brisbane and Sydney makes the perfect road trip stopover between these larger destinations and is a much more relaxed place along the popular east coast route.
Once at Port Macquarie, you can enjoy dolphin watching, sunbaking, swimming and even try your hand at the most iconic Australian sport – surfing.
I completed my second-year farm work near Port Macquire and absolutely loved the place, so it does come highly recommended!
The city also offers you with some of the most beautiful sunrise views over the ocean. With great cafes, lovely promenade strolls and a friendly community, Port Macquarie is one of those wonderfully different places to visit in Australia with a campervan.
5 ESSENTIAL PACKING ITEMS FOR AUSTRALIA
#1 Good Camera – You will be pretty much snapping non-stop in Australia and will need a good camera to do this gorgeous country justice. I highly recommend the Sony A6000, which I use for all my travels and love, not least because it's light, compact and robust!
#2 Good Walking Shoes – There will be a lot of walking in Australia – from cities to national parks! Make sure your feet are comfortable therefore with a pair of New Balance Trainers. Perfect for stylish strolling, I love mine.
#3 Good Guidebook – I'm still a massive fan of the Lonely Planet Guidebooks and do think their Australia edition is well put together.
#4 Good Water Bottle – Travelling in hot old Australia can be thirsty work, so make sure you have a metal water bottle that you can refill as you go, because tap water is drinkable… and free!
#5 Good Sun Hat – And there's no denying you'll need a good sun hat for protection in Australia too. In my opinion you can't go past this Hello Sunshine one, which is both gorgeous and ideal for keeping the rays off your face.
#4 Carnarvon Gorge National Park
Tucked away in Queensland's Central Highlands, this remote national park is certainly one of the most unusual places to visit in Australia with your campervan, and perfect if you want a bit of adventure!
Filled with amazing hikes, swimming holes and wildlife, Carnarvon Gorge is a lush, tropical paradise in an otherwise dry and semi-arid area of Australia.
Coming to this national park with a campervan is a great idea, as the only accommodation provided here is either in campgrounds or rustic cabins. Take your pick from a range of 3 accommodations on offer and then settle in for a few days to truly relish the stunning part of the country.
Top picks including getting up early to complete the dawn walk to Bulimba Bluff and cooling down in the afternoon with a swim in the rock pool.
Just make sure to time your visit here well – the middle of summer can be scorching hot and very wet, while the middle of winter can get very cold!
Check out week 1 of great budget road trip around Australia to read about our adventures in Carnarvon Gorge National Park.
#5 Broome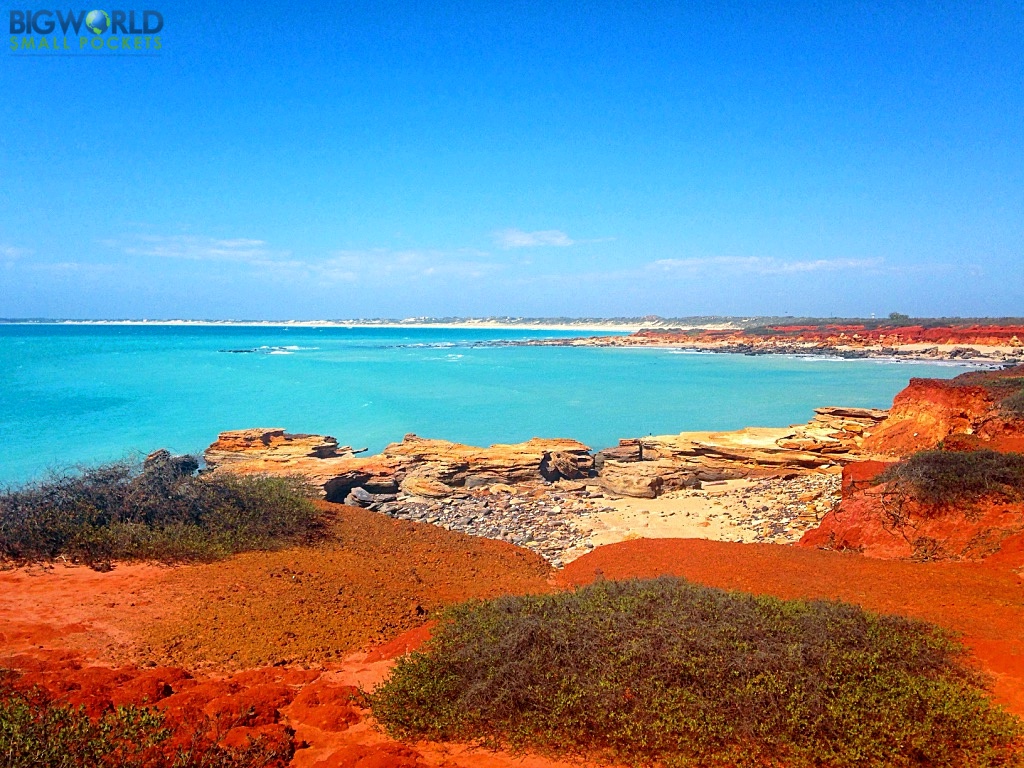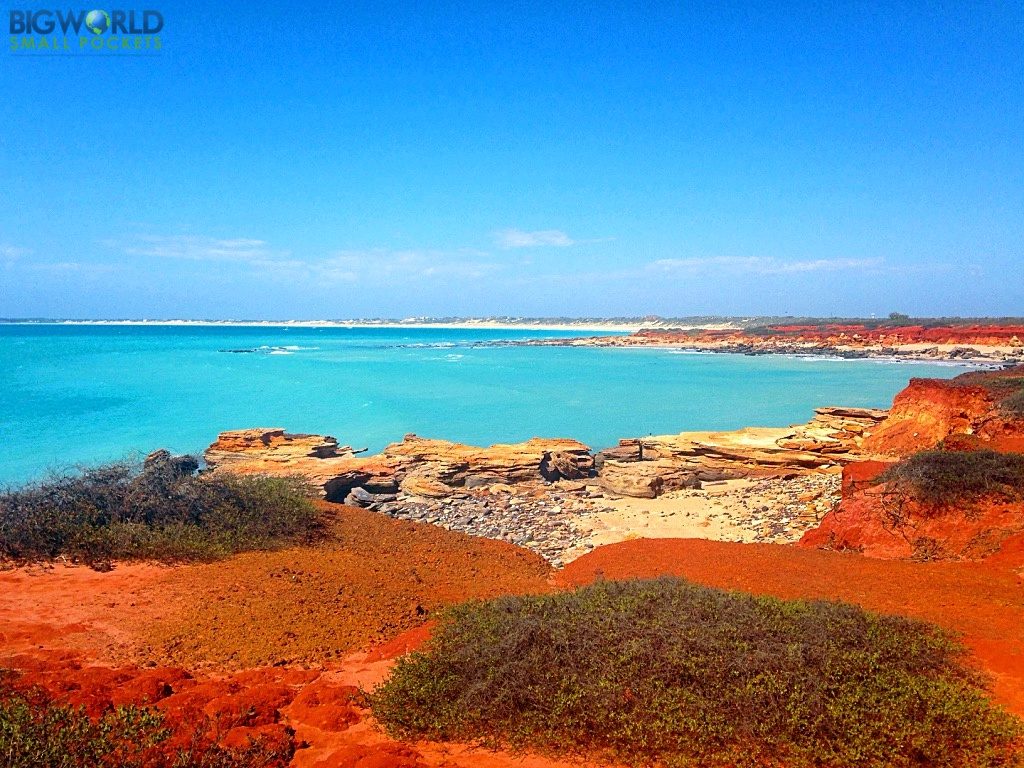 Over on the west coast, the tropical town of Broome is definitely one of the most unusual, but incredible places to visit in Australia with your campervan.
High up in the Kimberley region of the state, this remote town is a pretty long way from anything else, which means it's a heck of a long road trip to get here. However, make the effort and you're likely to be rewarded by discovering your new favourite place in Australia!
Famous for its epic sunsets, incredible beaches and whale-watching opportunities, life is really all about the great outdoors in Broome. And what an outdoors!
The colours of this Outback town are hard to believe, as red cliffs, meets white sand, meets bright blue ocean!
Temperatures are high throughout the year in Broome, but the best time to visit is during the winter months of May – October when you can still swim in the sea without the risk of deadly box jellyfish! You've also got less chance of experiencing a cyclone at this time of year, which is an added bonus!
From Cable Beach to Town Beach, it's all about relaxing in Broome, so trust me when I say, there's few places to visit in Australia where you'll enjoy doing nothing more!
Here's my guide to the best things to do in Broome.
#6 Nitmiluk National Park
Nitmiluk National Park, formerly known as Katherine Gorge National Park, is located in the Northern Territory of Australia and is definitely one of the more unique places to visit in Australia with your campervan.
When it comes to wildlife, this park incorporates a wide range of wallabies, snakes and crocodiles. It is also home to a sacred aboriginal site and a powerful spiritual location for these traditional owners.
Driving to Nitmiluk National Park via campervan is an awesome road trip, as this park is very much located within Outback Australia. Red dirt, picture-perfect blue skies and many of the icon Australian sights, such as termite mounds and country pubs, will greet you along the way.
Once there you can enjoy kayaking, hiking and even scenic helicopter flights, which give you a great birds-eye view of this breathtaking gorge. Nearby Edith Falls are also well worth checking out for a night or two.
Check out week 10 of great budget road trip around Australia to see what we got up to at Nitmiluk National Park.
#7 Daintree Rainforest

Located on the northeast coast of Queensland, Australia, the Daintree Rainforest is one of the most amazing rainforests on the entire planet.
Offering some amazing and unique natural attractions, such as Mossman Gorge, this magical place also boasts a rich cultural heritage passed down by the traditional owners who have lived here for tens of thousands of years.
Located north of Cairns, the Daintree Rainforest is remote and requires a ferry crossing to access it. But, as the road is fully sealed the whole way along, it is one of those perfectly unique places to visit in Australia with a campervan.
Once at the Daintree, you can explore unique plants, trees, butterflies, bats, frogs and birds, take guided tours from local elders or explore yourself via signed walking trails.
There's a wide range of places to sleep overnight in your campervan near the Daintree too. Which is why I voted it one of the top destinations for your North Queensland holidays.
My personal favourite is the nearby town of Port Douglas which has a number of caravan parks, but also local backpacker hostels that provide facilities too. Cape Tribulation, north of the Daintree, is also a stunning spot to spend the night.
Wherever you decide to stay, you should definitely spend a number of days exploring this beautiful rainforest and its surrounds.
If you're looking to get a great deal on an Aussie Camper, then definitely check out Discovery Campervans.
They compare prices on all the leading campervan companies in Australia to help you find you the best deal where you need it, when you need it!
They even have Price Match Guarantee, so if you find a cheaper price on an identical campervan anywhere they'll match it.
LIKE IT? PIN IT!
So those are my 7 unusual places to visit in Australia with your campervan.
Have you visited any of these spots?
If not, hopefully you'll find yourself at one or other of them soon!