Well, of course, the answer to the question of how much an Australia road trip really costs, is how long is a piece of string?!
Because, depending how long you travel for, where you travel to, how far you travel, what style of travel you like and what type of vehicle and set-up up you've got, the costs are going to vary wildly on your Australian road trip!
And I know that, because I've done it!
Yes almost 1 year travelling from Sydney to Perth, working along the way, I've definitely road tripped a lot of the land Down Under and seen how wildly different peoples' way of doing this are.
But let's be clear, I made this journey when I was poor – very poor already and even poorer after kitting out a Land Rover for the adventure – so my Australian road trip style was about as budget as you can get!
And that's still not as budget as I would have liked because Australia is expensive and there's no way of getting around this.
Perhaps this article should have been called "how cheaply can you really road trip Australia?" because I tried, I really tried to keep it low.
So here's the full breakdown to give you some benchmark around the minimum you can expect your Australian road trip cost to be…
Grab Your Copy of How to Road Trip Australia on a Budget
My ultimate guide to road tripping Australia on a shoestring is now available, meaning you can finally get ALL my top tips for driving around all, or parts, of this amazing country in one handy eBook, including…
Full Planning & Preparation Guides
Day by Day Itineraries & Routes
Complete Packing & Gear Lists
Top Money-Saving Tips & Hacks
---
Related Australia Road Trip Posts
---
This page contains affiliate links meaning Big World Small Pockets may receive a small commission on any purchases at no extra cost to you.
---
My Australian Road Trip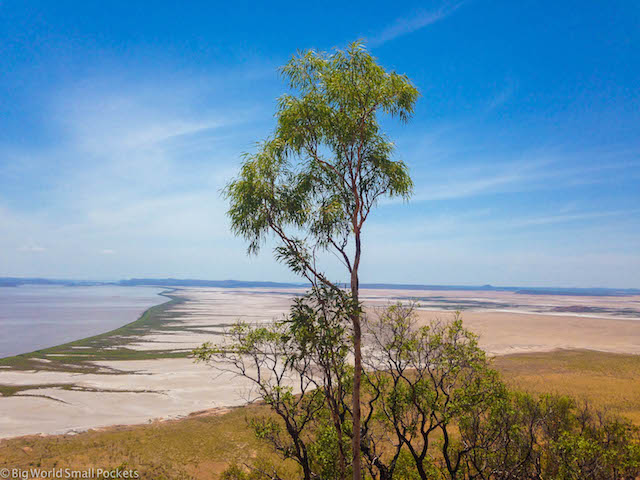 Although I had previously travelled in and around Australia a lot, for the sake of this post, I'm going to be talking about the Aussie road trip adventure I undertook when I packed up my life on the east coast, quit my job and the rental lease I had and embarked on, with my partner at the time, a big 4wd budget road trip.
We travelled in an old Land Rover, which we'd fitted with a roof rack and a rooftop tent among a whole heap of other modifications. We kept the backseats of the vehicle in place, and all our possessions, as well as our camp kitchen, were placed in the trunk / boot / backdoor area which we fitted with drawers and shelves.
The aim was to keep costs down by being able to sleep in / on the vehicle, as well as being able to travel anywhere as a self-compact unit, without having to worry about towing things or going off road / off-grid.
This huge, mammoth journey began in Sydney, and took us up the coast of New South Wales, into Queensland, up to Cape York, across to Darwin, then to Broome and finally down the West Coast, actually as far as Albany in south WA, before we backtracked and settled in the most awesome place we'd encountered on the way – Fremantle – taking us up to an estimated total of 21,230km.
By this point, we had largely run out of money and were tired of living in a 4wd after almost a year of doing so.
During these 12 months, we had paused our journey and worked along the way numerous times, with the biggest stop being in Magnetic Island for 3 months, where we managed a guesthouse.
When we weren't stopped and working, we moved fast, travelling great distances and driving at least a bit most days as we tried to stay ahead of the weather. In an average week we drove 817km!
By this I mean, we desperately wanted to catch the cooler, dry season up north, which runs largely from May to September and then get out of there before cyclone season began in November.
Once you hit the tropics in Queensland – largely by the time you get to Rockhampton / Yeppoon – you actually realise that it's a heck of a long distance to cover until you are spat out the other end of the tropics between Carnarvon and Exmouth… and you better get your foot down!
If you want to see a lot as we did too, then you've got to cover the distance in Australia because, as you probably know, and especially up north, there can be a whole of nothing in between!
We also picked up other travellers at various points (a reason we left the backseats of the Land Rover in, rather than give ourselves more space) to split fuel costs with them, which helped stretch our budget a little bit more.
So that's the trip – a big 4wd extravaganza roughly from Sydney to Perth – and here's how much it cost…
The Overall Budget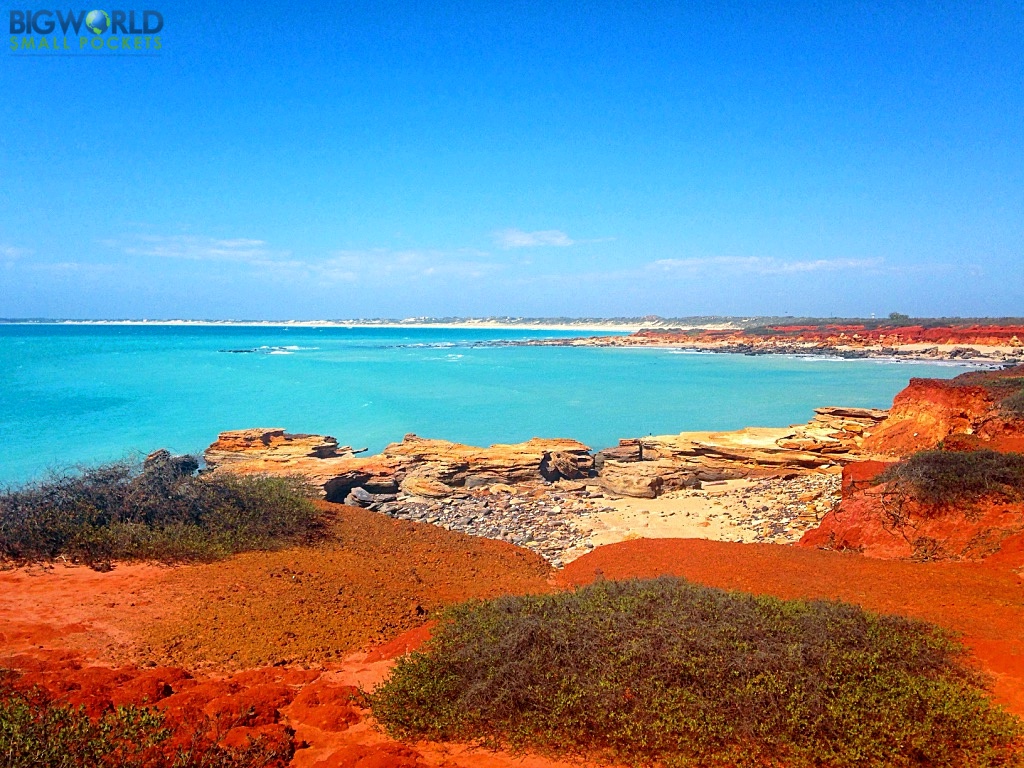 The budget I kept when trying to calculate how much an Australian road trip costs, was based on 2 people, trying to do everything as cheaply as possible (include eating… or not!) and living full time out of a Land Rover fitted with a rooftop tent so we could free camp as much as possible.
Prices are given in Australian Dollars and costs accounted for in the budget include:
Fuel
Groceries & Food
Camping Fees & Accommodation Costs
Insurance & Vehicle Registration
Coffee & Drinks
Equipment
Tours, Activities & Entertainment
National Park Permits & Attraction Entrance Fees
Laundry
Car Ferries
Vehicle Parts / Hardware and Repairs / Services
This budget doesn't include the amount it cost us to buy or set up the Land Rover, which it must be said was considerable, even though we fitted it ourselves and bought many things on sale or second hand on Gumtree.
It also doesn't include the fact that we left for our road trip well stocked with gear, cleaning products, clothes, equipment, supplies, tools and spares. The cost of buying all this in advance definitely saved us money on the road, but again were part of a significant initial outlay I've not included here.
However, the budget does include some of the repair work we had to do along the way, as I think this is quite typical of long, Australian road trips.
The budget also doesn't include the months we were stopped in one place working, it only includes the time we were actually on the road, which was 26 weeks – exactly 6 months.
During this time, as I mentioned, we moved quite fast, trying to beat the weather largely.
Obviously, if you stay in places for a long period of time your costs are likely to be lower – mostly because you won't be outlaying on the fuel – but it will take you longer to get around Australia, making your road trip costs greater in total too – it just depends how you balance it out.
So the total cost for 2 people, road tripping Australia for 26 weeks in NSW, QLD, NT and WA was… $21,513 AUD.
That's just under $1 per km.. not bad!
This is obviously shared between 2 people, but it's worth remembering that even if you are travelling alone, the big budget items of fuel and vehicle repairs / parts / services will be the same.
You can see the full breakdown of costs at the end of this article…
Your Australia Road Trip Budget
As I said at the start of this article, this is the absolute minimum I think you should set aside, as I honestly don't think we could have done it cheaper!
We free camped a heck of a lot, we picked up other travellers to keep costs low, we never ate or drunk out in cafes and restaurants (cooking for ourselves and stocking up cheaply in major towns) and we took hardly any fancy tours or visited expensive attractions, preferring to hike, swim, relax in nature and spend time in national parks away from towns where we could.
The blog also began growing during this trip and I started getting some free accommodation and excursions, which aren't included in the budget either.
What all of this means is that you should probably budget more!
Depending on your travel style, eating / drinking out, staying in caravan parks, enjoying guided excursions and paying entrance fees to attractions will drastically hike your budget.
Even if you plan to do it as cheaply as possible like us, remember that you will want to spend some nights in caravan parks – even if it is to charge your batteries (both metaphorically and literally) and you will want some nights out for entertainment and fun.
Factor these in!
If you don't have an old vehicle like us, or you have lady luck on your side, the area you may spend less than we did is in vehicle parts, repairs and services… but more about this later!
5 ESSENTIAL PACKING ITEMS FOR AUSTRALIA
#1 Good Camera – You will be pretty much snapping non-stop in Australia and will need a good camera to do this gorgeous country justice. I highly recommend the Sony A6000, which I use for all my travels and love, not least because it's light, compact and robust!
#2 Good Walking Shoes – There will be a lot of walking in Australia – from cities to national parks. Make sure your feet are comfortable therefore with a pair of New Balance Trainers. Perfect for stylish strolling, I love mine.
#3 Good Guidebook – I'm still a massive fan of the Lonely Planet Guidebooks and do think their Australia edition is well put together.
#4 Good Water Bottle – Travelling in hot old Australia can be thirsty work, so make sure you have a metal water bottle that you can refill as you go, because tap water is drinkable… and free!
#5 Good Sun Hat – And there's no denying you'll need a good sun hat for protection in Australia too. In my opinion you can't go past this Hello Sunshine one, which is both gorgeous and ideal for keeping the rays off your face.
Fuel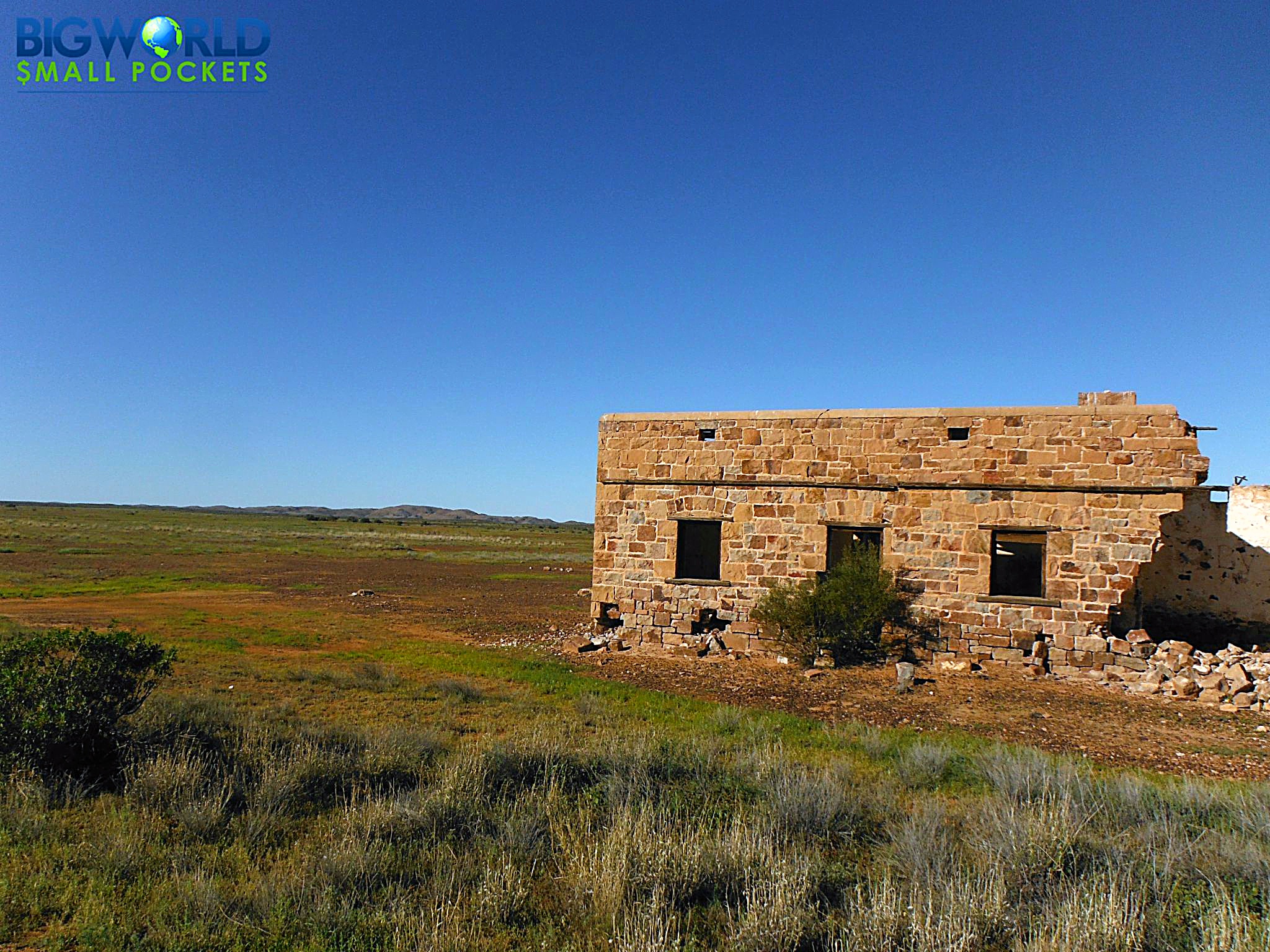 Fuel was our third biggest single cost, amounting to roughly $4,350 AUD across 26 weeks at an average of 817 km/week.
Obviously, this cost will fluctuate largely based on the distance you will travel, where you travel, the weight of your vehicle and what you may / may not be towing, the vehicle's fuel consumption rate, whether you use unleaded or diesel and the state of the roads as well as the humidity and weather in general.
Our laden-down diesel TD5 Land Rover was certainly not the most economical or environmentally efficient vehicle. It guzzled more juice in the humidity of the tropics, and the remote parts of Australia we travelled did not lend themselves to cheap fuel prices!
We did save money however by using the Coles / Woolworths discount coupons wherever we could and by picking up other travellers to help us with fuel costs too.
You could save money on fuel by carrying less weight onboard, having a more efficient vehicle, travelling less distance, driving on sealed roads in more populated areas of Australia where fuel is cheaper due to greater concentration of, and therefore competition among, service stations.
Groceries and Food
Groceries and food was our second biggest single expense, coming in at $5,491 AUD for 2 people over 6 months.
As I mentioned before this was all grocery shopping – we never ate out during our road trip and I wasn't drinking during the trip either, so there's barely any alcohol costs here .
I was a vegan during the trip, so there are no meat / fish / dairy / egg costs for 1 person here either.
That said, we were / are both fanatical about healthy eating and so we never bought the cheapest packaged food available – instead opting for lots of fruit and veg, nuts and seeds, whole grains, organic pulses and health foods such as tahini and organic peanut butter.
This means our grocery budget wasn't as cheap if you live off white sliced bread, baked beans and processed cheese, compared to avocados, sourdough and vine-ripened tomatoes!
Not drinking alcohol however saved us a lot of money.
So did cooking for ourselves, largely facilitated by the fact we had a fridge and gas cookers onboard with us.
To save money, we would normally shop for a whole week when we visited a large town with a decent supermarket and then not go to the shop again for 7 days to avoid the temptation to unnecessarily squander our budget.
We designed the fit-out of our Land Rover with this in mind, allowing a lot of place for dry and fresh food storage! We had a huge 75l fridge, which we bought second hand for $500 AUD and was the best decision ever!
I honestly don't think we could have spent less on food short of eating less (not possible for us!) and buying poorer quality food (also not possible!)
Camping Fees and Accommodation
This was the fourth biggest expense at $1,965 AUD.
Over 6 months for 2 people, that's nothing! Compare that to the price of your rent or mortgage!
Of course the cost of the rooftop tent, which came in at around $6000 if you include the roof rack and awning (which we got at a bulk price on sale) is not included in this price, but still, this initial outlay saved as a lot of money.
We were determined to free camp as much as we could to keep costs down on our Australian road trip, as we figured we couldn't lower the fuel prices or the food costs more than we did, but we could opt to rough it more and spend less on accommodation.
Using the Wikicamps app (which cost a bargain amount of $8 AUD), we found many great free camps, especially in the Northern Territory and saved a ton of cash this away.
We could do this, of course, because we were totally self-sufficient in terms of our vehicle and set up – we even had a solar-panel and inverter on board to charge up our electrical devices.
Obviously, as we travelled the more crowded east coast and then again the more populated areas of the west coast, the amount of free camps reduced and the price of caravan parks went up.
This is also true if you travel the north in high season (June – Sept) when the caravan parks are full and quoting premium rates!
Travelling in low or shoulder season, travelling in more remote parts and free camping as much as possible will help you keep your accommodation and camping fees low.
Do remember that in some places like Broome or Uluru or Darwin, for example, there aren't any free camps for miles around and you will have to fork out for a caravan park at the least.
It's also worth remembering that at least once a week, you might also want to splash out on a stay in a caravan park, if only to use the laundry facilities, the wifi, the pool and the power!
Insurance and Vehicle Registration
We got our insurance through RACQ and also bought their top Ultra Care Roadside Assistance package, which is a one-off annual subscription.
Given the value of what we were carrying on aboard (our whole lives!) we saw this as a good investment… and it was!
When we broke down in the Territory or needed spare parts shipped to us, the Ultra Care Roadside Assistance package paid its way and more!
Customer service was excellent and I couldn't fault them.
If have insurance with RACQ, you can get a discount on the Roadside Assistance too.
Overall, we spent $1219 AUD on insurance and vehicle registration over the course of a year.
Other Costs
Our other costs, which included coffee and drinks, the equipment we needed to buy, tours, activities & entertainment, national park permits and attraction fees as well as laundry and some car ferries we needed to take, were low for us.
I've explained why in the sections above, but basically we didn't spend much on these items, limiting them where we could, and the total for all of them over 26 weeks was $1714 AUD.
Vehicle Parts / Hardware and Repairs / Services
Ha ha, well what do you know!
The largest single cost during the Australian road trip we undertook was on vehicle parts, repairs and services we had to do!
This is what happens when you travel thousands of kms along unsealed, badly corrugated roads in an overweight old vehicle.
In the end we spent $6774 AUD in this area.
NEARLY A THIRD OF OUR WHOLE BUDGET!
To be fair, some of this was on car fluids, new bulbs, bolts and screws, car washing and new tyres – all of these you are likely to need to replenish during any long Australian road trip.
However some were major expenses, like when we blew a hole in radiator in the middle of remote Arnhem Land and had to be towed for hundreds of kms, before having to wait in Darwin for a week for new parts to be shipped from South Australia.
We also had to replace a gearbox in Karratha.
If you have a Toyota, repairs and parts will be a lot easier and cheaper, because they are way more common out here than British cars, but it's always going to cost you a lot when things go wrong and accidents happen!
You should always budget some extra cash for these, especially if you plan to be in remote areas a lot where the price of mechanics is eye-watering enough before you even start factoring in the parts!
Hopefully you won't have to use that money on boring things like repairs and can save it for more fun things instead, but either way, having an emergency kitty is definitely a good idea for your Australian road trip costs.
The Budget Breakdown
And so here's how our final Australian road trip costs looked:
| | | |
| --- | --- | --- |
| General Expenses | | |
| Fuel | | $ 4,349.70 |
| Groceries & Food | | $ 5,490.94 |
| Camping Fees & Accommodation Costs | | $ 1,965.30 |
| Vehicle Insurance & Registration | | $ 1,218.76 |
| Coffee & Drinks | | $ 235.50 |
| Equipment | | $ 629.78 |
| Tours, Activities & Entertainment | | $ 255.13 |
| NP Permits & Attraction Entrance Fees | | $ 256.64 |
| Laundry | | $ 64.35 |
| Car Ferries | | $ 273.08 |
| Expenses Total | | $ 14,739.18 |
| | | |
| Vehicle Expenses | | |
| New Tyres | | $ 690.98 |
| New Parts | | $ 2,958.46 |
| Servicing & Repairs | | $ 2,635.19 |
| New Hardware | | $ 386.19 |
| Car fluids | | $ 103.46 |
| Vehicle Total | | $ 6,774.28 |
| | | |
| | | |
| Overall Total | | $ 21,513.46 |
And so there you have it, the answer to how much an Australian road trip really costs.
Or as I like to think this article shows you "how cheaply can you really road trip Australia?"
And the answer, if you don't breakdown, is pretty freaking cheap!
Have you road-tripped Australia?
How much did you spend?
Join the discussion in the comments below…
PIN IT TO PINTEREST!