If there's one Australian movie that really puts a place on the map, it has to be the film Red Dog, for which Karratha and its neighbouring town of Dampier is famous for.
The movie – a lighthearted, family comedy about a famous dog that used to reside in / roam around this part of the country – is not the best film ever made, but it certainly does capture something of the country town atmosphere this Outback town still has in abundance.
Located in the remote Pilbara of Western Australia – south of Port Hedland and Karijini National Park – Karratha is the main town in an area, which covers several settlements stretching from Point Samson and Wickham in the northeast to Dampier in the south.
When exploring this region, it's easy to base yourself in one place and travel to the surrounding areas in quite a short space of time, so I've decided to include all the towns under the blanket term of Karratha for this purpose of this post.
With our 4wd breaking down just outside of Karratha (something to do with a flywheel and a clutch, don't ask!) we actually ended up spending over a week in this town (where most people only spend a day or 2) and, as such, got to know it quite well!
Yes if truth be told, we really have explored the length and breadth of this part of Western Australia and here, to prove it, are the top 10 free things to do in Karratha.
Grab Your Copy of How to Road Trip Australia on a Budget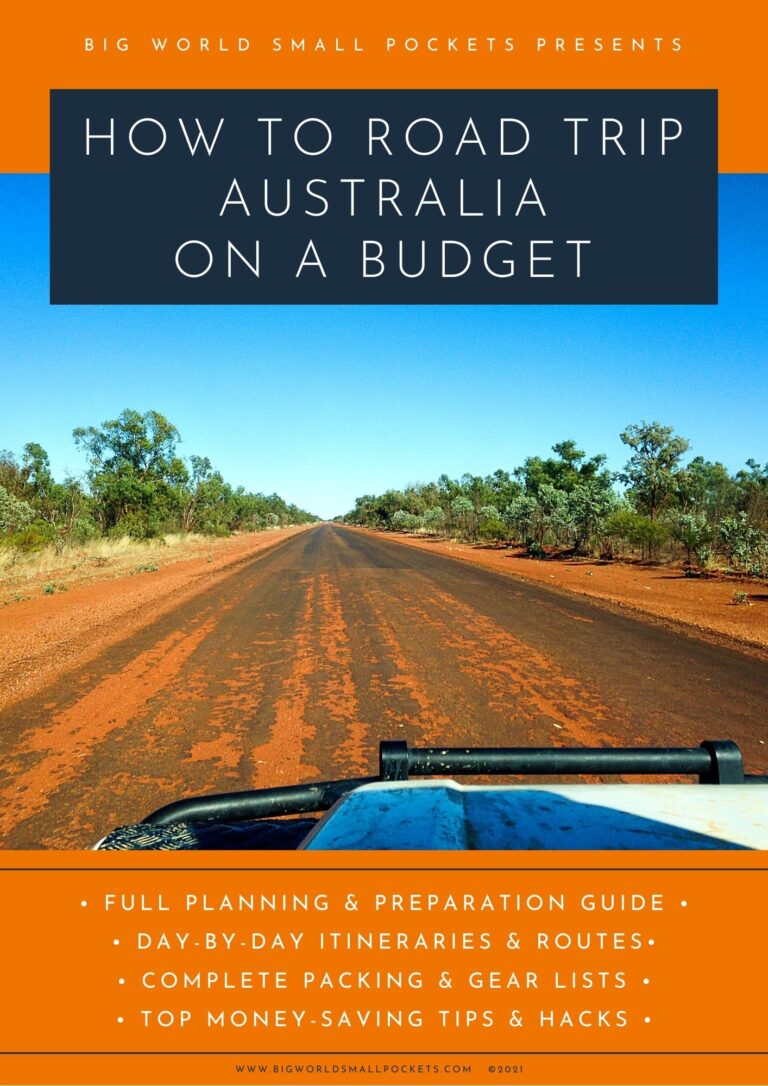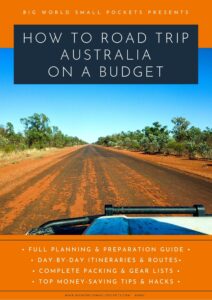 My ultimate guide to road tripping Australia on a shoestring is now available, meaning you can finally get ALL my top tips for driving around all, or parts, of this amazing country in one handy eBook, including…
Full Planning & Preparation Guides
Day by Day Itineraries & Routes
Complete Packing & Gear Lists
Top Money-Saving Tips & Hacks
---
Related Posts
---
This page contains affiliate links meaning Big World Small Pockets may receive a small commission on any purchases at no extra cost to you.
---
#1 Snap a Selfie with Red Dog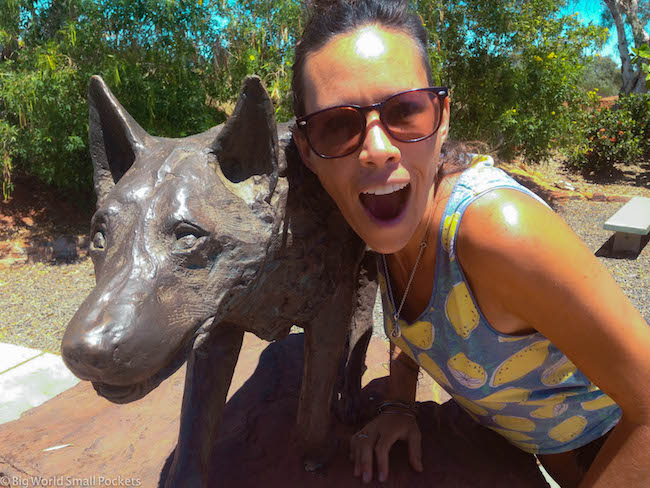 The dog that made this town famous actually has his own statue!
I'm not surprised really, given Australia's love of random monuments (think: the big banana!) – and grabbing a selfie with this famous of all Australian dogs is a really fun, free thing to do in Karratha!
#2 Discover Deep Gorge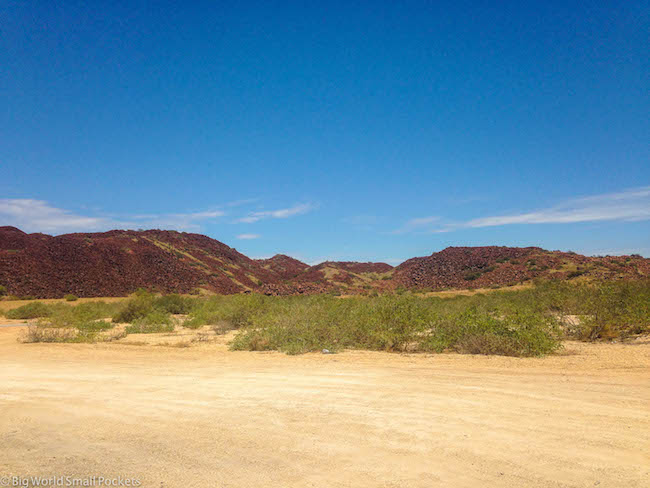 Deep Gorge is recognised as one of the most important Aboriginal rock art sites in Australia with tens of thousands of engravings having been found here.
Getting to see them does take some walking over large granite boulders, which can be a little rocky underfoot, but you really need to go into the creek bed to discover the best of the artwork.
Testimony to the 30,000 year history of the Indigenous people in the Pilbara, the etchings here are considered to be among the earliest examples of art in the world and generally depict fauna, animal tracks and figures.
#3 Marvel at Hearson's Cove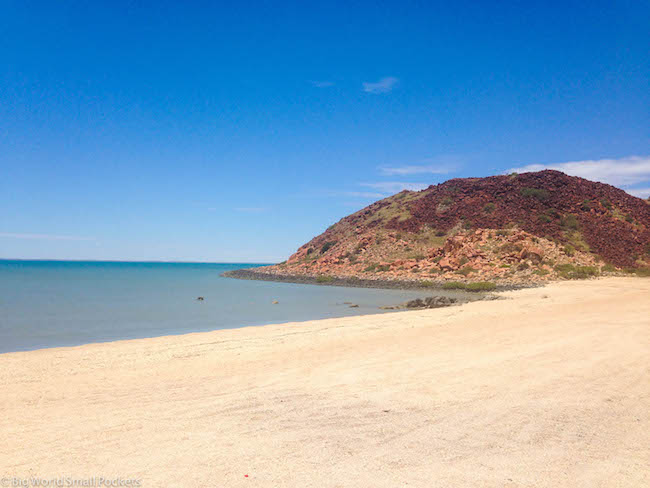 We actually ended up being in Karratha over my birthday and I was delighted that we managed to get to the area's most beautiful spot on my special day.
Hearson's Cove is a gorgeous beach located on the Burrup Peninsula, largely made my millions of tiny shells, the colour of the water here is magical.
#4 Visit 40 Mile Beach & Miaree Pool
Otherwise known as Gnoorea Point, 40 Mile Beach sits about 60km south of Karratha, but is definitely one of the best free things to do in the area.
An excellent day trip, with some great safe swimming available and some awesome fishing (if that's what you're into), heading here is a must.
Slightly closer to town is Miaree Pool, only about 30km south of Karratha, which you can easily combine with a trip to 40 Mile Beach.
Miaree Pool is a great natural swimming hole and makes for the most refreshing dip on a hot 40 degree Karratha day!
#5 Swim at Python Pool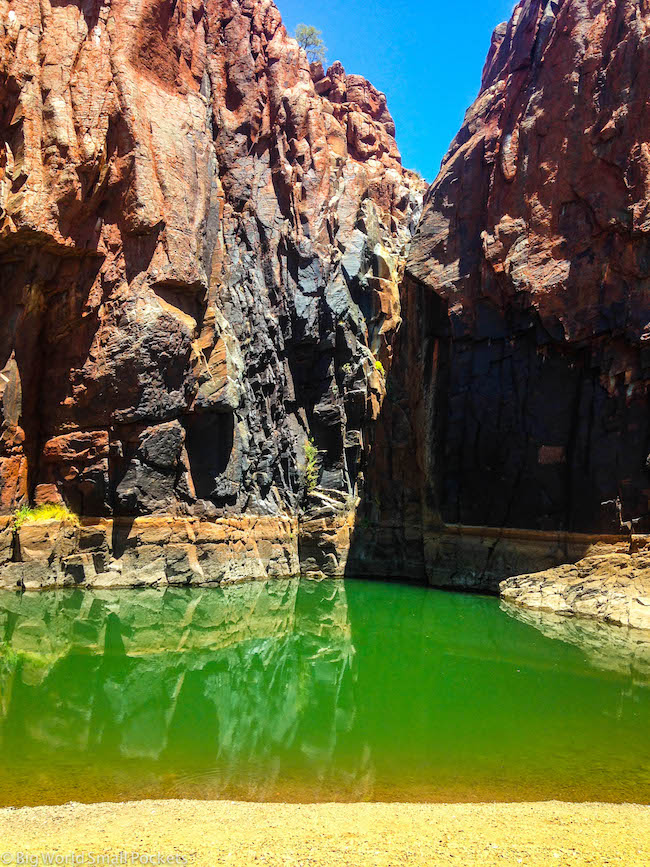 Another great out -of-town swimming spot is Python Pool, which we actually visited on our way back from Karijini National Park to Karratha.
A permanent freshwater plunge pool at the base of an epic cliff face, the colours of this water really have to be seen to be believed.
Python Pool is a great picnic spot if you're on your way to Millstream-Chichester National Park too and stopping here, even for a photo, is definitely one of the best free things to do in Karratha.
5 ESSENTIAL PACKING ITEMS FOR AUSTRALIA
#1 Good Camera – You will be pretty much snapping non-stop in Australia and will need a good camera to do this gorgeous country justice. I highly recommend the Sony A6000, which I use for all my travels and love, not least because it's light, compact and robust!
#2 Good Walking Shoes – There will be a lot of walking in Australia – from cities to national park! Make sure your feet are comfortable therefore with a pair of New Balance Trainers. Perfect for stylish strollling, I love mine
#3 Good Guidebook – I'm still a massive fan of the Lonely Planet Guidebooks and do think their Australia edition is well put together
#4 Good Water Bottle – Travelling in hot old Australia can be thirsty work, so make sure you have a metal water bottle that you can refill as you go, because tap water is drinkable… and free!
#5 Good Sun Hat – And there's no denying you'll need a good sun hat for protection in Australia too. In my opinion, you can't go past this Hello Sunshine one, which is both gorgeous and ideal for keeping the rays off your face.
#6 Witness the Staircase to the Moon
Another one of the best free things to do in Karratha is to witness the Staircase to the Moon, a natural phenomenon also found in the Western Australian towns of Broome and Port Hedland.
Taking place when the full moon rises over the exposed mudflats at extremely low tide, the resulting illusion that stairs reaching to the moon appear before you, is quite spectacular.
Check Australia's North West for details of the next occurrence and try to time your visit to Karratha accordingly – you won't regret it!
#8 Stroll the Yaburara Heritage Trail
Strolling some of this beautiful 3.5km walking trail in the hills behind the Karratha Visitor Centre was part of my daily morning routine for the time we were in town.
Barren and bleak, there is nevertheless a real beauty in this lunar-like landscape and the community walking trails that run through it are very well put together.
There are 4 different short trails you can follow, or you combine them all together to make the 'Long Loop Trail'.
Providing panoramic views of the town and highlighting the distinct geology, flora and fauna of the area, this is definitely one of the best free things to do in Karratha.
#9 Spot the Wildflowers
Like most of the Pilbara region, Karratha is home to the most spectacular array of wildflowers during the months of June through to August.
The way in which these bursts of colours form such a dramatic contrast to the harsh, red earth here really is amazing and driving around Karratha makes them easily visible.
My favourite has to be the red Sturt's Desert Pea, which is so highly unique-looking you can't miss it!
THE BEST KARRATHA ACCOMMODATION

We stayed in the Discovery Parks – Karratha and loved it!

Check out the Econo Lodge Karratha or the Dampier Mermaid Hotel, which also get good reviews.
#10 Explore the Living Ghost Town of Cossack
With its National Trust-listed heritage buildings, Cossack feels like a land where time stopped, a glimpse into a colonial past.
Once a busy port town and pearl diving centre, today it's all but abandoned with only its distinctive bluestone architecture buildings remaining.
Desolate since 1950, the beautifully restored heritage buildings here and the 6km heritage trail, definitely make exploring this ghost town one of the best free things to do in Karratha.
PIN IT TO PINTEREST!
Having spent over a week in Karratha during our road trip around Australia, we really got to know the places and the best free things to do there!
But please let me know if you have any suggestions to add to the list.
I'd love to hear them!