If you're planning to travel from London to Munich by train, then first up, congratulations! This is a fab decision if you're trying to reduce your carbon footprint and travel in a more sustainable way.
I've done it myself and can now bring you all the best ways to get from the English capital to the capital of Bavaria in Germany.
Whether you want to do this solely by train or by ferry too, in the quickest time or for the least amount of money, here's the 4 best ways to travel from London to Munich without flying…
---
Related Posts
---
This page contains affiliate links meaning Big World Small Pockets may receive a small commission on any purchases at no extra cost to you.
---
#1 Eurostar & TGV
Fastest Way to Travel from London to Munich
Taking under 12 hours if you time the connections correctly, this Eurostar + TGV connection is definitely the fastest way to get between London and Munich.
The first step is to catch the Eurostar from St Pancras in London to Gare du Nord in Paris.
The journey time is just over 2 hours – remember you'll then arrive in France, which is an hour ahead!
From Gare Du Nord, you'll then need to walk a short distance (less than 1km) to Gare de l'Est.
From here, you can then catch the high speed, double-decker (duplex) TGV train to Germany straight from Paris.
There's 1 direct train daily here (which doesn't require you to change in Stuttgart) and this is the option I recommend you try to catch for the smoothest journey to Munich.
On Monday through Friday, catching the 10:22 Eurostar will allow to you board the 15:55 TGV Duplex direct to Munich.
You'll arrive then into the Bavarian capital at 21:36.
If you decide to take another Eurostar option, then you can still catch the TGV Duplex from Gare de L'Est to Stuttgart (which takes just over 3 hours).
In Stuttgart Hbf, you'll then need to change onto another train to Munich Hbf.
There's lots of on this route and journey times are under 2 hours.
You can book tickets for the whole train journey from London to Munich using Trainline – which makes things really straightforward as you can compare connections and pay in either GBP, USD, or EUR.
Alternatively, you can book journeys separately through Eurostar direct and then buy your tickets for the TGV using Bahn.de.
You can get the cheapest tickets for this route, which start from around 100€, when booked in advance
I highly recommend booking a top deck seat for the TGV Duplex from Paris to Stuttgart / Munich as this will allow you the best views.
The other great news is that the trains from London to Munich are electric, which means they have a low carbon footprint.
Given the fact that it's also fast, pleasant, stress-free and relatively good value, the Eurostar + TGV is a great all-round option for making this journey.
Learn more in this post I wrote about catching the train from Paris to Munich.
#2 Eurostar & ICE
Most Frequent Way to Travel from London to Munich
If you're looking for another train option to get from London to Munich, which has more options and can be even cheaper than the Eurostar and TGV option, then this Eurostar and ICE combination is a great alternative.
Start by getting the Eurostar to Brussels from St Pancras London, before catching an Intercity Express train (ICE) to Cologne or Frankfurt, before changing onto another ICE to Munich.
Although there are 2 changes involved in this option, it's actually pretty straightforward.
It's also fast given that there are a large number of trains running this route, and is likely to take you just over 12 hours in total.
I'd opt for an early morning Eurostar to ensure you can make the journey in one day.
Whether you change in Frankfurt Hbf or Cologne Hbf doesn't really make any difference, just choose the connection that works best for you.
All ICE trains include power sockets and free wifi.
Sometimes the best options on this Eurostar + ICE combination may involve a night's stay in either Brussels, Frankfurt or Cologne – ideal if you want to enjoy a day in any of these cities.
For some inspiration, if this does appeal, check out these articles I've written:
The easier way to book your tickets for the Eurostar and ICE together is to use Trainline.
From London to Munich, Trainline will give you all the options via Brussels, Frankfurt and Cologne, which means you can choose the combination that works best based on price, departure time and duration.
I love how Trainline also make it super easy to compare journey options and book tickets securely in English and across a range of currencies (Euros, British Pounds and US Dollars).
Trainline also have a great app, which allows you to not only book tickets on the move, but also store your e-tickets (doing away with the need to print anything out or waste time at the station) and use their journey planner – essentially letting you know if your train is on time, late etc.
Basically, Trainline makes life so easy for international travellers that they are well worth the 1-2€ booking fee in my opinion.
You can also book tickets 180 days ahead of your journey with Trainline, which is the longest lead-up time of any train booking website I've found.
Depending on the service, there's usually both flexible, semi-flexible and non-flexible tickets on offer.
#3 Night Train
Best Way to Travel from London to Munich if You Want to Explore Cologne
And talking of spending time in Cologne, if you want to explore this city and save money on accommodation, then opting for the night train from Cologne to Munich is a great option.
To follow this option, it's best to take the Eurostar from London to Brussels.
From Brussels Midi, you'll then want to catch an onward ICE to Cologne Hbf.
From Cologne, the Nightjet sleeper train departs for Munich at 22:16, arriving into the Bavarian capital at 07:09.
Depending which Eurostar and subsequent train to Cologne you catch, you can enjoy everything from 2 to 5 hours in this Germna city – the perfect time to explore the Cologne Cathedral, the Cologne Triangle and the Ludwig Museum.
The Nightjet train is operated by Railjet (a subsidiary of Austrian railway OBB).
Take your pick from ordinary seats, couchettes and sleeper cabins, which scale in price from 60€ to 160€.
As always, the earlier you book in advance, the better the prices.
Tickets go on sale 180 days ahead of departure and I recommend booking through Trainline.
In fact, you can use Trainline to book your tickets all the way through from London using this route.
When booking with Trainline, standard, unreserved seats are the norm on day trains, but you can often specify if you'd like to be forward-facing, have a window seat or be near a table / power socket.
Especially because I often like to work on trains, I find this especially helpful!
If you want to make a seat reservation for this train journey, then there's usually an additional fee.
For the night train, you should reserve your cabin choice.
I always find a couchette is a good balance between price and a decent night's sleep for me, as you get a bed in a shared cabin.
In a Nightjet couchette you get given a sheet, blanket, pillow and a small bottle of water, plus a tea or coffee in the morning.
If you need to arrange luggage storage in Cologne, then I highly recommend LuggageHero – a great left luggage app I've used across Europe myself.
#4 Train, Ferry, Train (or Car, Ferry, Car!)
Best Way to Travel from London to Munich if You Want to Avoid the Channel Tunnel or Visit Amsterdam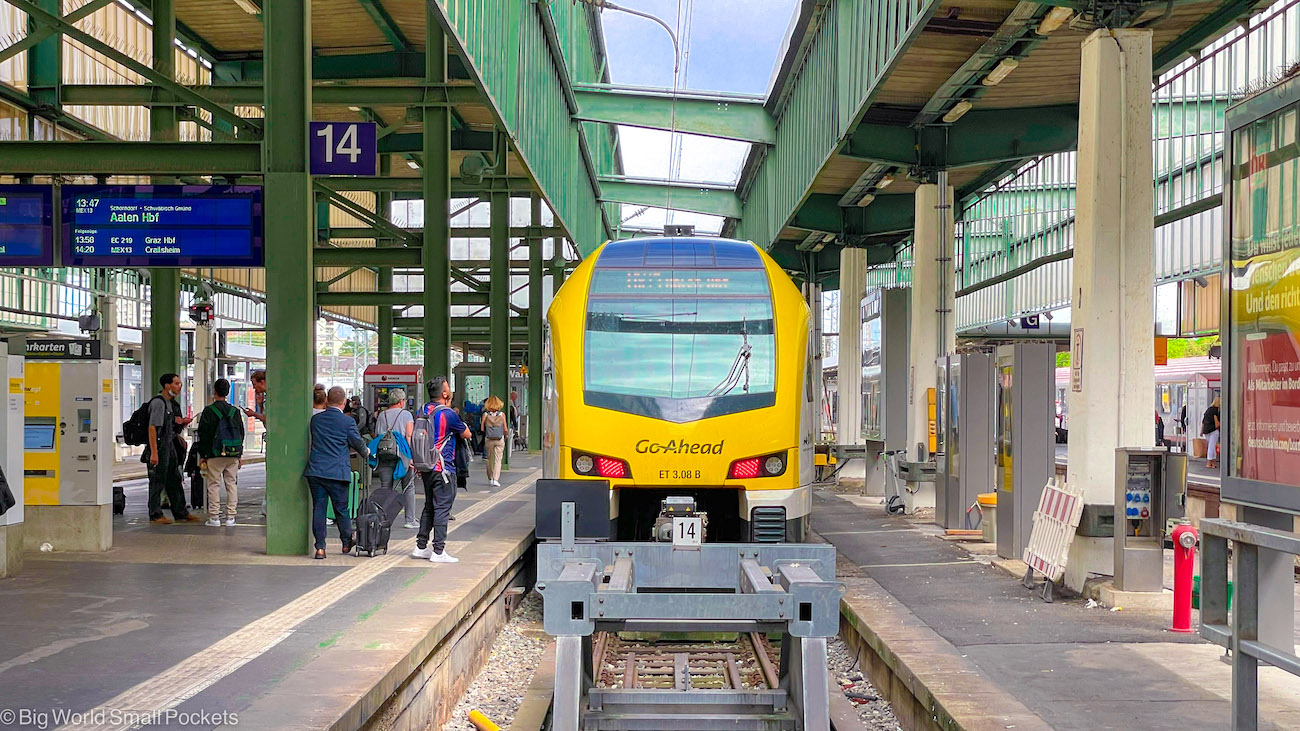 The final option for travelling from London to Munich by train is to take this ferry and train combination.
If you would rather travel by ferry across the channel, as opposed to catching the Eurostar through the Channel Tunnel, then this is the option for you!
This route is operated largely by Stena Sail and Rail.
Trains depart from London Liverpool Street direct to Harwich International in East Anglia.
Harwich train station is right across from the ferry terminal, where sailings to The Netherlands, with overnight cabins, depart at 23:00.
Private cabins include ensuite bathroom and shower facilities.
The Stena Britannica then arrives into Hoek van Holland at 08:00 and, from there, you'll need to take the metro to Rotterdam Alexander station, followed by an Intercity (IC) train to Utrecht Centraal.
You're likely to arrive into Utrecht around 10:30.
From Utrecht Centraal, you'll then want to catch an ICE train to either Frankfurt to Cologne, following the steps in sections #2 or #3 of this article to then connect with Munich via a 2 hour train ride.
You can also learn more about how to travel from Amsterdam to Munich here.
Alternatively, because Stena Ferries also accommodate cars, you can also drive to Harwich from London and then also drive from Holland onto Munich or anywhere else in Europe that takes your fancy!
Mini Travel Guide to Munich
When to Visit?
I personally recommend visiting Munich during the warmer months of the year, when sightseeing and day tripping is a lot more pleasant.
June and September are great choices when it comes to balancing crowds and prices with sunshine and good weather!
The other key time of year to spend some days in Munich is during December, when the Christmas markets are in full force and you might see some of the beautiful Bavaria under snow.
Where to Stay in Munich?
When it comes to top Munich accommodation picks, check out these great options, which include hotels, guesthouses, apartments and hostels.
Travel Insurance for Germany
World Nomads offers simple and flexible travel insurance. Buy at home or while travelling and claim online from anywhere in the world.
Alternatively, if you're a long-term traveller, digital nomad or frequent remote worker seeking travel health cover, check out Safetywing's Nomad Insurance policies.
Travel Money for Germany
When it comes to paying for things in Germany, you want to ensure you're not being charged overseas transaction fees or getting poor exchange rates when using your card abroad, which is why I always take my Wise Card away with me whenever I visit this country.
The easy way to spend abroad with real exchange rates, no markups, no sneaky transaction fees and a free Euros account, you can use your Wise card just like a debit card across Europe… and it links easily with Google and Apple pay – sold! Grab yours here.
Where to Travel after Munich?
The beautiful Austrian city of Salzburg is not far from Munich and definitely makes a great next stop.
You can learn more about travelling there in this post I wrote.
Otherwise, Vienna and Venice are 2 other superb options.
If you want to keep things within Germany, then heading to Nuremberg or Berlin are also good city options in this country.
The beautiful Black Forest area is another great choice and can be combined with a city visit to either Heidelberg or Freiberg.
SAVE THIS TO PINTEREST!
And there it is, my guide on how to travel from London to Munich without flying.
Which option are you planning to go for?
Or have you made this journey before?
Have any tips to share to help fellow travellers out?
Then please leave them in the comments box below…