Looking for the best things to do in Cologne?
Then you've come to the right place!
This bustling city, which sits on the banks of the fabulous River Rhine, is a must on your German hitlist.
Awash with creative folk, some great street art, a mighty cathedral and a fair bit of Kolsch to wash it all down with, there's no question Cologne offers a huge amount to do and see.
And to discover what this city's highlights are, here's my list of the 13 brilliant things you shouldn't miss…
---
Related Posts
---
This page contains affiliate links meaning Big World Small Pockets may receive a small commission on any purchases at no extra cost to you.
---
#1 Take a City Tour
The best way to get to know any city in my opinion is to start your first day there with a good city tour…and Cologne is no different!
Which is exactly why I'm kicking off this list of the best things to do in this city with the recommendation to book yourself onto a top-rated, guided exploration of this city.
From regular walking tours to rickshaw tours that are perfect if you're not up to walking, through to bike tours for the active looking to go further and eScooter tours that are heaps of fun, there's tons of superb Cologne city tour options, so finding one to suit you should be easy!
Click the links above to see my recommend options and remember that having a local guide to tell you about the city and its history really will make a huge difference when it comes to the experience and memories you have from your time in Cologne.
#2 Climb the Cathedral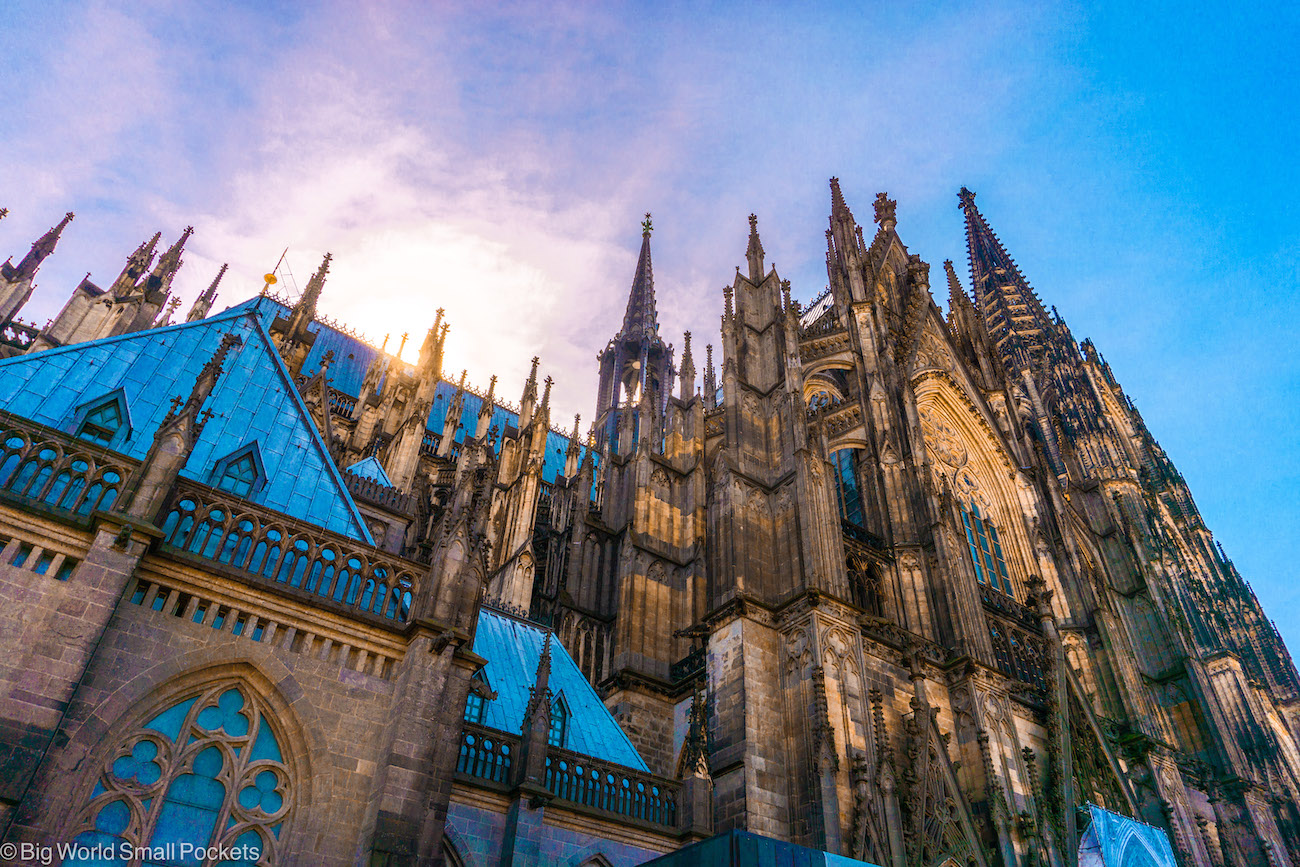 And once you're finished with your tour, there's no question the next best thing to do is to head straight for this city's iconic Cathedral.
One of the most visited landmarks across the whole of Germany, if you only visit one attraction in Cologne, let it be this!
You can either book a separate tour of the Cathedral, which runs every day at 3pm (more info here), or you can take yourself inside this massive church to wander the huge vaults, nave and treasury of this enormous gothic masterpiece.
Don't miss checking out the incredible stained glass windows – they're some of the oldest in Europe! – or seeing the supposed relics of the 3 Wise Men, which sit in a gold box on the high altar.
After this, it's time to climb the Cathedral Tower for superb views across the whole of Cologne.
Just beware it's a mammoth 553 steps to get up here, so make sure you're hydrated and in good health!
Learn more in this article I wrote, which contains everything you need to know about visiting and climbing Cologne Cathedral.
#3 Catch Sunset from the Cologne Triangle
Next on this list of the top things to do in Cologne, it's another great lookout point over the city… just make sure you save this one for sunset!
Many travellers make the mistake of thinking the top of the Cathedral Tower is the best place to go for golden hour views over Cologne, but they are wrong!
The best place is actually the Cologne Triangle, which is located on the other bank of the Rhine, about a 10-15 minute walk from the Cathedral.
A must on your Cologne to-do list, this top attraction only costs 5€ to get in (you need to pay in cash) and gives you a stellar sunset view over the whole city.
Learn more in this post which contains all you need to know about how to catch the best sunset from the Cologne Triangle.
#4 Check out the Melatenfriedhof Cemeter
Dating back to 1243, the beautifully landscaped Melatenfriedhof Cemetery is the resting place of many notable city residents in Cologne.
1km away from the centre, it's the largest cemetery in the city and is home to over 5000 graves.
A peaceful place to stroll, it's worth taking a tour here to learn more about the cemetery's history and inhabitants, which will greatly enhance your appreciation of the site.
This top-rated 2 hour option is the perfect choice.
Just be sure to specify you'd like an English guide.
#5 Get Your Street Art Fix in Ehrenfeld
And now onto another distrcit of Cologne, after all, getting out of the city centre is absolutely one of the best things to do here if you want a real flavour of the place.
And Ehrenfeld, undeniably the coolest area of Cologne, is a must-see!
A cultural hub, famed for its incredible array of artistic inhabitants and plethora of great street art, this district is making a big splash!
Diverse and multicultural, Ehrenfeld shot to fame following the Cityleaks Festival here in 2011.
Since then, famous graffiti artists have descended on this corner of Cologne to leave their creative mark too, and it's unequivocally a brilliant spot to visit.
Tram line 5 runs here from Cologne's main train station (Koln Hbf) and, once you arrive, you can either wander around yourself or take a brilliant street art tour of the area, like this one, which lasts 2 hours.
#6 Go Tasting at the Chocolate Museum
But back to the city centre we go now for number 6 on this list of the top things to do in Cologne.
A bit of a cheesy, or should I say chocolatey number, but if you're travelling with kids especially, then this one is bound to be a hit!
Cologne's Chocolate Museum is located on the banks of the river, at the pier head of the Rheinauhafen peninsula, in Cologne's Old Town.
Open every day from 10am to 6pm (except Mondays during Jan, Feb, Mar and Dec when it's closed), here you can enjoy a whole exhibition about the history of chocolate, as well as take a guided tour of the chocolate-making process.
Then, of course, there's the café and shop for tastings at the end!
Grab your skip-the-line tickets to Cologn'es famous chocolate museum here.
#7 Enjoy a River Cruise
With one of Europe's most famous and beautiful rivers running through its heart, there's no question taking a Rhine cruise when you're in Cologne is a must, especially during the glorious summer months!
This 3 hour harbour cruise with a guide is a top way to learn more about this city, including about the Niehl container harbour, one of Germany's largest inland harbours don't y'know!
The tour departs May through September every Wednesday, Thursday, Friday and Sunday at 2:00 PM from Konrad-Adenauer-Ufer, pier no. 10.
Book on using the link above, or wander down to the dock the day beforehand and grab your spot in person.
#8 Stroll the Riverside & Bridge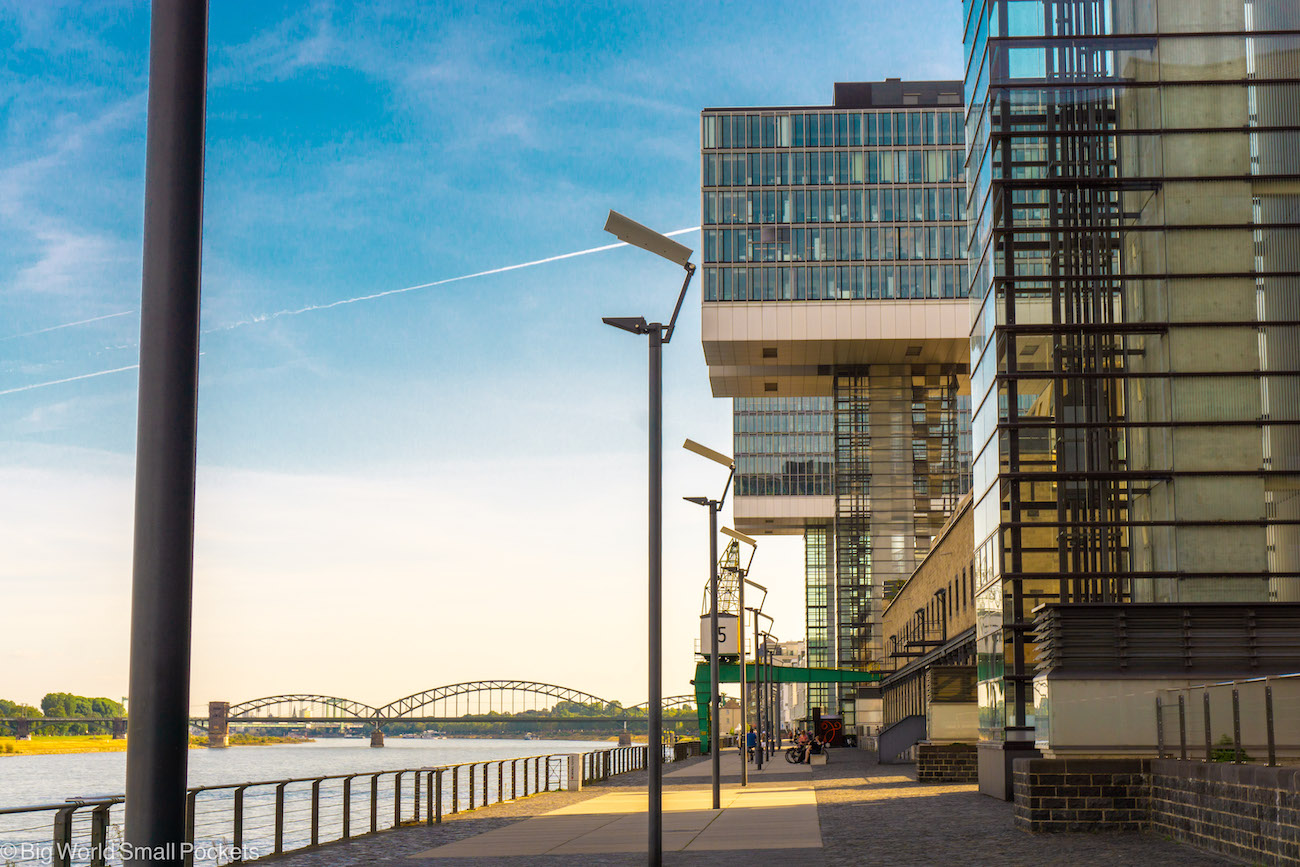 But if walking, rather than sailing, is more your thing, then strolling the riverside area of Cologne is a must.
With beautiful, pedestrian-friendly walkways and tons of cafes and eateries, the east bank is a lovely place to head in the late afternoon – perhaps before you visit the Cologne Triangle at sunset!
To get there, stroll across the city's main Hohenzollern Bridge, which runs from outside the Ludwig Museum.
Crossing here as trains rattle right past you, is an experience in itself!
Alternatively, the rapidly regenerating Rheinauhafen, on the western banks of the Rhine, is also a great place to take in some urban architecture, including some rather cool crane-shaped-buildings pictured above.
#9 Don't Miss the Mustard Museum
And right by Rheinauhafen (and opposite Cologne's Chocolate Museum more or less), is the iconic Mustard Museum.
And I say this with a tongue-in-cheek expression and a wink!
Recommend to me by a good Australian friend, I have to say that the Mustard Museum is probably the most hilarious thing to do in Cologne!
With its trad exterior and its comical offering once you step inside the door, don't expect too much from this place, but do expect comedy photo opps and, well, the chance to buy some mustard.
If you're down for that, then go!
#10 Snap the Old Market Square
But back in the heart of Cologne's Old Town now, you can't miss strolling (and snapping) the quaint former fish market, or Fischmarkt as it's called today.
Now a pleasant square with a water fountain, some gorgeous coloured old houses and a good place to stop for a drink or a bite to eat, you also can't miss seeing the gorgeous churches around here – the most of notable of which is Great St. Martin's Church.
The Old Market Square and the City Hall are also nearby and worth a look in and a snap for the gram too!
#11 Find the Unique Parts of Cologne!
Wandering a city and discovering the unknown along the way is one of my fav things to do on a sunny day… and my time in Cologne was no different!
Someone had warned me before about the slightly unique gargoyles and statues across this city, so why not see if you can spot a few as you go, especially the ones that are slightly, well, left of centre!
In particular, there's a guy really enjoying himself on the town hall, or a man taking some liberties in one of Cologne's central historic squares – I'll leave it there!
The famous Tünnes und Schäl statue is another classic to spot as you wander Cologne and don't miss the Old St Albans ruins while you're out exploring too – they make a lovely, atmospheric, hidden retreat!
#12 Visit a Museum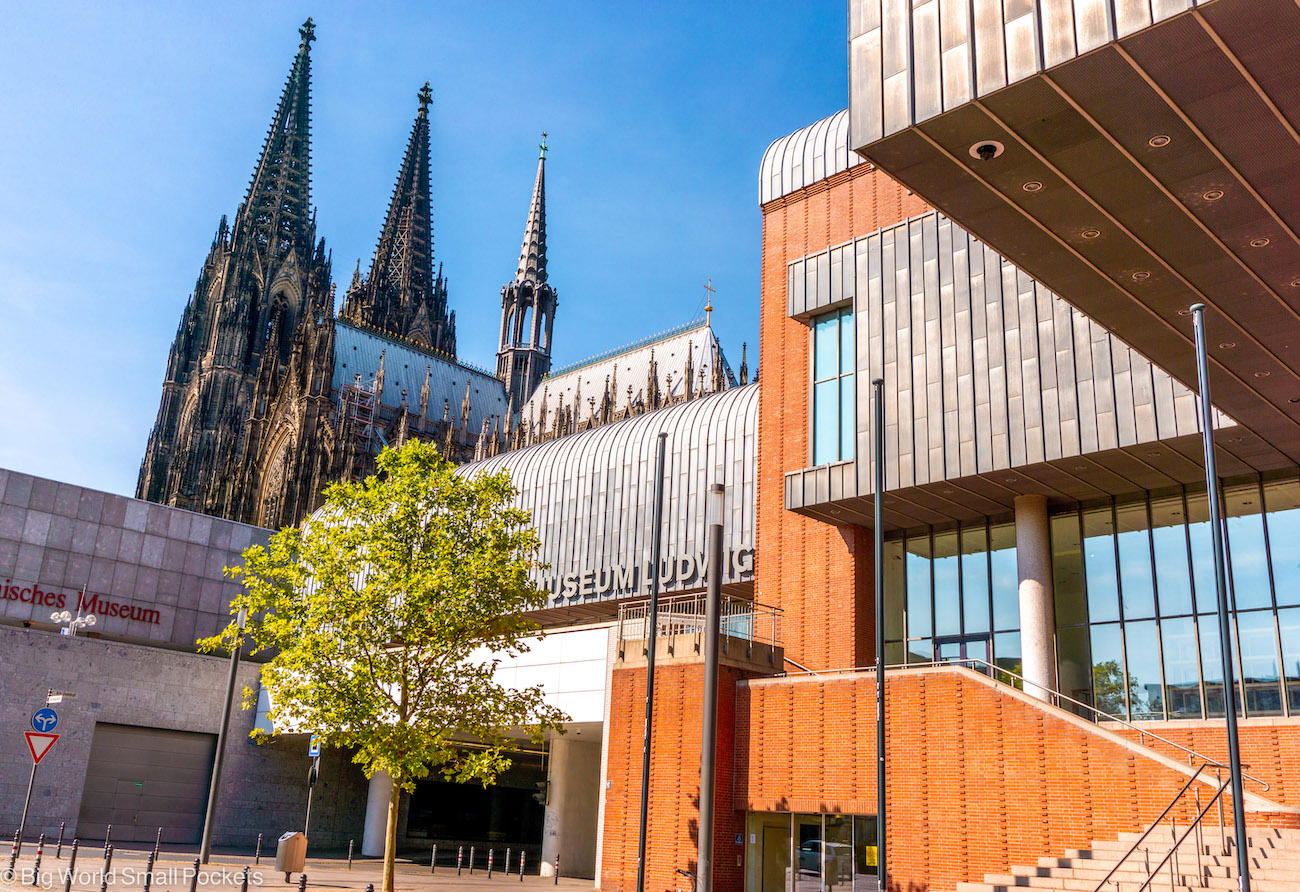 And then, in at number 12 of the top things to do in Cologne, it's an entry that probably should have come higher on this list… but there we are, I'm getting to it now!
Because predictably, but also brilliantly, Cologne is chock full of great museums and visiting at least a few of them is a must during your time here.
Top hitters are the famous Ludwig Museum, which contains some Picasso pieces, as well as the Wallraf – Richartz Museum.
Less on the radar, but still great is the Kolumba Gallery – a key spot to dodge the heavy tourist crowds.
My only other advice?
Don't visit any Cologne museums on a Monday – they are all shut, as I learnt the hard way!
#13 Get your Beer Fix at a Brauhaus
And finally, last but not least when it comes to top things to do in Cologne, it's get your beer and Schnitzel fix!
Yes yes, I know Schnitzel is originally from Austria, but the people in Cologne loved it too from what I could see, so it's going on the list ok?!
The trad beer drunk in Cologne is the Kolsch – a bright and clear beer with a straw yellow hue, which is traditionally brewed in this city.
It comes in a smaller glass than you may be used to compared to other German cities such as Munich, but is every bit as delicious!
The best place to drink a Kolsch in Cologne is in a traditional Brauhäus, or brewery restaurant, and Cologne's centre is littered with them.
Their names might seem a bit strange to you and I, because they are almost always in the local Kölsch dialect, but you can't miss these spots which jostle with punters enjoying drinks both inside during the cold winter and outside in the summer sun.
The most famous Brauhäus to try in Cologne is Früh am Dom, which is very near the Cathedral and has been running since 1904!
Don't miss the chance to try their historic brew, which has been keeping punters happy for over 100 years!
Otherwise, if you're looking for something a little more wholesome (i.e. a little less beer and meat as I was during my time in Cologne), then I can highly recommend the amazing veggie and alcohol-free spot of Sattgrün: Köln Kolumba Viertel.
Sattgrün is a chain that can be found across Germany and offer casual veggie dining in an amazing pay-by-the-plate format.
If you want to stock up on healthy food and juices, this is the place!
Cologne Mini Travel Guide
When to Visit?
I definitely recommend visiting Cologne in the summer months of June through September, when the summer weather will give the best take on this city and the best views from the Cologne Cathedral.
The other great time to visit is during December, when the famous Germans Christmas markets of this city are in full force!
How to Get to Cologne?
The international Cologne Bonn Airport is the best place to fly into if you're travelling from further afield.
As always, I use Skyscanner to find the cheapest flight deals.
Otherwise, if you're travelling to Cologne from across Germany, or a nearby country such as Belgium, the Netherlands, France, the Czech Republic or Austria, trains and buses will likely be easier.
Trainline is my go-to website for booking rail travel across Europe, because they easily compare a huge range of journeys for you based on duration, number of changes and price. You can also pay in GBP USD or EUR.
Otherwise, when it comes to budget bus travel to Cologne, it has to be Flixbus.
I've used this company and ton myself in Europe and know that it's hard to beat their incredible prices.
Learn how best to travel from Cologne to Munich here.
How Long to Spend There?
Cologne has a small city centre that you should be able to cover in a day or 2.
Where to Stay?
For a list of recommended places to stay in Cologne, check out these great options.
For budget travellers, Koncept Hotel International is a great option with both dorm and private rooms.
Travel Insurance for Germany
World Nomads offers simple and flexible travel insurance. Buy at home or while travelling and claim online from anywhere in the world.
Alternatively, if you're a long-term traveller, digital nomad or frequent remote worker seeking travel health cover, check out Safetywing's Nomad Insurance policies.
Travel Money in Germany
When it comes to getting paying for things in Germany, you want to ensure you're not being charged overseas transaction fees or getting poor exchange rates when using your card abroad, which is why I always take my Wise card away with me wherever I travel.
The easy way to spend when you're travelling with real exchange rates, no markups, no sneaky transaction fees and a free Euros account, you can use your Wise card just like a debit card here… and it links easily with Google and Apple pay – sold! Get your Wise card here.
SAVE THIS TO PINTEREST!
So that's my list of the best 13 things to do in Cologne.
Have you visited this impressive German city?
Have any other top recommendations that could help a fellow Cologne traveller out?
Then please drop them into the comments box below…