Wanting to get the train from Munich to Amsterdam? Then this post will bring you all you need to know!
2 fantastic European popular cities, there's no question that if you haven't visited either Amsterdam in the Netherlands or Munich in Germany before, that you definitely should!
The sort of destinations you can return to time and time again – or at least I find myself returning there again and again! – there's always something new to discover in these historic, yet totally different spots.
From the beautiful Bavarian centre of Munich, with its famous Oktoberfest, markets and biergartens, to the wild nightlife of Amsterdam, with its cute canals and great museums, these 2 cities make for a great pairing.
And the brilliant news is that it's easy to travel between Munich and Amsterdam by train – there's even direct night train options that don't require any changes, hoorah!
In this post, I'm going to bring you the full lowdown about which rail services to go for, how to book the best tickets and tons of other tips, so keep reading for the deets.
And then, at the bottom of the article, I've also included some info on catching the bus, driving or flying between these 2 destinations too – just in case you're considering alternatives to the train as well.
Let's get stuck in…
---
Related Posts
---
This page contains affiliate links meaning Big World Small Pockets may receive a small commission on any purchases at no extra cost to you.
---
Munich to Amsterdam: The Basics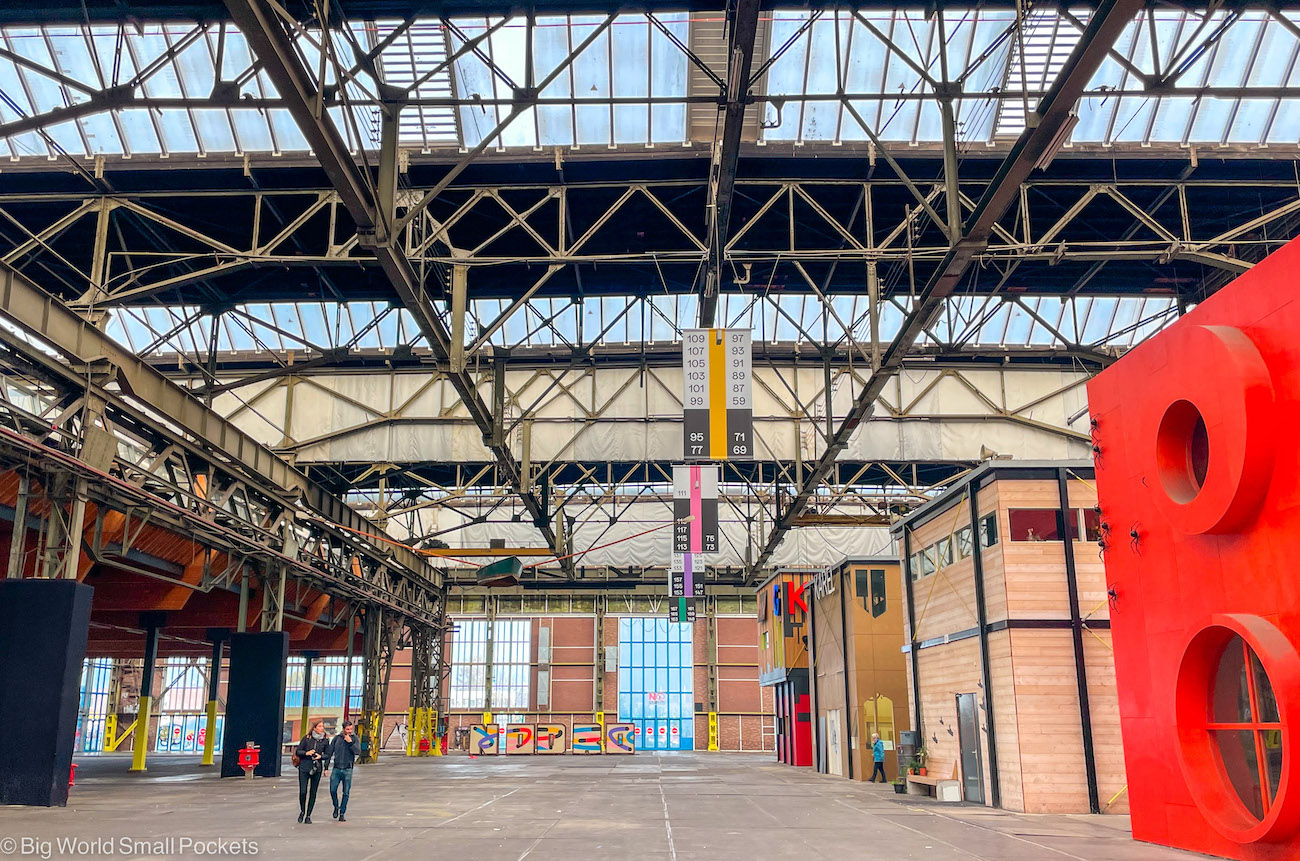 To start off, I want to give you a vague idea of distance, so that you can start to visualise the journey between these cities in your mind.
Largely speaking, it's around 800km between Munich and Amsterdam which lie in neighbouring countries, meaning there's only 1 soft EU border to cross.
For the purposes of this article, I'm going to discuss travelling from Munich and Amsterdam i.e. in the direction of south to north, but please do bear in mind you can absolutely travel the other way too.
I often get asked in which direction I recommend people travel in, but my answer is always the same… it honestly doesn't matter!
Pick the route that works best given your itinerary, your bucket list spots and the time of year you are travelling.
If you're flying in and out of Europe (or training elsewhere afterwards), then checking prices of onward journeys from each city may help sway your decision as you where you finish too.
Oh and a word of warning, Munich is spelt München in German, so don't get confused if you see this name in train and bus stations!
There are several different ways you can make the journey between Munich and Amsterdam depending on your budget, timeframe and travel style and all the details below were current at the time of publication.
That said, timetables and schedules do change, so please check Trainline (where you can also book your tickets) for the latest rail and bus info.
#1 Direct Night Trains from Munich to Amsterdam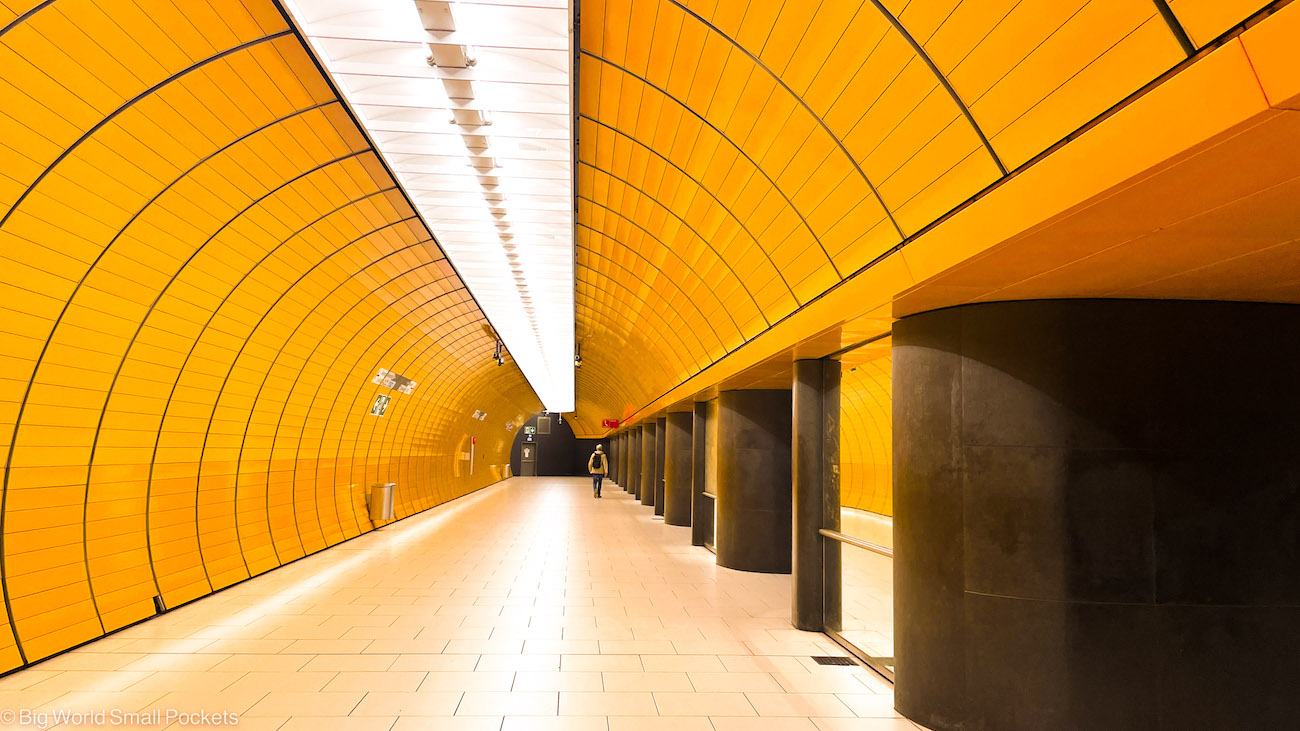 So the first thing to know is that there is roughly 1 direct service train service daily between Amsterdam and Munich, so I highly recommend getting this option if you can.
This is a night train, operated by Nightjet, which leaves Munich around 11pm and gets into Amsterdam around 10am the following morning.
Arrival times vary slightly, but in general, this is an 11hr ride.
Tickets start from around 90€ when booked in advance.
As always, I recommend Trainline for getting your tickets, as they allow you to choose from a wide range of services and you can book up to 180 days ahead of your journey.
You can also book the Munich to Amsterdam night train direct through Nightjet here.
Nightjet is a subsidiary of the excellent Austrian railway company OBB, so trains are generally clean, comfortable and punctual.
On this night train, you can choose from a seating carriage, a couchette carriage or a sleeper cabin, the latter of which are the premium option.
Prices scale according to the 3 cabin types, which are outlined below…
Seating carriages are 6 sleep compartments, so don't involve you getting a bed, but do give you access to washroom and bathroom facilities.
Couchette carriages are for 4-6 people and can be locked. Blankets, sheets and pillows are included with your reservation, as is a simple breakfast.
You can book a single couchette, or if you're travelling as a family or group, you can book the whole compartment for privacy. Designated female couchette compartments are also available.
Sleeper cabins include separate washing facilities and deluxe options even have their own private shower and toilet.
Again, beds come with sheets, pillows and blankets and the compartment can be locked for privacy. Wake up calls are available and an a la carte breakfast is served.
Taking the night train direct between Munich and Amsterdam (they also make the return journey from the Dutch capital to Munich) is a great efficient way to travel as you won't lose a day getting between the 2 cities.
Taking this train option will also save you a night's accommodation costs and with a couchette or sleeper, you are likely to get a get night's rest and arrive refreshed.
I've used night trains across Europe and love them.
More climate-friendly and less stressful than planes, night trains are also an exciting way to travel.
#2 Day Trains from Munich to Amsterdam with 1 Change
If you don't want to take the direct night train from Munich to Amsterdam, then there are also day time services that ply this route too, although these will involve you making at least 1 change.
Despite the change, many day trains are actually quicker than the night train – taking just over 8 hours – but can extend to 14 hours, so do check the journey duration before you book!
Changes on the Munich to Amsterdam route are generally either made in Hannover, Köln (aka Cologne), Nuremberg or Frankfurt.
Changes made in Cologne (Köln in German) tend to offer the quickest routes.
Prices start from 35€ when booked well in advance, but can go up to 90€, so it pays to be organised!
Most of these services are operated by Deutsche Bahn (DB), the German national rail company.
These are the best options if you want to take a train during the day, because they tend to utilise ICE trains that have a restaurant car, power sockets at all seats and free WiFi.
Some DB services also use slower IC trains however, and other routes between Munich and Amsterdam are operated by Regiojet, not DB, so again check the details before you book.
#3 Trains with Multiple Changes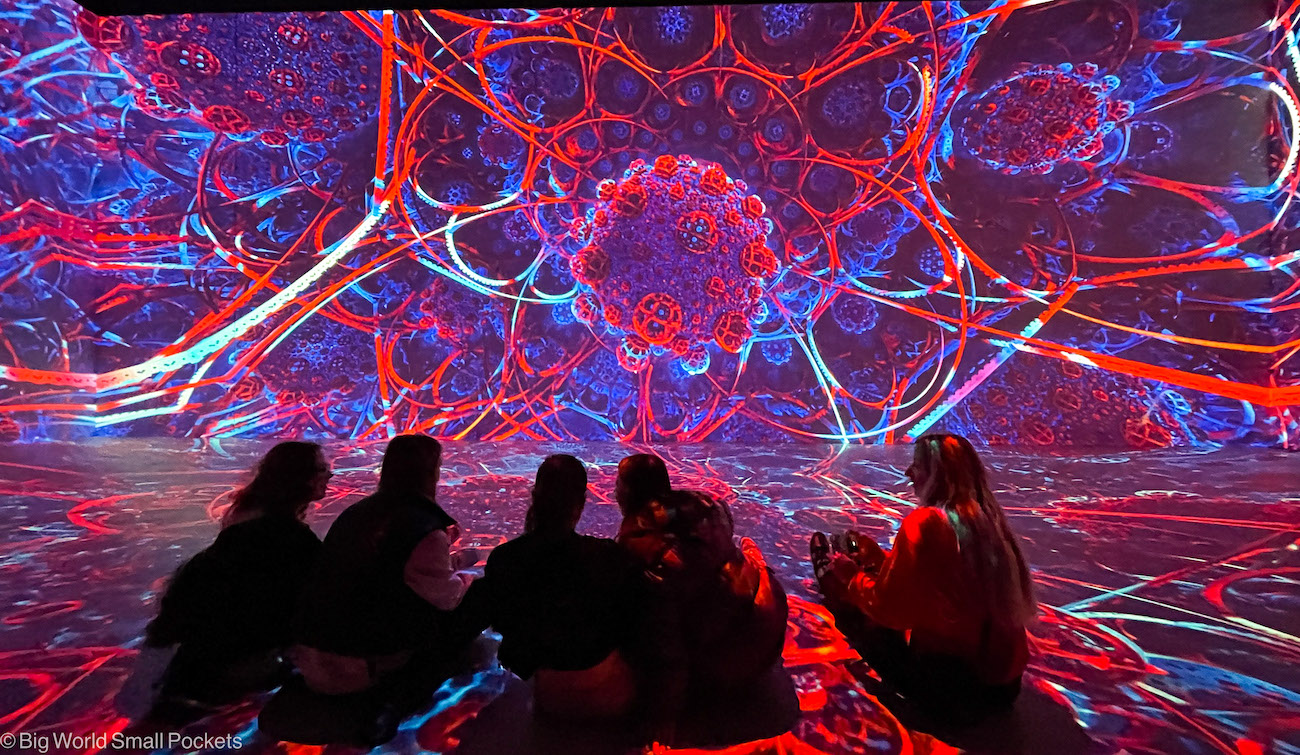 Of course, there's also the option to take trains from Munich to Amsterdam that include multiple changes – 2,3 and even 4.
I draw the line at 4!
Trains with 2 changes usually stop in a combination of Cologne, Frankfurt and Utrecht.
Sometimes they are operated solely by DB and sometimes Regiojet is the operator on the final stretch to Amsterdam.
Trains with 2 changes take around 11 hours, which is why sometimes, trains between Munich and Amsterdam with 3 changes can actually be quicker (there's some of these that take around 9 hours).
Services with 3 stops usually change at a combination of Düsseldorf, Venlo, Arnhem, Stuttgart, Cologne, Duisburg and Utrecht and prices are similar to services with 2 changes.
As such, I'd always go for the quicker journey option, even if there's more changes involved.
If you're booking late and prices are high, then you may need to opt for a day train with 4 changes.
If this is the case, always check the journey time and price, and then opt for the route with the lowest combination of these 2 factors.
Things to Know Before Your Train Journey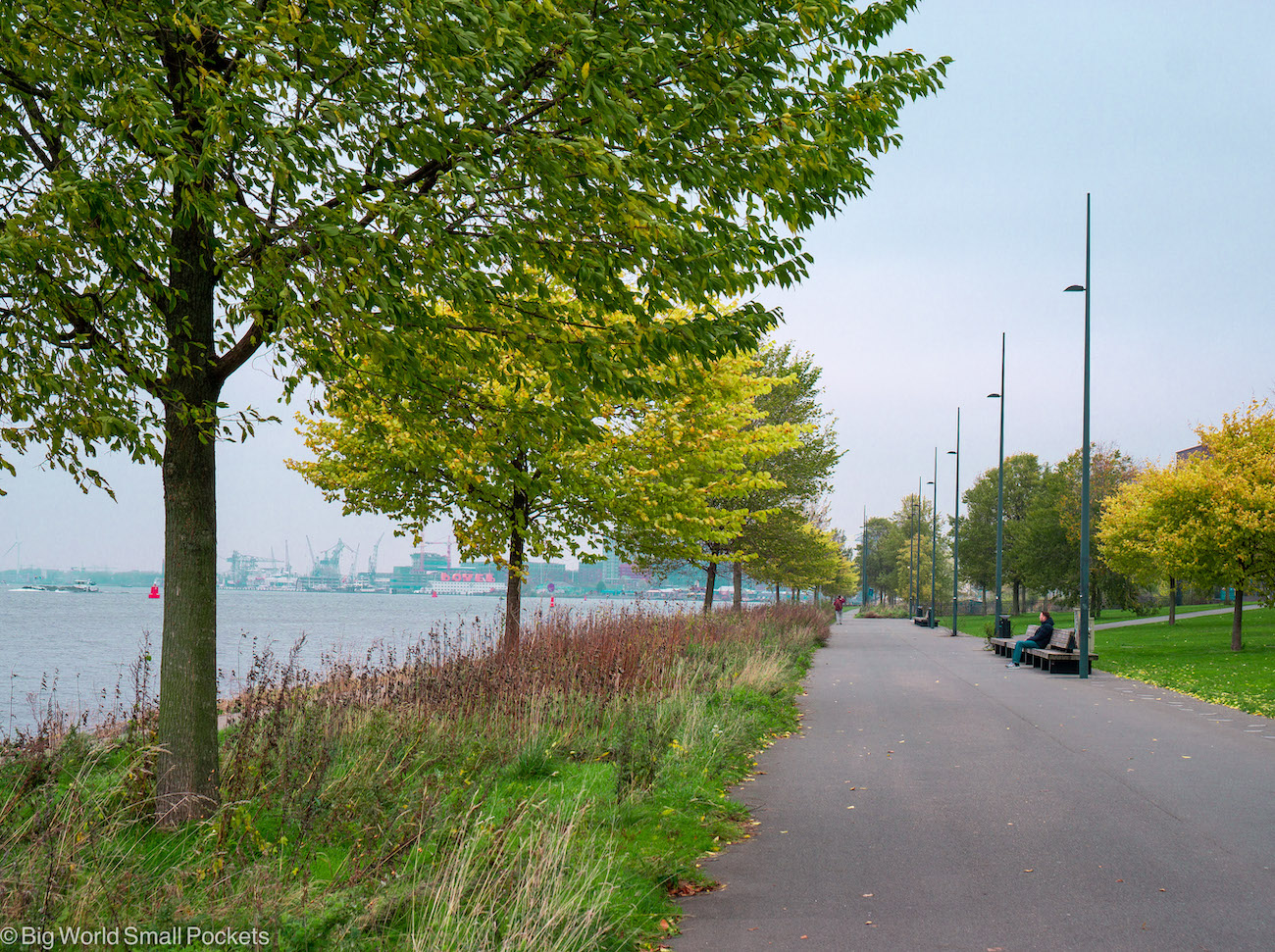 Stations
All journeys between these 2 cities leave from Munich Hbf and arrive into Amsterdam Centraal.
These are the 2 major stations in each city and both are centrally and conveniently located, meaning it's usually easy to walk or catch public transport to your accommodation.
Booking Tickets
As is commonly the case when booking trains that cross European borders, there's essentially 2 options for this journey – booking through the national railway websites or booking through an international one.
Very often find the national sites of European train operators, like DB, clunky to use, hard to decipher and difficult to pay in foreign currencies or with international cards.
Which is why I always book European trains using Trainline.
Comparing the services is made super easy by Trainline, which handily has everything translated into English.
Often the prices here are just as cheap and their easy booking service allows you to pay using international cards (GBP, USD or EUR) and even change the currency to view converted prices.
They also have a great app, which allows you to not only book tickets on the move, but also store your e-tickets (doing away with the need to print anything out or waste time at the station) and their journey planner – essentially letting you know if the train is on time, late etc.
Basically, Trainline makes life so easy for international travellers that they are well worth the 1-2€ booking fee in my opinion.
You can also book tickets 180 days ahead of your journey, which is the longest lead-up time of any train booking website I've found.
Book your Munich to Amsterdam trains at Trainline here.
Refundable and Flexible Fares
As a budget traveller, I'd always opt for a standard ticket, as the trains in this part of Europe are more than comfortable enough.
When booking with Trainline, standard seats are the norm, but you can often specify if you'd like to be forward-facing, have a window seat or be near a table / power socket.
Especially because I often like to work on trains, I find this especially helpful!
What Trainline also gives you control over is whether you'd like some form of flexible or refundable fare.
For obvious reasons, flexible and refundable fares are more expensive, but do give you the option to change or cancel if you're travel plans are a bit flaky.
Otherwise, if you're pretty sure your plans are getting to go to, well, plan(!), then I'd opt for the lowest price.
These are generally non-refundable and non-exchangeable tickets, but are often significantly cheaper making them worthwhile in my opinion
Depending on the service, there's usually some flexible and semi-flexible options on offer too.
Luggage
You'll be pleased to know that there's no luggage restrictions on train services between Munich and Amsterdam.
As long as you can carry your luggage onto the train, there's usually ample rack space at either of the carriages as well as above seats for smaller bags.
These trains do have room for bikes to be taken onboard too, but cycle spaces are limited and need to be booked in advance.
If you need to arrange luggage storage in either Amsterdam or Munich, then I highly recommend LuggageHero – a great left luggage app I've used across Europe myself.
Boarding the Train
As with the vast majority of trains in Europe, there's no need to check in for your Munich to Amsterdam journey.
Simply enter the station and check the boards for the platform your departing train will leave from.
Then just find the platform, board the train and sit in your reserved seat, or a free seat in the correct carriage class if your ticket is unreserved.
Ensure you then have your tickets (or e-tickets) to hand for when a conductor or inspector passes by.
Use the Trainline app to track your journey and see when your correct arrival station is coming up.
Green Travel
The great news is that the trains from Munich to Amsterdam are electric, which means they have a low carbon footprint.
If you are trying to travel in a more sustainable, the train is therefore a great way to go.
Given the fact that it's also fast, pleasant, stress-free and relatively good value, means it's a super all-round option for making this journey.
#4 Munich to Amsterdam by Coach
If you're on a real budget however, then it also pays to know you can get a bus the whole way from Munich to Amsterdam.
With prices as low as 30€ when booked in advance, this is a top option for backpackers!
The most affordable bus services are fun by Flixbus and they have 3 daily departures.
There's also a daily services care of BlaBlaBus, but usually these are a bit more expensive – around 60€ and take almost 24 hours!
The best service to get in my opinion is the overnight Flixbus option which departs Munich around 8:30pm and gets into Amsterdam around 8:30am.
It's a direct service, so no need to change – hoorah!
To review and book both these buses, you can either use Flixbus, or again use Trainline, who offer you the ability to compare both rail and coach journeys.
#5 Munich to Amsterdam by Plane
Much as I really hate flying short distances because of the needless carbon emissions it generates, if you are looking to get from Munich to Amsterdam in the quickest time, a flight might be a good option for you.
Taking around 1.5 hours, the German airline Lufthansa offers this flight direct for around 100€ one way when booked in advance.
Personally, I'd still opt for the train, I think it's a much nicer more relaxing and more environmentally-friendly way to travel, but if train prices are sky high (perhaps because you're booking late) or you're travelling with kids, it's probably worth checking out the cost of flights.
As always, I use Skyscanner to get the best deals on airline tickets, because they always include budget airlines in their searches and offer some of the best deals around.
#6 Munich to Amsterdam by Car
And finally, the last way you may consider travelling from Munich to Amsterdam is via 4 wheels.
The journey takes around 8 hours without stops.
If you want to rent a vehicle in Munich, then check out DiscoverCars for some of the best deals around.
The pros to renting a car to make this journey are the flexibility and the ability to make stops of your choice on the way.
The cons to renting a car however are expense, organisation and having to drive in a foreign country.
This can be a very stressful experience, at least it is for me!
You also have to factor in the cost of tolls and fuel.
Rental a vehicle is really only better than a train if there's a group of you to help cover the costs and help with the driving in my opinion.
Travel Tips for Munich and Amsterdam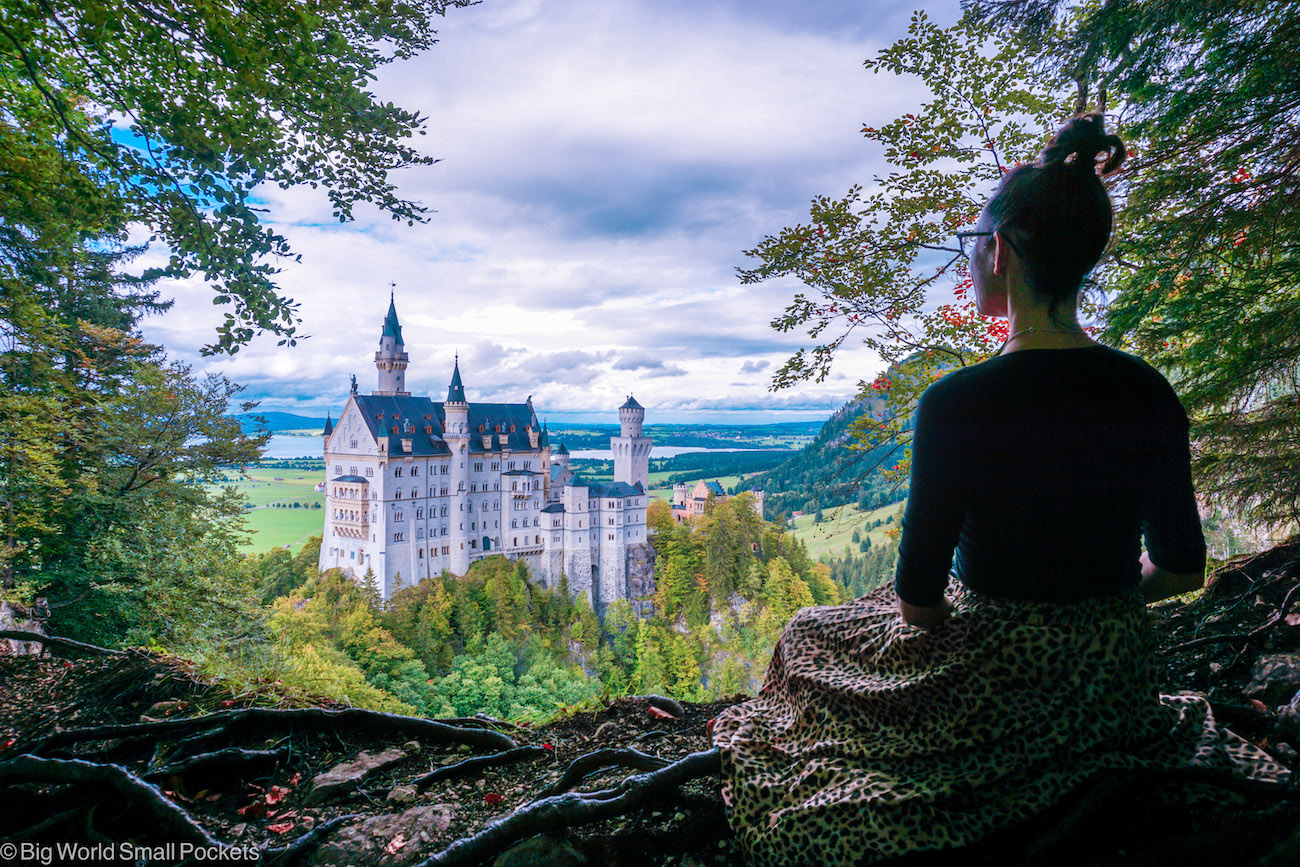 Things to Do in Munich and Amsterdam
If you want to learn more about Amsterdam, then check out this article I wrote about the perfect 3 day itinerary for this fab city – it gives you the perfect travel lowdown on the city including how long to spend there, where to stay, as well as the best places to hang, eat, sightsee and enjoy.
Alternatively, my list of the top 15 things to do in Munich will give you all the info you need to enjoy this bucket city.
Learn more about a top day trip from Munich in this post I wrote all about visiting the Neuschwanstein Castle.
If you're looking to get away from the crowds in Amsterdam, then exploring the Noord district of this city, or the nearby coast, are ideal options.
Travel Insurance for Europe
World Nomads offers simple and flexible travel insurance. Buy at home or while travelling and claim online from anywhere in the world.
Alternatively, if you're a long-term traveller, digital nomad or frequent remote worker seeking travel health cover, check out Safetywing's Nomad Insurance policies.
Travel Money in Europe
When it comes to paying for things in Europe, you want to ensure you're not being charged overseas transaction fees or getting poor exchange rates when using your card abroad, which is why I always take my Wise Card away with me wherever I travel.
The easy way to spend abroad with real exchange rates, no markups, no sneaky transaction fees and a free Euros account, you can use your Wise card just like a debit card here… and it links easily with Google and Apple pay – sold!
Get your Wise Card here.
SAVE THIS TO PINTEREST!
And there it is, my guide for everything you need to know about travelling from Munich to Amsterdam by train, bus, plane and car.
Have you made this journey?
Have any tips to share to help fellow travellers out?
Please leave any info about your journey in the comments box below…