I have one regret about the time I spent in Tanzania… that it wasn't longer!
This is such a rich and diverse east African country, with so much history and such a fascinating culture, that you'll struggle to absorb as much as you'd like no matter how long you spend there!
In fact, I got to spend 3 weeks there as part of my African overland trip with Absolute Africa – which I know is probably more than most – but I still desperately want to return and see more!
From the towering wonder of Mount Kilimanjaro to Zanzibar's beautiful beaches, from the rich culture of the Masai people to the beguiling Swahili coast, this is a dazzling land as wide-ranging and it is remarkable.
In fact it's definitely one of my favourite African countries, showcasing as it does, a good slice of everything I love about this part of the world.
So if you're looking for adventure activities, beautiful beaches, curious cultures and some world-class safari opportunities, then look no further than my best Tanzania Itinerary and the places you can't miss in this incredible country…
Oh and by the way, I'm currently offering my readers an exclusive discount on all Absolute Africa Tanzania tours, meaning you can now travel even more in this amazing country for less! Simply send an email to [email protected], quoting the discount code BWSP, and start planning your incredible trip with them today!
---
Related Posts
---
This page contains affiliate links meaning Big World Small Pockets may receive a small commission on any purchases at no extra cost to you.
---
Grab Your Copy of How to Travel Africa for Less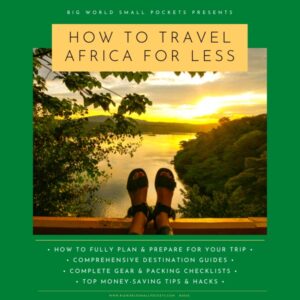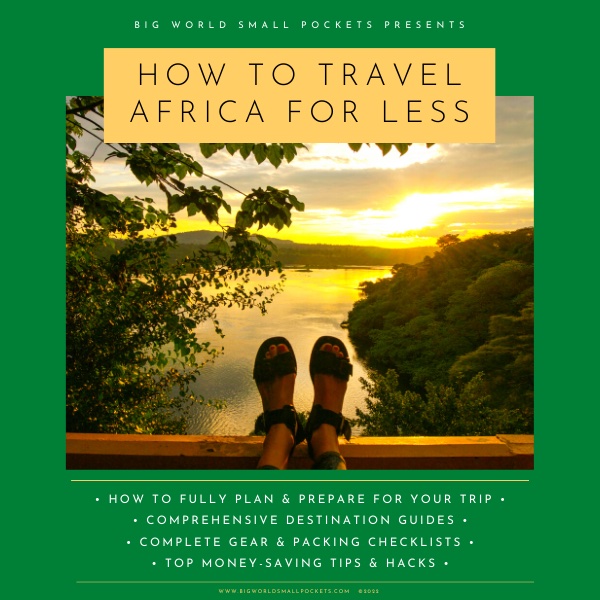 My ultimate guide to travelling Africa on a budget is now available, meaning you can finally get ALL my top tips for adventuring around all, or parts, of this amazing continent in one handy eBook, including…
Full Planning & Preparation Guides
Detailed Destination Info
Complete Packing & Gear Lists
Top Money-Saving Tips & Hacks
How Long to Spend in Tanzania?
When it comes to planning your Tanzania itinerary, the first thing you probably need to consider is how long you want to spend in this country.
As I said in my intro, I spent 3 weeks here, but totally appreciate that not everyone might have this length of time at their disposal.
I'd therefore suggest a stay of around 10 days is good for most people.
If you'd like to include Kilimajaro or the Masai Mara in your trip, then I'd extend your trip to 14-18 days.
In this time you'll be able to see all 7 of the top places I've listed below.
Recommended 10 Day Tanzania Itinerary
For those with just 10 days, however, here's a quick guide as to what my ideal Tanzania itinerary would look like…
Day 1: Arusha
Day 2: Ngorongoro Crater
Day 3-4: Serengeti
Day 5: Arusha
Day 6: Dar Es Salaam
Day 7-8: Stone Town, Zanzibar
Day 9-10: Paje, Zanzibar
#1 The Serengeti
There's few places as iconic for spotting African wildlife as the Serengeti and that's why it's coming in first on my Tanzania itinerary.
This huge national park spans an incredible distance and offers a huge plethora of wildlife spotting activities, including the famous wildebeest migration and the Big 5… of course!
It's also home to the indigenous Masai Mara communities, who are most recognisable due to the brightly coloured clothes they wear and are known for their highly unique and special culture.
I loved my time in the Serengeti, especially all the amazing wildlife snaps I got, including this female lion trying to pull a zebra carcase out of the mud for dinner!
You're most likely to visit this incredible destination as part of a tour, as you'll need a guide and a driver to visit the park, so arranging the whole thing as a package complete with accommodation often makes more sense.
Ideally, you need at least 2 days in this vast national park to even touch the surface.
During this time you can camp within designated areas with basic facilities (read. a toilet block) as the lions, hyenas and buffaloes prowl around your tent!
Eek!
For last-minute tours, you can usually join a group by enquiring with a safari company in the nearby town of Arusha, where many trips leave from.
Or else check out these Serengeti Tours if you'd rather plan something in before you leave home.
Alternatively, you can visit the Serengeti as part of a longer overland Africa tour, like I did, which usually includes a number of different African countries and safari parks
Learn more in this post I wrote about how to organise the perfect African overland tour.
Or, if you're looking for a mega-budget option, you can actually drive through the Serengeti on a public bus as the main road towards the Uganda border actually cuts through the park!
While you won't have the specialities of a guide or a 4wd if you take this option, it's certainly going to be the cheapest way to visit!
#2 Ngorongoro Crater
In between the city of Arusha and the Serengeti is the incredible reserve of the Ngorongoro Crater.
This dazzling place is actually a giant crater and, within it, live a huge range of animals, delightfully concentrated by the walled topography of the area.
If it was possible, the Ngorongoro Crater is even more spectacular than the Serengeti, so I suggest getting it on your Tanzania itinerary asap!
Most safari tours start at a breathtaking, elevated lookout point just before the reserve's entrance gates.
Here you can get some incredible snaps looking down into this most dramatic of landscapes.
Specks moving in the distance come into focus as elephants and you gradually realise the magnitude of what you're seeing!
But the real treasures begin when you drive into the crater and are treated to more of an African safari experience than you could ever hope for.
From lions to giraffe, buffalo to hyena, I got to see it all in this amazing reserve.
The great news is that many tours combine a trip to Serengeti with a day in Ngorongoro Crater, either beforehand or on the way back.
And I highly recommend picking up this sort of combination tour if you can.
Again, if you're on a flexible timeframe, last-minute bookings can often be arranged in the city of Arusha. Otherwise, if things are less flexible, check out this list of top Serengeti & Ngorongoro Crater tours.
#3 Arusha
The tourism capital of Northern Tanzania and a hotbed for people heading to the Serengeti, the Ngorongoro Crater or Mount Kilimanjaro (as you've just read), Arusha boasts lots of useful services and is a great point to base yourself in this part of the country.
It's a bustling place with a great atmosphere and lots of friendly people around to occupy you for at least a few days between tours or if you're heading into Tanzania from Kenya or visa versa.
And if you are hanging around for a bit, then don't miss the chance to kayak on Lake Momella, swim at Chemka Hot Springs, shop at the local markets or visit the Natural History Museum here.
Those with a bit more time (and a bit more energy) might consider walking up Mount Meru – a good 3-4 day trek – or even heading to Arusha National Park if you haven't quite had your safari fix yet!
#4 Mount Kilimanjaro
The towering peak of Africa, there's few people that haven't heard of this giant and rightly so.
If hiking some of Africa's most dramatic landscapes is on your list, then there's not many bigger challenges than Kili (as she's affectionately known).
With plenty of different routes up and down dependent on your timeframe and fitness levels, there's a lot of choice when it comes to hiking the continent's tallest mountain.
Do make sure you're prepared for this one however – it's definitely not the sort of challenge you can suddenly decide to do on an impromptu basis!
Yes, if you weren't aware (!), hiking up to 5000m requires some serious training as the altitude alone proves quite the ordeal!
In addition, you'll need some serious gear to make this trek and the plunging temperatures it brings.
Come prepared however and this is bound to be a highlight of any Tanzania itinerary.
Check out these Kilimanjaro trekking tours if you're looking to hike up to the ceiling of Africa.
#5 Dar Es Salaam
The commercial hub of Tanzania, Dar Es Salaam is a bustling port city with a great atmosphere.
From crazy markets to ferry rides and some super sunsets, there's plenty to do in this city to amuse you for at least a day on your Tanzania itinerary.
It's also the departing point for the ferries to Zanzibar, so many travellers end up passing through Dar whether they want to or not!
Personally, I loved it!
Learn more about what to do in this major city with my list of the top 10 things to do in Dar Es Salaam.
#6 Stone Town, Zanzibar
The heart of Zanzibar life, the island's capital Stone Town, is spellbinding!
In fact, it's one of my favourite towns in Africa with a unique and friendly blend of cultures, that typify the steaming Swahili coast.
Whether you arrive into Zanzibar via ferry or plane, you'll start your time in Stone Town, so don't miss it and head straight to the beach, but take some time to explore this culturally rich town too.
From tiny, winding cobbled streets that echo with calls to prayer, to the rich collection of museums and crumbling, atmospheric architecture, it's hard to not become enchanted by the sights and smells of Stone Town.
And that's not to mention the giant tortoises you can see, the local food markets you can taste and the coffee you can savour.
UNESCO-listed, this place really is a must on any Tanzania itinerary and I'd allow at least 2 nights here to experience it!
For a full list of what to do in this totally unique place, check out my list of the 21 best things to do in Stone Town.
#7 Paje, Zanzibar
And, saving the best for last, the final entry on my list of places that have to make their way on to your Tanzania itinerary is the beautiful beach of Paje on Zanzibar's east coast.
Many people head to the north of this island for their Indian Ocean fix, but trust me, it really is all about the east!
A favourite for scuba divers and kite surfers alike, this long stretch of beach also boasts perfect white sands and paradisiacal turquoise waters.
There's some lovely cafes to enjoy here too and some great hostels to meet other travellers in as well.
Otherwise, it's all about swinging in a hammock and enjoying the view!
If this sounds like it's your kinda place, and you'd like to know more, check out my ultimate guide to Paje, Zanzibar
Tanzania Mini Travel Guide
How to Travel to Tanzania?
If you're already travelling in east Africa, then it's fairly easy (if not long!) to hop on a bus to Tanzania, especially from Kenya or Uganda.
Otherwise, if you're on a tour in the region – particularly one that includes the Masai Mara – you may well drive over the border and into Tanzania as part of the package.
For everyone else, however, flying is the most common way to get to and from this country.
The 3 main airports within Tanzania are:
Julius Nyerere International Airport (DAR) – near Dar Es Salaam and good for accessing south Tanzania and Zanzibar.
Kilimanjaro International Airport (JRO) – near to Arusha and Kilimanjaro and good for accessing the Serengeti too.
Zanzibar Abeid Amani Karume Airport – near to Stone Town and the best place to fly if Zanzibar is your intended destination.
As always, I use Skyscanner to find the best flight deals.
How to Get Around Tanzania?
Taking domestic flights or local buses are probably the easiest ways to travel around Tanzania.
Buses will be cheap and fun, but may not be that comfortable!
Flights are quick, but expensive and not good for the environment.
You can also hire a car and self-drive in Tanzania – although please be aware of the driving conditions and safety warnings before doing this. Check out these top car hire options in Tanzania if you're still keen.
Finally, you can also take a tour to explore Tanzania, which will remove all the organisation and a lot of the stress from your trip.
If you're looking for some epic tours in Tanzania that cover a lot of the destinations in the above itinerary, then check out these brilliant options, which offer a ton of flexible solutions depending on your budget, travel style and length of trip.
Travel Insurance for Tanzania
World Nomads offers simple and flexible travel insurance. Buy at home or while travelling and claim online from anywhere in the world.
Alternatively, if you're a long-term traveller, digital nomad or frequent remote worker seeking travel health cover, check out Safetywing's Nomad Insurance policies.
5 Essential Items for Tanzania Travel
#1 Tanzania Lonely Planet – I'm always a big fan of the Lonely Planet and their Tanzania edition is great for its accommodation and tour recommendations.
#2 Headlamp – Given the power outages you're bound to experience in Tanzania, having a headlamp in your bag is an absolute must. I wouldn't be without my Black Diamond one.
#3 Sarong – Whether it's to wear on the beaches of Zanzibar or to protect yourself from a dusty safari ride in the Serengeti, there's few items as versatile as the trusty sarong when it comes to Tanzania travel. I love the beautiful designs and great prices of One World Sarongs range.
#4 Insect Repellent – Much as I hate nasty chemicals, a good DEET repellent is essential for Tanzania travel where malaria is a real risk. I recommend a 30% DEET product to keep those pesky nippers at bay.
#5 Sun Hat – Located as close to the equator as it is, the sun is Tanzania is super strong and a sunhat to protect your face is highly recommend. I'm a big floppy hat fan and love this Hello Sunshine design.
SAVE THIS TO PINTEREST!
So that's my best Tanzania itinerary and the places in this fabulous country you can't miss.
Have you visited this east African beauty?
Did you enjoy it as much as me and what was your favourite place?
I'd love to hear in the comments below…