In the traditional sense of the word, zoos are generally places where animals are kept in cages for the amusement and entertainment of human beings.
Out of their natural habitat and thrust into a life on show, zoos, customarily speaking, were not known for their ethical treatment of animals or their prestigious moral codes. Nowadays, however, that notion is increasingly changing.
Like the zoo on my home island of Jersey in the Channel Islands, which was founded by the great naturalist, conservationist and author Gerald Durrell and is now a world-famous preservation trust, zoos are increasingly being modelled as places of high environmental and ethical standards.
---
Related Posts
---
My trip to Australia Zoo was kindly gifted by Queensland Tourism, but as always, all views are my own.

This page contains affiliate links meaning Big World Small Pockets may receive a small commission on any purchases at no extra cost to you.
---
And so it was that, earlier this week, the boy and I found ourselves at Australia Zoo on the Sunshine Coast, Queensland.
Not, at first glance, the usual haunt for a staunch vegetarian I'm sure, Australia Zoo is certainly part of the growing trend for zoos to be seen as primarily conservation-led.
In fact, Australia Zoo is now probably the most iconic environmental agency in this part of Queensland. Zoos, it seems, are redefining themselves.
Or, at the very least, they are redefining what we conceive of by the term "zoo". In doing this, they raise questions about what a zoo actually is and what it is not; when is a zoo a zoo and when, is it not?
Spending the day at Australia Zoo certainly brought such ideas to the very front of my mind.
I must admit I was a little uneasy about the thought of going to visit it, but also slightly excited at the same time.
I suppose that, in the end, my decision to go was formulated by the presumption that you cannot have an opinion on something you don't know anything about, so off we went.
When is a Zoo a Zoo?
Originally started by the parents of Australia's most famous Crocodile Hunter, Steve Irwin, as a reptile park, Australia Zoo began to evolve in both its size and principles in the 1990s.
Money from Irwin's many wildlife TV shows was ploughed into Australia Zoo, with the Crocodile Hunter himself committed to establishing itas a leading conservation sanctuary worldwide. Apparently Irwin's philosophy was 'animals came first, zoo team second, visitors third.'
Now run by Steve's widow and growing children, Australia Zoo is a large wildlife park with many animals from both native Australia and around the world.
Indeed it was very nice to see so many Australian species represented in Australia Zoo; this seemed to belie a real desire to engage people with their immediate ecology, which I liked.
It also, somehow, seemed less ethically complex to me to have Australian animals represented within in a zoo in their own country, rather than imported animals.
I guess I presume that Australian animals are little more accustomed to the environs and are a little happier being closer to where "they should be" as it were.
In particular, it was great to see kangaroos and wallabies hopping around largely uncharted by cages or bars.
The koalas too had a lot of space, all factors which seemed to suggest Australia Zoo was rejecting many of the traditional negative conations of its predecessors, namely trapped animals in cramped enclosures.
This was furthered by the many educational signs, interactive displays and talks across Australia Zoo which imparted the sense of a real desire to also educate people about the animals – presumably in the hope that awareness leads to thought, leads to consciousness, leads to action.
For children, in particular, this is a great way to introduce them to concepts of wildlife and environment and Australia Zoo seemed to be big hit with many families as you would expect.
Not just limiting itself to its own country, Australia Zoo also prides itself on being a strong educational and awareness-raising agent for conservation around the globe.
Indeed, it has a broad scope of external partners working in both the environmental protection and research fields worldwide, including Sea Shepherd and the University of Queensland.
There are also breeding and species protection programs that the zoo supports, as well as a wildlife hospital they fund.
This certainly lends legitimacy to the idea that Australia Zoo is a place of ecologically sound principles and practice; a place more concerned with conservation and protection than exploitation.
Is Australia Zoo then, a different sort of zoo from what we might traditionally consider one to be?
Perhaps something bigger than a zoo, better than a zoo or more ethical than a zoo?
Is it possible that a zoo primarily concerned with conservation is actually a zoo at all?
A Zoo is in the Name
However, let's not forget that ecological practices alone do not make a zoo.
Despite many zoos across the globe reshaping their principles and aims, the fact remains that characteristically a zoo must have animals on display for people to see and watch.
The reasons for this watching might have changed over the years, but the premise that they must watch has not.
A zoo needs people to visit and Australia Zoo certainly has people.
It was a beautiful sunny day when we visited and despite not being a weekend day or a day in the school holidays the zoo was still very busy.
This belies how well Australia Zoo is placed as a tourist attraction, near as it is to the vast number of coastal resorts along Queensland's Sunshine Coast.
Yes, Australia Zoo is a wildly popular family day trip from the tourist town of Noosa and its surrounds. Entrance is pretty pricey at $59 per adult and I don't dare guess at the daily takings of their 5-6 tickets booths, let alone that of the numerous ice cream stands, cafes, souvenir shops and merchandise that adorn the zoo.
I'm sure zoos aren't cheap enterprises to run, but nevertheless it must be quite a staggering amount.
It's very clear that Australia Zoo is run like a business and often it feels more like one than a conservation outfit.
Zoos are traditionally money-making schemes and I wonder if Australia Zoo has deviated quite as far from this traditional notion of a zoo as it has in others.
After all, the word zoo remains in its name and certainly isn't hidden across its widespread marketing campaigns.
Not traditionally known for their shy publicity, travelling zoos used to strongly and loudly announce their presence in town and Australia Zoo, although stationary, certainly makes itself known across billboards and brochures.
Perhaps a zoo is a zoo when it calls itself one.
What a tourist attraction calls itself is very important, but perhaps even more important is what it brands itself as.
The growing trend for post-materialist values such as environmentalism and conservation are certainly profitable niches in which to market a company and I do wonder if quite as many people would visit Australia Zoo if it didn't have its conservation credentials.
Dark as it may be to suggest, is the need for an ecological angle as necessary for the zoo to survive commercially as it is for the species it works to protect?
A Zoo is in the Conservation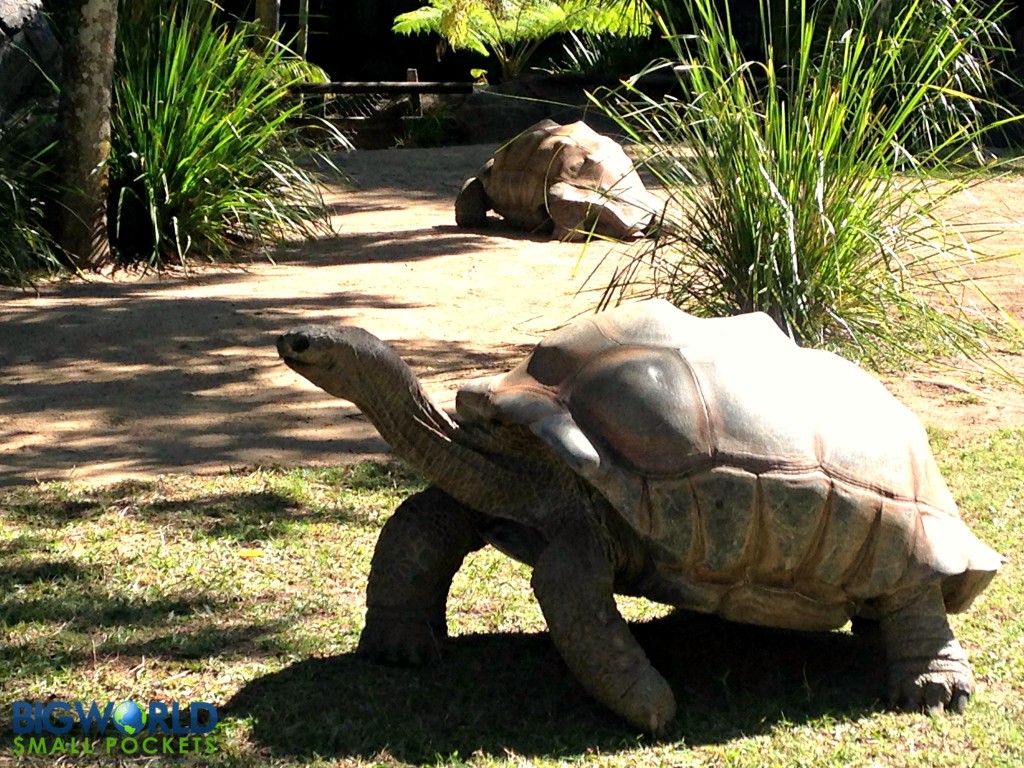 Yet we must give Australia Zoo its due, protect species it does.
While the hopping kangaroos might not be close to extinction, there are a number of animals at Australia Zoo that certainly are.
If there was a reason to import foreign animals to another country to live in captivity than perhaps saving them from extinction is one.
This was brought home to me by the boy when discussing the issue at one of the zoo's most impressive areas – the Africa zone.
Here, looming giraffes, rhinos and zebra wander a huge field around which people are kept delightfully far away in a limited viewing area.
As undisturbed as the animals seemed to be, I couldn't help asking whether it was right to have animals from the African wilderness living in a park on the Sunshine Coast.
I was quickly reminded however, that if all the captive rhinos around the world were released into the wild, they probably wouldn't be any more in 20 years time; due to human hunting, rhinos in Africa would probably be extinct in a number of years.
Is it actually better then that they are kept in a zoo, so while not free, they are at least alive I had to ask myself?
This quandary also presented itself with the tigers we saw in the South East Asia zone of Australia Zoo.
What did haunt me slightly more about the tigers however was the show that we walked into the middle of.
I have to admit I was pretty entertained as a female tiger was brought up to the glass, yet also felt uneasy about the way she was made to perform moves that showed of her agility, beauty and strength.
The crowds, however, loved it.
Everyone was very engaged and listening very closely to the handler / compere as she told us that in the wild there could be no more tigers left in as little as 20 years.
It's a scary thought when you consider that in order for our children to even know what a tiger is, some might have to be kept in zoos to survive.
In a world where it often seems hard to make people care about anything that isn't a material possession, perhaps what is needed are these spectacles and close encounters with animals to highlight the issue to people, to really make it hit home.
After all, Australia Zoo is one of Queensland's most popular attractions and continues to get rave reviews and thousands of visitors a year.
Perhaps impressing the need to look after our planet and its creatures to the many has to involve the plight of animals such as tigers being brought directly to peoples' attention.
Might the ability to pat a koala or feed a kangaroo in Australia Zoo actually be the interactive and accessible experience that acts as a catalyst to peoples' awareness?
In addition, I don't believe the animals of Australia Zoo are mistreated in any way.
In fact, I'm sure they are cared for and fed better than they are in the cruel wild in many cases, albeit in an artificial way.
Even in the areas where you can feed kangaroos or stroke koalas, there are designated areas where the animals can rest and there are plenty of staff on hand to safeguard visitors' and animals' welfare.
Animals in shows are rotated and keepers are knowledgeable and well trained.
For let us not forget that there must be keepers and vets and other workers who keep the zoo going.
This all costs money of course, not to saying anything of the food for the animals, their homes and their maintenance.
In sort, saving a species costs money.
Money must come from somewehere and if more people visit the zoo and more can be done for conservation I have to ask if that is a good thing?
I'm sure the amount of money the zoo makes and the amount it is therefore able to donate to programs such as the Wildlife Warriors, which helps injured, threatened or endangered wildlife, is a good argument for this.
In answer to the question then, I would have to say that Australia Zoo is a zoo, not least because it calls itself one.
However, not all zoos are as traditionally unethical as they once were.
Indeed if people and their money are needed in order to make zoos zoos, then it at least seems a good idea to try and make what the public are viewing, and why, as ethical as possible.
Australia Zoo does have clear conservation principles.
Even if this is led by a need to drive visitor numbers, does this not demonstrate the interdependent relationship between a zoo's commercial survival and those of the many species around the world?
If the 2 can work together, then shouldn't we encourage the seemingly-changing definition of a zoo that Australia Zoo is supporting.
Perhaps we should try to work towards a conception that a zoo is, in fact, only a zoo if it does have an environmental agenda; that a zoo is not a zoo if it is not conservation-led.
If so, then what we might have called a zoo traditionally may cease to exist, will no longer be a zoo at all.
Phew, what a lot of questions that day at Australia Zoo raised!
Tickets for Australia Zoo can be bought online. The high entrance free is made more palatable by the fact that you can easily spend the whole day there. Group, child and senior discounts are available. You can also take your own food in and therefore avoid the high café prices.

Public transport from Noosa and the surrounding Sunshine Coast area to Australia Zoo is available either through Translink Bus & Rail Services or Greyhound.