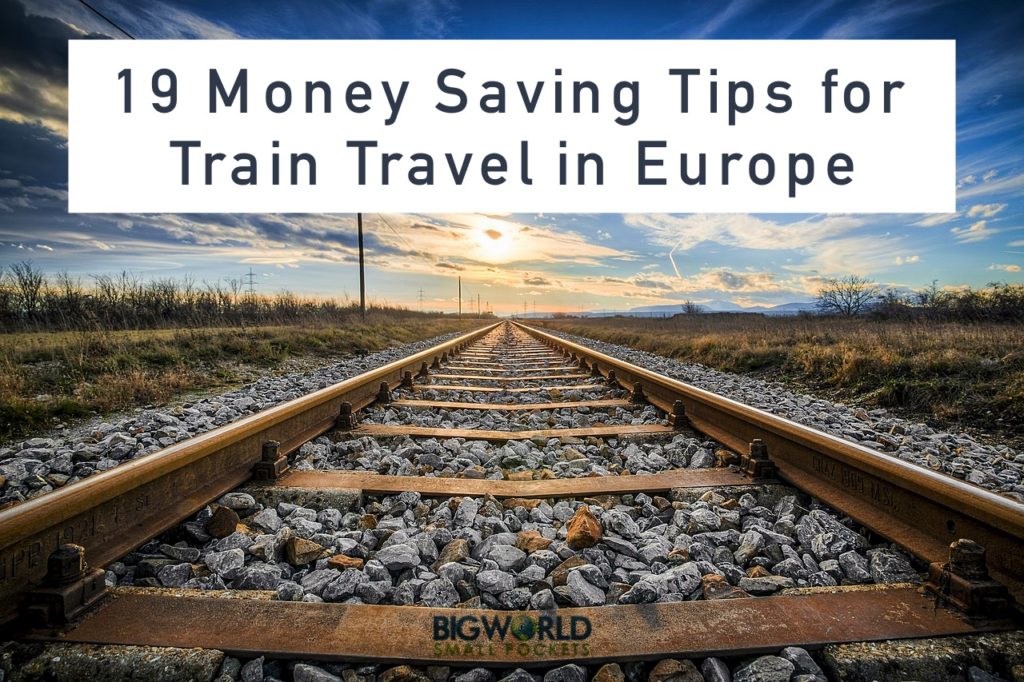 Once upon a time, budget airlines were the cheapest and best way to shuttle around Europe.
Nowadays however, train companies are fighting back and rail travel across the continent is fast becoming better, quicker and cheaper than ever.
Without the invasive security measures and baggage restrictions of airplane journeys, it's clear train travel is returning as the most exciting and relaxing way to get around Europe.
Add to this the lack of costs surrounding checked plane luggage, flight taxes and transport to get you to an airport and it's obvious that European train travel has been never so appealing.
So here's my top money saving tips for European train travel.
---
Related Posts
---
This page contains affiliate links meaning Big World Small Pockets may receive a small commission on any purchases at no extra cost to you.
---
#1 Stick to Eastern Europe
Train travel in Western Europe is, like everything else, much more expensive than in the East. If you want to travel more for less head East!
#2 Don't Travel at Peak Holiday Times
Namely Christmas, New Year, Easter & the month of August, prices skyrocket during these times.
#3 Avoid 1st Class
Obvs!
#4 Don't Accidentally Sit in 1st Class
You will be landed with an expensive fine if caught!
#5 Use Rail Passes for an Extended Number of Journeys
If you're likely to be travelling between different European countries over an extended period of time then a rail pass will probably be the most economical method.
Check out Rail Europe for one of the biggest ranges of passes at the best prices.
#6 Book Overnight Trains if Travelling between Countries
You'll save on the price of a bed, like I did when I travelled from Madrid to Paris as part of my budget journey from Latin America back to Europe.
#7 Pack a Picnic
Don't buy expensive food on board. Stock up on treats at the supermarket before hand and you'll save a fortune.
#8 Book in All Long Distance Trains in Advance
Normally up to 90 days ahead of departure date, although varies between European countries.
Within the UK, the Trainline has a handy ticket alert tool lets you known when advanced budget-friendly tickets become available.
#9 Be Flexible
This will open you up to the best deals.
#10 Grab Deals if You See Them
Rail Europe are always running some great special offers, so it's worth checking out their page and grabbing a deal if you can.
They also have group discounts and partner offers running, which can make booking with them one of many top money-saving tips for European train travel.
#11 Bear in Mind that 2 Single Tickets May be Cheaper than a Return
Surprising, but true!
#12 Make Sure You Leave Enough Time between Connections
Check www.bahn.de for a comprehensive list of European train times and save money by not booking trains you're likely to miss.
#13 Avoid Buying Advanced Tickets on Shorter Journeys within Mainland Europe
Prices will be higher and if it's only a short journey you don't normally need to book in advance and therefore pay for flexibility.
Instead, local and regional train travel tickets within mainland Europe are normally just bought at the station before boarding the train.
#14 Book Advanced Tickets on Shorter Journeys within the UK
Confusing I know, but the exception regarding not booking short European train journeys in advance is the UK.
Here, even short journeys are much more expensive on the day of travel.
To book all train travel within the UK, use Trainline, they generally offer great advanced fares, which can be found easily through their best fare finder tool.
#15 Don't Forget to Enter your Age at the Time of Booking
If prompted, letting a company know how old you are might make you eligible for a youth, student or senior discount.
#16 Don't Pay Extra for Reserved Seats
Unless this is already included the fee of the booking i.e. on overnight trains, it won't be necessary.
#17 Check and Re-Check your Booking Details
Making a mistake in terms of date, time or destination might end up costing you a lot in expensive change or admin fees.
Most of the cheaper advanced fares will be non-refundable, so make sure you get the booking details right!
#18 Collect Tickets at Stations or Print them at Home
Don't pay to have them mailed out to you
It's a great resource for saving money on train travel within Europe.
LIKE IT? PIN IT!
What are your top money saving tips for European train travel?
Do let me and other readers know in the comments box below…