Located at the top of the African continent. but feeling more culturally similar to its neighbours in the near Middle East across the Red Sea, Egypt is a country with a fascinating layering of geographies, histories, people and cultures… especially when it comes to travelling there!
I spent 3 weeks in Egypt as a solo female traveller and experienced very little hassle, in fact, I loved this country with its wonderful ancient treasures, world-class museums and incredible river cruises.
However I know that doesn't ring true for all travellers to this country and that many people do find they get pestered in Egypt.
What I don't want this to do though, is put you off going.
The key to enjoying Egypt, rather than just surviving it, is probably to be prepared, be wise and to do some serious research before you go… of all which my blog can help you out with, so don't forget to hunt around for all the Egypt content I've written previously!
Otherwise, a good place to start is with this packing list, so you know exactly what to pack and wear during your time in Egypt for the least stressful and most rewarding experience possible.
Feeling comfortable will definitely help you to have a better and more relaxed time here, so it's certainly a worthy bit of prep!
And on that note, it's time to jump in…
---
Related Posts
---
This page contains affiliate links meaning Big World Small Pockets may receive a small commission on any purchases at no extra cost to you.
---
Grab Your Copy of How to Travel Africa for Less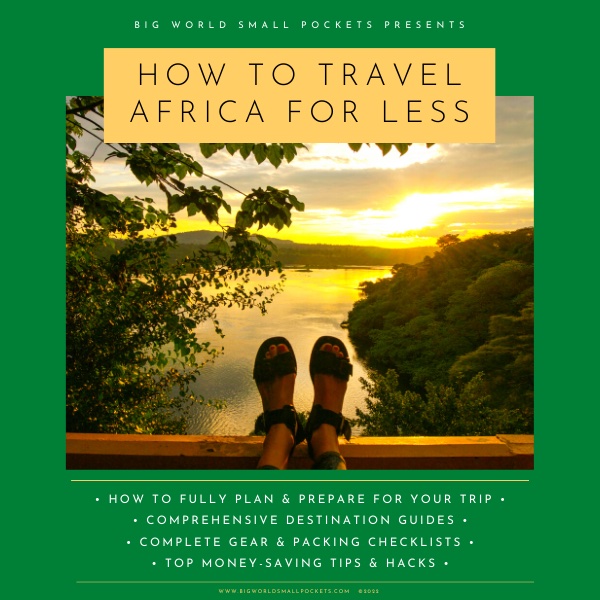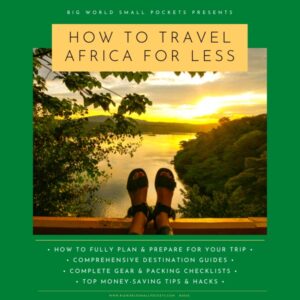 My ultimate guide to travelling Africa on a budget is now available, meaning you can finally get ALL my top tips for adventuring around all, or parts, of this amazing continent in one handy eBook, including…
Full Planning & Preparation Guides
Detailed Destination Info
Complete Packing & Gear Lists
Top Money-Saving Tips & Hacks
Female Travellers: What to Wear in Egypt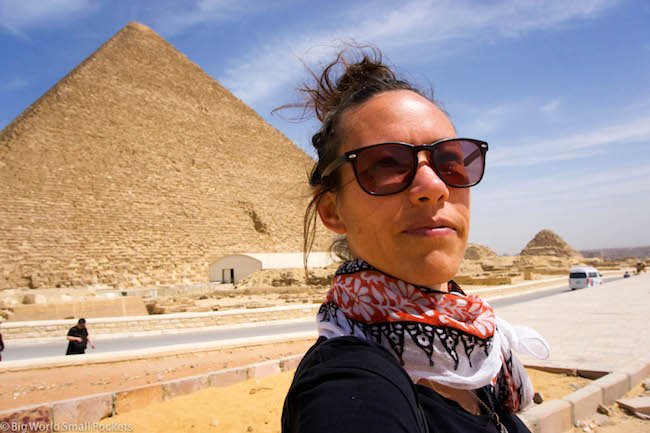 The general rule for female travellers when it comes to what to wear in Egypt is long pants and tops that don't reveal your upper arms or chest, especially if you're travelling alone.
At least, this is true when travelling the major cities and Nile area of the country – the coast is slightly different and far more relaxed in terms of dress code.
While no way near as conservative as other countries I've visited such as Sudan, Egypt is not as liberal as parts of Lebanon or Turkey either, so do beware that in mind.
Lying somewhere in the middle, female travellers in Egypt do not have to cover their heads, but I'd certainly advise only packing clothes that extend below the knee and that cover the shoulders or cleavage.
Having your arms exposed is ok (as long as your shoulders and chest are covered), but you may still feel more comfortable with your longer-sleeved garments here covered too.
Sarongs or thin scarves are a great option when travelling in Egypt as they are so versatile, compact and light.
Sunglasses, a good sunhat and a reliable day pack are also top items.
Evening wear certainly isn't a must here – as a largely alcohol-free country (although it's not illegal, few people here drink it and it's very expensive), you're unlikely to be going out or needing many smart clothes, so that's one thing you don't have to worry about!
Ditto heavy make-up, which is not common here and will be a nightmare in the heat!
In terms of shoes, when it comes to what to wear in Egypt, I really do think you can limit yourself to 3 pairs – 1x comfy trainers / runners that can be used for any long sightseeing trips or travel days, 1 pair of good support sandals like Birkenstocks and perhaps some lowkey evening flats or pumps.
In my opinion, dress sandals, or anything with a heel, are definitely not required when travelling in this country.
For more specific ideas for exactly what to wear in Egypt, check out my packing checklist below.
You can also download your own copy of my broader Middle East packing list by entering your details in the subscription box below …
Clothes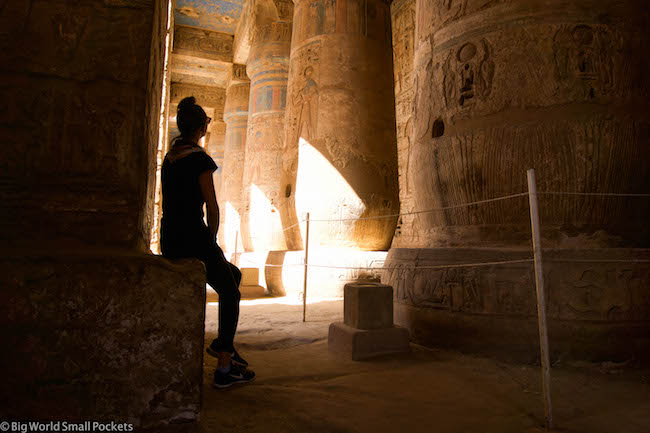 1x Thin Windproof Jacket
Egypt has a hot, dry climate, but at night it can get chilly if you're out in the desert.
As such, I recommend taking a thin windproof jacket with you to this country – something light, compact but practical would be ideal and this North Face Venture 2 is perfect.
3x Thin Sweaters or Cotton Long-Sleeved Tops
Great for layering if you're in Egypt, in certain parts of the country you might not feel comfortable walking around with bare arms, so thin, light tops are crucial.
I always love a natural fibre long sleeve option to stop me sweating as much!
1x Cardigan / Denim Shirt
Helpful in the evening and /or if you want something a bit smarter during the day.
I'm loving the denim shirt look right now!
2x Pair Leggings
One of my travel essentials full stop (not just in Egypt!) leggings are especially ideal when you're exploring the temples and cities and you need to cover up because they are thin and breathable… if you get the right pair.
I strongly recommend bamboo fibre ones for the job because they are breathable, hypoallergenic, soft, thin and compact down really easily.
In Egypt especially, leggings are good under a casual dress or tunic when you need to dress modestly and are comfy to wear on any long bus or train rides you might have to make.
2x Jeans / Trousers
Great for going out in the evening or wandering around cities like Luxor and Cairo, you're likely to feel very uncomfortable in anything short or revealing in Egypt (outside of the coastal regions), so long-legged pants are a must.
Just make sure they are thin and light!
1x Pair Shorts
Shorts are really only worn in Egypt by travellers at the coast, which is why I've just put down 1 pair.
If you're keen on a diving or snorkelling adventure, the Red Sea has some amazing opps and dress codes are certainly more relaxed here.
1x Summer Dress
Another great item for Egypt beach times and / or to pair over leggings in the cities.
Those who aren't a fan of dresses, may wish to double up on the shorts here.
2x Sarongs
You can't take enough sarongs travelling in my opinion and, as they are so light, I recommend 2 as a minimum.
Perfect for using as a beach towel, a headscarf, a shoulder wrap, a bathrobe, a sheet, a laundry bag … the list goes on!
Check out my post about the 20 reasons why you should always take a sarong travelling for more ideas.
These ones from One World Sarongs have some beautiful designs.
7x Singlets / T-Shirts
Choose a range of colours and styles that match the trousers / shorts you've selected.
I recommend loose ones that will keep you cool and aren't too revealing.
T-shirts are best as they cover shoulders (good for avoiding sunburn), or go for my ventilation tactic, which is a singlet with a thin scarf or sarong draped around the shoulders.
7 is a good number of tops as it means you have enough to survive without doing laundry for a week!
8x Pairs Underwear
Small and compact, 8 pairs is a good number to save you a lot of hand washing duties!
2x Bras
Make them comfortable ones in this heat!
1x Sports Bra
Compact, quick to dry and a must in my travel pack, I love this black one from Nike.
1x Bikini / Swimwear
Well you need something to enjoy Egypt's fabulous coast with, that's for sure.
I always love Rip Curl's offering.
3x Pairs Socks
Most days you'll probably be wearing sandals in Egypt, but this is for those exception days when you'll wear trainers – like when travelling in planes, or in buses / trains.
Nightwear
You can always double up on your daywear here to save room if needs be!
1x Sun Hat
Whether you want to bring a cap or a floppy, large designer number, the choice is yours.
Just make sure you bring a sun hat of some description because walking all day in cities or around temples in Egypt's heat can be tough!
I love this one from Hello Sunshine.
2x Thin Scarves
Ideal if you're wanting to visit any mosques and need to cover your head.
Also good to cover shoulders – see above in the T-Shirt / Singlet section.
Shoes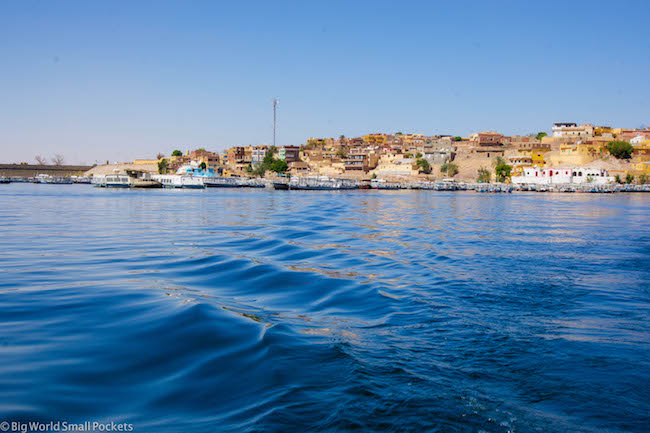 1x Pair Trainers / Runners
Versatile, comfortable and essential if you want to see all the sights in this epic country.
I highly recommend New Balance who create stylish city runners that you can still wear in the evening too.
1x Pair Flip Flops / Sandals
Personally, I love my Birkenstocks, which I basically lived in during my time throughout the Middle East.
The support they offer means you can sightsee to your heart's content and never get sore soles!
1x Pair Evening Flats
A great addition to an Egypt packing list because you'll likely be going out for dinner at least a few times during your trip.
Toiletries
Thin Toiletries Bag
To hook or not to hook, that is the question!
Either way, just make sure it is light and thin.
This one is a great and affordable option.
Shampoo & Conditioner Bars
I also go for shampoo and conditioner bars when I travel to save the plastic and keep the space down!
Although they are a bit pricey, they last for ages.
Say goodbye to mid-travel spillages and bulky bottles people, this is the future!
Deodorant
I always pack a natural crystal deodorant when I travel as they last forever and are free from many nasty chemicals.
Soap
Keep in a ziplock bag to prevent soap slime getting on everything you own!
Toothbrush, Toothpaste, Floss
Facial Wash, Toner, Serum, Moisturiser
Body Moisturiser
Cotton Buds & Hair Bands
Glasses / Contact Lenses if you wear them
Razor & Spare Blades
Nail Scissors, Nail File & Tweezers
Medical
Natural Sunscreen
Choose a 30 SPF or higher for those helluva strong rays in Egypt and go natural if you can to keep the chemicals out of your skin.
Aloe Vera
This doubles as a great moisturiser, soother and aftersun.
SPF Lip Salve
Very important for those UV conditions in Egypt and to avoid your lips drying out.
Burt Bees are always my go-to as they never dry out my lips.
Natural Bug Repellent
See my post about how to make your own DEET-Free insect spray or else there are plenty of ready-made products on the market like this great one.
Tiger Balm
An ideal remedy for headaches, sore muscles and insect bites, tiger balm is a super versatile, travel essential for me!
Tea-Tree Essential Oil
A powerful antiseptic, anti-mould and anti-fungal treatment, tea-tree oil is also great to throw in with your washing , or you can use a few drops to freshen up smelly bags / laundry etc!
Get an organic tea-tree oil if you can.
Paracetamol, Antiseptic Cream, Antihistamines & Band Aids
The only medicine you need to take in my opinion!
There's so many pharmacies in this country you'll be able to get almost anything you need there anyway!
Moon Cup / Diva Cup
The best way to deal with your time of the month when travelling ladies.
Check out the best prices for them here.
Safety Pins
Always handy.
Other Bits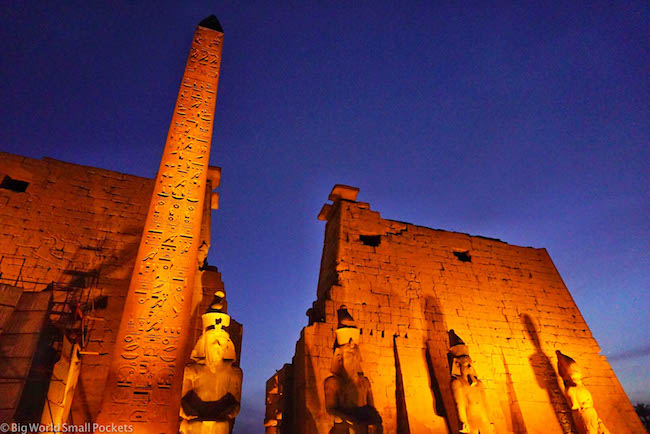 Large Backpack
This whole packing list should fit into a 40l backpack – I never travel with anything bigger and love this great example from Berghaus.
Travel Towel
I recommend Latrek, because they are cheap, compact, soft and don't smell.
Love, love, love mine!
Read my review here.
Day Pack
Good for sightseeing and beach days, this one from PacSafe is perfect.
Combination Padlock
Very useful for locking up bags and valuables when staying in hostels, these don't have to be expensive, just reliable!
Eye Mask & Earplugs
Key for sleeping on overnight train journeys and in hostels in Egypt.
This eye mask from Alaska Bear is super comfy.
Sunglasses
Filter Water Bottle
Try to get a metal one and steer any from those nasty plastics.
Buying a big bottle of water and refilling it is much cheaper and more environmentally friendly than continually buy small bottles, because Egyptian tap water definitely isn't drinkable!
Travel Handwash
Great for doing emergency washing such as underwear in a sink, travel handwash is always a must when I travel anywhere.
Electrical
Laptop / Tablet
Every hostel in Egypt has free wifi, so bring your own device here and you're good to go.
Smartphone & Headphones
Taking your smartphone to stay in touch with those at home, check maps, book activities and upload some pics while you're in Egypt is a great idea.
Also download some audiobooks and music onto your phone before you leave home – a good shout for travel days.
I recommend Amazon Audible and Spotify Premium for these purposes and wouldn't travel anywhere without either these days.
Portable Power Pack
Portable power packs are great when travelling without a solidly reliable charging source, like in Egypt, where power cuts can be a regular occurrence!
I recommend the Anker PowerCore which allows me to charge both my phone and my camera – BOOM!
Camera, Lens, Spare Battery & Charger
I love my Sony A600 mirrorless camera, which I've used across the Middle East and beyond.
Light, compact and sturdy, it's perfect for travelling.
I'd also recommend a GoPro for Egypt if you want to capture some of that Red Sea action.
Memory Cards
Take a large memory card if possible – like this 64GB one.
Might not be a bad idea to double up in case you lose it or fill it up.
High-speed memory cards are also good for better processing times.
Adapter
How are you going to charge your devices otherwise?!
Egypt has the same type of plugs as continental Europe, so get a cheap adapter here!
Otherwise, you can splash out on a worldwide adapter – better value if you're travelling elsewhere after the Middle East or anytime in the future!
Skross are a great, reliable brand that I highly recommended.
Headlamp & Spare Batteries
Never travel without a headlamp and try to choose a product that uses commonly found batteries and has a red night light function.
I love my Black Diamond Storm, which has served me well during my time across Africa.. and the globe!
VPN
A VPN service is a must for me when I travel, especially in high-risk countries.
I love NORD VPN who offer a huge number of global servers for a truly quick and seamless connection.
Documents
Passport & Photocopies
Definitely take a colour copy of your passport with you to Egypt and keep it with you at all times.
There are multiple checkpoints across the country and it's necessary to have at least a copy of your passport with you if you get stopped.
Flight Tickets
Visa Documentation
Depending where you're from of course.
Many nationalities can get free tourist visas for Egypt on arrival – hoorah!
Immunisation Documentation
Always good to have with you wherever you travel.
Travel Insurance Policy
Can't go wrong with the excellent travel insurance from World Nomads in my opinion.
I've used them during my travels in the Middle East, Africa, Australia and beyond.
Alternatively, if you're looking for travel insurance with Covid-19 cover, then look no further than Safetywing's great Nomad Insurance policies.
These guys will cover you at some seriously great prices, including if you have to quarantine, and are ideal for digital nomads, long-term travellers and remote workers.
Credit Cards and Debit Cards
ATM's in Egypt are plentiful and accept both Mastercard and Visa.
They tend to dish out both USD and Egyptian Pounds.
Cash in Small Thin Purse
Bring US Dollars with you too – they are most easily exchanged in Egypt.
PIN IT TO PINTEREST!
So that's it, my complete Egypt packing list.
Have you been to this gem of a country?
What else did you pack that I might have missed?
Please let me know in the comments box below…