It may surprise you to know, but some of the best Australia beaches we've seen so far on our road trip around this country have been in the relatively small, relatively uneventful and relatively unknown town of … Bowen.
I know right?!
Often given a bad rap, we were totally unprepared, and thus totally bowled over, by the gorgeousness of the coastline in Bowen.
Indeed, I can't recommend this place enough if you're looking for a quiet beach getaway off the beaten track.
So here is why I think Bowen might have some of the best Australia beaches.
---
Related Posts
---
This page contains affiliate links meaning Big World Small Pockets may receive a small commission on any purchases at no extra cost to you.
---
Bowen?!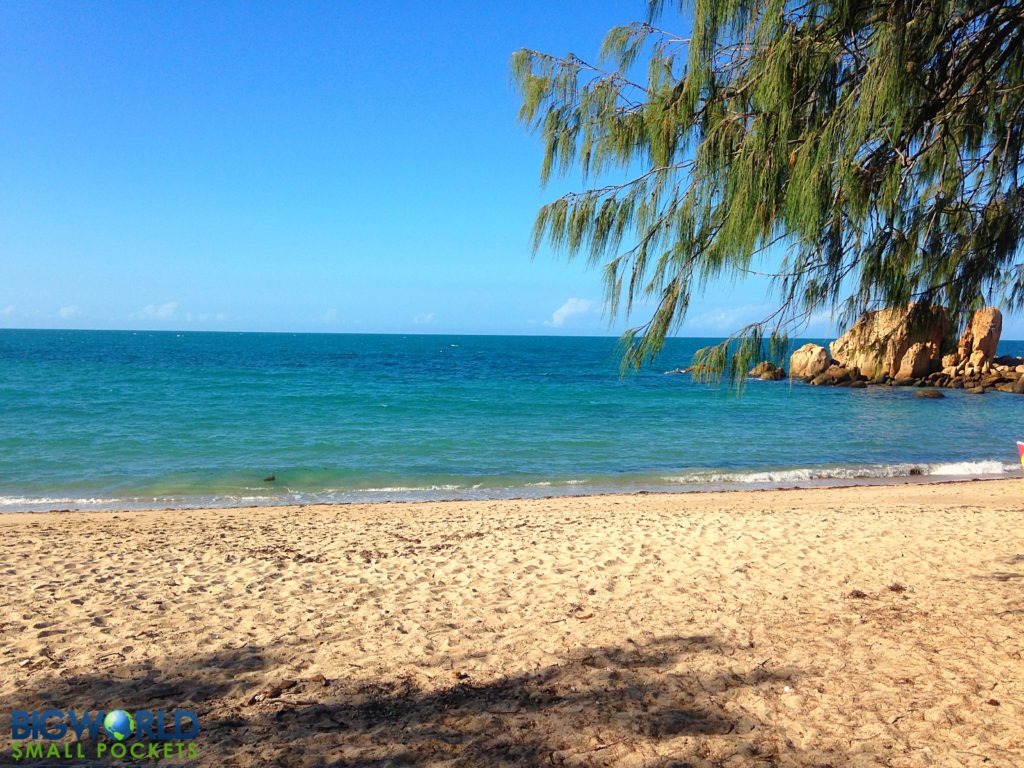 I've probably guessed what you're already thinking and that's where the heck is Bowen and why haven't I heard of it?
Well chances are, you're not in the minority. If you're an international traveller to Australia, then I'd hazard a guess at the rate of you having heard of this town before arriving Down Under at exactly nil.
Even if you are from Australia, or you've been here a while, then you may still not have heard of this small country town.
So …
Where and What is Bowen?
Set within the Whitsundays region, Bowen is located in tropical Queensland, just north of Airlie Beach on Australia's east coast.
The nearest city is Townsville – the unofficial capital of the state's northern regions – which is about a 2hr drive from Bowen.
Most famous for being the fruit basket / salad bowl / veg hamper (take your pick!) of Australia, Bowen is a hot bed for migratory farm workers.
As such, the place is often crowded with travellers all here to make a buck or two picking, planting or propagating whatever they can get their hands on.
But that's it.
These travellers do not come to Bowen for the relaxed atmosphere and gorgeous coastline, they do not come to enjoy the stellar beaches or crystal waters.
No, most people who have heard of Bowen, or who have even journeyed here, come to pick the millions of tomatoes the region produces or to pack the zillions of Bowen mangoes this town has given its name to.
As such, one of the reasons why I think Bowen might have some of Australia's best beaches is because hardly anyone is ever on them!
Poor Bowen!
And that's because poor, old Bowen gets a bit of a bad rap.
Yes, when it comes to glamour resorts or lifestyle-choice holidays, this rather desolate little town barely gets a look in.
Originally built as a port area just off the main east coast highway of Australia, Bowen hasn't, however, moved much with the time I'm afraid.
Instead, this decidedly low-profile part of the Whitsundays' region has retained a fairly traditional and rural ambience, one that revolves around a simple type of life on the land.
As such, there's certainly not much in the way of fancy hotels, 5-star restaurants or award-winning latte art here in Bowen and there's certainly no shiny malls, glittering nightlife or exciting waterparks.
In fact, there's not much in the way of anything in Bowen!
(When we visited, half the town's main street was boarded up, the main weekly market had a combined total of about 8 stalls and we saw virtually no one).
As such, Bowen really isn't high on many people's holiday list.
Whitsunday Beauty at its Best
Which is really rather strange, because Bowen is only an hour's drive from the tourism hotspot of the Whitsunday's, Airlie Beach.
That's right, just down the road from Bowen is one of the most popular tourist destinations in not only the whole of Queensland, but doubtless the whole of Australia too.
A hotbed of luxury, glamour, gorgeous scenery and stunning weather, the famous Whitsunday Islands are so close to Bowen you can basically smell the sunscreen!
And as far as scenery goes, not much changes as you head just an hour north – the ocean is still crystal blue, the Great Barrier Reef is still just a stone's throw away and the beaches are still world-class.
Because let's not forget, the sleepy town of Bowen actually is part of the Whitsundays.
One of the reasons why I think Bowen might have some of the best beaches in Australia therefore, is because it boasts all the same paradise-like stretches of sand as its more famous island cousins.
You know, the idyllic pictures that you've seen time after time in magazines? They could just as well have been taken in Bowen!
A little bit removed however and, it must be said, a little behind the times, Bowen has managed to dodge the crowds and the commercialism normally associated with Whitsunday tourism and is, therefore, actually the perfect place to enjoy this area's coastal splendour!
5 ESSENTIAL PACKING ITEMS FOR AUSTRALIA
#1 Good Camera – You will be pretty much snapping non-stop in Australia and will need a good camera to do this gorgeous country justice. I highly recommend the Sony A6000, which I use for all my travels and love, not least because it's light, compact and robust!
#2 Good Walking Shoes – There will be a lot of walking in Australia – from cities to national parks! Make sure your feet are comfortable therefore with a pair of New Balance Trainers. Perfect for stylish strolling, I love mine.
#3 Good Guidebook – I'm still a massive fan of the Lonely Planet Guidebooks and do think their Australia edition is well put together.
#4 Good Water Bottle – Travelling in hot old Australia can be thirsty work, so make sure you have a metal water bottle that you can refill as you go, because tap water is drinkable… and free!
#5 Good Sun Hat – And there's no denying you'll need a good sun hat for protection in Australia too. In my opinion you can't go past this Hello Sunshine one, which is both gorgeous and ideal for keeping the rays off your face.
Budget Bowen
And so, because every man and his dog floods to Airlie Beach or Hamilton Island to get their Whitsunday fix, prices this side of paradise are wonderfully cheap in comparison!
Yes, forget paying $700 AUD for a beachside apartment, here in Bowen you can enjoy premium Whitsunday wonder for only $25 AUD a night!
Ok, so granted this might be in a caravan park and not a 5-star resort, but nevertheless, it's a lovely caravan park with the same lapping waves, the same sunrise and the same beautiful beach views that could be seen from anywhere else in the Whitsundays.
Bowen is the poor (wo)man's Whitsunday choice and for this reason, I love it!
Yes, as a keen budget traveller, another of the reasons why I think Bowen might have some of the best beaches in Australia is because enjoying them is such a cheap affair!
Beaches a Plenty!
And best of all, there's a ton of these great beaches to enjoy. From the long and wind-swept Queens Bay, to the gorgeous coves of Horseshoe and Rose Bay, the beaches in Bowen almost outnumber the people here!
There's a beach for every mood or wind direction, every activity and every occasion.
And they're only a maximum of 10 minutes' drive from each other – hoorah!
One of the loveliest things about the beaches in Bowen is the fact that you can walk between many of them.
Yes, via gorgeous trails and some great lookouts (Flagstaff was my favourite), you can easily saunter from bay to bay as you take in the stunning coastal views and impressive inland vistas.
There's also great snorkelling to enjoy from Bowen's beaches, as well some awesome sunsets too.
Hell, there's even some local peacocks to watch – now how can you beat that?!
A photographer's dream, a beach lover's paradise and a water haven, I really do think that Bowen might have some of the best Australian beaches.
Why not judge for yourself?
PIN IT TO PINTEREST!