Taking a Nile cruise in Egypt is one of the quintessential things to do in this country, but if you're anything you like me, you probably have reservations about how expensive this notoriously tourist experience might be.
But fear not, I managed to score a bargain Nile cruise when I was in Egypt and now, to help you do the same, here's the full lowdown on how you can score a cheap Nile cruise in 2023 and beyond…
---
Related Posts
---
This page contains affiliate links meaning Big World Small Pockets may receive a small commission on any purchases at no extra cost to you.
---
Grab Your Copy of How to Travel Africa for Less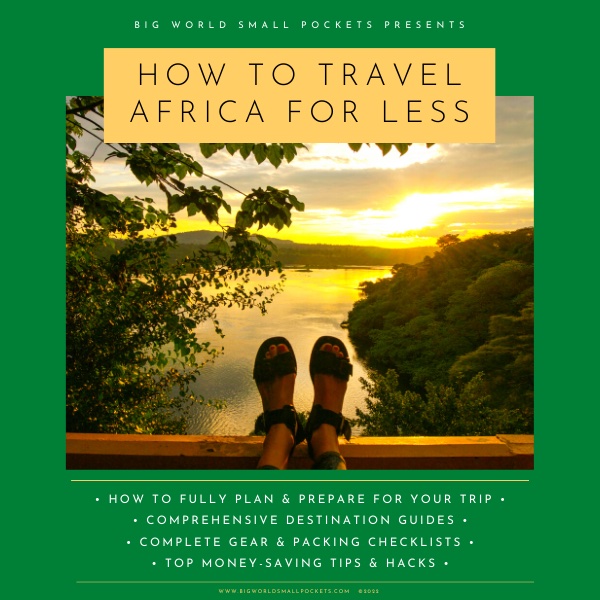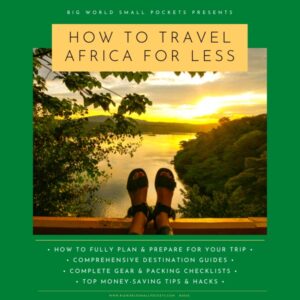 My ultimate guide to travelling Africa on a budget is now available, meaning you can finally get ALL my top tips for adventuring around all, or parts, of this amazing continent in one handy eBook, including…
Full Planning & Preparation Guides
Detailed Destination Info
Complete Packing & Gear Lists
Top Money-Saving Tips & Hacks
What is a Nile Cruise All About?

To put it in very basic terms, an Egypt Nile Cruise is a great way to travel between the southern cities of Luxor and Aswan (or visa versa) in Egypt.
Both of these destinations are must-see cities on your Egypt itinerary and while it is possible to travel by road or train between Luxor and Aswan, taking a cruise up (or down) the Nile between them is a much nicer way to travel.
Yup, normally lasting between 3-5 nights, drifting slowly up the world's most famous river as you laze by a pool and take in the amazing views really is a spectacular experience.
Don't you agree?
And that's not to mention the temples you get to see along the way, which are otherwise very difficult to get to.
This makes an Egypt Nile cruise a classic traveller experience in this country and after the fabulous time I had, I highly recommend getting it on your list.
Aswan to Luxor Vs Luxor to Aswan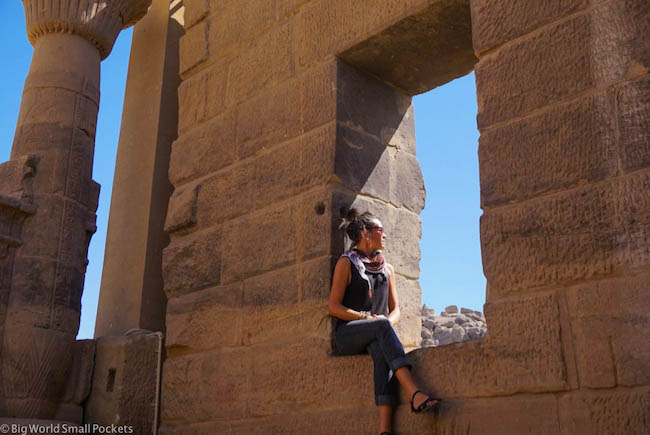 So after deciding you want to make a Nile cruise, the next thing to plan is in which direction to take it.
Generally speaking, Luxor to Aswan cruises follow a longer itinerary of 4 days than Aswan to Luxor routes, which usually only take 3 days.
If you're on a budget therefore, it's likely that making the latter journey is going to work out more cost-effective for you, simply because it's shorter.
It's also worth bearing in mind that each leg of the cruise normally includes a tour in the respective city of your final destination.
In other words, if you're travelling from Aswan to Luxor, a day exploring Luxor's attractions (like the Valley of the Kings and Karnak Temple) will be included in your cruise itinerary.
Likewise, if you're travelling from Luxor to Aswan, a day exploring Aswan and /or Abu Simbel will also be included in your cruise programme.
If you're planning to stay in either Luxor or Aswan for a few days on either side of your cruise therefore, another great way to keep the price of your Egypt Nile cruise down is cut the programme short, check into a Luxor or Aswan hostel as soon as you dock there, and seeing the attractions in these respective cities independently.
For more information about how to do this, check out my ideal 2 day Luxor itnerary or my list of the top 10 things to do in Aswan – both give great tips about the best way to take in these destinations on a budget too.
Normal Costs of an Egypt Nile Cruise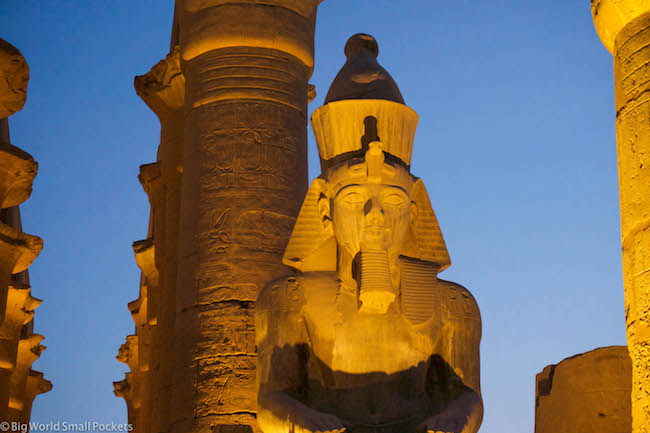 But even with these money-saving hacks in place, there's no getting away from the fact a Nile cruise can be an expensive experience.
Just have a look online at the prices offered by companies and you'll probably take a large and sharp inhale!
Yes these cruise packages offered online or by travel agencies in Egypt start from around $200 USD per day and that's just for a basic ship – roughly equivalent to a 3*star hotel.
Generally these prices include 3 meals a day, plus use of all ship facilities and some temple tours, but nevertheless, it's likely to be a hefty chunk of your travel budget.
And that's because booking online or through an agency in Egypt means you're also paying a huge amount of agency commission.
In order to get the best prices therefore, you need to cut out the middle man for your Egypt Nile cruise and head straight to the source (pun intended!)
How to Score a Cheap Nile Cruise?
So how do you cut out the middleman?
Well first of all, you need to be in Egypt to make sure you are booking direct.
This does mean leaving your cruise slightly to the last minute, which may prove difficult if you have a jam-packed, tight or well-planned itinerary.
However, if you are even slightly flexible, it's generally possible to find a cheap Nile cruise just a few days ahead of time.
With this in mind, it's also worth considering the season in which you're travelling to Egypt.
It goes without saying that travelling in the shoulder or low season is going to make it a lot easier for you to score a cheap Nile cruise.
So, if you're yet to book your trip to Egypt at all, I'd definitely recommend avoiding the peak season of November through February and heading to this country during the shoulder season of September to November or February to April instead.
I visited (and Nile cruised in) Egypt in March and it was perfect, with delightful weather and much fewer crowds than I'm told are there in the high tourist season.
The second thing you need to bear in mind when trying to score a cheap Nile cruise is that the ships only run on certain days.
What I mean by this, is that there aren't cruises ferrying up to Aswan or down to Luxor every day of the week.
Normally there are departures 2/3 times a week, but again it's worth being a bit flexible with your dates when trying to score a cheap deal.
How to Avoid the Travel Agencies?
So the best thing to do for your cheap Nile cruise is, as I've said, to cut out the middleman and go direct.
I'd read many blogs when I got to Egypt about heading straight onto the ship to score a cheap cruise, but I actually find this information wasn't useful.
In Luxor, it was time-consuming and ultimately unproductive walking between the many different ships trying to find when they were leaving, where to and whether they had space.
Also, new ships come and go daily, so keeping track of which ones you have and haven't approached is time-heavy and often, success poor.
That's not to mention the fact that a ship which might be leaving on your intended day of departure, with space for a couple of cheap last-minute bookings, may only dock the day before you want to leave.
Having the time to find this boat, head to this boat, talk to the staff, score a place on it and be ready to leave all within the space of an evening may be unrealistic.
At least it was in my case.
As such, I highly recommend seeking out some of the cruise scouts.
These are basically guys that work on behalf of lots of different ships, filling the vacant places they have with last-minute bookings.
As I was sailing from Aswan to Luxor, I managed to find a great guy in Aswan, down by the ships, who hooked me up with a stellar deal – just $40 USD per day for a 3 day cruise to Luxor!
My Egypt Nile Cruise Experience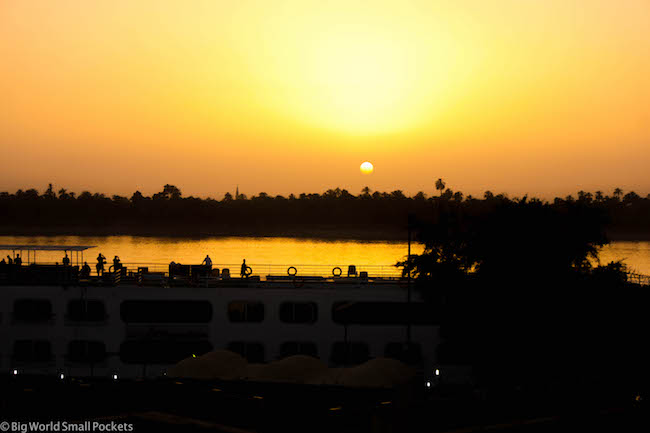 So yes, my 3 night cruise on the Nile cost me just $120 USD in total!
This included 3 meals a day, a lovely cabin and a guided tour of Luxor, plus the possibility to see both Kom Ombo and Efnu Temples.
The itinerary ran as follows:
Day 1: Board ship in Aswan | Sail to Kom Ombo | Visit this temple | Sail to Efnu
Day 2: Visit Efnu Temple | Sail to Luxor
Day 3: Visit Luxor with a guided tour | Enjoy final night aboard ship
Day 4: Disembark in Luxor
The level of service and provision I got was exactly the same as everybody else on the ship, except they had paid possibly 5 times more than me!
And in between all the temple viewing, I thoroughly enjoyed lazing by the pool on the ship's top deck, sunning myself and watching the Nile sail by!
My Contacts for a Cheap Cruise
And so here they are people, my direct contacts for scoring a cheap Egypt Nile Cruise.
(I'd like to point out that, in no way, have I been sponsored, nor am I affiliated with either of these individuals. I just like helping fellow budget travellers out and can't be held responsible for any trips you book with the below contacts.)
First up, the manager of the ship, Quest Cruise, I sailed with:
His name is Nasser and can be contacted for direct bookings on +20 112 666 000 41 or emailed at [email protected]
Secondly, the cruise scout who I actually booked my trip through:
Hi name is Montasser Mohamed. He can be contacted by phone on +20 122 33 59 105, or + 20 111 638 5004, via Whatsapp on +20 102 511 1063, or via email at [email protected].
Other Well-Priced Nile Cruise Options
Alternatively, if booking last minute, down at the dock is a bit too stressful for you – I appreciate not everyone has all the time in the world – then it's good to know there are some great priced online tours that offer a more secure and official booking process!
Then this excellently priced 4-night all-inclusive Nile cruise from Luxor to Aswan is a great option for those with less flexible travel plans, or for those who want greater peace of mind.
It's a 5* cruise boat and the package includes a trip to Abu Simbel, as well as Edfu and Kom Ombo Temples, plus the Valley of the Kings and the Valley of the Queens in Luxor… tick, tick, tick!
Alternatively, if you're travelling from Aswan and want to sail north up the Nile cruise to Luxor, this top-rated 3 night cruise onboard a 5* ship, is a great option offering brilliant value for money and a hassle-free experience, with visits to the Philae Temple, Edfu and the Valley of the Kings thrown in too!
And finally, if you're based in Hurghada, but don't want to miss out on a Nile cruise too, then this is the option for you!
It includes both a pick up and drop off at your Hurghada hotel in an air-con minivan, as well as a 4 night cruise on a 5* boat, with visits to all the temples in both Luxor and Aswan, as well as inbetween, all included!
SAVE THIS TO PINTEREST!
So there you have it folks, the full lowdown on how I scored my budget Nile Cruise.
Hope you manage to get a bargain too!
Have you tried to get in touch with either of the contacts I mention?
How did your trip go?
Please help fellow travellers out by leaving details of your experience in the comments box below…