Being the huge country that it is, getting around Australia can often be an expensive endeavour.
With large distances between towns, some that stretch across time zones, it's no surprise that transport costs Down Under can put a major dent in any tourist's pocket.
But don't worry mate, I've discovered 13 easy ways for you to score cheap travel when you visit Australia, so that seeing the most of this vast land needn't cost you the earth!
---
Related Posts
---
This page contains affiliate links meaning Big World Small Pockets may receive a small commission on any purchases at no extra cost to you.
---
#1 Budget Airlines
Australia has 2 main budget airlines that service domestic, as well as international locations, and are a winner when it comes to cheap travel in Australia.
Flying with either budget company – Jetstar or Tiger – is bound to save you money especially if you book online, so just make sure you don't overpack or buy any extras, like reserved seating, and you'll be onto a winner.
Flying either early in the morning or late at night should also help you score a bargain flight.
#2 Flight Comparison App
Sticking with the air travel theme, I highly recommend getting the app Australia Flight FREE if you're looking to score cheap travel when you visit Australia.
This wonderful little app is really simple to use and easily displays flight comparison details over a range of airlines including the budget ones I've mentioned above.
I've used Skyscanner and other flight comparison sites too in the past, but have found this app much more helpful Down Under when it comes to really getting the best flight prices.
#3 Hitch
Moving onto road transport, the obvious free choice for cheap travel when you visit Australia is to hitchhike.
This doesn't come with a safety guarantee, but I have tested it out many times and all with good success.
Plus, you always get to meet some interesting characters along the way!
Check out my top 5 tips for successful hitchhiking if you're considering this method of getting around.
#4 RideShare
If you'd rather have a bit more security when traveling Australia (understandable!), then I highly recommend rideshare options instead.
This is basically when you share lifts with others that are already driving in the direction you want to go and share fuel costs too.
Rideshare is more organised than hitching as there are dedicated websites through which you can find lifts.
Have a look at coseats.com or search for some Australian rideshare facebook groups – there are plenty around and you are sure to find a lift sooner rather than later if you're flexible.
#5 Group with Others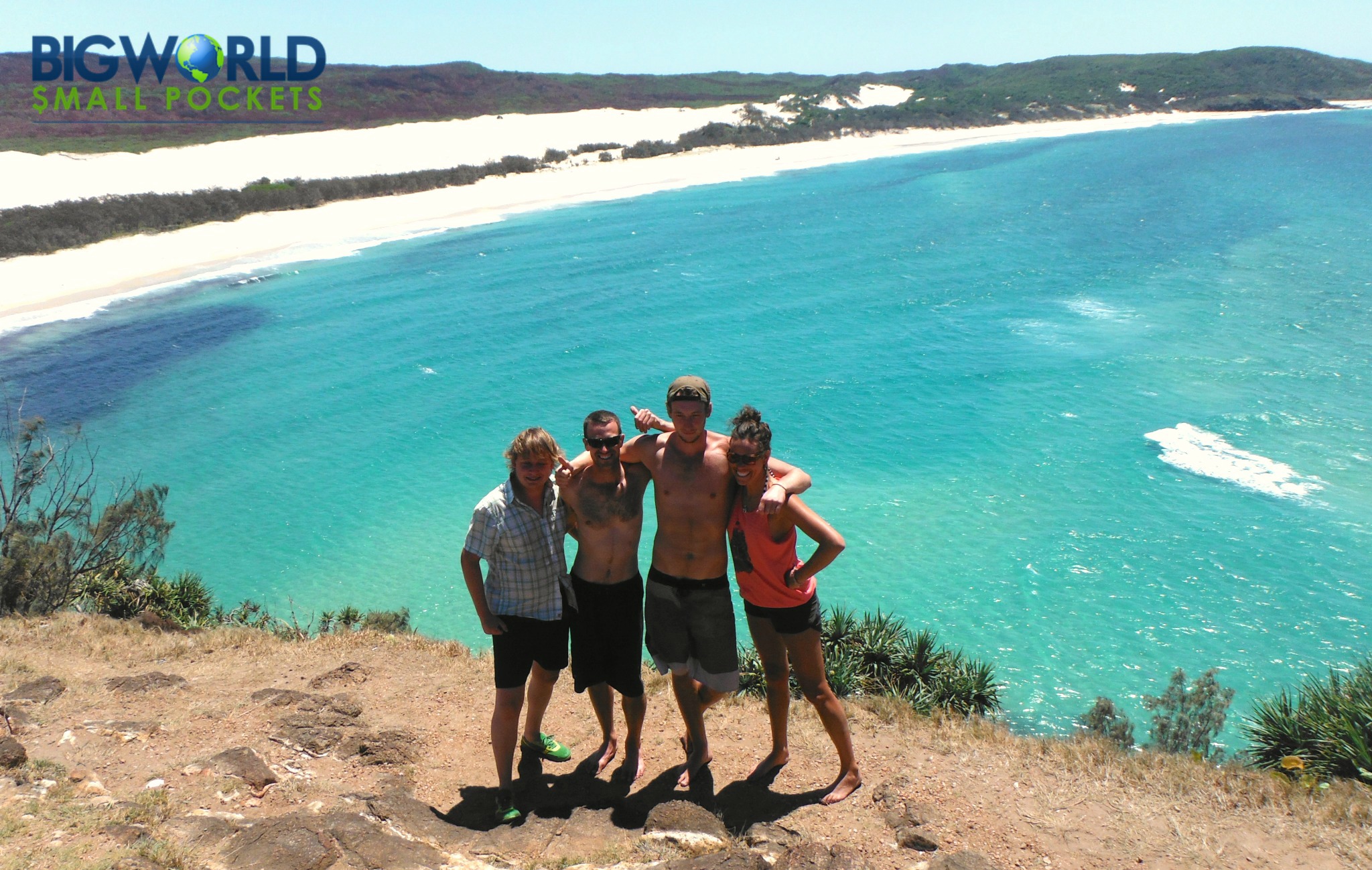 It goes without saying that sharing transports costs with others is always going to be a cheaper option when you visit Australia.
As such, if you're looking to hire your own car or campervan, make sure you find more people who want to do the same.
Hostel noticeboards or relevant facebook groups are a great way to do this – I've sometimes even used gumtree as was the case when I was trying to get to Fraser Island.
However you do it, just try and get others involved!
#6 Campervan
Ok so maybe a campervan isn't a way to score cheap travel when you visit Australia per say.
It is, however, a good way to lower your trip costs overall.
That's because buying or renting a van means you can sleep for free.
Australia is a paradise when it comes to free camp spots (find out more in my post 10 awesome ways to find cheap accommodation when you travel Australia) so don't think that you necessarily have to fork out for somewhere to stay as well the fuel after you've got your van.
Most come with beds fitted, so just climb into the back wherever you decide to park up for the night and enjoy the freedom and good value of life on the road!
#7 Relocate
If you can't find others to share the costs of hiring a vehicle with, then why not look into a car relocation deals instead.
Relocation deals are plentiful in Australia and if you don't have a set destination or timeframe in mind, then you'll almost certainly find a free vehicle to take you somewhere!
Relocation deals are run by hire companies, who need to get vehicles to certain locations across the country because of paid bookings.
In order to shuttle the cars and campervans around, they loan them out for free to travellers who agree to drive them from one location to another.
Often the hire companies throw in some fuel vouchers too, so relocation deals really are a super way to score cheap travel when you visit Australia.
My best record so far is getting 1500km across the Northern Territory for only $60 AUD!
#8 Fuel Comparison App
Once you are on the road, it's then all about keeping fuel costs down if you want to score cheap travel.
As such, I highly recommend investing in a fuel comparison app if you are going to be road tripping Australia for a while.
GasBuddy and MotorMouth are 2 great examples that we'll certainly be using on our forthcoming road trip around Australia.
#9 Fuel Vouchers
There are only 2 major supermarket chains in Australia – Coles and Woolworths – and they predominate the grocery trade in any major town here.
As such, you are bound to find yourself in either one or the other sooner or later and when you do, try to spend over $30 AUD.
This will get you a receipt that contains a fuel voucher for 4c off every litre of fuel at a partnering service station.
Woolworths partner with Caltex, while Coles are partnered with Shell, so make sure you collect the fuel voucher receipts whenever you shop and then have them handy to redeem whenever you need to fuel up.
We normally have little pile in the car to ensure we get our full value for money out of them before they expire!
#10 Greyhound Pass
If you're looking into getting around via public transport more, then the Greyhound Bus Service is probably going to be right up your street.
This oh-so-simple and efficient service is perfect for those who visit Australia as it stops at all the major tourists spots along the east coast, as well as some great destinations inland too.
There is often wifi on board and it's always a great place to meet some other travellers!
Tickets however, can be expensive … if you don't know where to look that is! If you're going to be traveling quite a lot in the country, then can I suggest a Hop On Hop Off Greyhound Pass, which are really excellent value and give you a wide range of options and flexibility.
Greyhound also run some great specials, so always check out their website for deals if you're looking for some inspiration.
Students with valid cards also get a further discount, just input your student number at the time of booking and present it to the driver when you board.
#11 Premier Bus
A cheaper alternative to the Greyhound Bus, the Premier Bus is a winner and if I wasn't hitching or relocating back in the day, I used it a lot to get around.
Unfortunately, the Premier Bus only travels between Melbourne and Cairns and has a more limited timetable than Greyhound – normally only 1 bus a day.
On a positive note however, the Premier Bus is generally cheaper and offers a greater range of concession passes, including 10% off for a return booking (winner!) or discounts if you have a YHA or VIP Backpacker member card.
Definitely worth checking out if you are traveling via public transport, Premier Bus is a top way to score cheap travel when you visit Australia.
#12 Transport Cards
On shorter distance journeys within Australia, for example within the major cities or parts of a state, there are often transport cards you can pick up that will give you a discounted rate on local public transport.
The Myki Card used within Melbourne is one example, which is a tap on tap off card that gives you cheap travel on trams, trains and buses.
The Translink Go Card is another option used in south-east Queensland between the Sunshine Coast, Brisbane and Gold Coast areas.
Simply pay $10 AUD for a Go card, top it up and then use it on buses and trains to get a third off travel and your 10th trip in any week free!
#13 Rail Pass
On longer distance travel when you visit Australia why not check out the rail passes on offer and see the country whizzing right past your window rather than through the clouds.
There are several rail passes available to help you make savings on numerous journeys all with varying levels of flexibility and distance.
With sleeper night trains available on longer journeys and plenty of comfort at any time of the day, seeing Australia's east coast by train is a really different experience that becomes financially viable with a rail pass.
PIN IT TO PINTEREST!
So those are 13 easy ways to score cheap travel when you visit Australia.
Don't pay more when you don't have to, try one of this methods out and keep your holiday costs down.