They are the 2 most visited regions in Finland and, as such, knowing how to travel between Helsinki and Lapland is an absolutely crucial piece of travel research for most visitors compiling their itinerary in this country.
Which is exactly why I'm bringing you the full lowdown here on how to travel between the north and south of Finland as, in my opinion, you can't afford to miss either region!
From plane to train and even car, there's several different ways to travel from Helsinki to Lapland, depending on the amount of time and size of budget you have.
Here I go through all the practical details of these 3 transport options, listing the pros and cons of each too, so you can make the best decision for your trip.
So let's jump straight in with how you can travel from Helsinki to Lapland…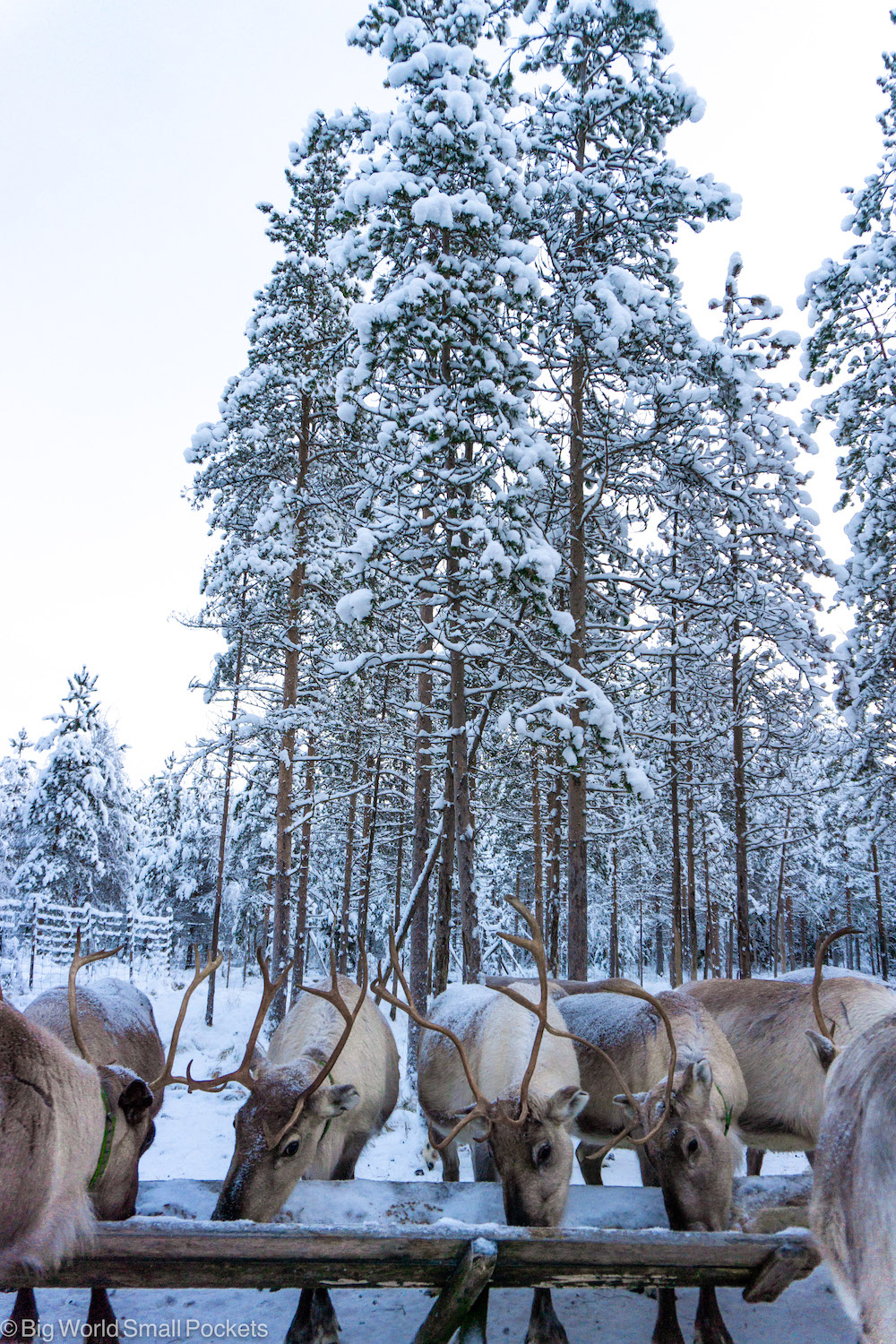 ---
Related Posts
---
This page contains affiliate links meaning Big World Small Pockets may receive a small commission on any purchases at no extra cost to you.
---
#1 Fly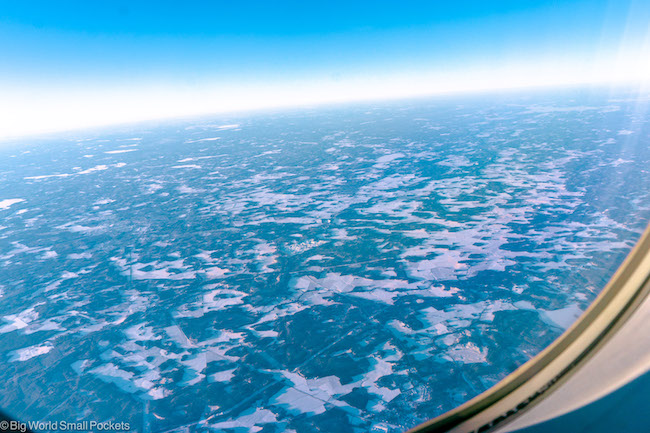 So first up we come to the most popular way to travel between Helsinki and Lapland, at least for international travellers.
Domestic flights between the capital and Lapland's regional airports (yes there's more than one) are common and take around 1 hour, depending on exactly which part of Lapland you are flying into, meaning they are quickest way to travel between Helsinki and Lapland.
Most flights are operated by Finnair and the best deals can be found by checking a comparison website like Skyscanner, that allows you to compare flights over a number of dates and times.
Flights tend to be quite reasonably priced, but Finnair do charge extra for checked baggage, so do beware of these costs if you are coming laden with thermal gear – quite likely!
I paid around a 160€ return for my flight during the high season with checked baggage when I travelled to Lapland from Helsinki.
Helsinki Airport
In Helsinki, there is just one airport that services both international and domestic flights.
It's called Helsinki-Vantaa Airport (IATA code: HEL) and is situated a short way from Helsinki's city centre.
You can access either of HEL's 2 terminals by using the city's excellent public transport network or by catching an Uber.
Lapland Airports
In Lapland, you have a range of airports to choose from depending where in the region you have decided to base yourself.
The main town in Lapland, and the primary tourism hotspot, is Rovaniemi, which is home to the Santa Claus Village and an international airport (IATA code: RVN). There are many Lapland hotels and activities you can enjoy here as it's the capital of Finnish Lapland.
Rovaniemi is the third busiest airport in Finland and is situated in the south of Lapland, just near the Arctic Circle. The airport is 10km away from the town centre.
There are at least 3 flights daily between Helsinki and Rovaniemi, otherwise you can also fly here directly from London and several other major European airports. As the major hub, Rovaniemi tends to have the cheapest flight prices from Helsinki.
In general, these international flights service families coming to see Santa and, as such Rovaniemi can feel a little commercial and crowded, especially during the high winter season.
Instead of staying here, my choice would be to head to the small Finnish town of Ranua instead, which is just an hour away. You can either grab a taxi, public bus or private transfer service to get here from Rovaniemi, or you can hire a car.
To learn more about Ranua, what you can do there and why it's a great place to stay in Lapland, check out this post I wrote.
Otherwise, some of the other flagship resorts in Finnish Lapland you might want to head to are Inari and Saariselka, also Levi, as well as Pyhä, Salla and Kemi.
Inari and Saariselka are the furthest north are serviced by Ivalo airport. These spots tend to be preferred by skiers, snowboarders and those who want to see the Northern Lights and learn more about traditional Sami culture.
Levi is in the northwest of Finnish Lapland and is accessed via Kittilä International Airport. This is another popular spot for families looking for their festive fix, but is smaller and quieter than Rovaniemi. The Snow Village, made from real ice and snow, can be found here.
Pyhä and Salla can all be accessed from Rovaniemi airport too. Pyhä is famous for its national park and ski resorts, so is perfect for those who want to enjoy some great outdoor nature-based activities. Salla is also a place of remote natural beauty, surrounded by fells and forests, it also offers good cross-country skiing, as well as hiking trails and Northern Light safaris.
And finally, Kemi, is in the south of Lapland, near to the coast and can be accessed through the Kemi-Tornio airport. It's famous for the ice-breaker cruises it offers and is the home of the largest snow castle in the world.
If you're flying from Helsinki you have the choice to fly into any of the airports I've mentioned above, but if you're coming from further afield by plane, then it's just Rovaniemi and Kittilä that host international routes.
In conclusion then, when flying to Lapland, the first step is to decide where in the region you want to head and then research and book your flights accordingly.
After all, without knowing where you will be based, it's impossible to know which Lapland airport it will be best to travel to from Helsinki.
Flying from Helsinki to Lapland
Pros: Quick, Cost-effective for solo travellers or those without much luggage, good choice of destinations
Cons: High carbon output, expensive in high season, may require onward transport after arrival in Lapland
#2 Train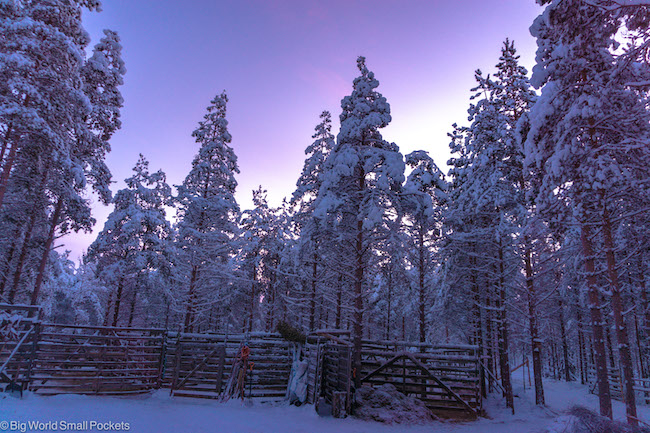 Now we come to the second option for travelling between Helsinki and Lapland and that is via train.
A really magical experience that will whisk you across the Finnish landscape, trains aren't the quickest experience, but they do help create a magical and romantic travel journey that you won't forget in a hurry.
Train travel is also better for the environment and although it does take a while, it can be quite affordable depending on which service you go for.
And this is especially true if you are travelling as a family or with a vehicle, because the magic thing about getting the train from Helsinki to Lapland is that you can take your luggage-filled car onto the train with you!
This means no rental car fees when you get to Lapland, as you'll have the freedom and flexibility of your own wheels to get you around.
That said, you can also travel just as a foot passenger too and then opt for either a seat, a berth or a private cabin, depending on your budget.
Day and Night Trains
Many trains travelling from Helsinki to Lapland also go direct and overnight, which means that even though this journey takes between 8-13 hours, the fact you go to sleep in the capital and wake up in the north is actually pretty efficient – trust the Scandis!
The night train is often called the Santa Claus Express and, for the reasons I outlined above, it's likely most travellers will opt for this service, especially if they are travelling with kids.
This is the longest service at over 12 hours, and is priced slightly more (starting from around 70€ for 1 adult in a seat without a car), but will allow you to save on the costs of a night's accommodation.
Otherwise, there are also 2 daytime services that ply the same route and take just over 8 hours.
With the amazing scenery, plus free wifi and power sockets, it's easy to pass the time and tickets start from around €35 for 1 adult in a seat without a car.
All 3 trains to Lapland depart from either Helsinki Central Railway Station or, if you have a vehicle, from Pasila Station, and can be booked here.
Train Stations in Lapland
However, there is one notable downfall to catching the train and that is the more limited arrival points.
Trains from Helsinki to Lapland stop at 3 stations: Rovaniemi, Kolari and Kemijärvi.
You know about Rovaniemi, because we talked about it in the flying section above, however Kolari and Kemijärvi are new on the scene here!
Kolari is northeast of Rovaniemi, very close to the Swedish border, but also quite near to Kittilä and Levi, infact you can get buses to these spots from Kolari train station, or of course drive if you have your car onboard.
Kemijärvi on the other hand, is east of Rovaniemi and from here you can more easily access Salla and Pyhä.
If you want to get to northern Lapland however, you'll struggle with the train, especially if you don't have a vehicle onboard.
Taking a Vehicle on the Train
If you do have a vehicle however, the train can be a really great option as you can then enjoy getting off the beaten track in Lapland, which would be amazing!
Cars do bump up the cost of the train ride significantly and they also book out pretty far in advance, so if you do want to go for this option, I'd certainly book at least 2 months ahead of your trip.
You have to book your car in at the same time as your book any passengers on, as well as specific the height and length of your car. The smallest car will add about €100 to the ticket price and it goes up from there.
Foot passengers however will have more luck closer to the departure date and can often get train tickets even a few weeks in advance.
Ditto upright seats, which are obviously cheaper and more readily available than cabins.
Please also note that, as I mentioned above, those travelling with cars often have a different boarding station to foot passengers. Details are given when you book.
All in all however, the train adds an amazingly adventurous element to your Lapland trip and is much better for the environment than flying.
Train from Helsinki to Lapland
Pros: Scenic and romantic, cost-effective for families or those with a lot of luggage, use of your own car in Lapland, lower carbon footprint than flying
Cons: Long journey time, may require onward travel after arrival in Lapland, pricey for solo travellers with a car
#3 Drive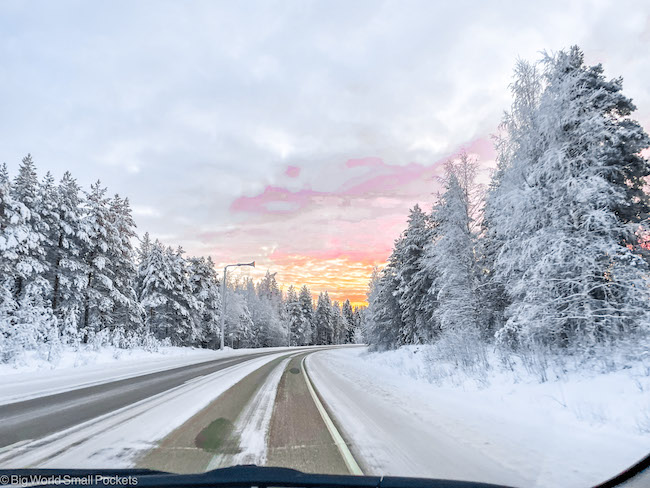 And the last option when it comes to travelling from Helsinki to Lapland is to drive yourself there.
Obviously, as a traveller, this is likely to involve you renting a car in Helsinki and possibly having to return it back to the city as well, unless you can arrange (and pay) for a different drop-off point in Lapland.
I'd also only recommend going for this option if you are a confident driver – be it on the right-hand-side of the road or in the snow (depending which month you visit Finland) and if you have time, as driving the great distance north is likely to take time.
Infact, this journey is over 800km and takes at least 10 hours.
It is on one main road (along the E75), and the views will be gorgeous, but I really think this is a journey for 2 people, unless you love driving a lot!
Car hire can also be expensive and fuel in Finland is quite heavily taxed, so all this will add to the costs too.
In general, I'd only advise driving to Lapland from Helsinki if you're touring elsewhere in Finland and have at least a couple of weeks here to make it worthwhile and cost-effective.
Driving from Helsinki to Lapland
Pros: Scenic, use of your a car when in Lapland, can make stops along the way and explore more of the country
Cons: Long journey time, expensive, not great idea for solo travellers, stressful?
Mini Finland Travel Guide
When to Visit Finland?
In my opinion, the best time to visit Finland is definitely during the winter months between December and February, this is when you'll see the most beautiful snow coverage and get this winter wonderland at its most scenic.
For the full festive experience, you should visit Finland during December when the snow has begun, otherwise, consider January or February for cheaper winter rates, albeit with lower temperatures.
How to Travel to Finland?
Direct flights with numerous airlines, including Finnair, arrive into Helsinki's airport from London and many other major European cities.
From the best deals on all flights, I highly suggest checking out Skyscanner.
Where to Stay in Helsinki & Lapland?
Check out my list of the top 10 Helsinki Airbnbs if you want some self-catering accommodation, otherwise Hotel F6 or Hotel Helka are great choices.
Out in Lapland, have a look at these top-rated accommodation options in Rovaniemi – great if you want to be in the centre of the action.
5 Great Lapland Activities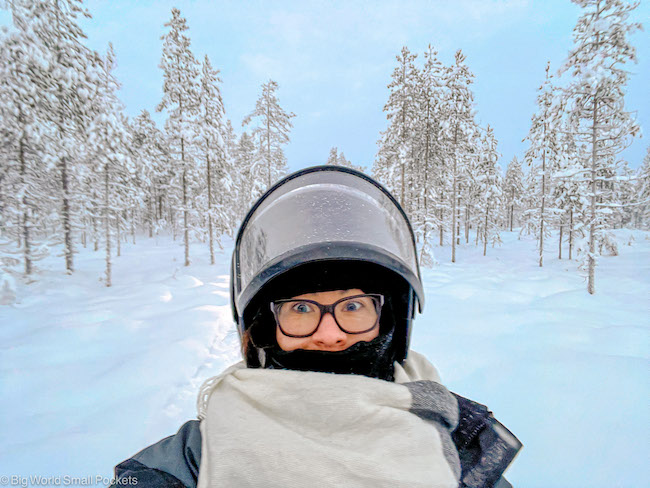 Check out these top picks for more ideas…
5 Key Packing Items for a Finland Winter Trip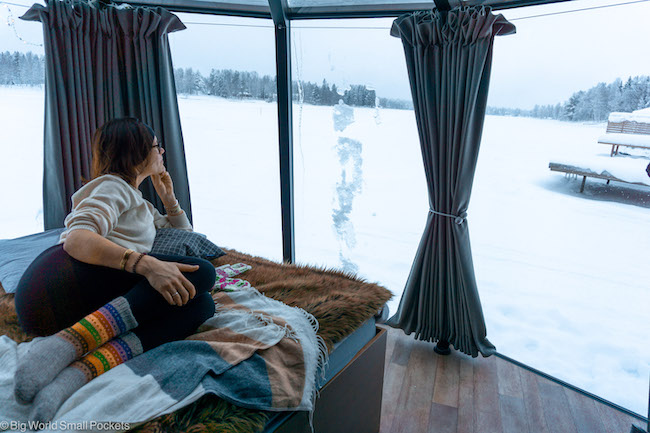 Learn more in this article I wrote all about what to pack for a winter trip to Finland.
Travel Insurance for Finland
World Nomads offers simple and flexible travel insurance. Buy at home or while travelling and claim online from anywhere in the world.
Alternatively, if you're a long-term traveller, digital nomad or frequent remote worker seeking travel health cover, check out Safetywing's Nomad Insurance policies.
PIN IT TO PINTEREST!
And there you have it, my full guide to travelling from Helsinki to Lapland in Finland.
Which method of transport are you going to opt for and why?
I'd love to know in the comments section below…