It's no surprise to learn that Finland does not account for the cheapest trip I've ever taken!
Yes, being situated in Scandinavia – a region known for its high cost of living – it's fair to say Finland isn't a country usually associated with budget travel.
In fact, this is probably why it's only recently that I've first stepped foot there!
But having now visited, I have to say Finland was actually not as expensive as I thought.
Yes, much to my pleasant surprise, my week-long trip to Finland was not quite as astronomically costly as I imagined!
To be fair I had feared the worst, but actually, Finland is widely thought to be the most affordable of the Nordic nations and, in my experience, it didn't reach far beyond the average western Europe trip budget.
So if you've been put off visiting Finland through fear of the costs, think again!
This post is going to bring up the full lowdown on just how much a trip to Finland costs… and you might be surprised by the results too!
---
Related Posts
---
This page contains affiliate links meaning Big World Small Pockets may receive a small commission on any purchases at no extra cost to you.
Prices and info are correct at time of writing.

---
Intro to this Finland Trip Budget
The first thing I'd encourage you to do is head over to my Finland itinerary post – check out that 1 week plan and then come back here!
To give you some idea of prices, I'm going to cost out that specific itinerary, so you get some handle on what a Finland trip budget might look like in real terms.
This cost-covering post will be based on that trip, the one I did, staying in the same places, enjoying the same activities and getting around in the same ways.
Obviously, this will involve travelling on a budget as much as possible, i.e. utilising Airbnbs, local guesthouses and small-scale activity providers to try and keep the costs down.
That said, it will include a few splurges, that wouldn't be considered budget travel items ordinarily, but which in Finland are well worth the expense.
As I've pointed out, travel here is never going to be ultra-cheap, but if you head to this country and miss out on a few key experiences that you likely have on your Finland bucket list, then you will be doing your trip here a major disservice. After all, isn't part of travel always about spending a bit to see and experience a country's best?
In my mind, this is certainly true, which is why I've included things like a stay in a glass igloo, a husky ride and a northern lights tour in this budget outline.
This budget will also include domestic flights, because again while taking the train to Lapland can be a cheaper option, for many budget travellers, time is still of the essence and their priority is seeing Finland in a week.
Worth pointing out too is that this budget does not include international flights, any visa expenses or insurance costs, so don't forget to factor those in as well.
First up, I'm going to give you a breakdown of each category so that, if you are travelling to Finland for longer than a week, or with a bit more / less cash, you can do your own workings.
Then, at the end of this post, you'll find the complete budget breakdown of my proposed 1 week Finland itinerary to let you know exactly how much to set aside for your trip.
Hope this all helps and that you have a wonderful time travelling in this country too!
#1 Accommodation
Accommodation costs aren't cheap in Finland, primarily because rents aren't cheap here and neither is the cost of living.
What this means is that, while there are a few hostels in Finland, the vast majority of affordable accommodation comes in the form of hotels, guesthouse rooms or Airbnbs.
There are hostels in both Helsinki and the main Lapland town of Rovaniemi, as well as other major cities such as Turku.
In Helsinki, beds in hostel dorms start at around €25, whilst private rooms begin at around €50. My pick in this city is The Yard Hostel.
In Lapland (which is always more expensive), dorms start at around €40 and private rooms from €100! In Rovaniemi, my pick of the bunch is Hostel Cafe Koti.
Given these rates, if you're travelling as a couple, a pair or a family, a basic hotel or guesthouse might suit you better.
Standard double or twin rooms (including breakfast) begin from €120 – €150 in Helsinki. Check out Hotel F6 or Hotel Helka as 2 top-rated options in the city centre.
Or otherwise, Airbnb apartments in the capital can be picked up for around €100 – a real bargain as these studio spaces often sleep up to 4 people and include a kitchen space so you can prepare your own simple meals.
Check out my list of the top 10 Airbnbs in Helsinki for more ideas.
At the other extreme of the country and price range, luxury stays in Lapland can be up to €500 a night, like this amazing Glass Resort, which offers premium glass apartments with saunas and hot tubs.
And in the high winter season, they can be even more – especially in the pre-Christmas, December lead-up.
For something more reasonable, middle-range guesthouses and hotels can be found in Lapland's main tourism town of Rovaniemi for around €170 a night, like a family room in Wherever Mini Hotel.
Otherwise, self-catering accommodation in Rovaniemi can be found for around €140 – see this Arctic Circle Home which sleeps 2.
Alternatively, you can look to get off the beaten track a bit – which gets my vote every time! – and head out of the main Lapland resort areas for some better prices.
Ranua, just an hour from Rovaniemi, is a very lovely, local Finnish town and here the Arctic Guesthouse and Igloos provides single rooms from €65 a night, double rooms from €80 a night and superb AuroraHut glass igloo pods from €220 a night.
Learn more about my stay in an AuroraHut glass igloo pod here.
#2 Transport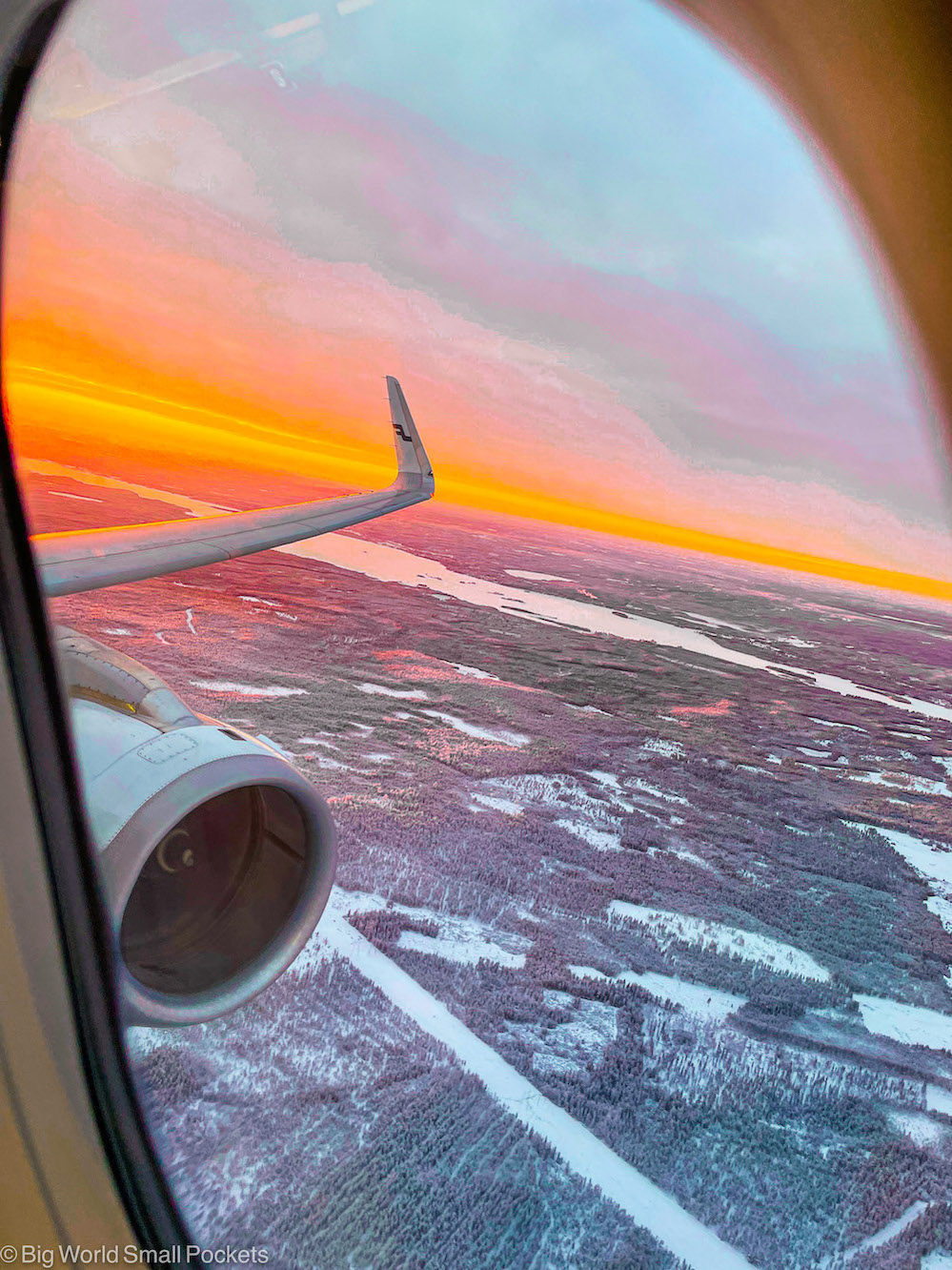 Transport fees can make a huge difference when it comes to the cost of travelling in Finland, and they largely depend on how much time you have in the country and how much you want to see.
What I mean by this is, if you want to whizz around Finland and experience both the capital of Helsinki and Lapland in a week, you're very likely to fly.
If you've got longer or are up for an adventure, you can take the night train to Lapland from Helsinki or even hire a car and drive… stopping at the Finnish Lakes on the way.
As a guide, a return flight between Helsinki and Rovaniemi may cost you around €160. These flights are operated by Finnair and the prices I quote include checked luggage, so you can save more by opting for a carry-on only.
As always, I use Skyscanner to get the best rates on plane tickets.
If you want to take the train between Helsinki and Lapland, the best option is the overnight Santa Claus Express direct train, where cabin prices begin at €160.
Learn more about all the options for travelling between Helsinki and Lapland in this article I wrote.
In terms of short-distance transport in Finland, Uber is available in Helsinki and it will cost you around €40 to get from the airport to the centre of the city – to be fair this is quite a long distance.
Alternatively, you can buy a public transport card to navigate this journey. A single journey costs around €5, or you can get a day or multi-day pass, which is a much more affordable option if you're in Helsinki for 1-3 days and plan to use the buses and trams.
These passes work using a zone system and, while the city centre is in Zone A, the airport is in Zone C. This means you'll need a card that works across Zone ABC for travel to and from the airport as well as downtown. This costs around €20. Learn more here
Bike-sharing or scooter-sharing schemes can also be found in Finland if you prefer to travel small distances this way.
Otherwise, for car hire in Finland, you're looking at around €170 for 6 days, plus the price of fuel of course. If you're travelling as a group, you can split the costs of this.
Another top tip is not to hire a car until you're leaving Helsinki – this will keep the number of days you require a vehicle to a minimum, as you really don't need one in the capital.
#3 Tours & Activities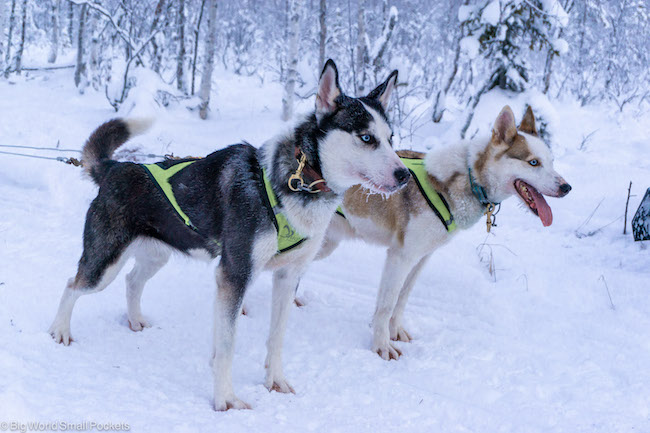 And coming in at number 3, it's another big ticket item in Finland, namely tours and activities.
This is where your budget can really spiral if you're not careful.
In Helsinki, you don't really need to take any tours if you don't want to.
It's only the cost of entrances to any museums or galleries etc that you'll need to pay – most are about 12-15€ per adult.
In addition, many of the main Cathedrals and religious buildings in the capital cost around 5€ to enter.
If you plan to do a lot of sightseeing in Helsinki, it may prove more cost-effective to buy a Helsinki City Card.
However, in Lapland, it's really all about enjoying at least a few amazing excursions, even if you're budget is small. Honestly, they really are worth the splurge in my book, otherwise you're not going to do this incredible place justice in my opinion.
You can learn more about my fave Lapland activities in this post about the best things to do in Lapland, but in general, you're looking at between €90-120 per person for top Northern Lights or Husky Sledding tours.
Options for snowshoeing, hiking and snow sculpture activities usually cost a bit less.
Check out these top picks for more ideas…
Thankfully, seeing Santa can be done at his official home in Rovaniemi for free.
Learn more of my top tips for how to holiday in Lapland for less here.
#4 Food & Drink
Thankfully, following on from the activities section, food and drink in Finland is not as crazily priced. And while not cheap, I didn't find it that different from my eating and drinking costs at home in London.
Of course, this doesn't include fine dining options, but in general, a coffee in a local café will cost you around €3.50 and a pizza in a casual restaurant around €15-20.
Staying somewhere that offers breakfast, or has a small kitchen, so you can pop to the supermarket for a few bits, is a good way to save money here.
A casual sandwich and drink type lunch in a café is likely to be around €15-20 and dinner out with a glass of local beer around €30.
It's once you start adding more drinks or imported alcohol, such as wine or spirits, that things get very expensive in Finland. The tax on alcohol here is high and for a Finnish beer in a local bar you're looking at €5-10. Wine is around €10-15 a glass and, of course, cocktails even higher.
Limiting how much alcohol you drink in Finland is an easy way to keep the budget under control, but if you do drink and still want to keep your budget low, buy alcohol from the supermarket (or duty-free on the way here) to enjoy in your accommodation, or stick to 1-2 drinks of local alcohol (try Lapland lager!) in smaller local bars.
This means you should be able to get by on around €60 a day when it comes to eating and drinking – it just depends how much and in what quantities you like doing that stuff!
#5 Other Expenses
Then you've got to factor in all those other expenses, like international flights, visa costs (Finland is part of the EU, so this should help you work out whether you need to pay anything or not), laundry (once a week should do it) and possibly insurance, plus a SIM and data package too.
World Nomads offers simple and flexible travel insurance. Buy at home or while travelling and claim online from anywhere in the world.
Alternatively, if you're a long-term traveller, digital nomad or frequent remote worker seeking travel health cover, check out Safetywing's Nomad Insurance policies.
You'll find these costs have a sneaky way of really adding up, so shouldn't be forgotten about as part of your budget either!
Final Budget Breakdown
And here it is, the complete per person breakdown of what it costs to travel in Finland for 1 week on a mid-range budget….ish!
7 Nights Accommodation in a Standard Double Room (based on an average of €120 per night, divided by 2 people) – €420
Return Flights to Lapland from Helsinki – €160
3 Day Public Transport Card for Helsinki – €20
Helsinki Museums & Attractions – €30
3-4 Lapland Activities – €350
7 Days of Food and Drink – €420
Total – €1400
I hope you've found this article about how much it costs to travel in Finland useful and that you can use a few of the budget travel hacks I've given out too.
Is the total figure more or less than you expected?
I'd love to know what you think and also how much you've budgeted for / spent on your Finland travels…
PIN IT TO PINTEREST!