It's one of those absolute bucket list travel experiences isn't it? Yes, staying in a glass igloo, warm and cosy, while the soft white expanse of a frozen Lapland stretches out for miles around you, really is the stuff festive dreams are made of!
Indeed, it's like your own secret, luxury, high-tech cabin in the middle of one of the world's most harsh and raw landscapes.
I mean, what's not to love?!
Needless to say, I was blown away by my time in a glass igloo in Lapland, but there are a few things I'd recommend you consider and plan before you enjoy a similar trip.
Which is exactly why I'm bringing you this article all about my personal experience.
Hopefully it will help you understand a little more about what to expect from a glass igloo stay, as well as how to prep to ensure you have the best time during yours.
So let's get stuck in…
---
Related Posts
---
My stay in Lapland was sponsored by Arctic Guesthouse & Igloos but, as always, all views are my own.
This page contains affiliate links meaning Big World Small Pockets may receive a small commission on any purchases at no extra cost to you.
---
Why Stay in a Glass Igloo?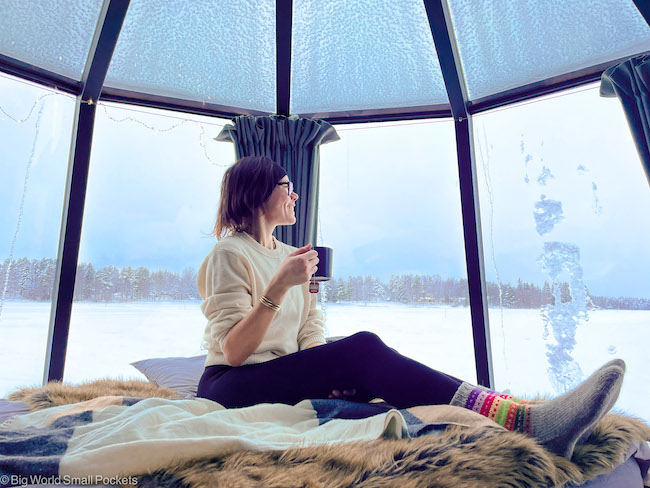 So first up, I thought it would be helpful to cover why you might want to stay in a glass igloo in Lapland and to give some idea as to what all the fuss is about!
To put it simply, glass igloos are the iconic form of accommodation up here in the Arctic Circle, making them a key part of many peoples' trips to this utterly unique part of the world.
For Lapland is totally unique, and sleeping in a glass igloo really is the perfect way to compliment the sense of otherworldliness that any time spent in this incredible landscape is bound to conjure up.
From the lack of light in the winter to the near never-ending daylight in the summer, staying in a glass igloo offers the ideal way to take it all in.
When I visited Lapland in December, the entire landscape was blanketed in huge amounts of snow and some pretty insane sub-zero temperatures. And while I thought minus 20 was kinda wild, it turns out that's pretty mild around here, as often it gets down to minus 50 degrees celsius!
Understandably therefore, life in Lapland revolves around its extreme climatic conditions, as well as the impact these have on its dramatic, natural landscape – locals travel on snowmobiles instead of bicycles, snowsuits are the height of fashion and sauna rituals, as well as cosy indoor spaces with log fires, are very much the order of the day!
And nestled within this otherworldly Arctic milieu, the glass igloo fits perfectly!
Wonderfully cosy, but still enabling you to take in as much of the natural world outside as possible, a glass igloo stay allows you to experience the best of Lapland's internal, as well as external, environments.
The scope of light and stretch of scenery you can enjoy from them, thanks to the huge glass windows and ceilings, truly does allow you to soak in the best of this snowy wonderland, while you recline, comfy and warm, in your own little pod.
And that's just the winter!
In the summer, long sunny days that illuminate a beautiful, wild landscape filled with rich pine forests and lakes, make it just as magical and peaceful.
My Lapland Glass Igloo
So, after selling you the benefits of why you should stay in a Lapland glass igloo, I thought it was worth taking a moment to talk about my experience of doing just that.
Hopefully this will give you a bit more of an idea about what exactly is involved in this unique type of accommodation and what to expect…
Throughout my time in Finnish Lapland, I stayed in the amazing glass igloos at the Arctic Guesthouse in the small town of Ranua.
I talk more about Ranua (and why I think it's the best spot for your Lapland experience) in this article but, for now, I want to concentrate on the Arctic Guesthouse and the 10 beautiful glass igloos, set on the edge of a lake, these guys have.
Frozen in winter, the lake is a wonderful expanse that stretches out infront of the igloos to give some amazing snowy views.
In summer, you can sit and fish at the lake, with each igloo home to its own set of chairs and BBQ.
Situated in a quiet and peaceful spot, which really immerses you into this seemingly remote and distant land, in reality there's actually plenty of amenities around here, which make for an even more stress-free experience.
Facilities at the igloos are top-notch (I go into these below) but right now, I want to mention one of the things I loved most about these glass igloos, and that was their eco-credentials.
A brilliant green accommodation option in Lapland – with solar panels, composting toilets and a heavily insulated structure – glass igloos are a great sustainable travel option.
I also loved the tempered and safety-laminated panorama windows of each igloo – they extend to the roof and give an incredible sense of being in the frozen environment, without actually having to be freezing outside!
Because, while it's worth pointing out that I did visit Lapland in the winter – December to be specific – the glass igloos at the Arctic Guesthouse are also great for a summer trip.
Yes another exciting feature of these unique pods are that they are fully movable.
This means that these free-wheeling glass igloos actually offer visitors the chance to stay on the lake in the summer with their ability to transition to, and then float on, the lake's waters!
With the handy help of an electric engine, that can be mounted to the igloo and is remote controlled, you can really have the land or the lake as your oyster when it comes to these amazing eco-accommodation spaces.
Practical Tips for Staying in a Glass Igloo
Perhaps you can now understand, why I absolutely loved my stay in a Lapland glass igloo and why it was certainly one of the most memorable aspects of my trip.
If you're thinking the same, then here's some practical tips to help you learn a little more about what to expect and how to choose the best glass igloo for you.
After all, it goes without saying that there isn't just one type of glass igloo in Lapland; indeed there are a ton of alternative models out there.
While most of them do have certain common features, it is worth bearing in mind that the following info in this article is based on my experience at the Arctic Guesthouse Igloos in Ranua, Finland.
If you don't stay here, your experience may be slightly different, but hopefully there's enough cross-over info coming up to still be useful…
Warmth and Heating
First up, I have to say the heating was amazing in my glass igloo.
When it's minus 20 degrees celsius outside, you certainly need it to be warm inside and I have to say the glass igloos at the Arctic Guesthouse did not disappoint!
Toasty as anything, the igloos were incredibly well-insulated and I never felt cold (or even close!) nearly once.
In addition, these glass igloos had freely adjustable temperature (and ventilation) controls, which not only means you can alter the heating levels, but is another reason this is a great accommodation option during both the winter and summer months in Lapland
Bathroom & Kitchen Facilities
But the facilities didn't just stop at good heating in my glass igloo – a gas stove, a fold-down table, a running water tap, a sink, and a fridge in the floor below the igloo (accessed through an ingenious trapdoor), meant this tiny space was perfect for preparing basic meals, as well as making a cup of tea to keep warm or a coffee to wake up – much needed!
The glass igloos also had a clean and odour-free composting toilet, separated from the bedroom, which was easy to use and much appreciated when it was so cold outside!
Showers for the igloos were contained in a separate sauna building, just a few metres from the igloo, and were again really hot and very comfortable… although to be honest, when it's minus 20 outside, you don't really need to shower as much as you might normally!
Storage & Space
But what about storing your stuff?
Well, those nifty glass igloo designers have thought of that too!
Because honestly, there were so many ingenious storage spots in this fairly small space that I couldn't believe it.
From under the double bed to next to the front door, the whole igloo was so well-designed it was like small-space living at its very best.
The Scandinavians are well-known for their practical but aesthetically-pleasing design and these Finnish glass igloos were no different.
There was also storage behind the bed, with a good number of USB charging points, as well as shelves perfect for holding your items while they charged.
Wifi & Sound System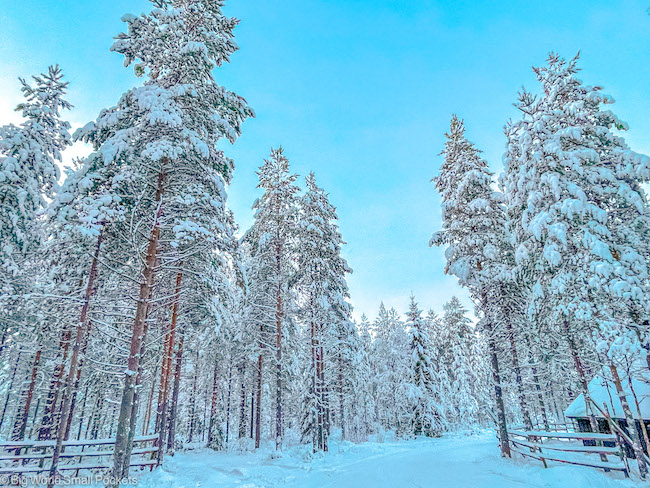 And also in this space behind the bed was an inbuilt Bluetooth speaker, so you could hook up your phone, laptop or tablet and enjoy music, radio or your favourite TV show whilst relaxing with a full Lapland view – bliss.
And this is also thanks to the fact that each glass igloo also has its own high-speed wifi connection – lightning-fast and easy to connect to – this was just another feature that shows how the glass igloos in Lapland are the best way to experience small and sustainable accommodation that doesn't compromise on style and modern amenities.
Comfort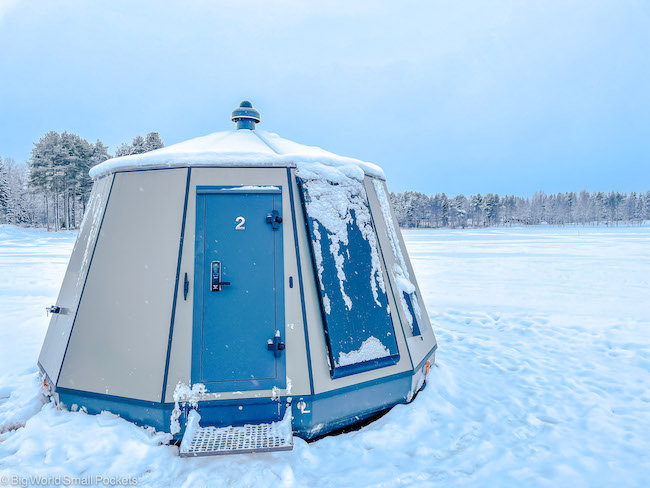 And another thing the glass igloos in Lapland don't compromise on is comfort.
We've already talked about warmth and ventilation in these cosy little pods, but it's worth pointing out that the size of the igloos (while compact) felt ample and the double bed here was very comfortable.
Cute cushions, fairy lights and thick, black-out curtains helped add to the comfort level and, honestly, I was so cosy working or relaxing in my glass igloo, that I was happy there for hours on end, just staring out at the snowy world around…
How Many Nights to Spend in a Glass Igloo?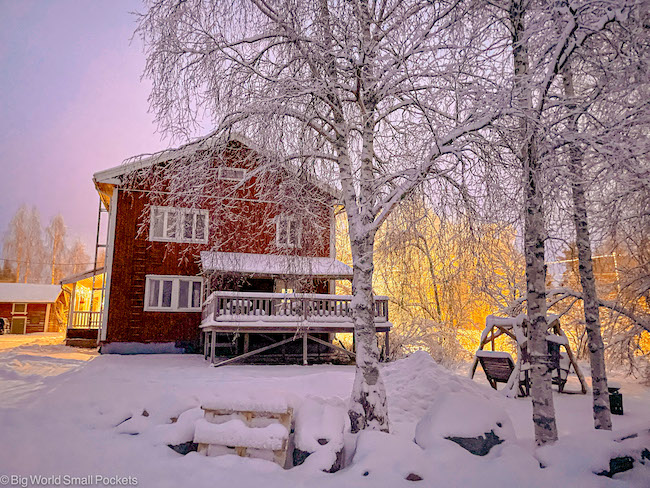 So how many nights should you stay in a glass igloo?
While this depends on a number of things… firstly, how long is your overall Lapland trip? And how big is your budget?
I ask this straightaway because, if the igloos aren't one thing, it's cheap.
That said, they are an iconic part of any Lapland experience and if you can even afford 1-2 nights in these stunning sustainable pods, you won't regret it!
The good thing about the Arctic Guesthouse is that they also have non-igloo accommodation choices that are cheaper, so if you can only afford 1-2 nights in an igloo, you can easily swap to their guesthouse accommodation just a few metres away.
Otherwise, if money is no object and you don't mind not having a shower in the room (which the guesthouse rooms do offer), then why not stay in a glass igloo in Lapland as long as you can?!
Can you See the Northern Lights?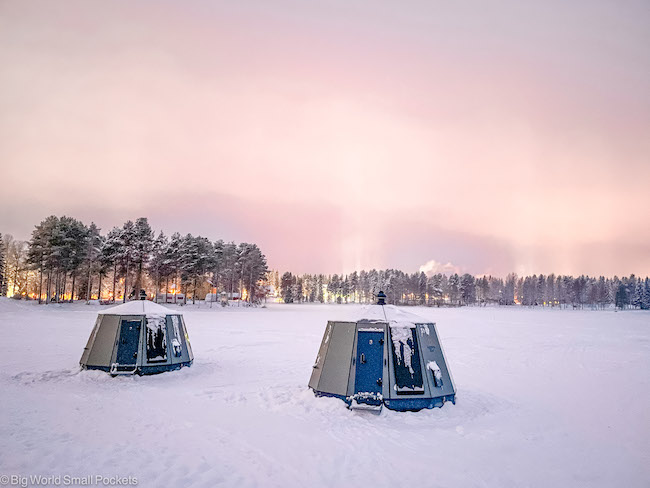 And one reason it's good to stay for as long as you can in a glass igloo in Lapland is that you're going to exponentially increase your chances of seeing the Northern lights.
An amazing, natural phenomenon, you really can't control the conditions that will allow you to see the Northern Lights, or not, but you can give yourself the best chance by staying in a glass igloo with maximum viewing ability.
The longer you stay, the more chance you have to see them, and this may swing your decision about the number of nights you opt for!
If you want to maximise your chances further, then you can take an Aurora Borealis tour with Ranua Zoo, who offer nighttime Northern Light spotting tours that include snowmobile rides and a campfire.
And you can also use the app Aurora Alert – Ranua, to get intel on when and where you are most likely to see them.
Are Glass Igloos Worth it?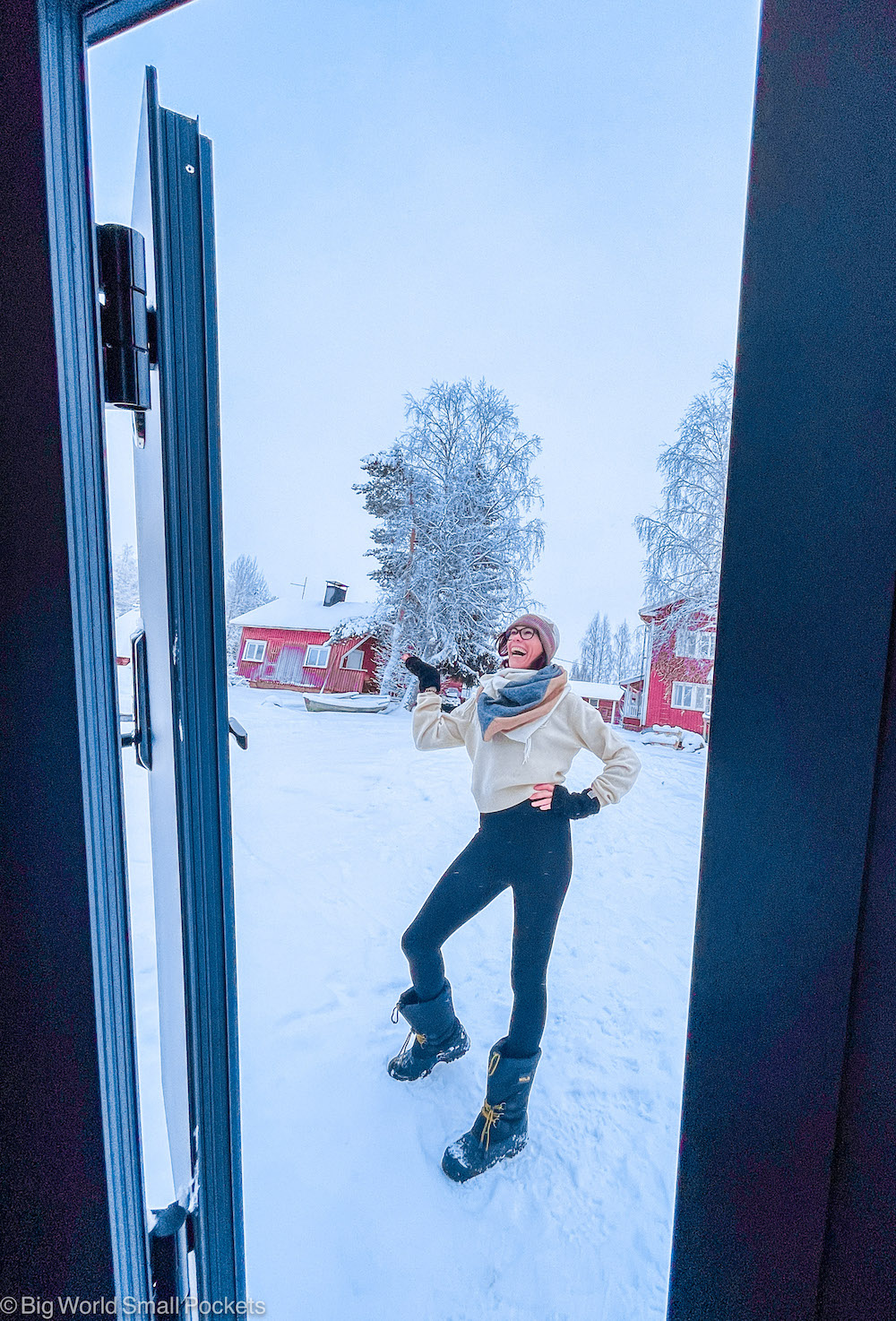 No question in my mind that staying in a glass igloo in Lapland is absolutely worth it.
Yes it's pricey, but if you're going to splurge on one thing during this absolute trip of a lifetime, let it be this! Even if it's just for a night!
With a great chance to experience the Northern Lights, as well as take in the amazing beauty of remote and raw Lapland at its best, glass igloos are the perfect way to feel part of this epic natural landscape without compromising on comfort!
With super storage features, great wifi and a mini kitchen, the igloos are well equipped and comfortable, as long as you can cope with a shower a short walk away and staying in a fairly compact space.
However these considerations are far outweighed, in my opinion, by the unique and cosy nature of staying in an igloo, plus the fact you get to tick this off your bucket list too!
After all, if travel isn't about making amazing memories, then I don't know what is?!
Lapland Mini Travel Guide
When to Visit Lapland and How Long For?
In my opinion, the best time to visit Lapland is definitely during the winter months of December through February – this is when you'll see the most beautiful snow coverage and get to experience this winter wonderland at its most scenic. It's also the best time to spot the Northern Lights.
For the full festive experience, visit Lapland during December. Alternatively, consider January or February for cheaper winter rates, albeit with lower temperatures.
I'd recommend a stay of at least 3 days in Lapland, as there is so much to do here. With 5 days, you can enjoy almost all of the available activities on offer here.
How to Get to Lapland?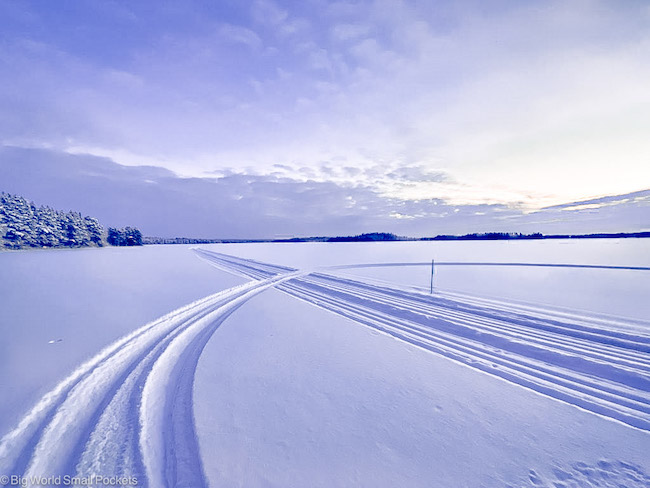 Direct flights with Finnair from Helsinki arrive at all the Lapland airports – yes there's more than one!
Learn more in this article I wrote.
Otherwise, you can also fly direct to Lapland's main airport from London, as well as from a few other major European cities.
For the best deals on all flights, I highly suggest checking out Skyscanner.
5 Essential Packing Items for a Lapland Winter Trip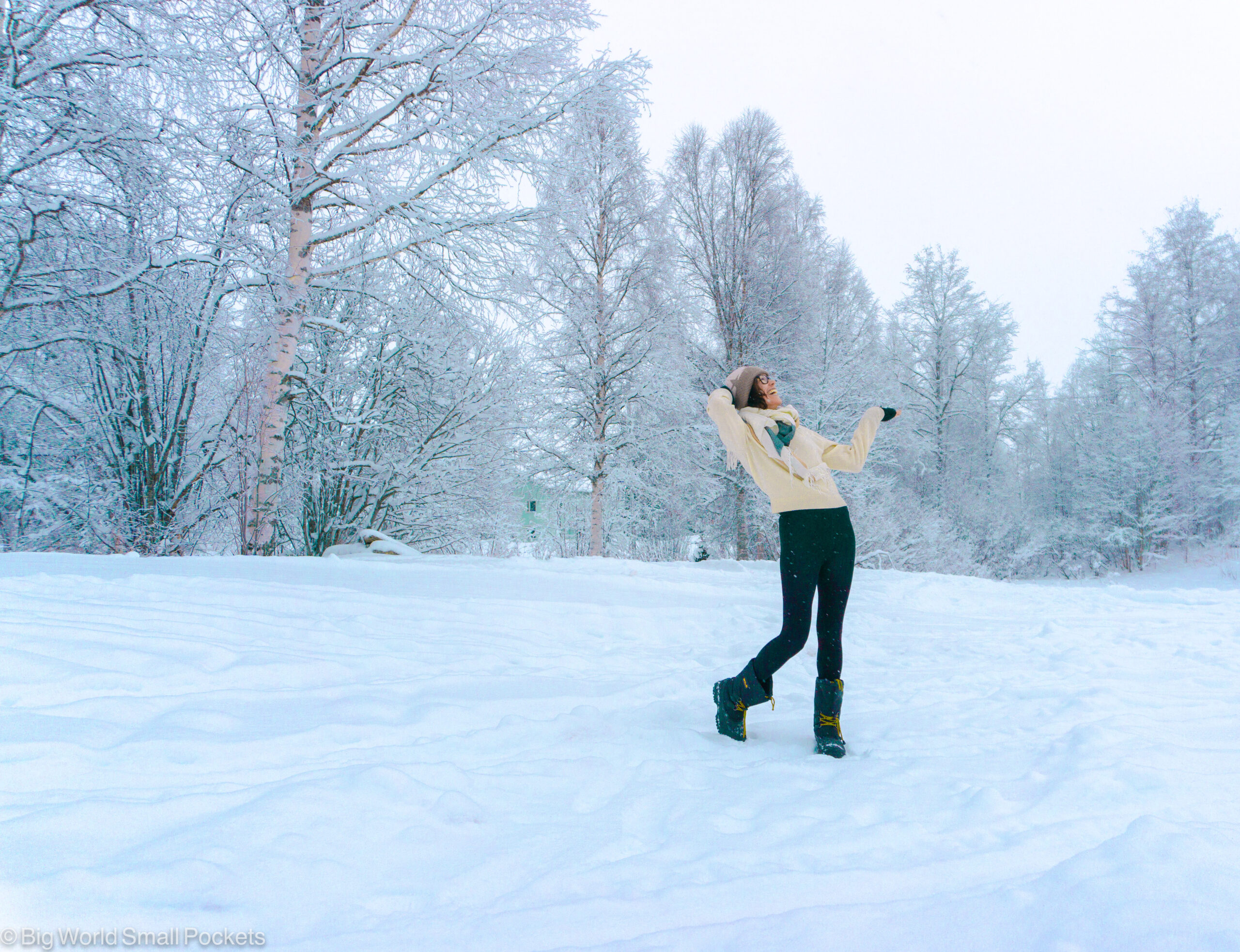 Learn more in this Finland winter packing list I wrote.
Travel Insurance for Finland
World Nomads offers simple and flexible travel insurance. Buy at home or while travelling and claim online from anywhere in the world.
Alternatively, if you're a long-term traveller, digital nomad or frequent remote worker seeking travel health cover, check out Safetywing's Nomad Insurance policies.
PIN IT TO PINTEREST!
And that, my friends, is what it's like to stay in a glass igloo in Lapland.
I hope you've found the review of my experience, as well as my practical tips, helpful.
But if you still have any questions, don't hesitate to drop them into the comments box below and I'll get back to you…