There's no question, Finland can get pretty cold!
When I was in Helsinki, I experienced temperatures of minus 19 and in Lapland, it got down to minus 30 degrees!
And I'm talking degrees celsius here!
.. And it wasn't even the coldest time of the year!
Ok, so I know I'm going on a bit here, but the point I'm trying to make is that a winter trip to Finland is not just something you can head to totally unprepared.
I bought a lot of thermal, snow and merino gear before my trip and still felt like I really had underestimated the number of layers I would need!
But now, having spent a week in Finland, in some pretty insane temperatures, I've definitely got the full lowdown about exactly what you need to pack and wear in order to enjoy your time in an Arctic winter!
So read on to learn all you need to know about prepping the right gear for your epic winter trip to Finland…
---
Related Posts
---
This page contains affiliate links meaning Big World Small Pockets may receive a small commission on any purchases at no extra cost to you.
---
#1 Wear Layers
My first point to make is that the key to surviving a winter trip to Finland is all about wearing layers!
Layers of clothing help trap warm air and this is ultimately what keeps you warm. As such, the more layers the better!
Even when I was in Helsinki I wore 3 layers on my bottom half and 4 on the top, so don't limit yourself to just 1 or 2!
And don't limit yourself to just layers on the top or bottom half either – 2+ layers of gloves, 2 scarves, 2+ socks and 2+ headwear can also be key to surviving here!
In essence, I recommend that you go wild and wear as many layers as you like!
After all, you can always take layers off, but you can't put more on if you don't have them.
Layers are also key because Finnish houses tend to be very warm, so you'll definitely want to strip off at least a couple of outer layers as soon as you get inside anywhere!
#2 Choose the Right Fabrics
But what to layer?
Well the answer is good fabrics!
And when I say good, I mean natural, high quality or purpose-designed materials that are specifically adept at insulating you in cold weather.
Lambswool is a good option – it can keep you really warm, although it can be a bit scratchy.
A step up is merino, which is also a type of wool – very soft and thin and not scratchy at all, it makes for excellent layering.
More expensive than merino is cashmere, which is a type of wool that comes from specific goats – again very soft and warm and also temperature-regulating, which makes it brilliant for Finnish adventures. That said, cashmere can be very expensive, so you may have to limit how many items you bring!
Modern thermal clothes are also offered by many brands these days – these are manmade alternatives that can be excellent at keeping you warm. They also tend to be cost-effective, although they don't last as long as natural fibres and can get smelly quicker.
In all likelihood, a mix of all the above will help you balance warmth with costs.
Warm clothing is bulky, but wool, merino, cashmere and thermal gear tends to be lightweight. This means you may need a big suitcase to go to Finland, but it probably won't be that heavy.
What you do want to avoid however, are synthetic fabrics such as polyester.
These are not designed to keep you warm and 3-4 layers of these cheaper fabrics will likely be less effective at keeping you warm than 2 layers of good material clothing.
#3 Buy Handwarmers
Another nifty invention I was certainly glad I packed for Finland were hand warmers. These are essentially little pouches that radiate heat and keep you warm like a mini hot water bottle.
There's several different types that produce heat in slightly different ways, but the key thing they all do is keep your hands wonderful warm.
Once open, they start working immediately and usually last around 10 hours.
Pop them in between layers of your gloves or in your pockets for that extra toasty sensation!
You can also get foot warmers, which go in your shoes.
Once it starts getting down below minus 10 degrees celsius, this is not as ridiculous a proposition as it first sounds!
#4 Select Footwear Carefully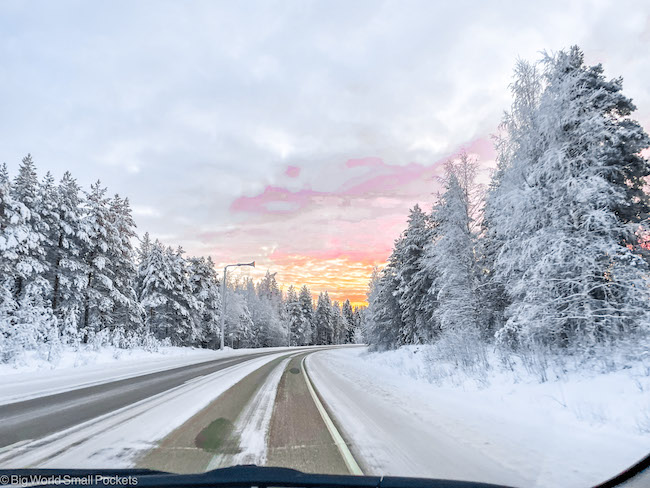 And talking of shoes, you really want to think carefully about footwear when planning your Finnish winter travels.
Thick boots are a must and I recommend ones that are waterproof and come to your ankle – providing extra warmth and stability.
Waterproof options will be key for trudging through the snow and you'll also want to ensure they have good grip.
Snow boots
are the top option here.
I also wore my sheep-skin lined Doc Martens in Helsinki and they were brilliant in the city, but didn't have enough grip for Lapland.
I also had thick, waterproof hiking boots in Lapland, which were good for grip, but it was so cold, that again, I swapped them out for snowboots.
Given the weather, you'll quickly learn Finns strip off many layers as soon as they enter their homes – footwear included.
This is actually very sensible as it helps keep all the wet / snowy gear in one place near the front door!
Bringing some warm indoor slippers, or thick socks you can wear without your shoes, is therefore a great option to pack for Finland.
#5 Don't Discount Skiwear!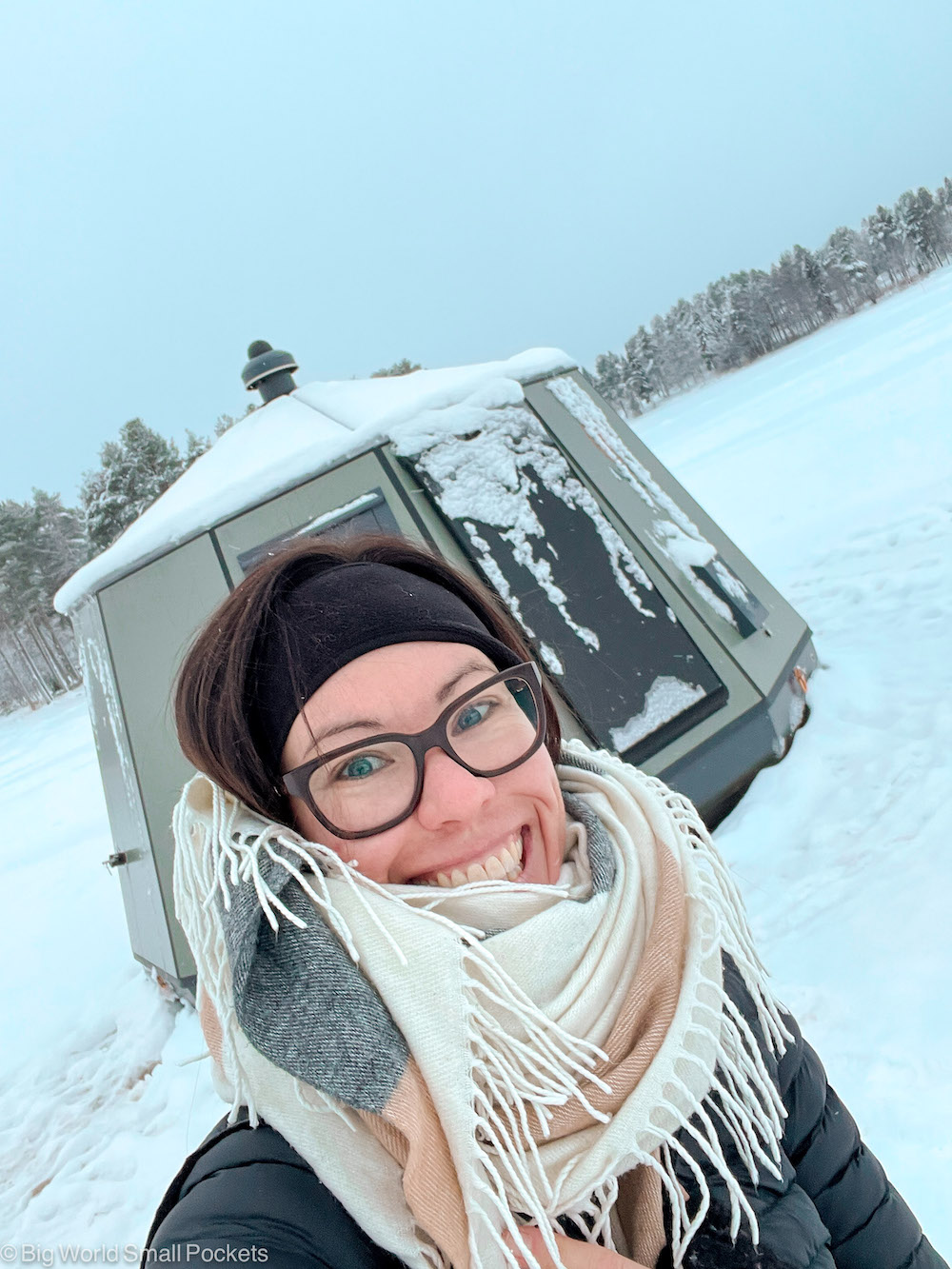 It might sound ridiculous, but if you're travelling to the Arctic Circle in winter, or even Helsinki in a cold snap (let's not forget it was minus 16 when I was there), then skiwear is not out of the question.
If you have any already in your possession, including salopettes or ski jackets, I'd definitely advise bringing them to Finland.
Otherwise, rather than buy and carry the stuff with you over to Finland, you might want to rent some when you get to the country instead, as this could prove less hassle and more cost-effective.
Ski socks are also useful, even if you're not going anywhere near a slope!
#6 Don't Forget Sunglasses and SPF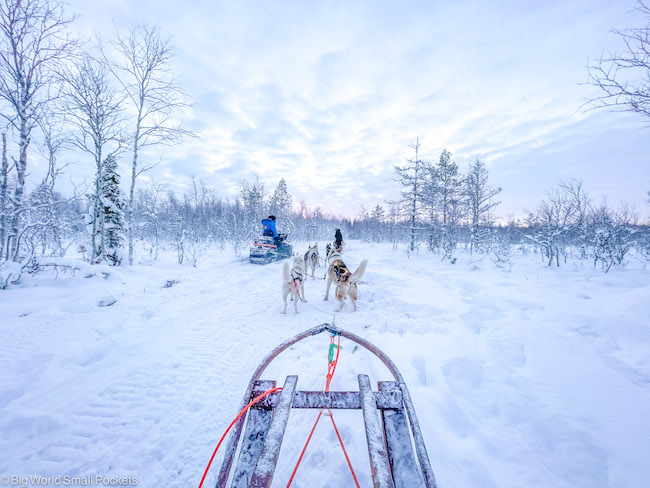 And just like when you ski, you have to remember it can be really sunny during winter in Finland.
So, even though it's not warm, you'll likely want to protect your face and eyes from those UV rays, which become super bright when bouncing off all the white snow.
UV-protected sunglasses and a 30+ SPF are therefore great items for your Finnish winter packing list, even if you're not going skiing.
I'd also advise bringing a good moisturiser you can use on your hands, body and face, because your skin takes a real beating from the cold dry and often windy air.
#7 Invest in a Portable Charger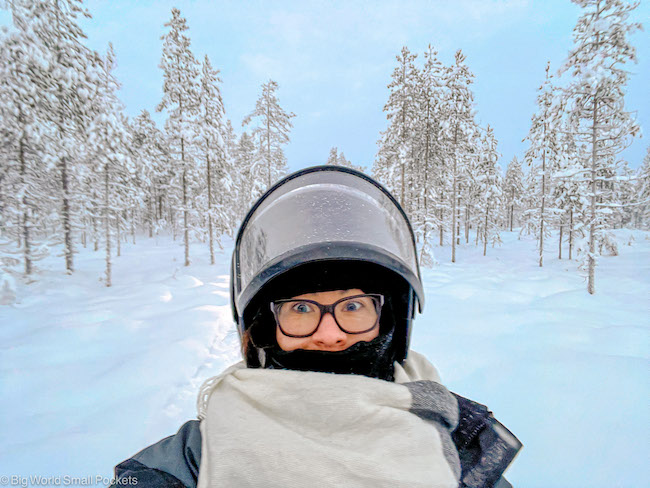 It might sound like a strange one, but you'll be amazed how quickly the cold weather drowns batteries on your phone and camera.
As such, I highly recommend investing in a portable charger, so that you can charge your phone when you're out and about.
My go-to brand here is Anker and I actually have 2 of their portable chargers – one that comes out with me during the day and the other that is charging at home, so it's ready to swap over.
For my big camera, I also have a spare battery, so that I can swap this around and keep snapping when I'm out and about.
This came in very handy for my travels to Finland in December especially.
#8 Get Some Touchscreen Gloves
And talking of taking photos, trust me when I say you will not want to be taking your gloves off during the wintertime in Finland!
As such, having gloves that allow you to use your phone whilst still keeping them on, is totally crucial.
Touchscreen gloves
are the best news for smartphone camera users in Finland during the winter, even if you only have these as your base layer.
Having at least one pair of gloves on while you use your phone and snap away is a total gamechanger!
#9 Carry a Good Waterproof Backpack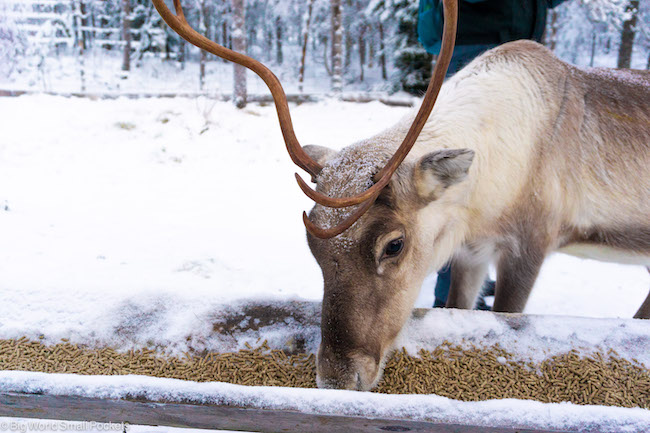 When it comes to prepping and packing for your winter trip to Finland, you'll want to ensure you have a good waterproof backpack with you too.
With all that layering on and off, along with all the sunscreen and power packs you need to carry, it really is a good idea to have a quality daypack with you when travelling Finland.
This means you can carry everything you need, easily and on your person, if you're out for the day.
Make sure the daypack you take is waterproof in case of snow and also that it folds down easily so it doesn't take up room in your case.
I highly recommend this Kompressor from Marmot that I took with me and worked really well!
#10 Hire a Snowsuit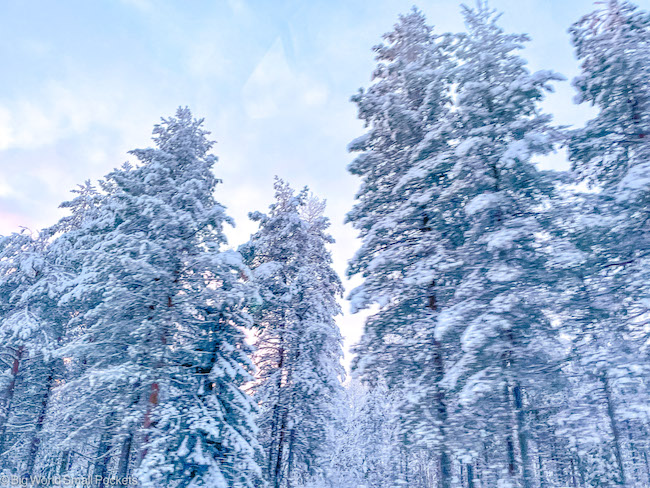 And finally, if you're travelling to Finland in the depths of winter, where temperatures can reach minus 20 degrees celsius in the southern regions like Helsinki, and minus 50 degrees celsius in northern areas like Lapland, you will need to be wrapped up to the max!
I know I've talked about talking ski gear if you have it, but I also recommend a full snowsuit, snow gloves, baklava and snow boots for Lapland especially.
Unless you spend a lot of time in the Arctic Circle you may not have these clothes – I didn't! – but the great news is that you can hire this gear when you're up in Lapland which, if you're doing a lot of activities, you should certainly consider.
Winter Packing List for Finland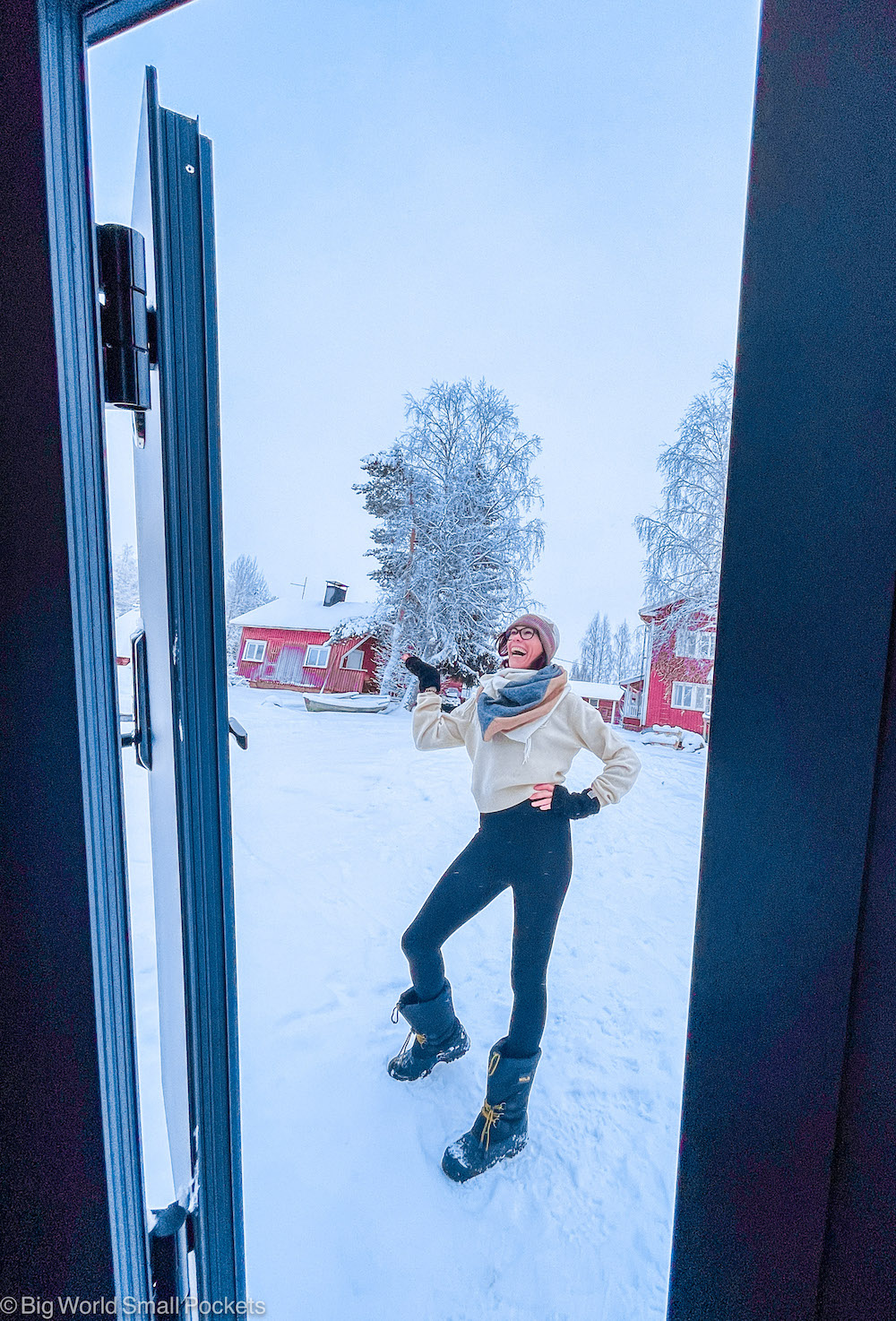 So now we come to my complete Finnish packing list – a full breakdown of all the items you should bring!
Geared towards keeping warm, especially if you're visiting Lapland, this list might sound overboard, but trust me you will need this many layers of clothing!
The length of your stay in Finland will dictate the amount of each item that you need, but here's a checklist of all the gear you should consider as baseline.
Also, as an aside, you don't get very sweaty in a Finnish winter (outside of the sauna), so generally speaking you can wear any base and outer layers for more than one day.
The smells your clothes are most likely to pick up are those of woodsmoke, as you'll likely spend a lot of time by a wood fire in Lapland especially.
So here goes…
Clothes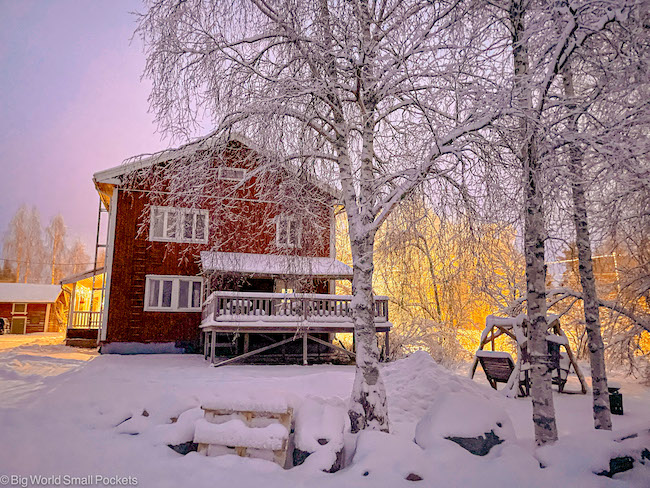 Singlets / T-Shirts – first layer over your underwear
Thermal / Merino Tops – long-sleeved base layers to wear over your singlet / t-shirt. I opted for 2-3 base layers each day
Woollen Jumpers / Thermal Fleeces – layer over your base layers so ensure these are larger
Insulated Puffer or Down Jacket – an absolute must… I even wore mine under my snowsuit and over my woollen jumpers
Underwear
Swimwear
Scarves / Buffs – go for wool, merino or cashmere options
Wool / Thermal Hats – I had 3
Wool / Thermal Gloves – I wore 2-3 pairs daily
Woollen / Thermal / Merino / Ski Socks – I wore three pairs a day with a thermal bottom sock, followed by a woollen sock, followed by a thick ski sock on the top. It's easy to get these many socks on when you're wearing a snow boot, but harder with other boots which are more fitted
Merino / Thermal Leggings – I opted for 2-3 long-legged base layers each day
Ski Pants or Trousers – fleece-lined ski pants are great over base layers in Lapland. In cities like Helsinki, you may prefer jeans or trousers. Choose trousers that will fit over your base layers
Nightwear – You'll want to get cosy at night
Snowboots
Other Boots for City Sightseeing
Toiletries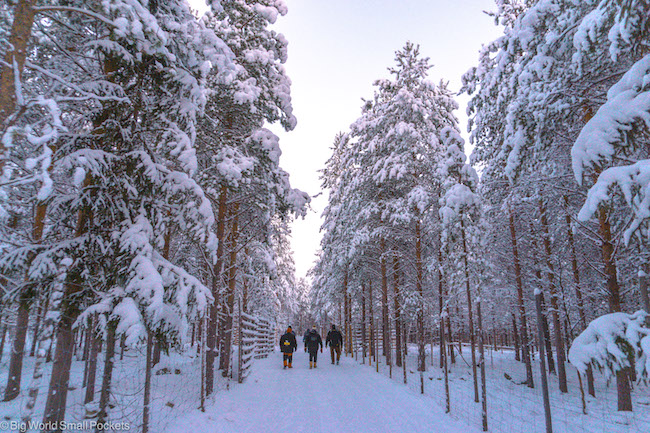 Thin Toiletries Bag with Hook
Anti-Bacterial Soap
Deodorant
Face Cleanser, Toner, Serum & Moisturiser
Sunscreen
Toothbrush, Toothpaste, Floss
Razor & Spare Blades
Nail Scissors & Nail File
Tweezers & Safety Pins

Cotton Buds / Pads
Hair Bands & Hair Brush

Electricals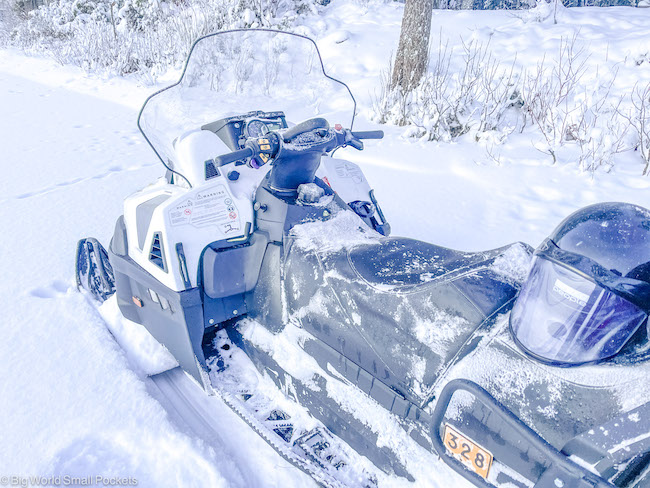 Smartphone & Headphones
Portable Charger
Camera & GoPro
Lens, Spare Battery, Memory Card & Charger
Headlamp & Spare Batteries
Other Things!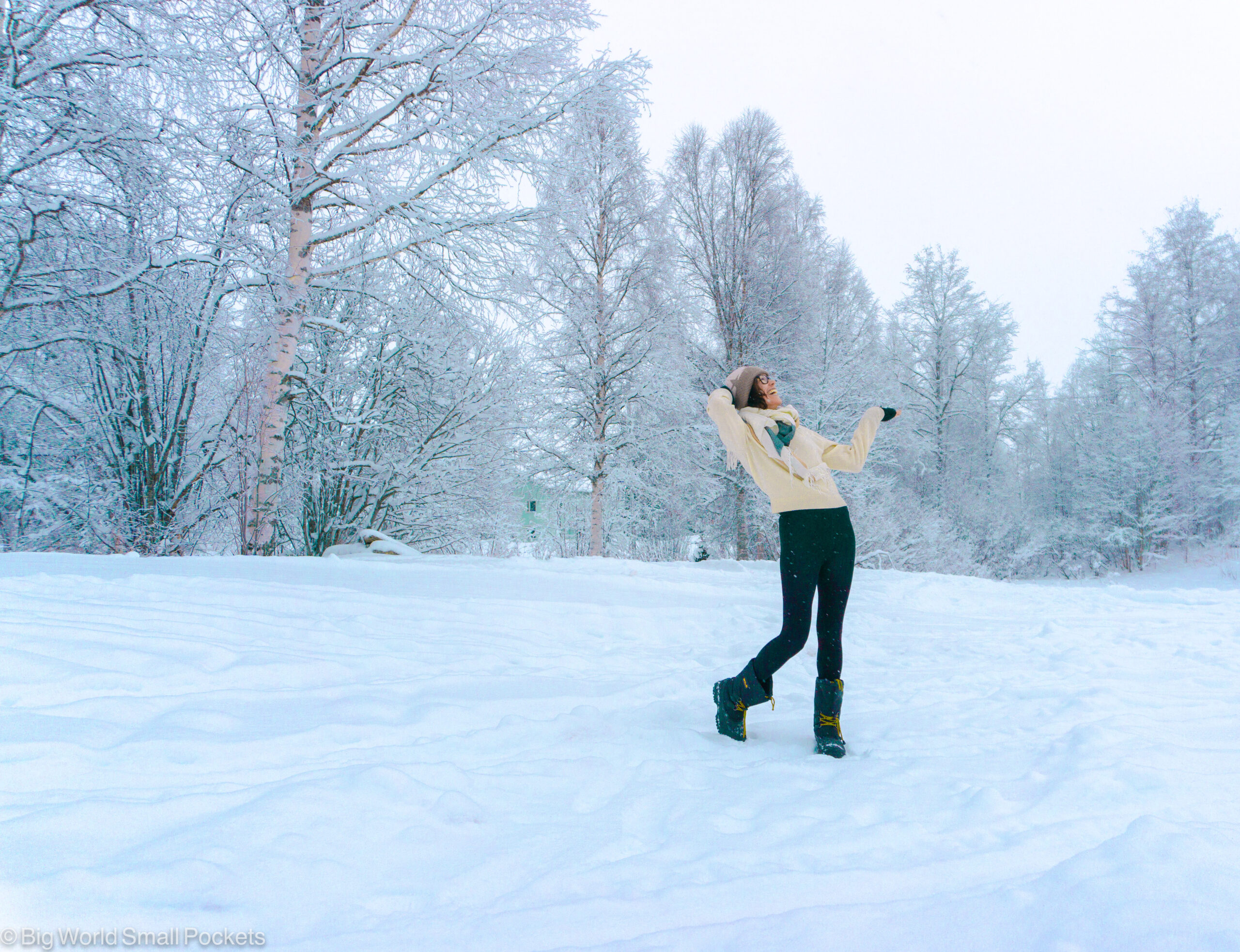 Glasses / Contact Lenses if you wear them
Sunglasses with UV Protection
Eye Mask & Earplugs
Water Bottle
Passport
Credit Cards and Debit card
Euros Cash
PIN IT TO PINTEREST!
So there it is, my complete checklist for what to pack for your winter trip to Finland.
Any questions about it, please drop them into the comments below and I'll get back to you.
Any suggestion to add, I'd love to hear those too!