Driving into Broome for the first time and trying to find somewhere to stay can be a little confusing.
Trust me I know ….
… Been there, done that!
Yes, when we finally made it to Broome after enduring the Gibb River Road as part of our budget 4wd around Australia, we could not wait to find the best of the Broome Caravan Parks and relax!
Yet somehow, this seemed like a daunting task.
With Broome itself spread out over a number of different areas and with each of the Broome Caravan Parks having its own series of advantages and shortcomings, picking the right one was harder than it looked!
In the end, we drive round to all of them to see which suited us best!
So to save you this hassle, especially if you've come off the Gibb too (!), here's our ultimate (and unbiased) lowdown on which of the Broome Caravan Parks is best for you.
Rating: 7/10
The cheapest of the Broome Caravan Parks, this one is located the furthest out from town, which probably accounts for its lower price tag.
Situated on Wattle Drive, you'll find this park along the one main road into Broome about 5km from the centre.
If you don't mind a drive to visit Broome's attractions, this could be the caravan park for you.
As we had a rooftop tent however, and were not interested in putting it up or down every night, the Broome Caravan Park was just a little too far out for us.
Open all year round, this caravan park has the biggest pool of them all – which could be a clincher if you have kids! – and a small shop for supplies.
There's laundry facilities and a camp kitchen too.
From unpowered sites available right through to chalets, Broome Caravan Park also offers weekly rates for an even cheaper stay.
If you're looking for a bargain, Broome Caravan Park is probably the one for you.
Rating: 6/10
Situated between Chinatown (Broome's CBD) and Cable Beach (Broome's best beach) is Broome Vacation Village.
Again, we shied away from staying at here because of its location, which while central is not within walking distance of any of Broome's main attractions.
Being on the main road, I suspect traffic noise could be a problem here too.
There's a small shop here, as well as a camp kitchen, a pool and of course laundry facilities. However, having no stand out features we weren't particularly enamored with this caravan park.
Unfortunately when we visited, there also seemed to be no grassy sites available and we seen just that bit too much dirt already!
However, if you're looking for the best of both Broome worlds i.e. town and the beach, then maybe Broome Vacation Village could be the one for you.
Rating: 8/10
The closest to the famous Cable Beach, this Broome Caravan Park is only a 5-10 minute walk from one of the best sunset views in Western Australia.
For this reason, it was hard for us to pass it up!
Sites were a bit tight, but there was plenty of shade and the areas nice and grassy.
There is a small pool on site, but with the beach so close we weren't bothered.
There's also a café here, good laundry facilities, spotless bathrooms and an ample camp kitchen.
A bit more expensive, probably due to the location, we thought this was the pick of the bunch and worth the few extra dollars!
If you want to be near the beach, Cable Beach Caravan Park is the one for you.
Rating: 5/10
I have to be honest, this was a bit of a weird one!
When we turned up, this Broome caravan park was basically empty, despite it being half term and there was a bit of a strange atmosphere.
The park was clean, but almost felt a bit sterile and despite its location in Cable Beach didn't feel like it had the relaxed coastal vibe we were after.
Also no pool.
Sadly staff not that friendly either.
Priding itself on being the quietest caravan park in Broome, Tarangau could be the caravan park if you want to get away from it all.
Rating: 5/10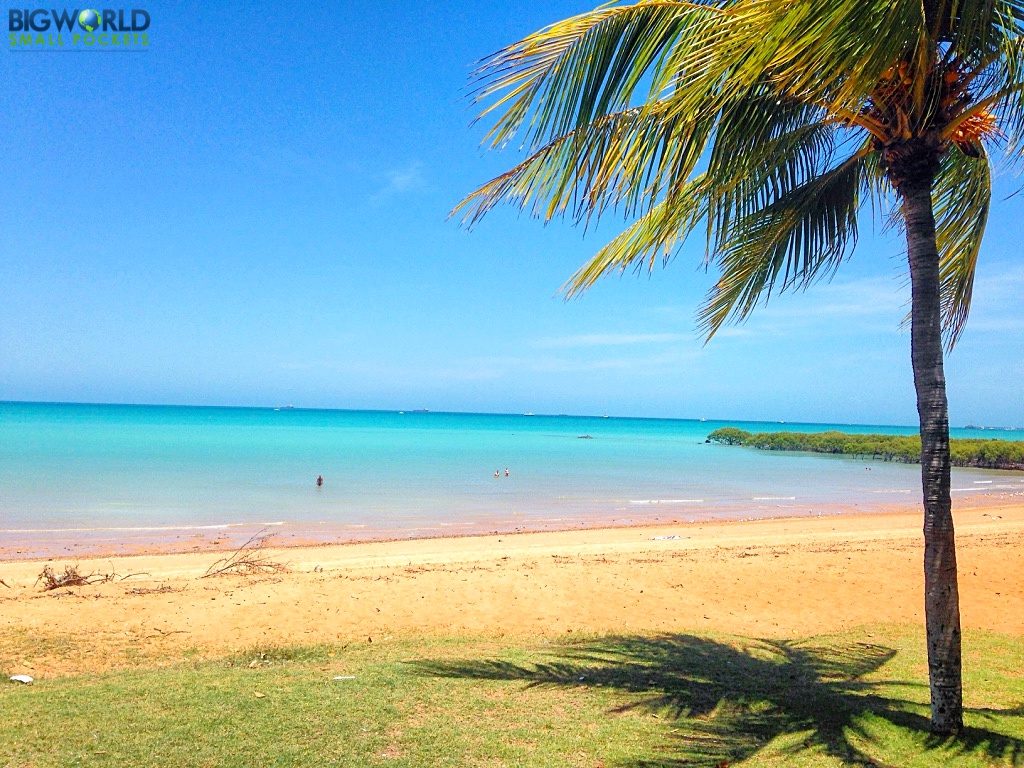 Right on the shoreline of Town Beach, this Broome caravan park is the only one in town with a beachside location.
It's also the closest to Chinatown and the famous Matsos brewery is a short walk away, as are a number of other pubs and eateries.
That said, this caravan park felt slightly less safe to us and was filled with long-term guests, which made the place look a bit messy.
Amenities weren't that clean and the place felt like it was in need of some love.
If you want to feel like you're right in the heart of the action however, the Roebuck Bay Caravan Park would probably suit you.
Pin it to Pinterest //
So that's our round up of the Broome caravan parks.
We definitely voted Cable Beach Caravan Park as the best for our needs and really enjoyed our 5 day stay there.
And if you're looking for a Broome Backpackers instead, then definitely check out Beaches of Broome. This place was really near to Cable Beach Caravan Park and was absolutely fantastic.
Have you visited Broome? Where did you stay? Did you enjoy it? If you're looking to
If you're looking to travel Australia on a budget, check out OZCodes for some great deals.
This page contains affiliate links meaning BWSP may receive a small commission on any purchases.