One of my favourite things about currently living on the Sunshine Coast in Queensland, Australia is the wonderful outdoor opportunities that the climate and geography of this area holds.
From ocean snorkels, to forest walks, the diversity and beauty of this regions's landscape, as well as its gorgeous year-round, weather really makes the Sunshine Coast a nature lover's paradise.
My love of the outdoors on the Sunshine Coast is also down to the fact that activities here are generally very cheap or free.
As I've written about before, Australian National Parks are a budget travellers dream and one of the best things I recommend exploring Down Under if you're short on funds.
Full of awesome camping, hiking and wildlife spotting opportunities, as well as a heap of other wonderful outdoor adventures, national parks are such a great way to see this fabulous country.
The Sunshine Coast is no exception and it certainly has a great array of national parks to enjoy in all sorts of ways.
A big fan and regular visitor to them, I'm going to share with you my top 5 favourite Sunshine Coast National Parks so you can also enjoy the best of the budget beauty this area holds.
---
Related Posts
---
This page contains affiliate links meaning Big World Small Pockets may receive a small commission on any purchases at no extra cost to you.
---
#1 Noosa National Park
Coming in at number 1 is the famous Noosa National Park, which I'm lucky to say, starts approximately a 20 minute beach stroll from my front door.
When I'm not running up the steps on a morning jog or leisurely strolling round to sunbathe in this park's secluded beaches, which is one of my favourite things to do in Noosa, I'm probably trying to tick some Australian wildlife off my list!
Lucky enough to have seen echidnas. koalas, dolphins, turtles, rays and even whales from this beautifully protected area, Noosa National Park really is a winner in my books!
The park occupies a headland between the main suburb of Noosa Heads and the more low-key area of Sunshine Beach where I currently live.
No camping is allowed here, but there are many great walking tracks to be enjoyed in the Noosa National Park– the most popular being the Coastal Track, which sends you dipping down into beautiful beaches before climbing back up the cliffs the either side.
There are also plenty of quieter, shorter forest tracks to enjoy too.
With the main entrance very close to Noosa Main Beach, one of the best beaches on the Sunshine Coast, the Noosa National Park is a sure-fire family-friendly favourite.
#2 D'Aguilar National Park
D'Aguilar is my latest discovery when it comes to Sunshine Coast National Parks, and I love it.
Situated at the southern end of the coast, nearest to Brisbane, this protected area of land extends from the back of the city up towards Woodford in the hinterland.
Technically I think this might mean it's more a part of Caboolture than the Sunshine Coast, but really, who's counting!
Up in the range, most of D'Aguilar National Park sits at altitude and, as such, offers plenty of opportunities for some beautiful lookout and countryside views.
There is also some great forest driving tracks to be enjoyed here, as well as gorgeous streams to bath in and some excellent camping to be had.
We stayed in Archer's Camp Ground in the Mount Mee section of the park when we were last there, and loved it.
This was a large, grassy campground with some good facilities, but there are plenty of more remote campsites that can only be accessed by hiking in D'Aguilar if that's what you're looking for.
#3 Great Sandy National Park
The Great Sandy National Park is a massive area of protected land that stretches from Noosa in the north of the Sunshine Coast all the way up to Fraser Island – one of my favourite places in Australia.
It encompasses a number of different regions but is largely coastal based with the coloured sands of Rainbow Beach and the remote Woody Island included.
Great Sandy National Park offers a range of idyllic and back-to-basics camping at its best.
This really makes it one of the best Sunshine Coast National Parks because it quickly allows you get away from it all – simply hop on the ferry at Tewantin and you can be driving up Teewah beach in no time, with the white sand, blue ocean and green nature all blending into the perfect colour spectrum before you.
If you're looking for a great beachside escape, then the Sunshine Coast's Great Sandy National Park is the one.
5 ESSENTIAL PACKING ITEMS FOR AUSTRALIA
#1 Good Camera – You will be pretty much snapping non-stop in Australia and will need a good camera to do this gorgeous country justice. I highly recommend the Sony A6000, which I use for all my travels and love, not least because it's light, compact and robust!
#2 Good Walking Shoes – There will be a lot of walking in Australia – from cities to national parks! Make sure your feet are comfortable therefore with a pair of New Balance Trainers. Perfect for stylish strolling, I love mine.
#3 Good Guidebook – I'm still a massive fan of the Lonely Planet Guidebooks and do think their Australia edition is well put together.
#4 Good Water Bottle – Travelling in hot old Australia can be thirsty work, so make sure you have a metal water bottle that you can refill as you go, because tap water is drinkable… and free!
#5 Good Sun Hat – And there's no denying you'll need a good sun hat for protection in Australia too. In my opinion you can't go past this Hello Sunshine one, which is both gorgeous and ideal for keeping the rays off your face.
#4 Glass House Mountains National Park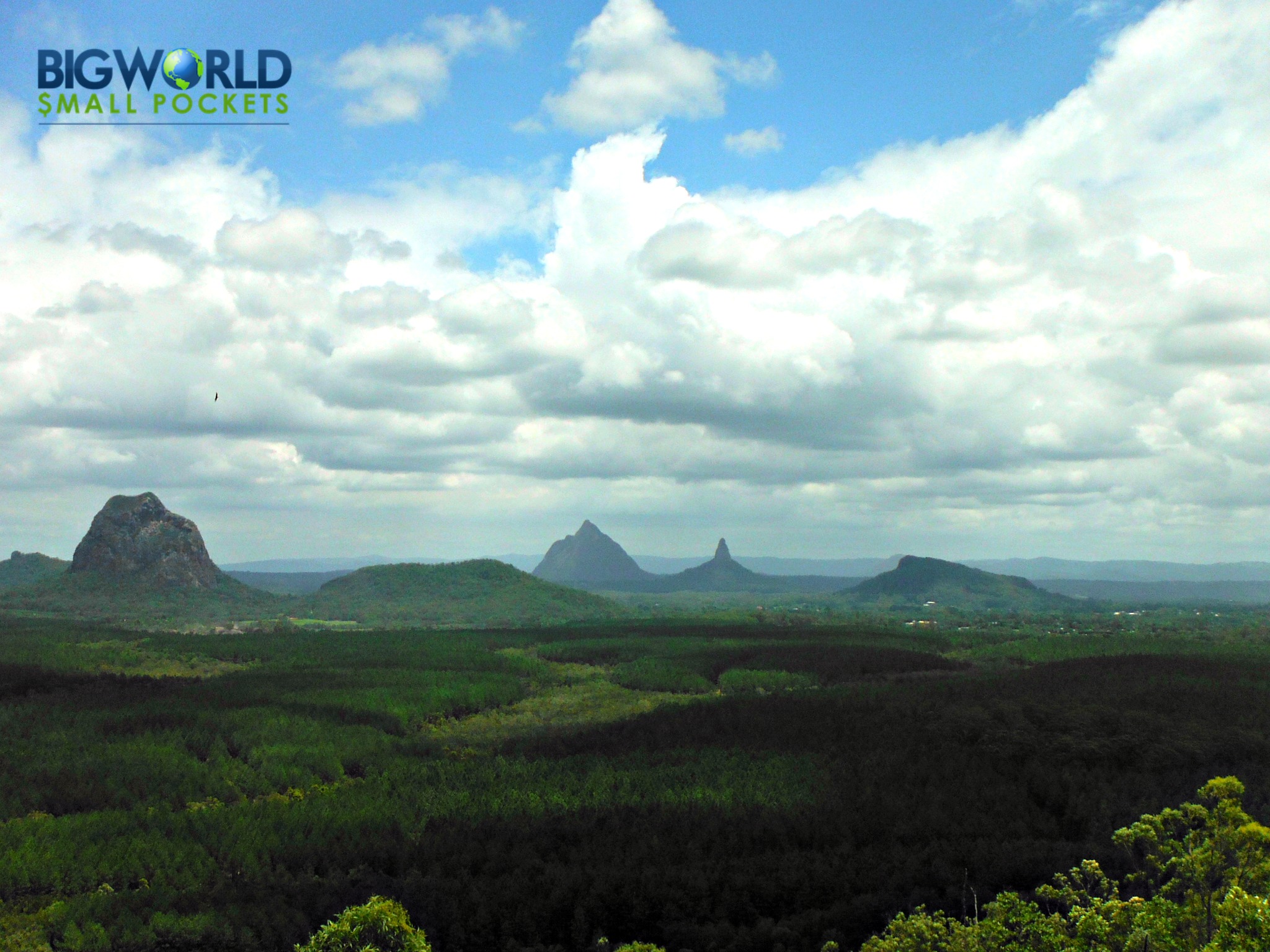 The Glass House Mountains are a handful of hills that jut dramatically, and seemingly randomly, out of the otherwise generally flat landscape of the Sunshine Coast.
Clearly visible from a long distance away and forming a great backdrop for the sunset, the Glass Mountains are separated by a number of roads but joined by their shared National Park status.
Visiting the Glass House Mountains National Park is a perfect day trip, will give you quite a different take on the otherwise beach-orientated Sunshine Coast.
A few of them can be climbed and will reward you with some great views from the top.
Perhaps my favourite spot to enjoy here however is the Wild Horse Mountain Lookout, which gives you a stunning elevated view of all of the mountains spread out before you.
This alone makes the Glasshouse Mountains one of the top Sunshine Coast National Parks.
#5 Conondale National Park
Conondale National Park is situated up in the rolling, rural hills of the Sunshine Coast hinterland.
The park is located in the forested foothills of an otherwise rural, farming area and boasts beautiful bush walks and some super 4wd drives that take you through the forest and are a great way to check out some of the awesome viewing spots as you get higher into the hills.
Highlights include historical old gold mines, some wonderful natural cascades to enjoy a swim in and large waterfalls to marvel at.
There is one main campsite in Conondale National Park called Booloumba Creek.
There are 3 different areas to the campground and they are all only accessible by high clearance 4wd vehicles – due to the creek crossing!
The campsite had great facilities including fire-pits, running water, flush toilets and showers, albeit cold ones.
If you haven't got a 4wd, then don't panic! Camping at Charlie Moreland Campground in the nearby Imbil State Forest is equally beautiful and enjoyable.
PIN IT TO PINTEREST!
So those are my top 5 Sunshine Coast National Parks.
Let me know if you've visited any of them and which was your favourite.
For more information about these top 5 Sunshine Coast National Parks, including camping information and maps, check out QLD National Parks website.