The Dalmatian Coast in Croatia is a stunning paradise for travellers looking for a sunny island adventure.
However many are put off after seeing the price of a two week holiday there!
Yet the good news is that with a little planning you can Airbnb your way around Croatia on ferry tickets that cost as little as £7 per journey.
How good does that sound?
So if you're interested in learning how to island hop Croatia on a budget too, then keep reading!
---
Related Posts
---
This page contains affiliate links meaning Big World Small Pockets may receive a small commission on any purchases at no extra cost to you.
---
Don't Book a Package Tour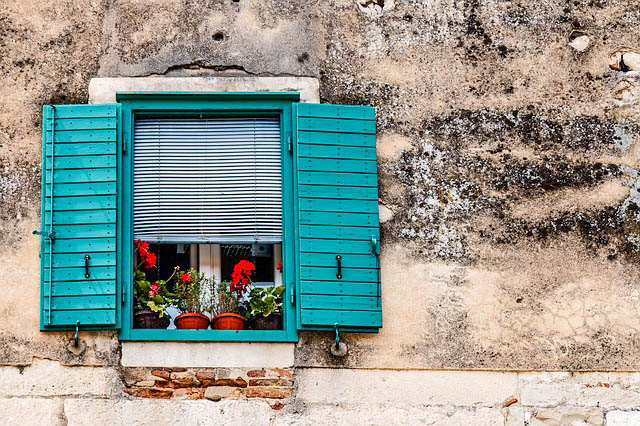 If you want an easy to book holiday, with the simplicity of having someone carry your luggage from island to island, you can definitely blow the budget and book a packaged tour across the Croatian Islands.
For some of us however, it's better to travel at your own pace and spend a lot less.
To explore Croatia on a budget you'll need to book your own accommodation and onward travel.
We booked a flight with Easyjet into Split and flew home from Dubrovnik.
We took our budget trip during the beginning of the peak season in July, which made it a bit cheaper, and visited the islands of Hvar, Korcula and Mljet.
Get Around Independently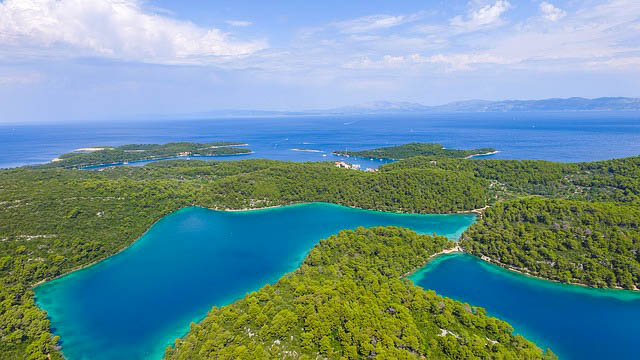 As our first independently organised trip to multiple destinations, we were surprised by how easy it was to navigate the Croatian islands.
For example, it was so straightforward to organise the four ferries, three taxis, coach, and hire car we needed, which is great news if you are also looking to see Croatia on a budget.
When we arrived in Split's airport we took a pre-booked taxi to the city for €20.
We'd always recommend pre-booking airport taxis to ensure you a) get a good price you can check out online earlier and b) get picked up/dropped off at the right time.
Almost all the locations we visited had everything we needed within walking distance of the port too.
Each time we reached a new area, we were either welcomed by apartment owners, or given easy directions.
The lovely host in Hvar even insisted on pulling both of our suitcases during the almost vertical 5-minute walk.
FYI: If you aren't keen on hills, I wouldn't recommend Croatia!
Be Organised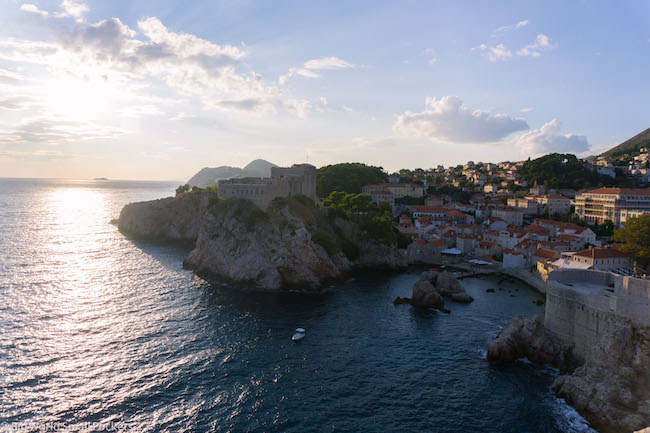 Budget travel does take a little organisation ahead of your trip, so we recommend booking your ferry trips in advance.
They sell tickets at each port, but in peak season you'll find a lot of tickets are sold out ahead of time and we saw more than one unhappy tourist stranded on an island during our stay!
We booked all our ferries online with two companies, Jardrolinija and Krilo.
The average cost was £7 per person, per journey, so we'd definitely recommend this is you want to visit on Croatia a budget.
LOOKING FOR CHEAP TRAIN & BUS TICKETS IN EUROPE?
When it comes to the quickest and easiest way to book train and bus tickets across Europe, look no further than Trainline.
Offering the best prices, with a handy journey planning feature and live departure updates, this is my one-stop shop when it comes to organising all my Europe adventures on a budget.
Get Off the Beaten Track
We did hire one car during our trip across Croatia's islands, which was not the most budget-friendly thing to do.
However at £120 for three days, we decided it was worth the expense.
We visited Mljet, which is not typically included in the package holidays of Croatia.
Picking up the car near the port, we drove for two hours from one tip of the island to the other, through an amazing national park and on to a stunning coastal drive.
The village of Saplunara was another quiet recluse with only six other guests during our stay. We also found the only sandy beach of any of the islands we visited here.
For the experience, it was worth £40 a day and if your budget can stretch to it, you'll see more of the islands than most this way.
Hunt Out Bargain Accommodation
Hotels, B&B's and hostels aren't too common along the Dalmatian coast.
The few that do exist tend to be very expensive and from what we saw, they often aren't worth the price.
When it comes to island hopping Croatia on a budget therefore, do as we did and reserve your entire trip using a combination of Agoda and Airbnb.
Get £30 off your Airbnb booking by clicking HERE!
Our average price came to £80 a night for two people, which isn't bad.
At this price, we stayed in a real range of apartments.
Our first in Split was a little disappointing. The host wasn't available to meet us, the taxi driver got lost and eventually we met up with the host's friend to get the keys!
It was a small and basic studio apartment. However, it was quiet at night, only 10 minutes walk from the centre of Split and clean.
By contrast, we stayed in a stunning apartment in Korcula for less than the price of the Split apartment. We had a luxury bathroom, king-size bed and beautiful terrace. We honestly could have moved in there!
The most amazing of them all however, was the 'apartment' in Mljet. I say 'apartment' as really it was a family-run B&B, without any of the formality.
Our host family included everybody from teenage son right up to grandmother, and they made us feel incredibly welcome.
Every evening Gordana would ask us if we would like to have dinner, and three courses would be served up just as if you were one of the family coming for the evening!
The room in Mljet was basic but large, and with only 7 others, there was always peace and quiet. The incredible infinity pool had a view I'll never forget, and we often went snorkelling off their private beach!
Total luxury for budget prices!
Limit Time in the Main Towns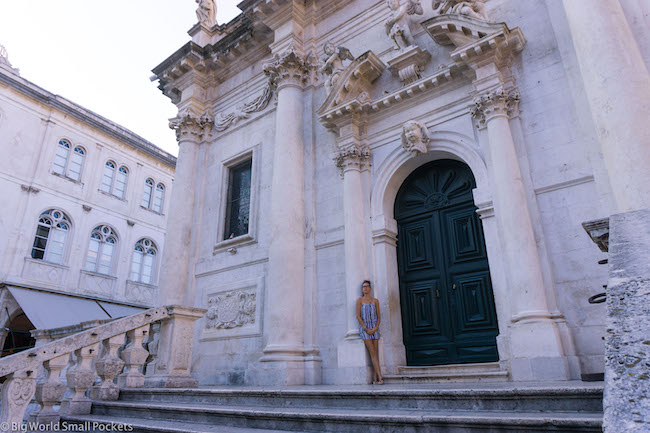 During our trip we island-hopped from Split on to Hvar, Korcula, Mljet and finished in Dubrovnik.
As mainland towns, Split and Dubrovnik aren't cheap, especially Dubrovnik. However, if you only stay there a short amount of time you can keep your costs down and still see the main sites.
I have to say Split was the least awe-inspiring location of our trip, but we made the most of it by pre-booking a return coach trip to Krka National Park for a day. Check out this top-rated budget option if you want to do the same.
Krka is only an hour from Split and is the most amazing collection of nature and waterfalls. Here you can spend a great budget-friendly day hiking and swimming.
Dubrovnik is the filming location for Kings Landing in Game of Thrones and the locals have made the most of this association!
You can take Game of Thrones tours, visit Game of Thrones shops and even sit on the Iron Throne on the nearby island of Lokrum, which happens to be Quarth in Game of Thrones too!
You don't need to be a fan to visit however. This cosmopolitan city is a stunning combination of ancient architecture and modern fashion.
That said, Dubrovnik does cost.
No matter what.
It was the most expensive food, accommodation and taxi ride by far.
But it was a brilliant experience to dress up nicely and drink in the ancient surroundings with a cocktail or two while listening to the live music which pours through the city at night.
So while Dubrovnik can get hot and crowded, you must spend at least one night in this beautiful city even if you are looking to visit Croatia on a budget – learn more about how to do this for less than 80 euros here.
And check out Hostel Angelina if you're looking for somewhere cheap to stay in the city centre.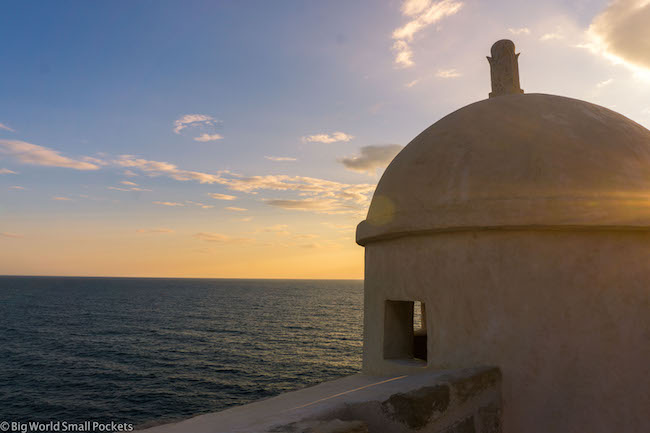 Choose Island Destinations Carefully
Hvar is known as the party island, and if you want to hit some bars until the early hours and spend all your money, it's a beautiful place to do it!
However, we were looking for a different kind of holiday, so we only stayed for one night.
I have since heard of friends who visited the town of Stari Grad instead and suggested this was a much more relaxing and 'island-y' experience.
Korcula was stunning. The medieval settlement is steeped with history, the walled town stood high above the landscape dominating the view as the ferry arrives at the port.
A relatively small town, there are lots of cobbled streets, cute alley restaurants and bars overlooking the ocean.
It was also much more budget-friendly than most of the other islands and we could afford a much nicer apartment here than in the previous locations.
Mljet is a must-see, as I've already suggested.
I should mention that most people who visit Mljet take a day trip to the National Park which spans half of the island.
We skipped this altogether as we were looking for three days to escape the summer crowds and truly relax.
We visited Saplunara instead, staying in Villa Mirosa. Check out the reviews – they're really accurate!
PIN IT TO PINTEREST!
So if you are considering Croatia on a budget, we highly recommend searching beyond the packaged island-hopping holidays.
We fell in love with the stunning skylines, endless ocean and unique experiences of each destination we visited and this definitely allowed us to get more from our holiday while spending less!
---
Chloe is blogging secretly while planning to quit her job, get married and travel the world in 2018.
Together with her wife-to-be Amy, a fine artist and photographer, they are writing about the planning, packing and money making to fund it all!
You can read all about their awfully big adventure on the To Neverland blog or follow them on Twitter or Pinterest.
---