---
This page contains affiliate links meaning Big World Small Pockets may receive a small commission on any purchases at no extra cost to you.
---
We had both been looking forward to this week a lot, mostly because Karajini National Park had been on our wish list for a long time.
And it certainly didn't disappoint!
This place is seriously incredible.
With its epic gorges, stunning waterfalls, walks, camping spots and swimming holes we loved every minute and could barely take our fingers off the shoot button!
If you ever visit Karajini National Park, make sure you allow at least 4 days as an absolute minimum, as there really is so much to see and do here.
Distance Travelled:
582km
Spot of the Week:
Karajini National Park, Western Australia
Camp of the Week:
Albert Tongilini Free Camp, Western Australia
Tip of the Week:
If you are going to be in Western Australia for a while and you love National Parks then make sure you get a WA All Annual Parks Pass.
Most WA parks have a $12 entry day fee, plus a camping fee, so the costs quickly start to add up. Buying a pass therefore, can be very cost-efficient.
We got the full-year pass, which costs $88 and covers the entry fee for all parks except 2, Monkey Mia Reserve and The Valley of The Giants which still have an entry fee applicable.
We will visit at least 12 parks during our time in the state, so the $88 is a bargain.
You can also get a monthly WA Park Pass, known as the Holiday Pass, which cost $44 if you plan to be in the state for less time.
Disaster of the Week:
The wind! Howling a lot and we barely got a night's sleep on Day 1 because of it!
Rooftop tents and the wind are not friends! And neither are we when they are both flapping away!
The Budget ($ AUD):
Fuel – $218.68
Groceries – $245.74
Camping Fees – $60.00
Coffee – $14.00
Total – $538.42
Day 1 – Albert Tongilini Free Camp, WA
On our way out of Port Hedland we made our way down to the Port to see the massive ships getting loaded with Iron Ore.
This is really what the Pilbara area is famous for and is by far the region's biggest industry.
It is hard to fathom just how much stuff they dig out of the ground in this country, and it's a difficult issue to address environmentally and economically, but the size of the boats was impressive.
On our self-guided drive through town we also found The Dome Café right on the waterfront.
We indulged ourselves with a coffee and sat in the air conditioned comfort for about 2 hours while accepting the offer of fast and free WiFi. As travel bloggers these places are GOLD!
After dragging ourselves away from The Dome, we set sail for our camp for the night, some 311 km away.
Albert Tongilini is by far the most beautiful officially recognised free camp we have seen.
Set high on the edge of a valley amongst the massive red dirt and rocks we found a nice flat spot to call home for the night.
Although the wind had other plans!
Day 2 – Dales Campground, Karajini National Park, WA
After the windiest night ever, where none of us got much sleep, we made our way to Karijini National Park where we would camp and explore for a few days.
Several coffees and breakfast soon got us into action and we set off for over 3 hours of hiking and swimming.
The scenic walk along Dales Gorge leads you down to the very cold swimming hole known as the Circular Pools.
This place is stunning and ideal for a dip on a hot day. The water temp takes some getting used to but it's way too inviting to resist!
Walking back along the gorge floor, you follow the tropical waterway past several little palm-fringed swimming holes to find yourself at the super impressive swimming spot of Fortescue Falls.
The water here was considerably warmer, so we spent some great time here enjoying the falls, a refreshing swim and generally lazing about.
Day 3 – Dales Campground, Karajini National Park, WA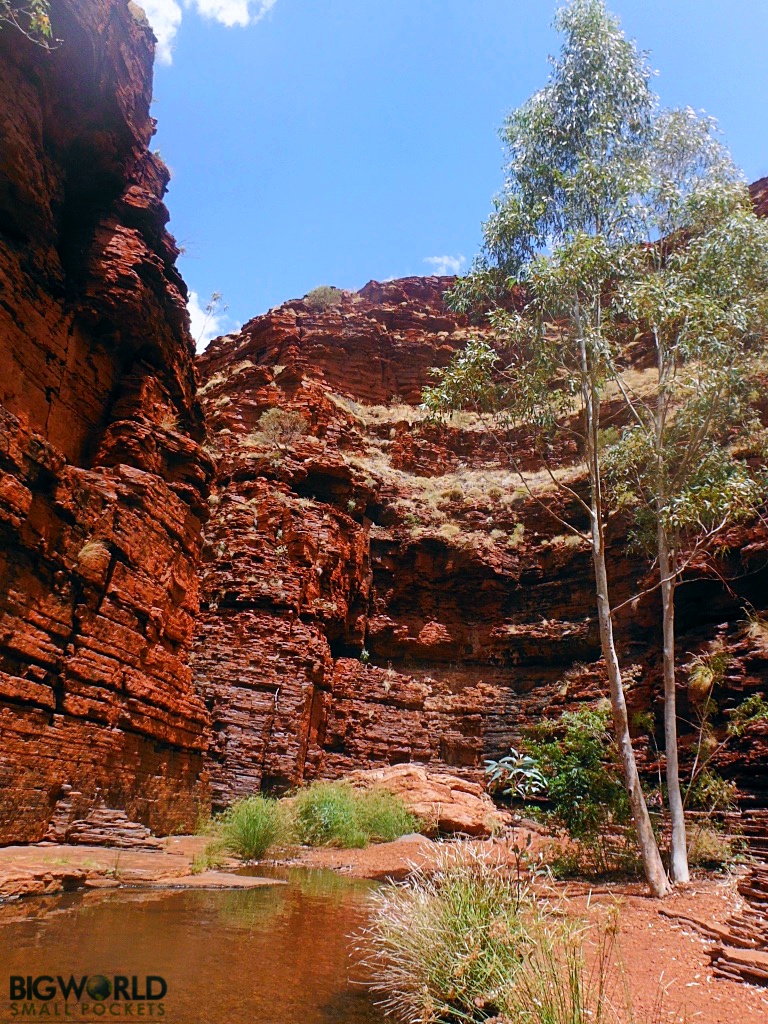 A return visit to Fortescue falls was a must and it acted beautifully as an appetiser to the big attraction – Fern Pools.
Fern Pools is a massive swimming hole at the bottom of a picturesque waterfall.
The eastern side of Karajini National Park was amazing and we couldn't wait to see the what the western side of the park had to offer.
Day 4 – Weano Gorge & Joffre Gorge, Tom Price, WA
Situated on the western side of Karajini National Park, Weano and Joffre Gorge offered some heavy competition to Dales Gorge and its divine scenery.
Kermit Pool, Handrail Pool and the Spider Walk however were every bit as beautiful, if not more so, and offered something completely different to anywhere else in the world we've been!
Crawling, swimming and climbing our way through the gorges to these magnificent watering holes was like nothing else! Get this place on your bucket list!
Day 5 – Hamersley Gorge & Millstream National Park, WA
On our way to Millstream-Chichester National Park we made a stop over at Hamersley Gorge.
Still being part of Karijini National Park, it's no wonder that this gorge and its swimming holes were superb displays of nature as well. The rock formations, in particular, were utterly beautiful.
Millstream-Chichester National Park was next on our agenda – a few hours drive away.
We checked out some more gorgeous swimming pools and walks here, as well as the fascinating and historic Homestead, before enjoying the great camp kitchen on offer here and bedding down for the night.
Day 6 – Karratha, WA
After a well-known highlight in the Millstream-Chichester National Park is Python Pool which, we headed to on our way to Karratha.
This is an absolute gem, with water such a crazy colour green it's hard to comprehend!
However, there is something that we thought was even better and that's the drive into Python Pool.
WOW, we have been on some epic drives and this one is right up there with the best. The twisting and turning road provided panoramic delights of the Pilbara, with huge rocky escarpments and never-ending flat plains spreading out before us.
Then we arrived into Karratha.
We have been super lucky at picking our caravan parks and Discovery Parks – Pilbara, Karratha
was no exception.
All of our stays at Discovery Parks have been great, especially the managers and staff who have been very friendly and helpful on every occasion.
Although they can be expensive, caravan parks are a great place to recharge us and our equipment. It's always nice to have some neighbours occasionally too, to share stories and adventures.
Day 7 – Karratha, WA
Today, we drove out of town for some exploration of the township of Dampier, the Burrup Peninsula and found the delightful beach at Hearsons Cove, where we stopped for some lunch and a swim.
A visit to this part of the world wouldn't be complete without a photo with one of its most famous characters, Red Dog too!
Red Dog spent his life roaming from town to town throughout the Pilbara, hitching rides wherever he could.
If you fancy seeing a classic Australian film, then definitely check out Red Dog the movie, a comical tribute to this famous pooch.
Next week our plans take a bit of a dive bomb!
Stay tuned to find out why!