Like many other travel bloggers, Pinterest is my number 1 source of traffic and therefore, the biggest performance indicator of my monthly reach and growth.
When I became increasingly serious about my travel blog about a year ago, I knew donating time to Pinterest more would be a major part of my development strategy.
And so it was.
A MAJOR part!
Perhaps even a little bit too major!
Yes, in my attempt to reach Pinterest success, I found that this social medium was taking up more and more of my time.
And, worst of all, that this wasn't producing the results and improvements I'd hoped for.
I was using Pinterest Facebook sharing groups, as well as a combination of live pinning techniques and a basic scheduling tool, but my Pinterest referral traffic was just not growing.
After about 6 months of fluctuating patterns, but no real growth, I decided to go in search of other tools that might help me capitalise on my Pinterest following and stumbled upon Tailwind.
---
Related Posts
---
This page contains affiliate links meaning Big World Small Pockets may receive a small commission on any purchases at no extra cost to you.
This article outlines my personal results, but Tailwind also publishes the typical results of their Pinterest subscribers every year, so you can see what the average growth rate looks like for all of their members here.
---
Signing Up to Tailwind
After undertaking a free trial of the service in early May 2016, I was hooked and signed up immediately for their paid PLUS plan.
Within just 1 month of using Tailwind, I saw huge improvements in my Pinterest success.
And now, after just five months, Tailwind has helped me double my Pinterest referral traffic, massively growing the number of people visiting my site.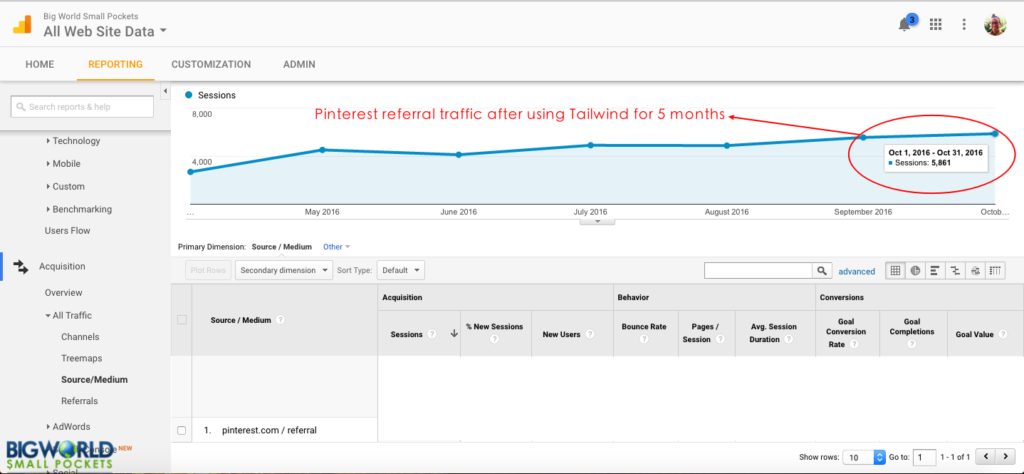 Here's how…
Schedules to Pinterest Around the Clock
One of Tailwind's key functions is its ability to schedule pins.
That means rather than me having to constantly log in to Pinterest and pin everything live, Tailwind does it for me!
Even when I'm out of signal, offline, or not working, Tailwind is constantly pinning things on my behalf and generating traffic to my blog.
And because it does this around the clock, Tailwind gives my pins a much better chance of being seen by those people that I'd never normally reach live – most probably because they live on the other side of the world to me (Australia is a long way from anywhere right!)
So when I'm asleep in the Land Down Under and those other users around the world are awake and on Pinterest, Tailwind allows me to get my pins in front of their eyes and get them clicking!
Automates an Optimised Schedule For Me
"Yeah, yeah", I hear you saying, "but all schedule tools can post for you during the night."
Ok, yes they can, but what Tailwind has also given me is my own unique posting schedule.
This ensures all the pins I schedule are perfectly timed to give me the greatest possible results.
And best of all, Tailwind does this automatically.
No work required on my part!
When I first signed up to Tailwind, it basically crunched a whole lot of data about my location, audience and Pinterest use, and then came up with my own personalised, optimised posting schedule.
Tailwind then continued to crunch more data over time, refining my schedule more and more in the process.
In this way, the more I've used Tailwind, the better it has actually worked for me.
What's more, Tailwind also gives me the option to customise this Weekly Pinning Schedule.
If I want to add in more posting times for example, I can, simply by clicking the '+Add Timeslot button'.
It will also handily give me clues about the best time to do this by displaying optimised times within dotted lines.
Again, I just click the '+sign' next to one of these specific times to add it to my schedule.
I can also subtract posting times all at the simple click of a button within 'Publish > Your Schedule' tab in the main menu.
Simple!
Having this level of personalised optimisation easily available at my fingertips, has undoubtedly played a part in the increased Pinterest referral traffic I've experienced since using Tailwind, because my pins now go out at the times that work.
And, best of all, it requires almost no effort on my part!
Gives a Clear View of My Forthcoming Activity
So once Tailwind created a weekly pinning schedule for me, it then automatically transferred all this data into an easy to view, grid display.
This means I can see, at a glance, which pins are going out, in which on order, on what day.
And the easiest thing is that this grid actually shows a thumbnail of the pin, making it instantly recognisable.
This means I don't have to click through, or read a lot, to identify the pins in my schedule.
This awesome Tailwind feature definitely makes planning my Pinterest output easier.
For example, it allows me to easily see the occasions in which identical pins are duplicated too close together.
It also enables me to detect, very simply, whether the ratio between my own and others' pins is where I want it to be on any given day.
Brilliantly, this grid display also allows me to quickly view what my schedule looks like weeks into the future.
And all of this undoubtedly makes my Pinterest activity more consistent, more professional and more streamlined.
There's no question this has been crucial in driving increased traffic to my blog from Pinterest.
Highlights Best Performing Boards
But Tailwind isn't just a sophisticated scheduling tool for Pinterest, it's also a great analytics medium as well.
Exploring these features, and acting on the data they provide, is definitely one of the key ways Tailwind has helped double my Pinterest referral traffic.
In particular, the way the 'Track Your Brand' tab analyses how your Pinterest account is performing, has been especially useful, not least because it reveals a whole set of data not accessible through Pinterest's own analytical feature.
The part I use most within the 'Track Your Brand' tab is the data Tailwind gives me about how my boards are performing.
With a range of different metrics available, this very useful and simple tool can easily tell me which of my boards (including group boards) are bringing me the greatest results, across a range of different factors.
Of course, this has been a massive influence in the planning of my Pinterest output.
It has led me not only to whittle down the number of boards I have (i.e. eliminate those that were poor performing), but also to shape my Pinterest schedule around those boards that continually perform the best for me.
Before I used Tailwind, I actually had very little idea about which of my boards were performing well.
This basically meant that pinning something onto a specific board was the social media equivalent of a flimsy stab in the dark!
However, it's now a no-brainer for me that pinning more frequently to the boards that Tailwind has shown me yield high repins and engagement levels, has significantly grown my Pinterest referral traffic.
Analyses My Best Performing Pins
Another awesome analytical Tailwind feature I use all the time, is the 'Pin Inspector' tab.
Essentially this tool gives me a list of my most successful pins, which boards they were pinned to, when and how many repins, likes and comments they received.
This information has been so crucial in increasing my Pinterest referral traffic because I can instantly see which pins are performing best.
I can then narrow down this data, to include only pins from my own website, or those from others too.
Tailwind then has a simple 'Re-Schedule This Pin' button, to allow me to instantly get this pin back into my weekly output.
Repinning these success pins more frequently, and tailoring my Pinterest output to make use of these top pins, is a fantastic way in which Tailwind has quickly helped me increase the traffic to my blog.
Another great help is that I can alter the date range of the 'Pin Inspector'.
This allows me to easily compare my top performing pins from last week, for example, with the week before. I can compare months too and even a whole 6 months.
This is so useful when it comes to seeing what my audience like and respond too. Helping me gauge what they want more of and how this might develop over time.
Teeing up my Pinterest schedule in line with these strong indicators helps me monopolise the scope of this social medium and its power to drive traffic back to my blog.
Details My Daily Referral Traffic
The third analytics feature I use a lot on Tailwind is contained within the 'Monitor Your Domain' tab.
This tab gives me direct information about the relationship between Pinterest and my travel blog, Big World Small Pockets.
Of course, top of the list is the referral traffic data, which gives me a daily breakdown of the clicks to my site generated through Pinterest.
Being able to see peaks and troughs in this activity, and comparing that back to the data from my schedule and the 'Pin Inspector', can again help highlight well-performing pins and the resulting traffic they generate.
Once more, I then make greater use of these success pins in my Pinterest strategy, harnessing their power to steadily and consistently develop my referral traffic.
Saves My Pins in Draft
On top of being a super scheduling and analytics tool, I also find Tailwind a very helpful Pinterest planning tool.
Top of the list when it comes to planning on Pinterest is Tailwind's amazing 'Drafts' feature, which I make use of ALL the time!
Found something cool you want to pin later? Save for Later!
Published a piece with some great pins you want to coincide with a certain event or time of year? Save for Later!
Have some great new content to go out on Pinterest, but your schedule is currently full and you haven't got time to map it out right now? Save for Later!
In this way, I use the 'Drafts' feature on Tailwind like a pin board for Pinterest content!
Essentially, I have a whole heap of stuff that I save in 'Drafts', so I won't forget it.
And then, when I want it to go out on Pinterest, I can do so at the touch of a button!
This means I'm never in a rush to find pins to schedule and can constantly handpick the best content to pin.
All of this makes my weekly Pinterest planning more efficient, more tailored and means the content I'm putting out there is more high quality and more in line with what my audience want to see.
Reduces My Board Duplications
But it's at the time I want to move stuff out of my drafts and into my schedule, that Tailwind really comes into its own for me.
The process is easy.
I just select the draft pin I want to schedule, check I am happy with the URL and description, and then select the board I want to pin it to by typing the board name in the relevant box.
When I've selected the board, Pinterest then lets me know if I've pinned that piece of content to that board before by giving me either a green tick symbol or a yellow cross symbol in the corner of that box.
Let me tell you now, THIS IS A LIFESAVER!
Before Tailwind, I used another scheduling tool that lacked this feature and led me to use complicated spreadsheets to keep track of which boards I'd pinned pieces of content to and when.
It took forever! And very often I still got it wrong – mistakenly repinning content to the same boards again and again.
But not any more my friends.
No, since I started using Tailwind, those spreadsheets and board duplications are long gone and I only need Pinterest to either show me the green tick or the yellow cross!
Then, when I get the green tick, I just press 'Add to Queue' and off the pin goes into my schedule.
In this way, Tailwind is both way more accurate at reducing the rate of board duplications compared to me trailing through a hideous list of spreadsheet data, and a heck of a lot quicker!
Essentially what this great 'green tick' feature on Tailwind helps me do therefore, is make sure I'm not spamming my group boards or my followers with the same content over and over again.
Instead, I am diversifying my Pinterest output across different boards in order to attract the most amount of traffic possible.
And, believe me, it works.
Saves Me Time with Interval Pinning
But that isn't all!
No, Tailwind has yet another kingpin in his armoury and that's the ability it gives me to schedule a huge number of pins, super fast.
And I mean SUPER fast.
Yes, Interval Pinning's the name and mass scheduling's the game!
Sorry.
What Interval Pinning on Tailwind allows me to do is schedule a single pin to multiple time slots in my schedule across multiple boards, all with just a few simple clicks.
In practice, this means that when it comes to scheduling a pin, I'm not limited to selecting just one board that piece of content will be pinned to. Instead, Tailwind allows me to enter more than one board in that precious little box.
But more than that, with Tailwind I can also choose for this same pin to go out to multiple boards at different times.
So, at the same time that I'm scheduling that 1 pin to Board A at 10:50 on Tues 11th Nov for example, I can also schedule it to Board B at 17:44 on Friday 16th Dec.
Obviously I just made up these dates, but you get the idea.
But wait, you're not just limited to Board A or B with Tailwind either. No, you can in fact enter 10's of boards all at the same time and start sorting out your schedule weeks in advance.
You can also choose whether you want these pins to be scheduled at intervals that fill the 'Open Time Slots' in your existing schedule, whether you want them to go out at 'Optimized' intervals, or whether you want to customise the 'Exact' intervals.
As anyone from the UK knows Cilla Black used to say … the choice is yours!
And the handy little 'Schedule Preview' section can give you a good idea what any of these options will look like in reality.
What Interval Pinning does for me, is instantly reduce the danger of board duplications, because all at once I can control which boards a pin will be scheduled to for the next x number of months.
This leaves me with no confusion the following week as to whether I have or haven't pinned something to a particular board.
But not only has Tailwind's Interval Pinning feature drastically improved my Pinterest strategy and accuracy over the last 5 months. It has also saved me HOURS of time in the process.
In turn, this means I've wasted far less time in the last 5 months creating complex Pinterest schedules or checking numerous pin spreadsheets.
And instead, I've spent more time creating better pins and improving my content. And if that hasn't contributed to my increased Pinterest referral traffic, I don't know what has!
So that's a full list of how Tailwind has helped double my Pinterest referral traffic in 5 months folks.
Want to Try Tailwind Too?
If you want to see what Tailwind can do for your blog traffic, then why not sign up for a FREE trial right now?
There's absolutely no necessity for you to continue beyond the trial – they don't even take your credit card details – so it's the easiest thing ever.
And if you've already used your free Tailwind trial and like what you see, then you can sign up for one of their great plans and start increasing your Pinterest referral traffic too.
I'm currently on the PLUS plan, which I think would be more than adequate for most bloggers as it gives you all the scheduling, analytical, planning and pinning tools I've talked about above.
The PLUS plan costs only $9.99 USD per month, but if you sign up for a year like I did, you actually get a 33% discounts (which amounts to 4 months free when compared to the monthly plan).
Plus you get unlimited scheduling capabilities! Woo hoo!
So, what are you waiting for?
Sign up to Tailwind Right HERE!
LIKE IT? PIN IT!
Are you a Tailwind fan as well?
Or do you use any other scheduling tools that have given you similarly great results?
Please let me know in the comments box below!