It's funny thinking of yourself as a traveller when you're not really moving.
I guess it only goes to highlight the stupidity of this obtuse term.
I mean I am moving – I'm getting out of bed, going to work and exercising, I'm moving my fingers and arms to type these very words right now.
What I'm not doing however, is moving in a global sense, a sense we might link with the notion of travel – I'm not moving country or between countries or really, at the moment, even moving around one country.
Call yourself a traveller?
What is going on?
---
This page contains affiliate links meaning Big World Small Pockets may receive a small commission on any purchases at no extra cost to you.
---
What's Going on is Australia!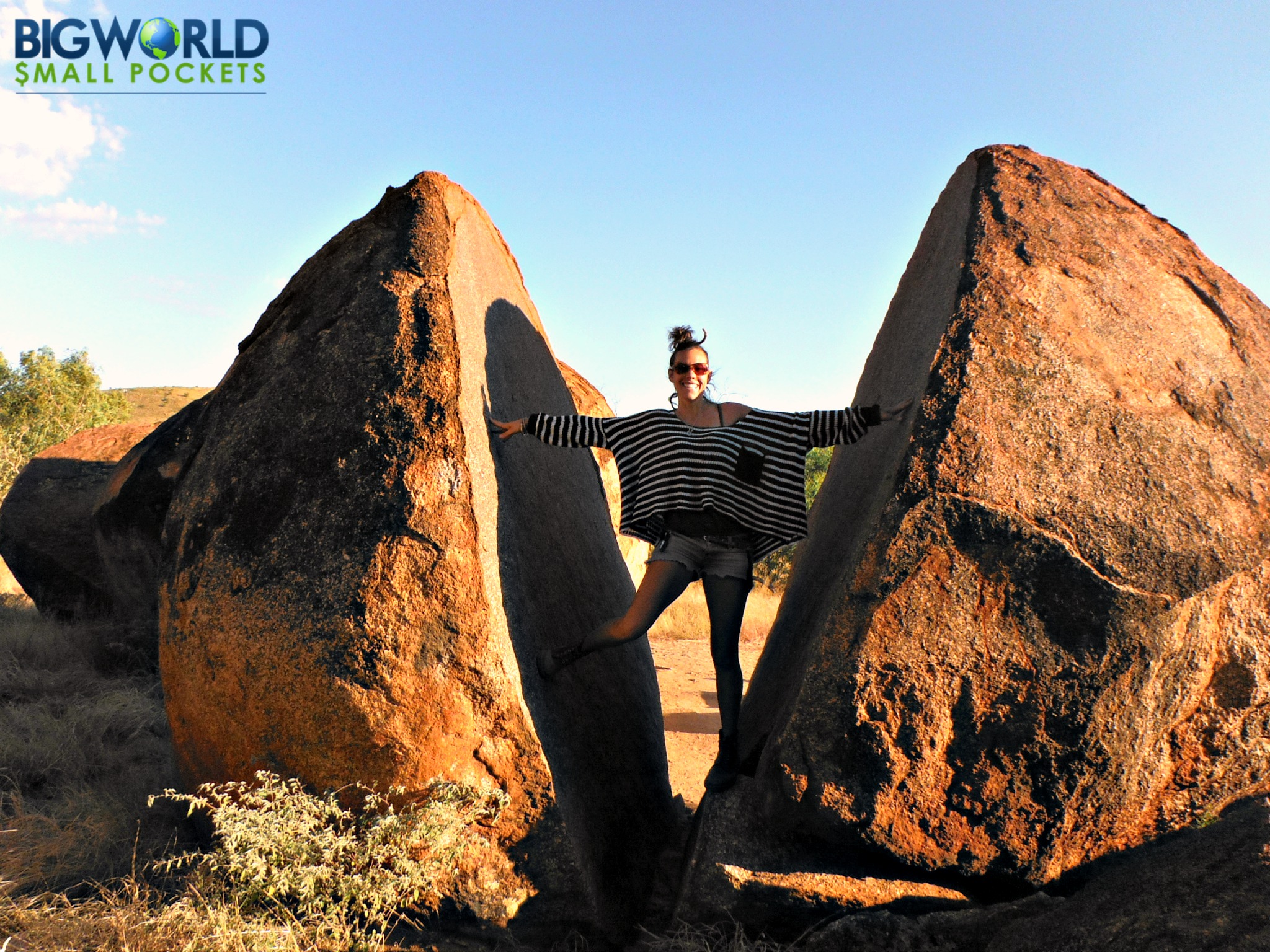 Oh Australia, the giant land of surf and sunshine.
I arrived here on a 1 Year Working Holiday Visa back in September 2013 and was immediately sucked in.
The problem is, I've not been spat back out yet and now, 2 and a bit years later, find myself still here!
I guess in some sense I am still a traveller – I mean I'm living in a foreign country half way round the world from the tiny island of Jersey in the English Channel where I was born.
I'm also living in a foreign country that is essentially the size of a continent and therefore would take anyone at least a few years to really travel and explore well.
And I'm living in an expensive country, one which if you do really want to travel and explore well either involves you having access to a ton of money or having to stop in one place for a while and work.
And there's nothing "untravely" about travellers having to stop in one place and work for a while.
In fact most do; whether it's at home or abroad, most serial wanderers have to stop moving and earn some cash for the next adventure at some point.
Which is Just What I've Been Doing
Here, in the lovely spot of Noosa on the Sunshine Coast of Queensland, Australia, I've put done my bags and have been working for a while.
It's just that's it's been a long while.
Almost 18 months worth of a long while and that's a long, LONG, while for me.
Sure there have been little trips here and there, weeks in Melbourne and on the Great Ocean Road, road trips to Central Australia and Uluru, national park camping adventures in Queensland and home visits back to Europe – but it feels like a very long while since the last time I was travelling and exploring more than I was working.
And that's a bit of a problem if you call yourself a traveller in my books!
So Now Come the Questions…
Why am I still in Australia?
Why I have I been in this one place working for so long?
Why am I not really moving round, about, from or to anywhere much at the moment?
And how can I still call myself a traveller?
Well, let's take the last question first shall we – I still call myself a traveller, because I'm still saving and planning the next big adventure.
Simples!
(More about this later…)
But the less easily explained and rather more personal reason I've put down my bags in Australia to work and live in Noosa specifically for almost 18 months now is ….
… love
Yes, that annoyingly predictable, vomit-inducing clichéd reason that's made many a good independent woman put down her travel bags for a while and start nesting rather more than she is used to, has got me too!
It's those bloody Antipodean men I tell you!
They've been the catalyst for change in the case of more than a few solo lady adventurers I know, and now, I'm the latest victim!
Love, and the lovely man I'm attached to, is the reason why I'm still in Australia after more than 2 years here and it's the reason why I'll probably still be here a while longer too.
So What's the Story?
I arrived in the Land Down Under in September 2013 and flew straight to Cairns. I wanted to dive the Great Barrier Reef while I still had some money!
From here I hitched and rideshared, camped and couchsurfed my way down the east coast until I reached Noosa on the Sunshine Coast.
Here, in this little town by the sea, I quickly made friends, found work and fell in love with the beach lifestyle, gorgeous nature and stonkingly brilliant climate!
I'd planned on stopping in Noosa just a few months to enjoy all this – to work the season, save some cash and enjoy the summer – then I'd be back on the road to continue my travels. All I needed in the meantime was somewhere to stay.
I was looking for houseshares on gumtree when I found this beautiful looking place that seems to fit the bill perfectly.
Only minutes away from work, available for a short period of time and across the road from a friend's house and the beach, it almost seemed too good to be true.
Little did I know it Wasn't!
I met the housemate, a rather handsome older man and we immediately got on like a house on fire! (pun intended) He'd travelled, he'd worked, he'd lived. He loved the beach, good books and the wild outdoors. He hated material possessions, processed food and bad coffee. We had much in common and much to teach each other.
I moved in
Into the spare room
At first
And then quickly
Into his room
The connection was strong and immediate and within weeks we both knew we wanted to spend a lot more time together.
And we did. We spent almost all our time together
Before I had to go.
Had to go and complete my farm work, which is one of the requirements for a gaining a second year Australian working holiday visa.
So I left Noosa
and the man
and continued my travel down the east coast
For 5 days
Before we couldn't resist
And he came to visit me
In Byron Bay
(I'd only made it about 4 hours drive away)
And so it continued ….
I carried on moving through the country to find farm work, while he would come and visit me whenever he could get time off from work.
We enjoyed camping trips in New South Wales and 4wd road trips through Central Australia.
And I saw so much of this beautiful land with him at my side.
And after the farm work was complete, I moved back to Noosa, back to the flat where I'd planned to be for only a few months, back to live with him.
That was in June 2014 and I've actually been in Noosa ever since.
(Yes, I spent my whole second Australian working holiday visa year not really travelling at all, but actually staying in one place!)
As I said, there have been side holidays in these last 18 months – around the country and to meet my family back in Europe – but these have only been side holidays.
The return to work has always cut things shorter than we would have liked, has determined our travels, has carved them.
Travels have been made to fit around work and not the other way. Certainly not the way I would normally have done things!
I guess my time in Noosa has been about experiencing a different type of journey
If you would have told me when I first moved in here in late 2013 that I would still be here, typing these very words from the same place in late 2015, I would have thought you were mad.
But such is life.
Taking us on a magical tour in the ways we least expect, the ways we need to go, the ways we need to grow.
I didn't have to stay in Noosa of course, I could have travelled, together with the man, in Australia or abroad, but I think we both needed to grow in one place for a bit and learn the hardships of staying still and coping with the mundane for a while.
To learn to wait a little longer this time for the next adventure.
And Noosa has taught me that. And thankfully it's made a hard lesson a little easier with its white sandy beaches and gorgeous tropical atmosphere!
It's ok going to work everyday if you can swim in the ocean beforehand!
And the Benefit of it All?
The benefit of this staying in one place and working hard is that we've now been able to apply for a visa together – we've now been able to collect all the evidence and to collect all the money such a visa costs.
Yes, before my second year working holiday visa ended in September this year, we applied for a de facto partner visa – which, if successful, will allow me to gain residency in Australia so that we can be together.
It's a long process this de facto visa.
I don't expect we'll know the outcome for at least another year. And it's also a restrictive process this de facto visa – I can't really leave Australia to travel much until it's been decided.
So that's why we're still in Australia and that's why I said I'll probably be here a while longer yet!
It's a strange thing waiting to travel (long term) again, but the longing is there and that's why I still call myself a traveller.
Sometimes, however, there are other goals that take priority, that warrant putting down your bags for a while.
That doesn't stop me being a traveller.. As long as it's not for too long!
For we have some pretty exciting plans for next year you see, ones that I'll be talking about very soon.
In the meantime however, I wanted to tell you a bit of our story, give you a small window into our lives, explain why I still call myself a traveller and why I'm still in Australia!