Often thought of as the craziest continent of them all, Central America really is a spectacle of colours, sounds, music and madness!
And never is this sensory overload more apparent then when trying to navigate the continent by bus!
I've got to admit, I'm a pretty big sucker for the madness and really get a rush out of the chaos and confusion often experienced when trying to find my way through public transport in Central America.
However I do understand not everyone feels the same in this situation, so I've put together a list of tips I think could be useful if you're just getting your head around the whole idea.
Here are 11 things you really need to know about bus travel in Central America.
---
Related Posts
---
This page contains affiliate links meaning Big World Small Pockets may receive a small commission on any purchases at no extra cost to you.
---
#1 Buses are Ubiquitous, Easy and Cheap
The best news ever when it comes to bus travel in Central America is that this form of public transport is ubiquitous, easy and cheap.
Essentially, this means there are tons of them and they're very affordable!
Most day / short distance buses in Central America are known as "chicken buses" – more about these later in #3.
There are also some buses that offer a nighttime service.
These are generally the long-distance buses, which are more like coaches – more about these later in #2.
Generally, fares cost only a few dollars, although of course this depends on distance.
However, even longer, overnight services typically come in under $30 USD.
Bus travel in Central America is also very easy once you get the hang of it, so read on to learn more!
#2 Use Luxury Liners for Long Distance
If you're looking at long-distance bus travel in Central America, like travelling across multiple countries or overnight, then I strongly recommend you use one of the continent's luxury liners for this journey.
The most famous company here is Ticabus.
These guys have actual offices in every capital and a very helpful website in English!
Ticabus works the continent, travelling north to south and visa verser, almost every day.
They connect the capitals and major cities, which makes them perfect for long-distance travel, especially as they have reliable, regular timetables!
Ticabus also have budget hotels attached to many of their capital city depots, which means you can easily and safely grab a bed if you arrive somewhere at 2am!
Other "Luxury" buses that run similar services in Central America include Transnica and King Quality.
All 3 of the services I've mentioned above normally have air-conditioned coaches with reclining seats and bathrooms onboard.
Oooh posh!
3 ESSENTIALS YOU SHOULDN'T TRAVEL CENTRAL AMERICA WITHOUT
#1 Headlamp – Black Diamond are my go-to headlamp brand when it comes to dealing with the Central America power cuts!
#2 Anti Theft Backpack – I love my Bobby Anti Theft Backpack and wouldn't travel without it, especially in countries renowned for their pickpocketers.
#3 Lonely Planet Phrasebook – I love the Lonely Planet phrasebooks and travelling with the Latin American Spanish one is such a help in Central America where English isn't always understood.
#3 Chicken Buses Are a Cultural Experience
Chicken buses are the mainstay of bus travel in Central America and I have to admit, they're also my favourite!
These crazy automobiles are normally rescued yellow school buses, long since retired in the US, that have been driven down through Mexico and then painted crazy colours and decked out with some serious sound systems!
The mechanics on many of these buses can be interesting, but they are a lot of fun, so don't let this put you off!
Chicken buses run everywhere in Central America, multiple times a day.
And they are CHEAP!
Normally (I say "normally") each town has a central area where these buses depart from and arrive at. Often the morning is the busiest time.
Usually chicken buses employ one driver, who likely owns the bus, and another worker who organises luggage, takes payment and calls out the destination of the bus by hanging out of the first set of doors!
Known as chicken buses, because of the amount of chickens on board, as well as goats, children, sacks of corn and goodness knows what else, this form of bus travel in Central America really is a cultural experience as well as a form of transport.
#4 Be Prepared for a Cosy Ride!
So when I say that bus travel in Central America might lead you be sharing a ride with goats, chickens, sacks of market produce and tons of children, I'm not joking!
With legal guidelines thin on the ground is this part of the world, there seems to be few restrictions about how many people can fit in a bus.
People = money, so believe me, a chicken bus is never full until not a single other bag or person can fit in … and this never happens!
As such, chicken buses in Central America are likely to provide you with a cosy experience and you could well be sharing your school bus seat with 2 if not 3 other fully grown people!
It's not all bad though, being squashed in means there's less chance of you to getting thrown around when they take a sharp corner!
#5 Keep Important Belongings With You
Because of the sometimes cramped conditions, it is important you keep your valuable belongings with at all times when you're enjoying bus travel in Central America.
In all seriousness, pickpocketing can be a problem, even on the more luxury liners, so definitely keep a small bag full of your most precious documents and important possessions close to you.
Normally I have my Bobby Anti Theft Backpack for this purpose, also known as my "bag of life".
I sit it on my lap, with the zip facing towards me and my arms wrapped through the straps to the front of the bag to make sure things are as safe as possible.
This sounds a bit full on, but trust me you can make it look relaxed, just like you are holding your bag on your lap.
It's a good idea not to let this most valuable stuff out of your sight.
It is ok however to not have your main bag so near you.
Very often this isn't possible because there isn't enough room, so the busman may want to put it on the roof of the bus or at the back.
This is fine, don't panic! He's almost certainly just wanting to be helpful, rather than rob you!
For more tips about travel security in Latin America, check out this helpful advice about staying safe while backpacking South America from Patrick, the German Backpacker.
#6 Ask Locals for Information
While chicken buses can be a lot of fun, they are not however, always well organised.
Timetables may not exist, information changes regularly and often they don't come in a regular pattern every day of the week.
To avoid confusion and you missing your departure therefore, the best thing to do is ask the locals.
As most local people use bus travel in Central America too, they are generally well-versed in the latest comings and goings of the chicken buses.
If they don't know, they probably know someone who does!
Otherwise, it can be a good idea to walk to the bus depot and enquire there.
This is where your Spanish will really come into its own and is why I always recommend you travel with a Lonely Planet phrasebook handy!
If you are feeling just that bit too timid, the luxury liners have clear timetables often available online.
#7 Go to the Toilet Beforehand
When you do know the departure time of your bus, it's a good idea to arrive early to try and bag yourself a seat, rather than be left as one of the unlikely ones standing in the aisle!
Turning up a bit early will also mean you're less likely to miss the bus, should it decide to leave ahead of schedule!
It will also give you time to buy any snacks for the journey (always handily and cheaply available care of the many local sellers at bus stops).
But most importantly, getting to the bus early will ensure you have enough time for the toilet before you embark. This is crucial.
Chicken buses do not have toilet facilities onboard and they will not stop for you to use the toilet (didn't I say bus travel in Central America was fun!)
If you're going to be a few hours on the bus therefore, it's very wise to take a pee beforehand!
Oh and always carry some spare toilet paper with you too.
#8 Watch What Others are Paying Up Ahead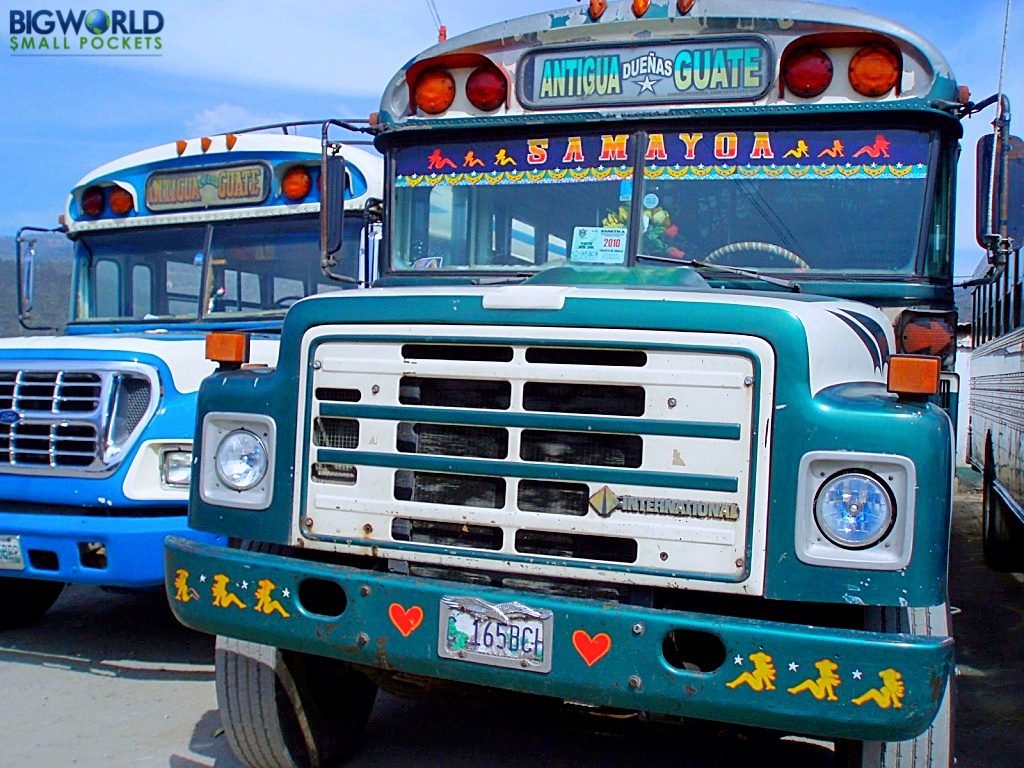 As we've already established, when it comes to paying for your chicken bus, you needn't worry too much. These services are dead cheap, often costing only $1-3.
Usually the process works by you taking a seat and sorting your luggage. Only once the bus starts moving, does the guy running the show then come round to collect your fare.
My top tip for not getting ripped off as a tourist is to position yourself near the back of the bus and then pay close attention to what the other, local people, at the front of the bus are paying.
Listen to where they are going to, try to see the money they hand over and the change they get back. This is the best indicator you're not getting ripped off.
Another awesome piece of advice when it comes to chicken bus travel in Central America is to carry plenty of small change with you. Those $1-3 fares are much easily sorted out in coins than notes!
#9 Know Your Border Plan
Full of small countries, border crossings are likely to be something you'll become very familiar with in Central America.
They can be confusing the first time, but after that they become easy and you'll learn bus travel is a key component in the process.
If you're using a luxury liner to cross a border, then the bus driver will likely take your passport and sort everything out for you i.e. exit / entry stamps.
Don't be alarmed that they are going to run off with your passport, it's an accepted degree of trust you have to give them!
While this is going on you just stay on the bus, which crosses the border and off you go.
The simplicity of this process can be a joy if you are travelling at night or exhausted after a long journey.
It isn't however, that fun, whereas the chicken bus option is!
Yes, you can use chicken bus travel to cross borders in Central America and I've done it heaps of time myself.
The best advice I can give in this field is to travel early in the day so you allow yourself maximum time to complete the journey when it's light.
Get on a bus that will take you to the border, disembark there and go through passport control. Cross over to the next country on foot and pick up another bus on the other side. Trust me, there will be one waiting to meet you!
READ MORE: 10 Important Mistakes To Avoid When Crossing International Borders
#10 Check out Centro Coasting
Centro Coasting is an awesome website I've stumbled upon that gives up to date and knowledgeable information about hundreds of bus journeys across Central America.
Definitely check it out as another helpful resource on the road.
#11 Enjoy the Show
From sellers to shouters, bus travel in Central America will bring you into contact with lots of colourful characters and contexts.
Embrace it all, lap up the theatrics and relish in the free entertainment.
This really is Central America on show!
SAVE IT TO PINTEREST!
So there you have it folks, the 11 things I think you really need to know about bus travel in Central America.
Have you visited this incredible part of the world?
What are your best tips when it comes to using the buses there?