As always in Ethiopia, the answer to a lot of questions ends either with "I don't know" or "it depends".
And so it is with Awasa.
Or at least the spelling of it.
Because whether it's really Awassa, Hawassa or Awasa, I don't know and it also depends!
So first thing you need to know about visiting Awasa in Ethiopia is that the spelling of this city's name on maps, in guidebooks, on transport tickets and on schedules, depends.
Classic Ethiopia really!
Welcome to one of the reasons I love this country so much…
---
Related Posts
---
This page contains affiliate links meaning Big World Small Pockets may receive a small commission on any purchases at no extra cost to you.
---
Grab Your Copy of My Real Travel Guide to Ethiopia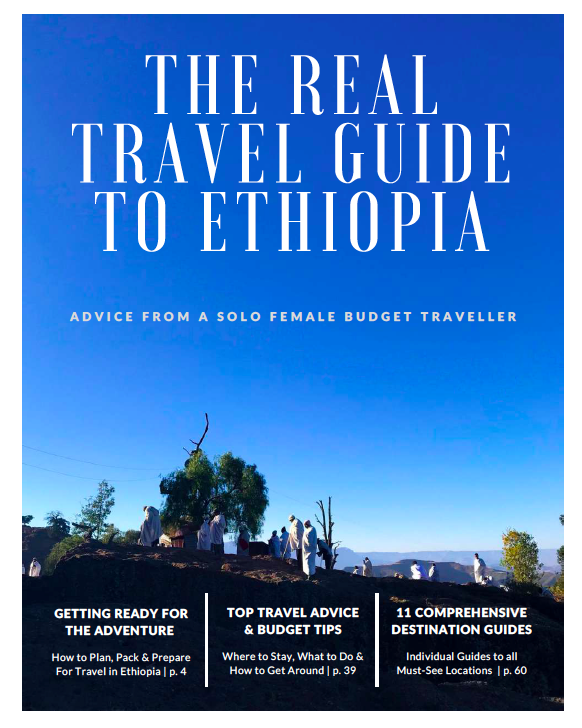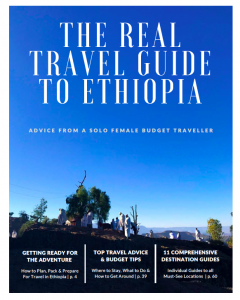 My ultimate guide to travelling in Ethiopia is now available, meaning you can finally get ALL my tips for adventuring in this amazing country in one handy eBook, including
11 Complete Destination Guides to the Best Cities & Attractions
Recommended Places to Stay
Recommended Guides & Tour Companies + Contact Details
Money Saving Tips + Budget Planner
Advice on What to Expect & How to Stay Safe
Packing Checklist
Itinerary Schedule
Why Visit Awasa?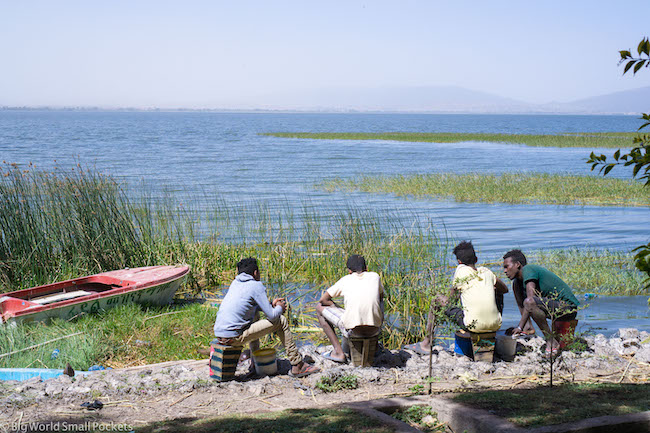 As the largest city in the Southern region of Ethiopia, Awasa is a common stop of the way to the Bale Mountains or the Omo Valley.
Awasa is also a popular weekend destination for those who live in Addis Ababa with its lakeside setting and fun party vibe making it a popular getaway from the capital.
If you're short on time in Ethiopia, I wouldn't suggest Awasa is a must-see destination in this country – there's far more spectacular places to check out.
However, if you're travelling to the south or basing yourself in Addis for a while, it can be an attractive spot for a night or 2.
READ MORE: The 10 Best Things to Do in Addis Ababa
When to Visit Awasa?
Like most of Ethiopia, it's preferable to visit Awasa during the dry season, which runs largely from October to March.
This is when the warm, sunny days are perfect for hanging by the lake or taking a boat ride.
Weekends are the most popular time to visit the city – so you may want to book accommodation ahead if you're going there on either a Friday or Saturday.
You'll also want to visit Awasa at a time when it's safe to do so as the city sits on the cusp of the Oromia area – in fact you have to drive through this region to get there.
At the time of writing there was some civil unrest in this part of Ethiopia, so do check the security situation before heading out there.
Awasa Climate
Located at an elevation of 1700m above sea level, Awasa's climate is similar to that of Addis Ababa – in fact it's a little higher.
In the dry and popular tourist season there you can expect blue sky days with warm temperatures and strong UV rays.
Due to the elevation however, the evenings can be cold, so do bring long sleeved tops and jumpers.
As with anywhere in Ethiopia, I always recommend wearing long trousers / skirts to both men and women (nothing above the knee).
Sandals are good for the day, but with chilly nights, socks and shoes may be desirable.
A waterproof or windproof jacket, like this one from North Face, might also be a good idea depending when you visit Awasa.
How to Get to Awasa?
The 2 main ways to get to Awasa from Addis are either driving or flying.
Bus
Buses run regularly from the capital and take around 5-6 hours depending on traffic and security checkpoints.
Selam bus, Sky Bus and Ethio / Abay Bus each offer 2 daily departures – at the time of writing all companies had morning services departing Addis around 6am and afternoon services departing Addis around lunchtime.
All buses leave from Meskel Square in Addis – watch your possessions in this area and ensure you're there half an hour before your departure time.
The same applies to the return journey – Awasa to Addis – with each company operating 2 services daily (an early morning one and a lunchtime one). The buses depart from outside South Star International Hotel in central Awasa.
The buses are comfortable and, amazingly for Ethiopia, well-organised!
Luggage is stored underneath and you get a ticket for each item with your name and final destination written on it – keep the stub, you'll need to it reclaim your bag on arrival.
Buses should be booked at least one day in advance to ensure a place and you'll be given a ticket you need to keep hold of throughout the duration of your journey.
Try to get a front seat on the bus (seat number 1,2,3 or 4) so you can put your feet up and enjoy the view out the large front window.
There's no air con and the buses won't stop (outside of a bush toilet break), so bring snacks and go to the bathroom before boarding.
A small bottle of water and packet of biscuits are given out for free as part of the journey and my ticket cost 180 ETB (Ethiopian Birr) one way.
You can also travel by bus into Arba Minch from Awasa.
Flying
Alternatively, you can fly from Addis to Awasa via a domestic flight with Ethiopian Airlines.
A return will set you back around $90 USD, presuming you are eligible for the domestic discount – foreigners can get this by ensuring they have an international flight with Ethiopian Airlines booked.
Book your flight tickets online at least a day in advance and ensure you get to Addis airport with time to spare – the check-in queue here can be crazy!
Top Things to Do in Awasa
The main thing to do in Awasa is hang by the lake.
You can walk part the way around it and there's also many restaurants strung along here where you can enjoy a fresh fish meal and a beer for next to nothing.
Sunset at the lake is particularly beautiful, but I was warned the area can become dangerous for tourists after dark.
You can also take a boat ride on the lake for 500 ETB, which I thoroughly enjoyed.
The lake is very beautiful and you can spot hippos here and get some good snaps.
Your boat captain will act as a guide and the tour lasts about an hour.
You'll see monkeys and huge cranes as well in Awasa and there's loads of birdwatching to be done at the lake too, including some beautiful Kingfishers.
There's also a Fish Market you can visit in the morning in Awasa, but there's an unnecessary entrance fee of 100 ETB and the place is largely overrated, so don't feel this is a must.
The main square in Awasa has lots of nice cafes, including Time Café – a popular hangout spot – and there's a huge cylindrical monument at the main roundabout backed by a large Church.
If you fancy a swim, head to one of the large resorts – either Haile or Lewi – where you can pay for day access to the pool.
Otherwise, checking out the street action is fun too, with tons of fresh pineapples and bananas on offer.
Tuk-tuks, or Bajaj as they are known in Ethiopia, can take you around town for a few ETB. Remember to haggle. 30 ETB should get you anywhere!
READ MORE: The 5 Best Day Trips from Addis Ababa
Where to Stay in Awasa?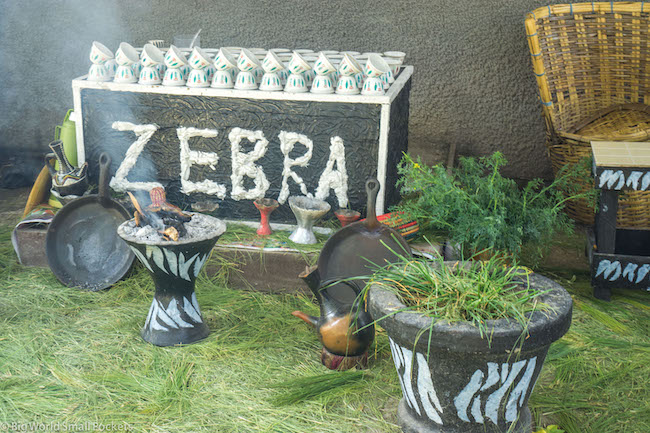 If you're travelling a budget like me, there's a number of affordable guesthouses to stay at in Awasa, which are both near the lake.
I stayed at Zebra Guesthouse (091 176 9489) where ensuite rooms, set around a small garden with hammocks, are 300-500 ETB.
Security is good here, mosquito nets are provided (a must) and the staff friendly.
Another popular choice, just a short walk away, is the Circle of Life Guesthouse (091 094 3559). I didn't stay here, but suspect it might be noisier as it's set on the main road and closer to the lake.
As always with cheap Ethiopian guesthouses expect power cuts and water failures!
For top-end stuff, Haile Resort and Lewi Resort, both set on the edge of the lake, are the places to be.
And if you're looking for the best place to stay in Addis Ababa on your way to Awasa, then I always recommend Mr Martins Cozy Place.
A super clean and friendly hostel in a great area of the capital where you'll meet loads of other travellers, this is the place I always stay.
Read my review here.
Things to Do Around Awasa?
Near to Awasa the famous Rastafarian community at Shashamane is less than an hour's drive away. I've heard mixed reports about this place and not visited myself, but it certainly has a certain novelty appeal.
Otherwise, I was recommended the Hot Springs at Wondo Genet as a popular excursion from Awasa. Again I didn't visit myself, but if you're hanging around for a few days it could be a good a trip – taking around 45 mins to drive there. There is a lodge here if you want to stay overnight.
Combining Awasa with a trip down to Arba Minch to explore the Omo Valley could definitely work and if you have more time, why not stop to see the lakes of the Abidjatta-Shalla National Park on the way.
The other option is to head deeper into the Oromia area to explore the Bale Mountains National Park and Awasa is a convenient stopping point on the way there or back – just check the security issue before heading out.
Amenities in Awasa
Being a major city, there's a ton of amenities in Awasa including cafes, bars, banks and shops.
Ethio Telecom also has an office, as do the major bus companies.
I suggest bringing a headlamp to Awasa – I love my Black Diamond Storm – and also plenty of mosquito repellent – the blighters here are ubiquitous and savage!
Mini Travel Guide to Ethiopia
Travel Insurance for Ethiopia
World Nomads offers simple and flexible travel insurance. Buy at home or while travelling and claim online from anywhere in the world.
Alternatively, if you're a long-term traveller, digital nomad or frequent remote worker seeking travel health cover, check out Safetywing's Nomad Insurance policies.
Best Tours in Ethiopia
If you're interested in an unforgettable, well-priced tour in Ethiopia with guides you can trust, then email me at [email protected] with details of where you want to go and I'll send you my top recommendations – simple!
Otherwise, check out these great options, which cover Addis Ababa and beyond!
6 Packing Essentials for Ethiopia
#1 Hiking Boots: Something with good grip and ankle support is essential for climbing to the churches of Ethiopia or hiking in the Danakil Depression. Keen Targhee II's are a great choice.
#2 Small Backpack: You'll want something you can put your camera, guidebook, sunscreen and water into when out and about in Ethiopia, as well as something secure given the increasing level of petty theft I've heard about on my most recent trip to the country. The Bobby Anti-Theft Backpack is perfect for this purpose and I always travel with mine.
#3 Headlamp: Great for helping you to really see and snap the church artwork in low light conditions, I really wouldn't be without my Black Diamond Storm headlamp in Ethiopia, especially given the frequent power cuts!
#4 Good Camera: I love my Sony A6000 Mirrorless camera, which is small, light, compact and robust – perfect for African travels.
#5 Hiking Trousers: With long trousers the order of the day just about anywhere in Ethiopia, you'll want a pair that allows you to go hiking and climbing too. Columbia do a top range for women.
#6 Sarong or Shawl: A great one for ladies to cover your shoulders when entering the churches of Ethiopia, or covering your nose and mouth if you're heading up Erta Ale Volcano in the Danakil, this travel scarf, also has a great secret storage pocket ideal for keeping small valuables safe.
So there you have it, my complete guide to visiting Awasa in Ethiopia.
Have you been to this city recently?
If so, please update any info that may have changed so help some fellow travellers and readers out!