One of the UK's most famous cities, visiting Cambridge is a must on your British bucket list!
Shamefully, I hadn't ticked it off mine until very recently, but thankfully our old friend the pandemic has meant this is yet another classic UK gem I've now finally seen!
In tight competition with Oxford, and rivalling the beautiful city of Canterbury on the punting and cobble fronts, Cambridge, with its world-famous university, quaint churches, lively centre and historic charm is hard to beat.
Easily accessible from London, taking a day trip to Cambridge is certainly enough time for you to see and enjoy the main sights.
However, with a couple more days at your disposal, you can certainly get under the skin of this ancient and charming city, which has just about everyone falling in love with it.
So here, to show you exactly what you can't miss during your time there, is my list of the top 10 things to do in Cambridge…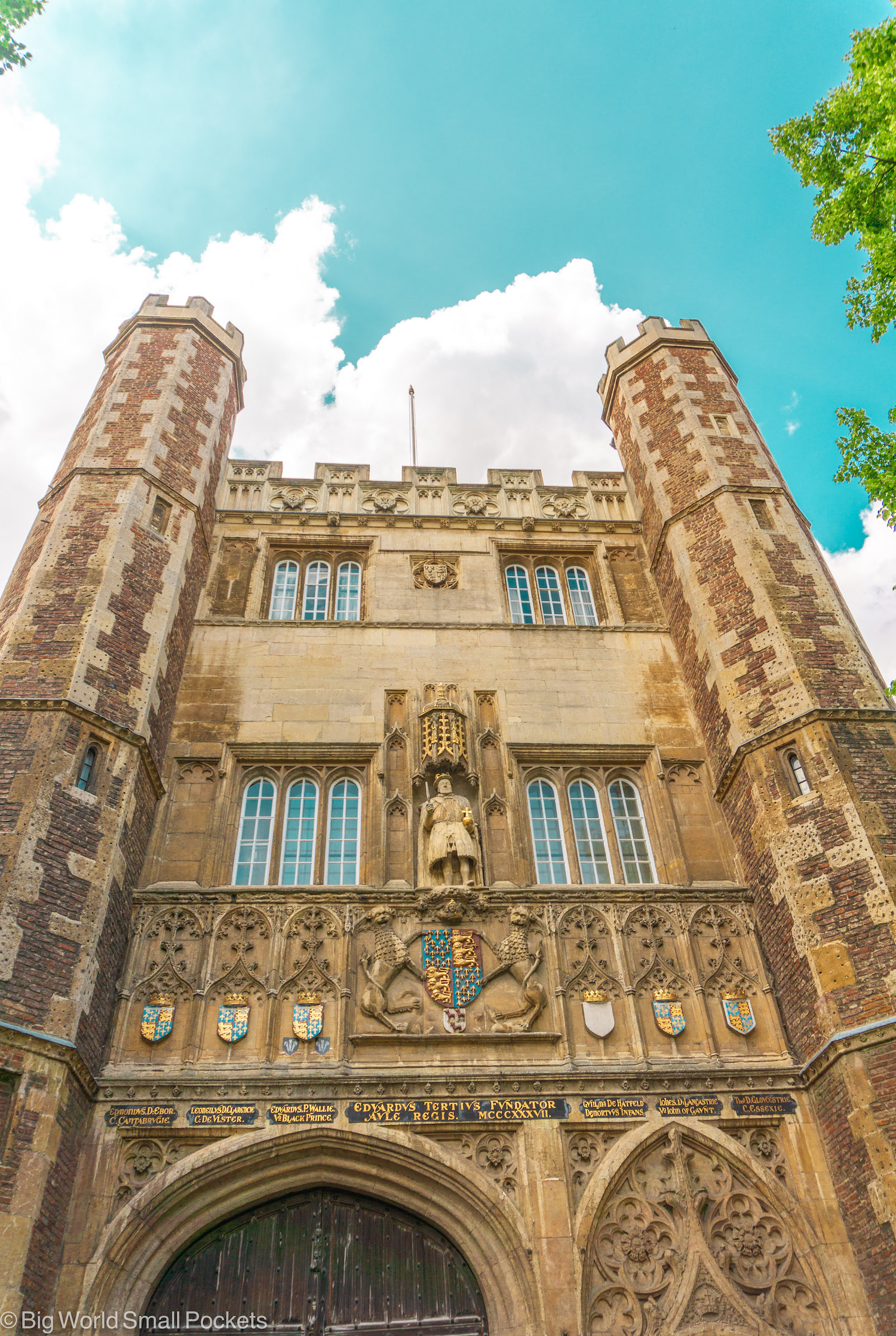 ---
Related Posts
---
This page contains affiliate links meaning Big World Small Pockets may receive a small commission on any purchases at no extra cost to you.
---
#1 Go Punting
It's a classic, but it's a classic for a reason, yes despite these small pockets, splurging on a punting adventure in Cambridge is pretty much a must while you are here.
Head down to the river and haggle it out between the stands to score the best ride possible on this peaceful and quintessential Cambridge thing to do.
#2 Hit up the Market
I visited Cambridge on a sunny Saturday in July and was happy to report the market was in full swing!
Cambridge is full of lovely shops as it is, but with the market pumping in the Central Square – serving food, souvenirs and much more – it definitely brings a whole extra vibe to this city.
Peruse the market for your day trip lunch, or else grab some picnic bits to enjoy in a shady grassy corner… more on this later!
#3 Climb St Mary's Church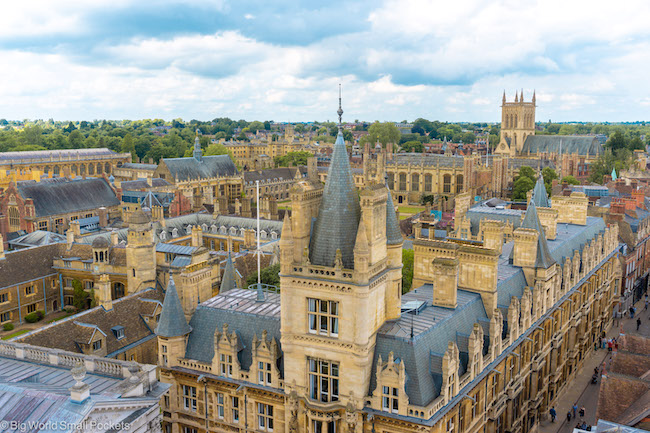 And just around the corner from the market, the beautiful St Mary's Church is well worth a visit.
While the church inside is quaint and beautiful, it's really for the spectacular rooftop view that you want to hit up this guy!
Costing £6, it's well worth coughing up here to join the queue and then head up the many steps on the tiny winding staircase to take in the stellar lookout from the top.
Offering 360 views across the city, the angle down across King's College Chapel, was definitely my fav.
If you're on a budget and can't afford too much when you visit Cambridge, this pocket-friendly thing to do is definitely a Cambridge must!
#4 Visit King's College Chapel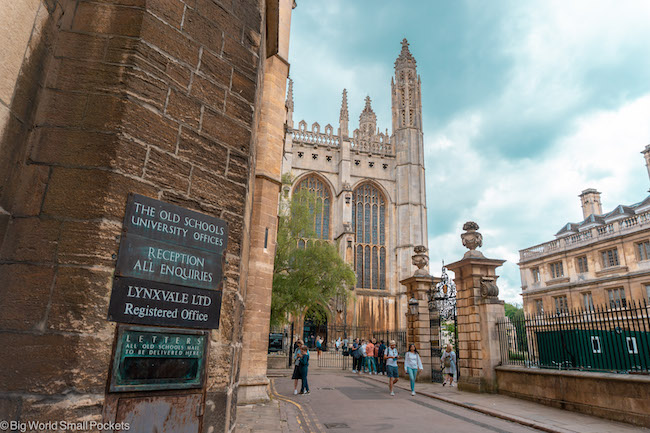 And talking of King's College, this is probably the most famous one of the university budlings to hit up in the city, so if you can only afford the entrance fee for one, this is it!
Sadly I visited during Covid times, which actually meant it wasn't worth the entrance fee as they were only giving access to the grounds at this time, however should you be lucky enough to head here outside of the pandemo times, strolling the gorgeous grounds (worth their riverside views), as well the college buildings and chapel is totally worth it.
The chapel alone is stunningly beautiful and huge.. even if you're not religious, it's hard not to be impressed by this one!
#5 Peruse the Bookshops
Of course, being a famous university town, bookshops are in no short supply in Cambridge and taking some time to wander the aisles and get lost in the literary worlds of at least one of them, is a must while you are here.
I am a massive fan of bookshops, so perhaps a little biased on this one, but if you want to take my English lit grad word for it (!), then the Cambridge University Press Bookshop is probably the one to check out!
Claiming to be one of the oldest bookshops in the country, yes that's the whole of England, it's said that books have been sold on this very site since 1581!
#6 Picnic on the Lawns
And after all that sightseeing and bookshop perusing, it's probably time for a spot of lunch, so why not grab your market goods and head to a sunny lawny path outside one of the colleges.
The perfect way to revel in the sunshine (if you're visiting during the summer), you can feel like a student doing this, even if you're not!
Plus, it gives you a great opportunity to do some super people-watching too!
If you're confused about where to find a sunny spot, I suggest following the crowds down the main street and you'll find the lawn revellers largely outside King's College.
#7 Check out the Corpus Clock
And once you've enjoyed some lunch and perhaps had a little siesta, it's time to get back on the sightseeing route and enjoy a quick stop off at the Corpus Clock.
Also known as the Grasshopper Clock, this is a large sculptural clock situated outside Corpus Christi College.
The clock was officially unveiled to the public in 2008 by the prominent Cambridge physicist Stephen Hawking and was named one of Time's Best Inventions of 2008.
Decide for yourself if it's worth the title!
#8 Hire a Bike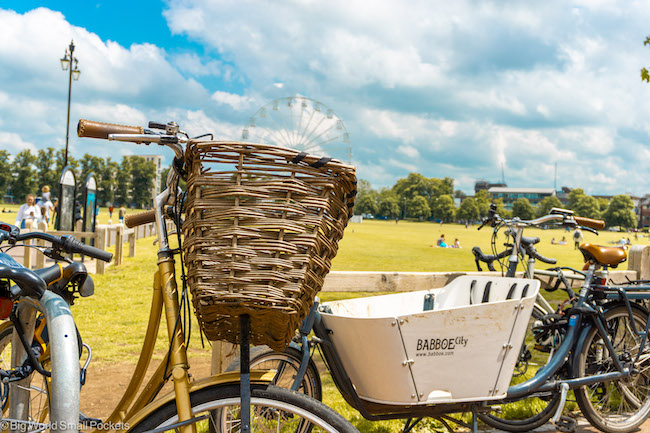 Just like Oxford (a city you should definitely hit up while you're in the UK too by the way), Cambridge and student life here is synonymous with bikes and hiring one to tour beyond the outskirts of the city is a great thing to do.
Bike tours are also a great way to experience this city, thanks to the historical insight and hidden gems they reveal.
But don't worry if cycling isn't your thing, a super walking tour of Cambridge is also another top thing to enjoy here.
#9 Walk Across the Bridges
And if you are on a walking tour, then there's no question part of it will involve you crossing some of the magical bridges this city has to offer.
Most famous (and unique) are the Mathematical Bridge and the Bridge of Sighs, which you'll certainly want to hit up for their interesting architectural features and the delightful views they give over the River Cam.
#10 See Some Other Colleges
And last but least on this list of the top 10 things to do in Cambridge, it is, of course, hit up some of the amazing and famous colleges here.
I know we've discussed King's College already, but St John's, Christ's, Trinity and Corpus Christi are most certainly worth a look too.
How many colleges you choose to enter will probably depend largely on how much time you have to spend in Cambridge, along with your budget, but honestly entering even a few of them is the best way to get the real Cambridge experience.
Top Cambridge Travel Tips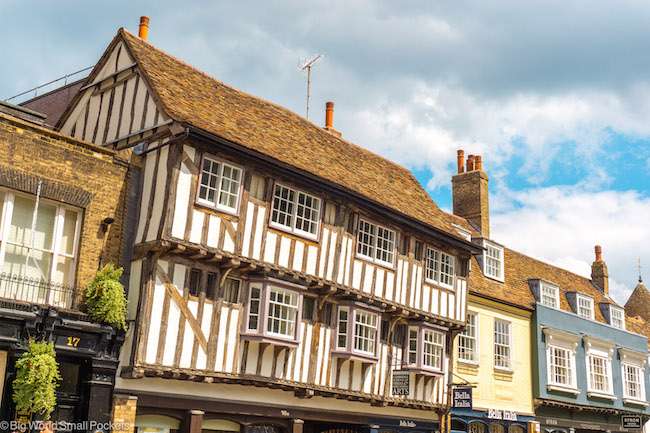 How to Get to Cambridge?
One of the great things about Cambridge is how easy it is to reach from London.
With direct and fast trains from Kings Cross station, it's amazingly easy and affordable to get here.
As always, I use Trainline to book my rail tickets in the UK.
You can also drive from London in under 1.5 hours!
If you need to hire a car for your Cambridge adventures, check out Discover Cars for some great deals.
When to Visit & How Long to Stay?
There's no question in my mind that the best time to visit Cambridge is during the summer season, when the UK's good weather allows you to get the nicest experience from your time there, especially if you want to enjoy some punting!
The only problem with the summer and the weekend is that they are the busiest times for tourists, so do be warned!
If you have the option to visit the city of Cambridge on a weekday, or outside of school holidays, then I'd advise this, as parking and getting some good snaps without a ton of other people in-frame will be a lot easier at these times!
And when it comes to the length of your trip, if you just want to explore this city itself, peek in a few colleges, have lunch and enjoy a river trip, then a day should certainly be enough time to get a good feel for the city.
If, however, you'd rather explore more of the surrounding area and enjoy more things on this list of the top Cambridge things to do, then I'd recommend a weekend… or longer!
Where to Stay in Cambridge?
If you are making a weekend of it and looking at staying overnight in Cambridge, then here's my top suggestions…
When it comes to budget options, the Premier Inn Cambridge City East hotel is hard to beat!
This spot offers amazing value accommodation just a short walk from the centre and is well-suited to overnight stays, where you just want somewhere to lay your head.
Free wifi and luxury Hypnos beds, along with Freeview TV, plus tea and coffee facilities are included in all rooms.
If you want something with a more independent spirit, then check out this great apartment, which gets great reviews thanks to its brilliant location near to Cambridge city centre and train station.
Very well-equipped and sleeping up to 4 people, it's one of the best-priced in the area too and offers superb comfort and cleanliness.
If it's a hostel you're after, then the YHA Cambridge gets my vote, and if you want a hotel, then The Fellows House is the one to go for!
5 Cambridge Packing Essentials
And now here's my list of the top 5 packing essentials you shouldn't head to the beautiful city of Cambridge without…
#1 A Good Camera
No doubt you're going to be snapping like crazy in this amazing place and need to ensure you have a good camera to do the place justice.
I love my Sony A6000 and GoPro, which are both light, compact and great for travel.
#2 Decent Walking Shoes
No point coming this far and not being able to enjoy a walk through the fens of Cambridgeshire.
Get prepared therefore and ensure you have a decent pair of walking shoes – these cross trainers from New Balance are ideal (and totally stylish) for the job.
#3 Light Waterproof Jacket
Whatever the time of year, you have to remember this is England after all, a country in which the heavens can open at any point!
Don't get caught out and ensure you have a good lightweight and waterproof jacket with you.
This North Face one is perfect.
#4 Compact Hiking Day Pack
I never go on any UK trip without a sturdy backpack to ensure I've got everything I need and that the weight is equally distributed across my back and shoulders.
This super featherweight Kompressor from Marmot is my go-to, because it folds down to nothing and is water-resistant – ideal for those sudden showers.
#5 Portable Charger
And finally, I would never head off anywhere without my trusty Anker Portable Charger, which keeps my phone and camera batteries full all day, every day!
This means no matter how many top things to do in Cambridge I'm enjoying, I can take all the snaps and use all the maps I need!
Where to Head After Cambridge?
And if you're keen to keep going, and not turn back to London straight after your trip to Cambridge, then don't forget the counties of Essex, Suffolk and Norfolk are all just a short trip away and offer plenty to do, including more historic cities, countryside rambles and, perhaps best of all, coastal adventures as well – hurrah!
Otherwise, if you want to stay in Cambridgeshire, the city of Ely is an absolute gem!
If you want to visit other parts of the Uk or Ireland, then why not consider a great tour in this part of the world?
These top picks all include a stop in Cambridge, as well as a heap of other super destinations in Britain.
Travel Insurance for the UK
World Nomads offers simple and flexible travel insurance. Buy at home or while travelling and claim online from anywhere in the world.
Alternatively, if you're a long-term traveller, digital nomad or frequent remote worker seeking travel health cover, check out Safetywing's Nomad Insurance policies.
Travel Money in the UK
The easy way to spend abroad with real exchange rates, no markups and no sneaky transaction fees, you can use your Wise card just like a debit card here… and it links easily with Google and Apple pay – sold! Grab yours here.
PIN IT TO PINTEREST!
And that's my guide on the top 10 things to do in Cambridge.
Have you visited this charming English city?
What did you enjoy there most?
Do help other travellers out by sharing your experiences below…