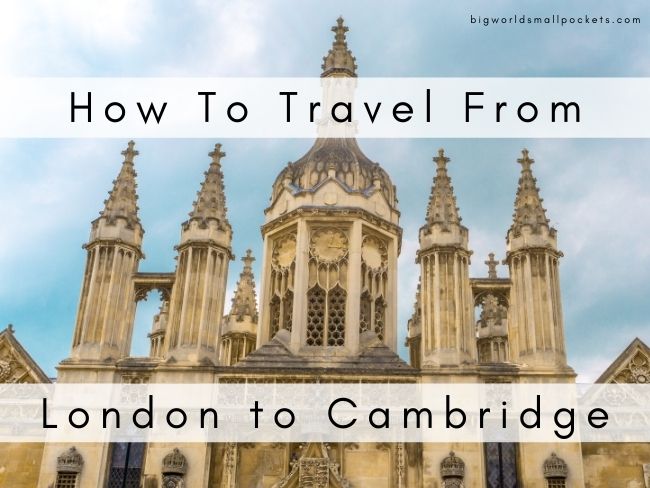 If you're looking for a great historical day or weekend trip from London, then it's hard to overlook the famous university city of Cambridge.
Full of iconic colleges, ancient churches, cobbled streets and riverside fun, as well as an increasingly great set of cafes, restaurants and shops, this wonderful place is a fascinating mix of history, culture and quaintness.
And that's not to mention some great countryside walks and other historic spots you can check out in the surrounding countryside too.
So, if heading from London to Cambridge for a bit of a cultural escape sounds like a good idea to you, here's the complete lowdown on how to do it via train, bus or car, including the pros and cons of each.
---
Related Posts
---
This page contains affiliate links meaning Big World Small Pockets may receive a small commission on any purchases at no extra cost to you.
---
#1 London to Cambridge by Train
The first option for getting from London to Cambridge is by train.
This is the quickest and most direct option. There are many services a day, which means you're bound to find one at a time that suits you.
Heading straight out of London Liverpool Street, St Pancras or Kings Cross, Cambridge trains run regularly and take between 50 minutes and 1 hour 30 minutes.
Great Northern trains from King's Cross are actually the quickest option, because they have no stops between these 2 destinations.
In contrast, the trains from Liverpool Street, operated by Greater Anglia, are the slowest because they have the most stops. If you're looking to explore somewhere on the way to Cambridge however, such as the historic market town of Saffron Walden in Essex, then this train route may actually work better for you.
Tickets are also slightly on this Liverpool Street route and cost around £20.
However, those operating from King's Cross and St Pancras are generally only a fraction more at around £26.
All 3 routes are direct however, meaning you don't have to change trains anywhere and all 3 come under the Network Railcard, which means you can get a third off travel on all the routes if you are part of this scheme.
I recently purchased a Network Railcard and can't recommend it enough if you plan to travel a lot by train in the areas surrounding London – especially the south and east.
For just £30 a year, this card gets you, and a travel partner, almost a third off tickets and the savings soon mount up.
In general, it's thought most people accrue back the £30 spent on the card within just 3 train journeys, making this a key budget tip for UK travel!
Another key budget tip when it comes to travelling from London to Cambridge by train is to book your tickets in advance.
As always, I use Trainline to check schedules and purchase my trains in the UK, including for services from London to Cambridge (or visa-versa).
These guys have a handy section where you can enter in your Network Railcard to qualify for discounts and they also use splitfare technology to guarantee you get the best price.
I love Trainline's live tracker, which allows you to see train delays and upcoming stations, as well as their e-ticket holder, which means you don't have to mess around trying to print out tickets at a station!
Whichever station you choose to depart from in London, do make sure you allow plenty of time to get there, especially if you're using the city's Tube or Bus network.
As always, I use Citymapper to plan all my journeys across London – it's a brilliant free app!
Once you get to Cambridge, it's worth noting that the train station is a little out of the centre, but an easy 10-15 minute walk should bring you to the historic heart.
If you need assistance, Uber operates in Cambridge and they can easily pick you up from the station and drop you where you need to go.
Pros of Train: Direct, Quick, Regular, Choice of London Stations
Cons of Train: Can be Expensive
#2 London to Cambridge by Coach
If price is a major consideration for you, then perhaps travelling from London to Cambridge on a coach might prove a better option.
National Express is a great coach company that runs services across the UK, including direct services from London to Cambridge.
If you have plenty of time, but small pockets, you'll likely be delighted to find single tickets for as little as £10!
With several departures per day, the quickest services take 2 hour 50 minutes and are direct.
Other services require you to change coach (usually at Stanstead Airport) and take up to 3 hours 20 minutes.
This means bus travel is probably best suited to those heading to Cambridge for a weekend – a 6 hour return journey is a bit much for a day trip!
All National Express coaches leave from Victoria Coach Station, which is a short walk from London Victoria Rail Station and the National Express hub in London.
Coaches arrive directly into Cambridge too, in fact, there's 3 stops – Cambridge Parkside (which is the stop for the city centre), Cambridge Madingley (which is a Park and Ride point to the west of the city) or Cambridge Trumpington (which is to the south of the city).
Again, booking National Express tickets in advance can help you secure the best rates, however this doesn't need to be done nearly as far in advance as the trains.
Booking your London to Cambridge coach can be done as late as 2-4 days ahead of your departure day.
Again, I advise doing this through Trainline, who (somewhat confusingly) also sell tickets for coaches in the UK.
Surprising as this may be, it's actually quite handy for those of us who want to compare journey times and prices between coach and rail!
Pros of Coach: Cheap, Range of Cambridge Drop-Off Points
Cons of Coach: Longer Journey Time, Less Frequent Services, Some Services Not Direct
#3 London to Cambridge by Car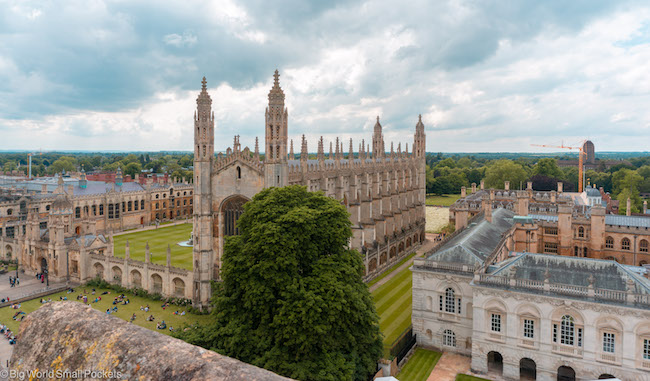 And finally, we come to the 3rd option for travelling from London to Cambridge (or visa versa), and this is to drive.
Of course, the advantages of driving include leaving when you want, as well as having a car when you arrive in Cambridge, which is ideal if you want to explore the area around the city town too.
If you're sharing the ride with others, than you can also share the costs of fuel on this journey as well.
However don't forget there's often hidden costs when it comes to driving to Cambridge – not least the issue and fees associated with parking.
Forget the prices, just trying to find a parking space here is a whole thing, especially in the busy summer months, when the place can be rammed!
Learn more about parking in Cambridge, including car park locations and prices, here.
It's also possible that driving to Cambridge may take you longer than the train, especially if the traffic is bad or you've got to get across, or around, the city from west or south London.
And it certainly won't prove as relaxing as a train journey!
Without stops, you're looking at around 1.5 hours to make this journey, but if you want to see some stuff along the way (Saffron Walden is a great place to break and explore FYI), then it may well take you longer.
In general, I don't recommend driving to Cambridge – it's not generally cheaper or quicker than the bus or train and it definitely involves a lot more hassle, such as traffic and parking.
That said, driving will give you more flexibility and will be really helpful if you are exploring more areas in East Anglia, or if you're travelling with a lot of luggage or children!
Pros of Car: Independence, No Need to Organise in Advance, Flexibility
Cons of Car: Traffic, Parking, Stress
When to Visit & How Long to Stay
There's no question in my mind, the best time to visit Cambridge is during the summer season, when the UK's good weather allows you to get the nicest experience from your time there, especially if you want to enjoy some river punting!
The only problem with the summer and the weekend in this city is that they are the busiest times for tourists, so do be warned!
If you have the option to visit some Cambridge on a weekday, or outside of school holidays, then I'd advise this, as parking and getting some good snaps without a ton of other people in-frame will be a lot easier at these times!
And when it comes to the length of your trip, if you just want to explore the city itself, peek in a few colleges, have lunch and enjoy a river trip, then a day should certainly be enough time to get a good feel for the city.
If, however, you'd rather explore more of the surrounding area – perhaps enjoying some walking in the Fens or visiting the nearby historic city of Ely – then a weekend is a great timeframe for your trip. Check out my list of the top 10 things to do in Cambridgeshire for some inspiration!
Where to Stay in Cambridge
If you are making a weekend of it and looking at staying overnight in Cambridge, then here's my top suggestions…
When it comes to budget options, the Premier Inn Cambridge City East hotel is hard to beat!
This spot offers amazing value accommodation just a short walk from the centre and is well-suited to overnight stays, where you just want somewhere to lay your head.
Free wifi and luxury Hypnos beds, along with Freeview TV, plus tea and coffee facilities are included in all rooms.
If you want something with a more independent spirit, then check out this great apartment, which gets great reviews thanks to its brilliant location near to the city centre and train station.
Very well-equipped and sleeping up to 4 people, it's one of the best-priced in Cambridge too and offers superb comfort and cleanliness.
If it's a hostel you're after, then the YHA Cambridge gets my vote and if you want a hotel, then The Fellows House is the one to go for!
5 Cambridge Packing Essentials
And now here's my list of the top 5 packing essentials you shouldn't head to the beautiful city of Cambridge without…
#1 A Good Camera
No doubt you're going to be snapping like crazy in this amazing place and need to ensure you have a good camera to do the place justice.
I love my Sony A6000 and GoPro, which are both light, compact and great for travel.
#2 Decent Walking Shoes
No point coming this far and not being able to enjoy a walk throughout the city.
Get prepared therefore and ensure you have a decent pair of walking shoes – these cross trainers from New Balance are ideal (and totally stylish) for the job.
#3 Light Waterproof Jacket
Whatever the time of year, you have to remember this is England after all, a country in which the heavens can open at any point!
Don't get caught out and ensure you have a good lightweight and waterproof jacket with you.
This North Face one is perfect.
#4 Compact Hiking Day Pack
I never go on any UK trip without a sturdy backpack to ensure I've got everything I need and that the weight is equally distributed across my back and shoulders.
This super featherweight Kompressor from Marmot is my go-to, because it folds down to nothing and is water-resistant – ideal for those sudden showers.
#5 Portable Charger
And finally, I would never head off anywhere without my trusty Anker Portable Charger, which keeps my phone and camera batteries full all day every day!
This means no matter how many top things to do in Cambridge I'm enjoying, I can take all the snaps and use all the maps I need during the day!
Where to Head After?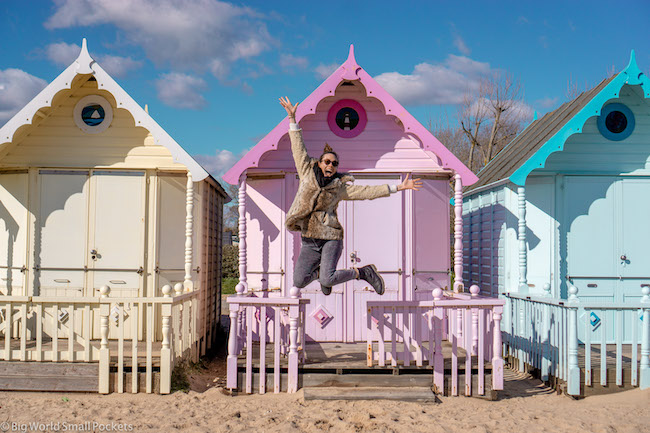 And if you're keen to keep going, and not turn back to London straight after your trip to Cambridge, then don't forget the counties of Essex, Suffolk and Norfolk are all just a short trip away and offer plenty to do including more historic cities, countryside rambles and, perhaps best of all, coastal adventures as well!
PIN IT TO PINTEREST!
And that's my guide on how to travel from London to Cambridge.
Giving you all the pros and cons of the 3 options – train, coach and car – I hope it will help you travel to and enjoy this world-famous city.
Have you visited Cambridge?
How did you travel there?
Do help other travellers out by sharing your experiences below…