In under 2 weeks, I will be seeing my parents again.
It's only been 6 months, since I hugged them last – one of the shorter periods of separation we've been through – but nevertheless I am as excited as a kid at Christmas to see them.
I guess no matter how old you get, some things just always remain wonderful.
My parents visited me here in Australia last year, when we went to see London Grammar in Brisbane and enjoyed a trip down to Adelaide.
This year they'll be hitting up Fraser Island and the Whitsundays, as well as enjoying all the wonderful beaches and national parks the Sunshine Coast area has to offer.
They love it in Noosa and it will be a pleasure to have them again.
Thinking about their return has also got me thinking about how connected they are to my life of travel; about how grateful I am for the skills they've given me that enable me to adventure around the world.
As a tribute to this, here's how my parents taught me to travel.
---
Related Posts
---
This page contains affiliate links meaning Big World Small Pockets may receive a small commission on any purchases at no extra cost to you.
---
#1 Family Holidays
My parent aren't nomads in the same way I am – they certainly have a strong home base and haven't embarked on too much long-term travel, but they do, however, love a holiday!
Lucky as I was, family holidays were a big part of my childhood.
Almost every school break we got, my parents, my brother and I would a spend a week or so together in a foreign place.
Be it just across the water in France during the summer, Cyprus or Greece in the winter, or Florida over Easter, I feel incredibly lucky to have visited so many countries when I was young.
From diving in the Red Sea, to skiing in the Alps, my parents always made sure we got away as often as possible to spend quality time as a family together and I guessed this instilled in me early, a deep love of travel.
Holidays were always the highlights of the year, something to look forward to, something we all loved.
It seems weird to say, but growing up on a rail-free island, meant I actually flew in a plane a great many times before I ever stepped on a train – infact I can't even remember my first journey in the air I was so young.
In this way, travel has always been a part of my life, something that seemed normal from the start.
For that, I certainly have my parents to thank.
#2 Hard Work
Despite being very privileged as a child, probably the second most important things my parents taught me when it comes to travel, is how to work hard.
Both my mum and dad have a strong work ethic and this was very clear to us early on as kids. We were almost never given days off school and had no choice when it came to doing our homework!
Indeed we were encouraged to work hard and try our best in everything we did, be it school or outside activities, and always to do so fairly.
We were taught that life and its achievements are mostly garnered through your own merits, not luck, and that if you want something you should work to get it.
The idea that some short term pain, ultimately results in long-term gain, is definitely something that was impressed on me as a youngster!
I feel very grateful that such a principle was at the core of my childhood, because I'm certainly not afraid of hard work now.
This means when it comes to travel, I've often found employment on the road because I'm a committed and diligent employee.
I'm also not afraid of a good day's graft and am pretty capable when it comes to turning my hand to almost anything that needs doing – another useful skill when travel requires you to be adaptable!
But perhaps the biggest advantage of being taught the value of hard work is when it comes to saving.
When you have a big trip coming up, and you have to work long hours at multiple jobs to save for it, I'm your lady!
Being able to work hard is definitely one of the key ways in which my parents taught me to travel and it has paid off time and time again!
#3 How to Budget
On this note of saving to go away and having enough funds to travel, I feel very lucky that my parents also taught me how to budget.
I can firmly say, with my hand on my heart, that despite being financially comfortable as a family, my brother and I were far from spoilt.
Paid to do household chores, like ironing, we were then given a monthly allowance that we had to make last a whole 31 days.
This included everything, from cinema trips, to snacks after school, birthday presents for friends and even simple toiletries and clothes.
If we spent the money all in the first week and then ran out, tough – we'd have nothing until the next month came around.
This quickly taught me how to watch what I spent carefully and turned me into the budget traveller extraordinaire I am today!
I'm excellent at spotting a deal and at finding a why to pay less!
I've also learnt, over the years, to be ok with saying "no" to stuff I can't afford and to not fear missing out too much if I know that, in the long run, I'll enjoy the funds when travelling more.
This skill has made me a great saver and a great budgeter – when I say I travelled and lived in Latin America for 2 years on £4000, I'm not joking. (If you're wondering how, check out some of my tops tips about how to travel longer for less).
Thank you mum and dad for teaching me how to have enough money to travel!
#4 Independence
I was always highly independent as child – indeed it is a common joke in my family that the first word I learnt to say was "down", so that people would stop picking me up and let me walk myself – but this is something my parents certainly encouraged.
Right from getting my first job aged 13, through to getting myself to the bus for school or making sure I organised my own bag and kit for activities, my parents always encouraged me to look after myself.
Not that I wasn't ever helped, I certainly was, but my parents always taught both my brother and I how to do things for ourselves.
We were encouraged to be independent, to be self-reliant and to think for ourselves.
I count this as a real blessing now, because I find it very easy to organise myself and to drum up the self-motivation to get out there.
This a key skill when it comes to travelling or living in foreign countries and I feel very grateful that it is something I was taught early.
When you're in a strange land, when no one knows you, or what you need, being independent and self-reliant is one of the best tools you can possess and certainly one that makes travel a lot easier.
Being independent has also given me the courage to travel.
It has meant I'm not fearful of heading out into the world just me, myself and I.
It has also meant that I'm not scared to step out of the mould of 9-5 career routine and try something different.
In fact, I'm nothing but glad that I've prioritised travel over career and certainly know that travelling independently around the world has only made me stronger.
#5 World is Our Oyster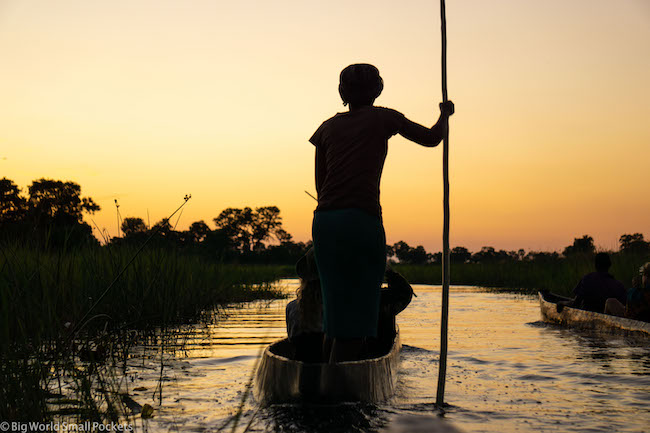 For the world is ultimately for exploring and with this one short life you've got right now, you better experience as much of it as you can.
This idea is one of the best ways in which my parents taught me to travel, because this attitude has given me the motivation to get out there and grab life by the horns.
Sitting around and watching TV was never a big part of my childhood, because there would always be some activity or event for us to go to.
We'd always be out of the house seeing or doing something and this idea of exploring and experiencing as much as possible was a key value instilled in me whilst growing up.
This taught me not just to be satisfied with the immediate, but to get out there and seek more from life and to enjoy it.
I was always given a lot of encouragement to do this as a child – in fact, I was given a lot encouragement in general.
I was never ever told I was incapable of something, instead I was always taught to believe that, with a little hard work, I could achieve anything.
Looking back now, my beautiful parents really impressed on me the idea that the world was my oyster and that I could make the most beautiful pearl out of it if I chose.
This founding belief has undoubtedly been a crucial factor in me living a life of travel.
If you believe that, with determination, mindset and hard work, you can achieve your dreams, then you'll rarely settle for less.
Travel is my way of not settling for less. It is my way of striving for more every day – more joy, more experiences, more growth, more gratitude, more beauty.
Being brought up with such a 'can do' attitude and a sense that life is yours for the taking, really helped me to travel, to see more of the world than my own back garden and to make my life the most colourful tapestry I could.
LIKE IT? PIN IT!
So thank you mum and dad for all the ways in which you have taught me how to travel.
Can't wait to see you again soon.
Love you x