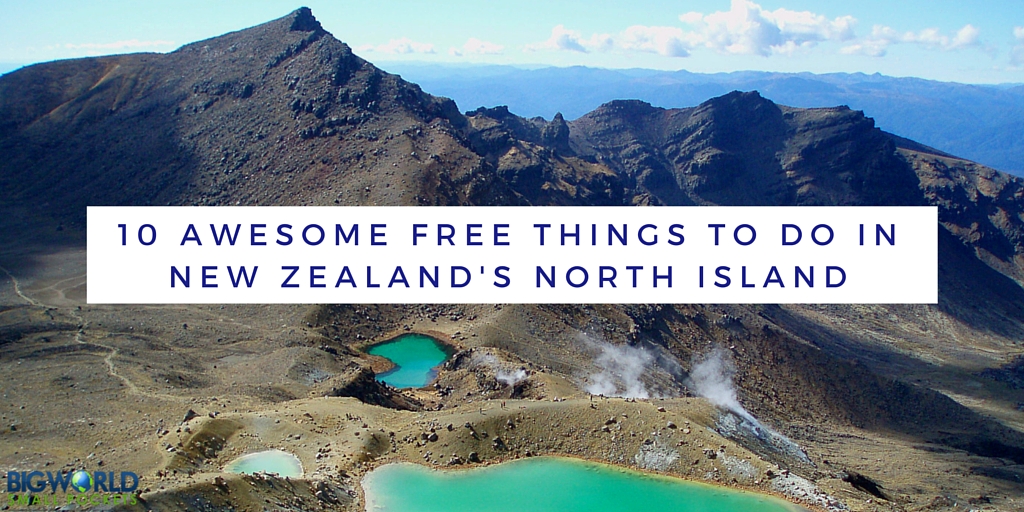 New Zealand is an expensive country to travel.
Luckily, it's full of natural beauty in both the South and North Islands making it possible to get some amazing experiences for no cost at all.
If you're planning to check out the North Island, bookmark this list as these 10 free things to do in New Zealand aren't going anywhere anytime soon.
---
Related Posts
---
This page contains affiliate links meaning Big World Small Pockets may receive a small commission on any purchases at no extra cost to you.
---
#1 Check Out The Te Papa Museum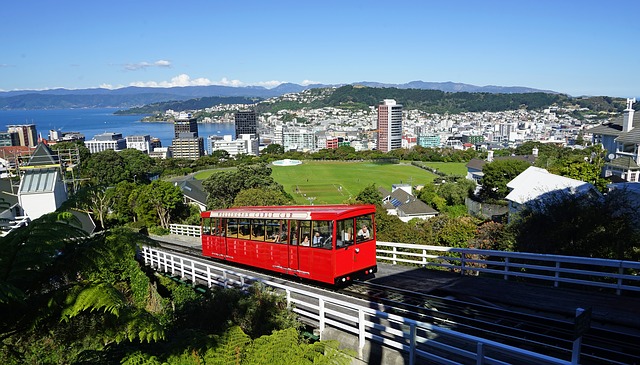 The National Museum of New Zealand in Wellington is massive and continues to create innovative and formal displays.
The natural history section is a favourite for all, but there is something for everyone with exhibits changing often.
The permanent earthquake room is an interesting experience if you haven't felt one before.
Head to the Te Papa website to plan your visit – it's definitely one of the best free things to do in new Zealand.
#2 Explore Auckland From Coast To Coast
The Coast to Coast trail is a great way to learn about Auckland.
Starting in the CBD, this 16 kilometre walk takes you across parks, up volcanoes, through neighbourhoods and community gardens before you finish up on the opposite coastline.
A fun way to brag to friends that you walked the width of the country, this is definitely one of the best free things to do in New Zealand!
#3 Enjoy Some Beach Time Around The Island
In winter, only the hardiest of people will take a dip in New Zealand's ocean.
However come summer time, you'll find people enjoying the ocean all day long.
New Zealand isn't renowned for its beaches, like other places around the world, but these gems are definitely worth a visit, not least because they're free!:
Oriental Bay: A man-made beach in Wellington enjoyed by hundreds daily in the summer. If you want a challenge, swim to the platform offshore.
Piha Beach: West of Auckland, the surf can be wild at Piha Beach, but with lots of beach to enjoy and climable Lions Rock, it's a great escape from the city.
Raglan: Known as New Zealand's best surf beach, you will find yourself hard pushed to resist relaxing into the surfer vibe of this town.
New Chums Beach: The Coromandel gets inundated with city slickers flocking to its beaches during weekends and school holidays. So far, New Chums Beach has avoided overcrowding thanks to the 30-40 minute access walk. The golden sands, green forest and seclusion are well worth the trip.
White Rock Beach: With a 30 minute drive on a gravel road, White Rock only gets the heartiest visitors. The reward? A beach to yourself on the ruggedly beautiful West Coast. I would certainly rate visiting this beach as one of the best free things to do in New Zealand, so recommend getting it on your list!
#4 Reach Narnia At Cathedral Cove
Everyone knows Lord of the Rings was filmed in New Zealand, but did you know The Chronicles of Narnia also had filming locations in New Zealand too?
While a visit to Hobbiton has been commercialised, you can still head to the scene from Narnia where the Pevensie children arrived back into Narnia for free.
That spot is Cathedral Cove, which is bordered by a cliff walk with the most epic views, definitely making it one of the best free things to do in New Zealand.
40 – 60 minutes later, you'll arrive at Cathedral with lots of others taking in the views and getting fun photos of the massive archway.
#5 Be Enchanted With the Waterfalls
The North Island is full of waterfalls capturing your imagination.
Some you'll find are right by the road, others you have to do some hiking, but they're worth it:
Huka Falls: New Zealand's most visited attraction is a thunderous waterfall and while only 11 metres high, the power of the water is a site to behold from the bridge above.
Bridal Veil Falls: If you visit Raglan (see above), you'd be silly not to see the Bridal Falls. With a large pool at the base of the fools, it's an impressive site looking back up the 55 metre drop.
Mokoroa Falls: After a one hour drive from Central Auckland, plus a chilled 40 minute walk, you will find yourself at the Mokoroa Falls. The best time to see them is the days after rainfall and walking through the steam is extra fun.
#6 See The Seals At The Bottom Of North Island
The Wairarapa area is most known for its wineries, but if you head right to the bottom of the North Island you'll find yourself at Cape Palliser – the most southern point of the North Island.
Do the obligatory walk to the top of the lighthouse for some impressive views then discover the sunbathing seals – certainly one of the best things to do in New Zealand!
They camouflage themselves impressively, but they will be there. Don't get too close though, let nature be.
#7 Relax In The Hot Springs
The North Island has lots of geothermal activity happening making it a great place to enjoy hot springs.
Here are some of the best hot springs you can enjoy for free:
Hot Water Beach: A highlight for many who travel the North Island, you have to work to enjoy this one. Grab a spade before the tide comes in and start digging near fellow tourists. You'll start finding you are building your own hot pool!
Te Puia springs: If Hot Water Beach feels overcrowded for you, check out the nearby Te Puia springs. Same principle, less people.
Wai-O-Tapu Springs: Wai-O-Tapu is an impressive site but at $32/adult isn't affordable for all. 100 metres before you get to the carpark however is a relaxing hot pool you're free to swim in. Surrounding by bush, you'd never know a popular tourist attraction is so close.
Putaruru Blue Spring: If the hot springs is too hot, check out the Putaruru Blue Spring where 70% of New Zealand's bottled water comes from. At 11 degrees celcius, it's a good idea to stick to visiting here in the summer.
#8 Take On The Tongariro Crossing
Hiking (or as kiwis call it, tramping) is a popular pastime in New Zealand and undoubtedly the best hike in the country (one of the 7 Great Walks in fact) is the Tongariro Crossing which you don't need to pay for access – making it a total winner on the list of free things to do in New Zealand.
The hike, which includes Mount Doom (Lord of the Rings) is doable in a day.
Make sure you start at first light to give yourself plenty of time to take it all in.
If you want to hike the crossing in the winter, then you'll need to use a guide. Check out this authorised and recommended trip.
#9 Walk A Section Of The Te Araroa Walkway
The Te Araroa Walkway is a trail going the length of New Zealand.
One of the newest sections is called the Paekakariki Escarpment track and is quickly becoming a favourite with its panoramic vistas over the ocean overlooking State Highway 1.
The 10 kilometre track has 500 stairs and two swing bridges to navigate.
Check out all of the different sections on the Te Araroa website.
#10 Glow Worms!
Waitomo is a popular destination for people who want to check out the glow worms and usually they pay for rafting through the caves.
There is a free alternative though – the Ruakuri Natural Tunnel Walk.
You'll need to head here at night when it's pitch black, as this will enable you to easily spot the glow worms, which stand out like a sore thumb.
For the 40 minute loop you'll need to bring a torch to see where you walking. Just be careful not to trip – it's easily done when you're looking up all the time to see the glow worms!
… Now Start Planning Your Trip!
All of the places I talked about above are free to enter, but there will be costs involved in reaching the destinations.
Hiring a car is popular in New Zealand, but you can also get bus services, or perhaps even rideshares, to most locations.
Check out this guide to budget travel if you're looking for other money saving tips while travelling.
SAVE IT TO PINTEREST!
---
The Tiki Touring Kiwi, aka Jub, is a well-travelled man from the land of New Zealand, who has one way or another found himself roaming the world. He's been to a bunch of countries, lived in a few cities and learnt a thing or two along the way – as such I knew he was the perfect person to turn to for advice on budget travel in New Zealand.
You can follow Jub on Instagram and Snapchat, but right here, right now is his best advice on the 10 most awesome free things to do in New Zealand: North Island.
---