Staying healthy while travelling, particularly if you're in it for the long run like me (three years and counting!) is super important.
You don't want to be sick in bed while your hostel buddies are out enjoying the city, or to miss a breathtaking alpine vista because you weren't fit enough to make the hike.
Being physically fit and maintaining a solid diet is something many long-term travellers take for granted.
Boozy nights, fast food, and lazy days can all take their toll on the unsuspecting backpacker's health and wellbeing; but by following the healthy travel tips below, you can ensure that your body and mind are ready to tackle whatever your adventures may bring.
---
Related Posts
---
This page contains affiliate links meaning Big World Small Pockets may receive a small commission on any purchases at no extra cost to you.
---
#1 Cook Your Own Food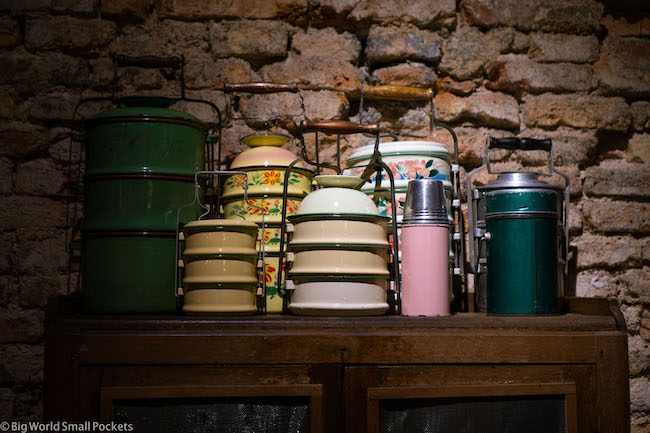 As far as authentic travel experiences go, not much can beat going to a neighbourhood market and hanging out with the locals, sampling delicious fresh produce and soaking up the exotic sights, smells, and sounds.
Buying ingredients rather than eating out at restaurants is almost always cheaper too.
In addition, you are in direct control of the nutrients that you are putting into your body.
Many travellers avoid cooking for themselves because they don't have access to an adequate kitchen.
However, if you stay in short stay accommodation (e.g. Airbnb) or use Couchsurfing or other hospitality exchange networks, usually you'll have access to a decent kitchen.
I've spent many evenings in Couchsurfers' kitchens cooking up a storm, or learning local recipes from them.
Many hostels also have fantastic kitchens and you can even share some of your delectable, healthy meals with your hostel pals.
In terms of what to cook, it's pretty simple. Just use whole food ingredients including plenty of fruits and veggies, and avoid processed foods.
Pesto and rocket whole-wheat pasta, veggie stir-fry with brown rice, ratatouille, mushroom and lentil ragout, and fruit salad are super cheap and nutritious favourites of mine that you can prepare in a huge bowl, pot or wok and eat for days.
If you're on the move frequently, one of my favourite travel tips is to carry a tuperware container in your backpack so you can take healthy goodies like leftovers or raw fruits and veggies with you for those long bus and train rides.
Living off of deep-fried roadside food isn't always the cheapest or healthiest option!
#2 Go On Foot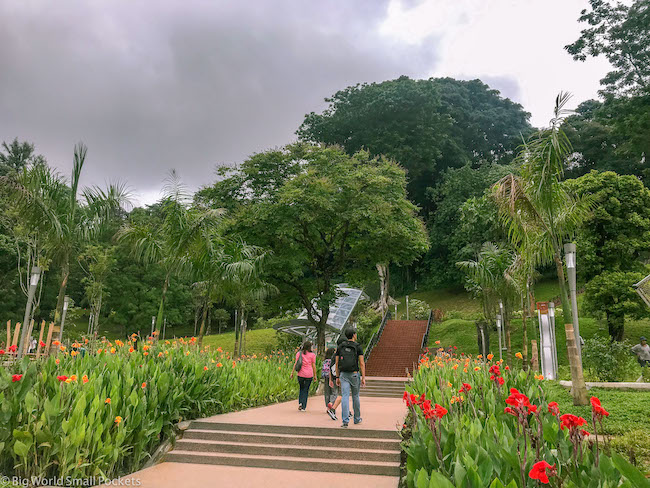 When you travel, there's a good chance that you'll be walking, a lot.
In addition to the regular amount of walking that you do while sightseeing, one of the best travel tips to help you stay healthy on the road is to add a bit extra! I sometimes eschew motorised transport methods and decide to walk instead.
Even skipping a bus stop or two and getting in a few extra kilometres in a day can help enhance your overall fitness.
Taking free walking tours and going on day hikes are other ways to get more walking in.
Everyone knows that going for regular runs or jogs is a reliable way to keep fit.
When you're travelling, it's extra pleasurable because you'll be jogging through unfamiliar streets, with new and exciting sights to see around every corner.
For me, an early morning jog through a town or city is a fantastic way to experience local life, and a great opportunity to find hidden gems tucked away in the streets, just as the city is waking up.
For the ultimate walking challenge that is guaranteed to help you stay healthy while travelling, go on a multi-day hike.
Almost every country in the world has famous and well-trodden trails to offer, including coastal walks, high altitude mountain passes, and even thru-hikes that traverse entire countries or continents.
Following a hiking trail is an awesome way to experience what a country has to offer, and to interact with that place's rural and wilderness areas on a meaningful level.
If the route involves camping, it's also a good chance to test out your one-pot healthy cooking skills, so you can combine 2 of my great travel tips!
#3 Put the Pedal to the Metal
Getting on a bicycle is a fun and adventurous transport alternative to utilise while travelling, and is a great platform from where you can explore a place in your own time.
One of the greatest travel tips to help to you stay healthy on the road is to hire a bike while in a city or town – it's a great option if you want to make your own way around and explore how you choose.
The amount of sights you can see while riding a bicycle in one day is staggering, which leaves more time for discovering lesser known corners and interesting outskirts, too.
Another option is to simply take your bike with you when you travel.
Bicycle touring is excellent when travelling long-term, as you have the freedom to ride wherever you like, camp out under the stars, get off the tourist trail, and of course; to stay healthy.
Many countries around the world have established long-distance bike paths that crisscross the landscape, providing you with a window into seeing lesser known corners of the country.
Most of these paths can be traversed on a touring bike, hybrid, or a road bike with enough mounts to carry your stuff.
If you're travelling in a place where the roads are a little rougher and you're down for the adventure, hiring a mountain bike with suspension is probably one of the best travel tips!
I've even met folks who tour with folding bicycles, so if they do choose to hop on a bus, train, or plane; it's a lot easier to transport their beloved steed.
#4 Stay in Healthy Retreats and Ashrams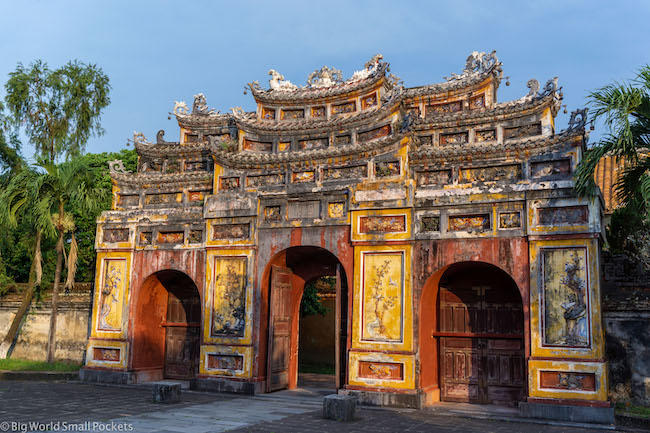 Our infatuation with health and wellness has presented some interesting new opportunities for travellers wanting to stay healthy while on the road. Yoga and health retreats, ashrams and fitness courses can be found all over the world.
For the budget-conscious traveller however, some of these can be prohibitively expensive.
Luckily, many are still cheap, particularly if you stick to Asia and Central America.
The amount of yoga retreats and ashrams is forever increasing in these regions, and they are an excellent way to develop healthy habits while you're abroad.
For the ultimate traditional experience, one of the greatest healthy travel tips is to stay at a long-established ashram in India or Sri Lanka where you can practice yoga with locals and travellers alike.
I stayed at a Yoga ashram in India for three weeks where I was able to become super fit and flexible, was treated to delicious all-you-can-eat meals, and got to stay in a beautiful rural area among verdant rainforest and towering mountains; all for under $12 per day!
#5 Perform Bodyweight Training
Keeping up your training regime is one of the top travel tips to help you stay healthy on the road.
If you want to maintain strength and muscle tone while you're travelling, bodyweight and calisthenics can really help.
I usually go and workout in a park, or even inside if the weather isn't favourable.
The best part is that this kind of training is absolutely free, and doesn't require a huge time commitment to produce beneficial results.
Sometimes I'll even grab my Couchsurfing host or hostel buddies to join me for a workout in the park.
A simple circuit is sufficient for a bodyweight workout, and mine usually looks something like this:
20x Pushups, 20x Lying Leg Raises, 20x Bodyweight (or backpack) Squats, 1x 1 minute Plank, 10x Pull-ups (if a bar is available), 20x Burpees.
I'll repeat this after a few minutes' rest as many times as I like, or until I'm too fatigued to complete any more sets.
As you practice you'll get stronger and will be able to complete more repetitions of each exercise.
#6 Find Your Inner Peace
Maintaining good mental health, focus and clarity is just as important as a healthy body when you're travelling.
Cultivating mental calm and mindfulness can enhance your travel experience by making you more conscious of your surroundings and experiences.
I've met many travellers who 'burn out' or become disillusioned with being on the road because their mind is no longer in the right place.
There are many free meditation apps available for smartphones that you can listen to and practice along with while you're on the road.
I find that a quick 10-20 minute meditation in the morning helps set me up for the day and ensures a peaceful and happy perception of my experiences no matter where I am in the world.
In addition to free apps, you can also attend meditation retreats and courses, and most traditional yoga ashrams (mentioned in #4) will include meditative components as well.
I recently attended a Vipassana course, which is a 10 day meditation retreat that is paid for on a donation basis including food and a bed, so it definitely didn't break the bank.
I hope you've found this article helpful and enjoyed my 6 great travel tips to help you stay healthy on the road.
Fingers crossed you are now confident in staying healthy while travelling long-term, even on a budget.
Happy travels!