Oh my oh my, well what can I say, the Okavango Delta in Botswana was every bit as amazing as I imagined it to be!
And that's largely to due the fact that I visited this amazing watery wildlife wonderland at the right time of year!
Yes, it took me 5 trips to Africa and 2 visits to Botswana to finally get to the Delta, but when I did eventually make it, it was worth every cent and inch of effort to achieve it!
Because spending time to research when the best time to visit the Okavango Delta is, will be crucial in ensuring your trip is a success too.
After all, seasonal variations here are a major factor to consider – at some times of the year the Delta is even inaccessible!
So if you're thinking of hitting up this African UNESCO gem, but still have some questions about when, why and how to do it, then read on to discover my full lowdown on the best time to visit the Okovango Delta, as well as 10 other top tips for planning your adventure here…
---
Related Posts
---
This page contains affiliate links meaning Big World Small Pockets may receive a small commission on any purchases at no extra cost to you.
My trip to the Okavango Delta was kindly sponsored by Absolute Africa, but, as always, all views are my own.
---
Grab Your Copy of How to Travel Africa for Less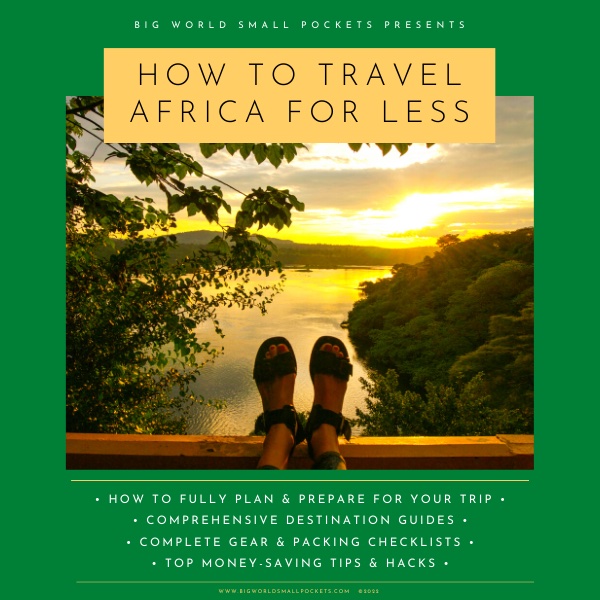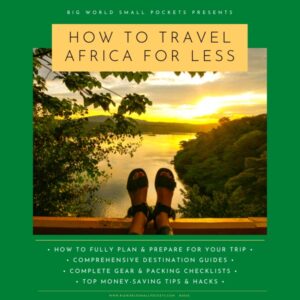 My ultimate guide to travelling Africa on a budget is now available, meaning you can finally get ALL my top tips for adventuring around all, or parts, of this amazing continent in one handy eBook, including…
Full Planning & Preparation Guides
Detailed Destination Info
Complete Packing & Gear Lists
Top Money-Saving Tips & Hacks
What is the Okavango Delta?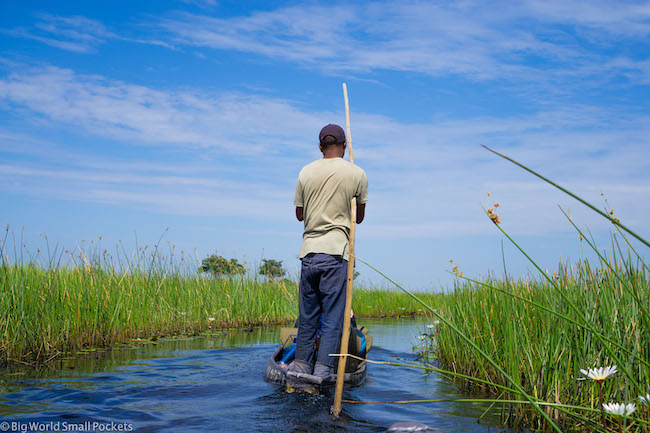 The Okavango Delta is essentially a huge seasonal plain that floods with a vast quantity of water annually which flows down from the highlands of neighbouring Angola.
A UNESCO World Heritage site, the Okavango Delta is a massive natural reserve in Botswana known for its spectacular scenery and vast array of wildlife.
The whole delta is a watery paradise of islands, papyrus reed beds, waterlilies and waterways that can be visited at most times of the year, because the ebb and flow of the water levels here means this changing landscape offers travellers a lot no matter what the season.
That said, different times of the year offer different types of safari and travel experiences, so keep reading to find out more.
What is the Best Time to Visit the Okavango Delta?
While Botswana can be visited at any time of the year, the best time to visit the Okavango Delta (according to my experienced guide and the local facilitators I met) is during the months of March through May.
This is when the summer rainy season has ended (meaning you won't get soaked), but is before the water flowing from Angola reaches its peak in the Delta.
Read. it takes a few months from when the rains fall north in Angola to reach the Delta in Botswana.
As such, the months of March, April and May are the best time to visit the Okavango Delta because the water levels are high enough to see the scenery at its greenest and most spectacular, while low enough for you to still see abundant wildlife, which stays close to the precious source of H2O.
In addition, the sweltering heat and rain storms of the high summer months, which run from November through February have passed by this time too.
I visited the Delta in late January and while I still saw a lot of wildlife and water, it was sweltering hot!
Thankfully it's dry heat here in Botswana (which I can cope with far better than humidity) and the nights were cool, but do be aware temperatures rose to over 35 degrees celsius during the day and, of course, you'll have to get by without even a fan, let alone aircon!
I like the heat, but if you're not such a fan (pun intended), then I would definitely avoid the summer.
Conversely, in the winter (which runs from June to October) it can be freezing in the Delta. The amount of water in the Delta starts to reduce and animal populations and sightings in the area shrink as a result.
Why Visit the Okavango Delta?
To put it frankly, the Okavango Delta is one of the most amazing destinations to visit in Africa.
Nothing can compare to the sort of safari experience it offers, the peaceful dreamy quality of sailing through the shallow waters in a traditional canoe, remote camping deep in the delta, flying ahead to view the network of flooded plains from above or walking within a few metres of elephants, zebra, hippos, giraffe and many more.
You should allow at least 3 days to experience the wealth of this habitat and to soak up what can only be described as one of Africa's best and most unique landscapes and wildlife spotting opportunities.
Where is the Delta?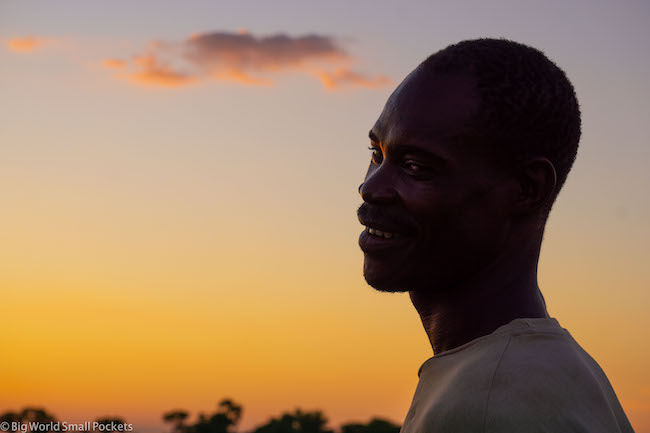 The Okavango Delta is situated in the north of Botswana in Southern Africa.
The nearest major town and point of access is Maun, which is around 6 hours drive from Kasane, where there's an international airport.
Kasane is the gateway to Botswana's other famous national park – Chobe River.
As such, many people combine both Chobe and the Delta into one epic trip, either as a standalone adventure, or by tagging on a trip to see Victoria Falls too, which lies just across the border from Kasane in Zimbabwe / Zambia.
Maun can also be reached within a few day's drive from northern Namibia and overland trips often head this way after or before visiting Etosha National Park in the north of Namibia.
Stocking up on supplies in Maun before you head to the Delta is essential and thankfully, there's a good array of supermarkets, banks, fuel stations and other amenities in this bustling Botswana town.
How to Get There?
As I've said, Maun is the main access town for the Okavango Delta and can be reached by road from Vic Falls / Kasane, the Botswanan capital, Gaborone (although it's a long way), or Northern Namibia.
You can fly direct to Maun from a number of regional African airlines – do check Skyscanner for the best prices.
Driving to Maun is totally possible if you're on an extended road trip, and many African overland companies make the circuit between the major Southern African attractions I've mentioned above, stopping at Maun too.
I visited the Okavango Delta with Absolute Africa, who are a fantastic budget overland company offering various routes across Southern and East Africa.
As a solo traveller, I honestly don't think it is possible to see as much, or cover such a great array of countries, as cheaply by yourself.
For this reason, as well as their excellent customer service, high-quality guides, diverse itineraries and very reasonable prices, I highly recommend an Absolute Africa tour if you plan to visit the Okavango Delta solo.
As well as getting me to the Okavango Delta from Vic Falls, via Chobe River and then into Namibia, Absolute Africa also arranged my 2 day camping excursion into the delta and a scenic flight over the landscape the following day.
This made it easy and simple to fit a lot into my short 3 days there.
And for all these reasons and more, I'm currently offering all my readers an exclusive discount across all Absolute Africa tours, meaning you can now travel even more in this amazing continent for less!
Simply send this top African overland tour company an email to [email protected], quoting the discount code BWSP, and start planning your incredible trip with them today!
Top Things to Do in the Okavango Delta
Camping excursions in the Delta and a scenic flight over the utterly vast and unique landscape here are definitely 2 of the major things to do in the Okavango Delta if you want to gauge the full scale and magnitude of this 18,000 sqkm reserve.
Organised by Absolute Africa, I enjoyed a 45 minute flight with Delta Air for $90 USD – sharing the plane with 6 others who were on my overland tour.
Not only did I get some great aerial snaps, but seeing herds of elephants, giraffes, wildebeest, ostrich, zebra and buffalo from way above really is an experience I'll never forget.
It's also worth pointing out that while $90 USD is a lot of money, this scenic flight is much cheaper than anything offered in Victoria Falls, the Masai Mara in Kenya or the Serengeti in Tanzania.
Taking a multi-day mokoro / camping excursion into the Delta is also another must-do while you are, providing the perfect counter-experience to a scenic flight as you get to fully immerse yourself in the Delta at water level.
From our campsite in Maun, we enjoyed a 1 hour bumpy 4wd to the launching point, where we were taken in traditional canoes – mokoros – for 2 hours through the waterways of the Delta to reach the remote island that would be our campsite for the next 2 days.
Epic safari walks, swimming in the delta and learning how to pole the mokoros were just some of the activities we enjoyed during this time, as well as the requisite star gazing, sunset watching and meditative campfire evenings that were accompanied by local singing and dancing from our guides.
The 2 day Okavango Delta camping excursion cost $145 USD and was arranged by Afro Trek Safaris (via Absolute Africa) who were efficient, well organised and highly professional.
This was honestly one of the best excursions I've enjoyed in Southern Africa, with local people guiding you both on foot and via mokoro to see and share information about the wildlife and their unique cultural home.
Wildlife in the Okavango Delta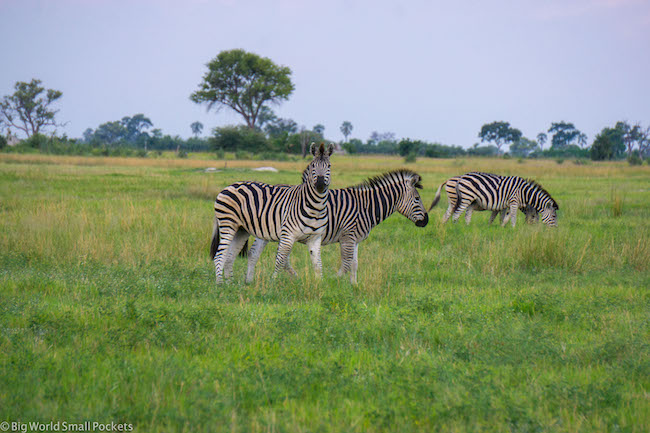 As part of both the sunset and sunrise walking safaris we enjoyed in the Delta, we got the chance to see elephants, hippos, honey badgers, giraffes, zebras, wildebeest, kudu, buffalo, bik-bik and an amazing array of birds.
The mokoro ride through the waterlily and reed beds felt almost dream-like it was so peaceful, and spotting all the birds and animals at such close range, without the noise, pollution or physical barriers of any motorised vehicles, really was like something from another world.
If you want to see the best of Botswana's wildlife, there's no question that the Okavango Delta is the best place to head for.
Do I rate it higher than Chobe River National park?
Probably!
What to Pack for the Delta?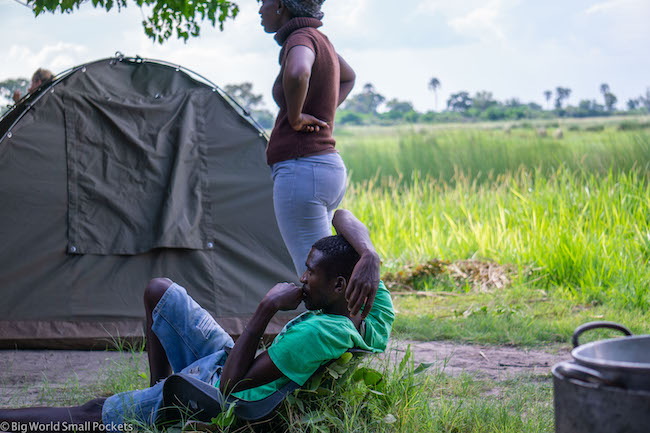 If I've not made it clear enough already, then I'll spell it out now – the Okavango Delta is extremely remote and after Maun, there are no shops or supplies available.
Taking everything you need with you into the Delta therefore is essential.
This includes:
Sunscreen
Sunhat
Toilet paper
Wet wipes
Strong insect repellent
Small first aid kit
Headtorch
Good camera, lens, tripod and cleaning kit
Swimwear and towel
Thin, light clothing you can layer
Camping gear including sleeping bag / silk liner
You'll also need to take all the food and water you will require – and lots of it!
I'd suggest at least 5 litres of water per day per person.
Of course, you must also take all the trash and rubbish back out with you.
There are no facilities on the islands if you're camping overnight, so bush toilets and no showers are the norm.
A guidebook would also be good to give you some background info, and, as it's very hot in the daytime here (too hot to do much when I was there at least) another book to read, games to play or other activities to enjoy are recommended.
In the winter months of May through Sept, it's also worth bearing in mind that the Delta gets very cold at night, so bringing thick layers to put on will be essential then.
In the summer season, which runs from November to February, it's very hot and mosquitoes are prevalent, so long, thin clothing for the evening to stay protected is preferential.
At night, you also need to be careful of animals when in the Delta – never go anywhere alone after dark and always listen for wildlife noises and scan the surrounding area with your headtorch.
How Much Does it Cost?
Overall, the Okavango Delta isn't a cheap excursion – none of the spectacular sights in Africa are – but there are some cheaper ways to do it.
Renting a car between a group, driving to Maun and taking camping gear with you can save you a lot of money.
Otherwise, I highly recommend joining a budget overland tour like those offered by Absolute Africa – I honestly don't think you can do it cheaper as a solo traveller and it's a great way to make friends, leave the planning to someone and enjoy the experience with others too.
Stocking up on supplies at the supermarket in Maun to keep food and essential costs down is also a key money-saver.
You'll then need to budget for 2 nights accommodation in Maun – 1 before your Delta camping excursion and 1 after.
There are plenty of campsites in and around the area which will be the cheapest option.
And finally, there are the cost of the activities in the Delta itself.
I paid $90 USD for the flight and $145 USD for the 2 night camping excursion, which was fully inclusive.
Doing both these activities, plus getting to Maun, accommodation in Maun and stocking up on supplies, you're looking at a trip to the Okavango Delta setting you back around a minimum of $400-500 USD.
That's why I really recommend combining this destination with others in the area, as part of a longer overland tour, as this will provide far greater value for money.
Recommended Tours to the Okavango Delta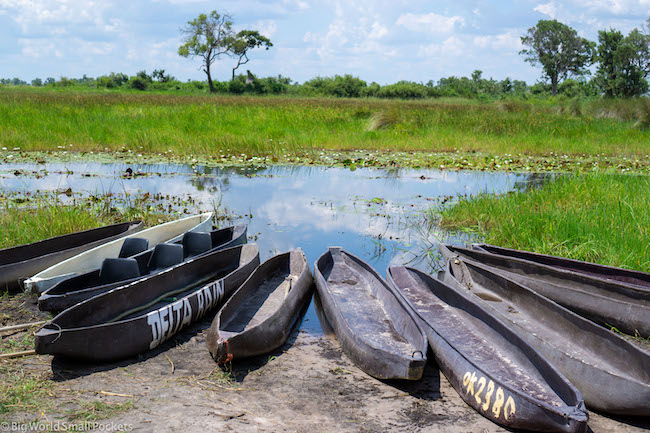 If you're interested in an unforgettable, well-priced tour in Botswana with guides you can trust, then email me at [email protected] and I'll send you my top recommendations – simple!
Otherwise, I suggest you contact Absolute Africa, who offer budget group tours for some of the best prices around. And if you use the code BWSP, you'll even get an additional discount from them, offered exclusively to my readers! Shoot them an email now at [email protected]
Alternatively, you can also check out these great options to visit the Delta with Safari Bookings – who offer fantastic tours to suit just about any budget, travel style, duration and date.
Travel Insurance for Botswana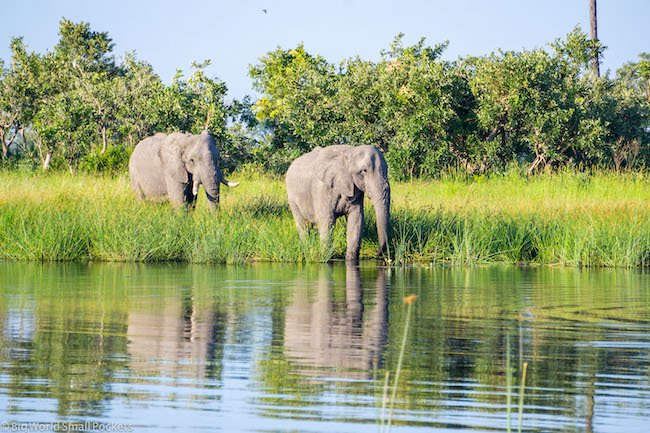 World Nomads offers simple and flexible travel insurance. Buy at home or while travelling and claim online from anywhere in the world.
Alternatively, if you're a long-term traveller, digital nomad or frequent remote worker seeking travel health cover, check out Safetywing's Nomad Insurance policies.
SAVE THIS TO PINTEREST!
And that's my complete guide to this amazing destination, including the best time to visit the Okavango Delta, what to do there, how much it will cost, what you need to take and what you can expect.
Have I convinced you to visit yet?
Do let me know if I've missed any crucial information out, by firing your questions into this comments box below and I'll get back to you…