I just can't believe it's almost 6 months since we clambered down from the Landrover and our great budget road trip in the Land Down Under to set up a temporary home in Fremantle, Western Australia!
I suppose things have gone so quick because, although I've been busy working and blogging, I've still been committed to discovering the beautiful area around Perth on shorter trips.
From Rottnest Island to the Perth Hills, Swan Valley to the City it's been a lot of fun discovering what's on my new and exciting doorstep.
But last week it was the turn of the beautiful Margaret River region to come under my wanderlusting gaze!
Known as an incredible surfing destination, a foodie haven, a wine-tasting paradise and an idyllic countryside retreat, Margaret River is often seen as Perth's playground – a city hideaway where people go to enjoy long relaxing beach days in the summer and snuggle with a glass of red around a roaring fire in the winter.
Not, however, known for its budget status (it's often referred to as Mark-Up River!), I headed down there in the Landrover last week for a 2 night getaway, determined to experience a slice of this paradisiacal-sounding place on a shoestring.
And of course, I did!
As such, I'm now very happy to be sharing with you now, exactly how you too can visit Margaret River on a budget – and not feel like you're missing out on all the treats!
---
Related Posts
---
This page contains affiliate links meaning Big World Small Pockets may receive a small commission on any purchases at no extra cost to you.
---
Things to Do in Margaret River on a Budget
First up, is some inspiration about the best things to do in Margaret River that won't cost a lot.
Sadly, if you're anything like us, fine lunches in the wineries or luxuries spa days are out of the question – despite how amazing they look.
But don't fear here's an epic list of the best free, or at least super, cheap things to do in the Margaret River region.
#1 Wander up to Cape Naturaliste Lighthouse
For just a gold coin donation ($1 -2) you can wander up to this beautiful lighthouse.
Built in 1903, it's set at the top of the Margaret River peninsula from where you can enjoy snapping some photographs of the panoramic views, listening to the birds or undertaking one of the beautiful walking tracks.
Budget Tip: Cape Naturaliste Lighthouse is much better than Cape Leeuwin Lighthouse, which you have to pay a lot more for ($8 currently), even just to enter and take a decent photo!
#2 Whale Spot at Sugarloaf Rock
An amazing pinnacle rock set out to sea, this is one of the most gorgeous spots on the whole coast here and is well worth a stop if you're looking for somewhere to lunch with a view.
You also have a good chance of spotting some dolphins, or even some of the 35,000 whales that migrate past here between September and December each year.
#3 Soak up the Sun at Yallingup
Probably my favourite beach in the Margaret River Area, Yallingup is a really beautiful spot that shows off the stunning scenery of this area perfectly.
Easy to pass a few hours or a whole day here!
#4 Stroll Canal Rocks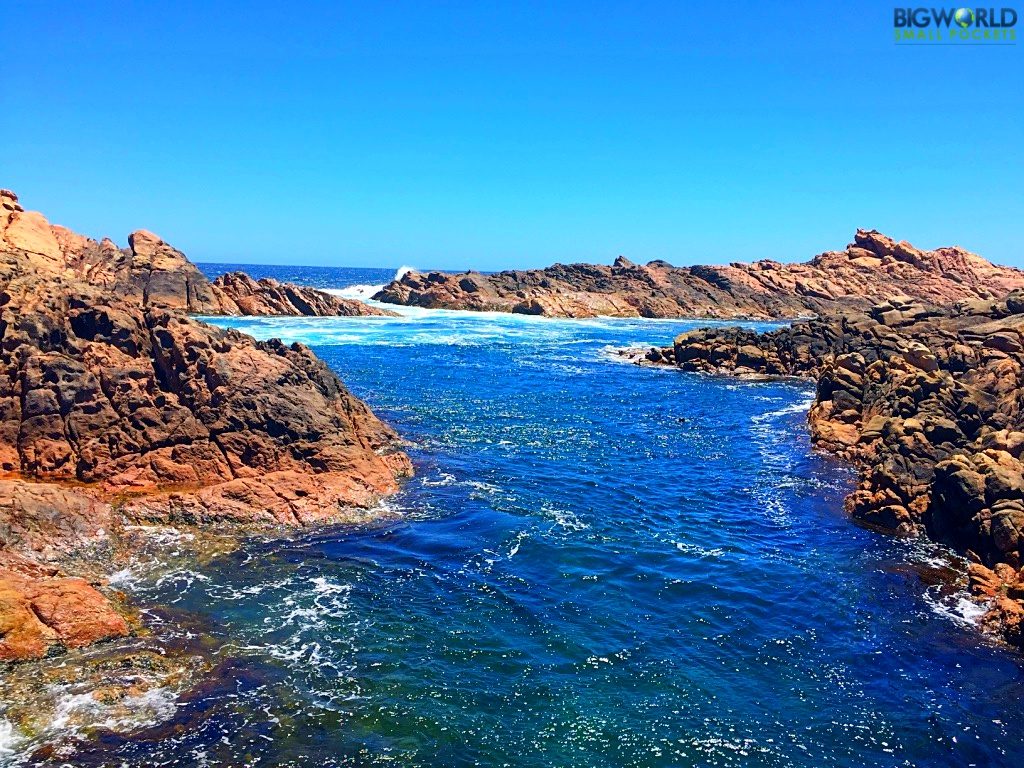 These wicked rock formations are great fun to explore as you watch the tide rushing in and out of them.
There's bridges and footpaths that help you clamber over them too and all the time you can watch local fisherman and free divers busy doing their thing!
#5 Walk the Cape to Cape Track
Firmly on my bucket list after visiting Margaret River for just a few days, the Cape to Cape Walking Trail runs down the length of the area's beautiful coastline, almost entirely through the protected Leeuwin-Naturaliste National Park.
Taking around a week to complete this would be an awesome opportunity if you really want to see how spectacularly beautiful the natural world is around here.
Failing that, why not just take a day out to walk a section of the track – totally free, this is definitely something I'd do next time I visit.
#6 Hike to Quininup Falls
Another beautiful hike is the hour long track to Quininup Falls.
Accessed via Moses Rock Road, remember to take your camera here to capture the gorgeous waterfall which flows like crazy after a good bit of rain I'm told.
#7 Go Wine Tasting at a Vineyard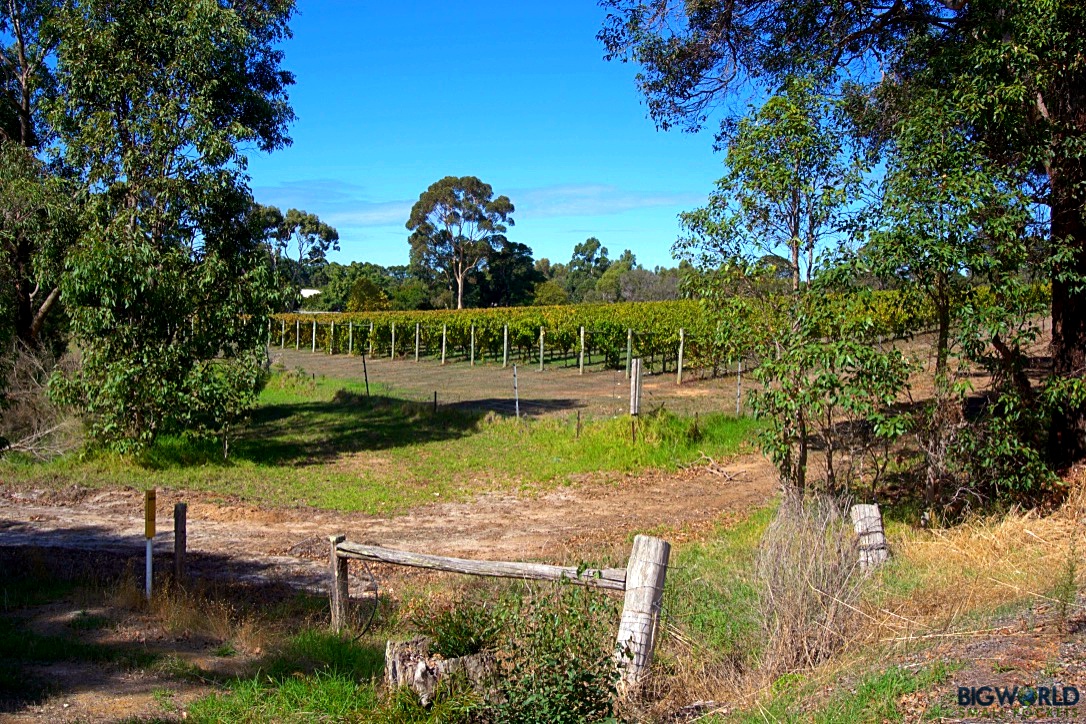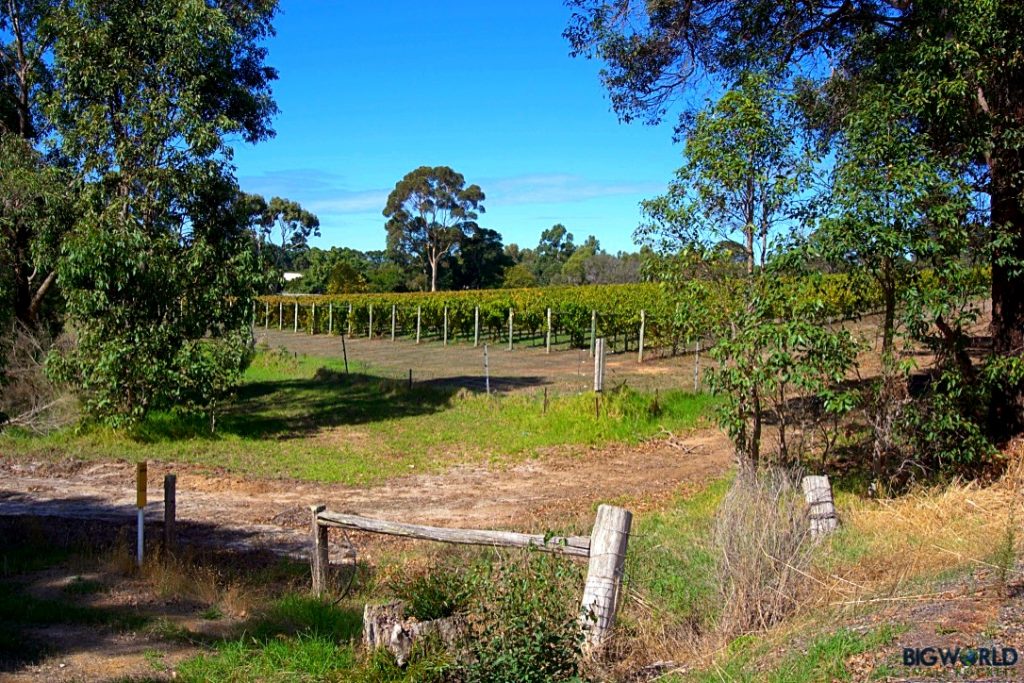 Even if you can't afford lunch, many vineyards in the Margaret River region have free cellar door tastings daily which allow you to sample their finest wines.
There's over 80 wineries to choose from around here, so just taking a drive on some of the country roads and stopping when you feel like it, can be the best way to choose!
Most of the wineries also have stunning grounds that you can stroll around and enjoy the pleasant weather.
#8 Shop at the Farmers' Market
The Margaret River Farmers' Market runs every Saturday and is the perfect place to stock up on some delicious local produce for a fraction of the usual price.
Take your own basket and even grab some breakfast here all to the sound of local chatter and live music.
And if you don't want to buy anything, then it's even worth going for the lovely, light atmosphere and to wander the stalls.
#9 Watch the Sunset or Surf at Prevally
Gnarabup Beach, closest to the town of Prevally, has an awesome lookout spot called Surfers Point.
We spent ages here admiring the panoramic seas views and all the crazy surfers doing their thing.
If you're brave enough you could, of course, join them, otherwise why not hang out here until sunset and enjoy one of Australia's best light displays!
#10 Sample (and Shop) at Farm Gates
As well as wines, the Margaret River region also has loads of delicious food sellers too.
From chocolate factories to cheesemakers, olives farms to nougat companies, cookie stores to coffee works, it's all here!
Most places are free to wander around and often have some complimentary tastings too – perfect for those on a budget!
#11 See the Stingrays at Hamelin Bay
This cute little beach is a great one to wander along as there's lots going on.
When we were here, local fisherman brought in a giant salmon haul and there were professional photographers capturing the old jetty in the morning light.
Best of all however, were the giant stingrays, who loved playing so close to the shore you could almost touch them … except don't!
Seriously though, these guys were huge – like the biggest stingrays I've ever seen – and watching them was absolutely fascinating.
#12 Check Out the Old Water Wheel
Right down by Cape Leeuwin in the south of the Margaret River Region is an old water wheel, that tells a fascinating story of the local history.
This is also a super spot to see the meeting of 2 great oceans – the Southern and the Indian – as well as spot a whale between the months of June and August.
#13 Post a Cow Selfie
Head to Cowaramup – affectionately known as Cowtown – to have your photo taken with one of the life-size fibreglass cows in the street.
This great public art display is a really fun, free activity for all the family.
#14 Cycle the Busselton Bike Path
The Rail Trail between Busselton and Dunsborough is a very accessible 31 km cycle-only connection between these towns and makes for a delightful afternoon activity.
There's also some shorter in routes in and around Busselton, which make 2 wheels the perfect way to explore this cute seaside town if you don't want to go so far.
#15 Marvel at the Wildflowers
Spring in the Margaret River Region is wildflower time and Dunsborough is probably the best place to view this incredible display.
There's over 2,500 species of wildflower here that aren't found anywhere else in the world.
#16 Delight in the Drive
The whole of the Margaret River region is a road-trippers paradise, which made us and Landie very happy!
Seriously you can spend hours here just tootling around, exploring quiet, scenic lanes where the towering Karri forests suddenly give way to the jaw-dropping beauty of the coastline.
Caves Road is perhaps the most famous drive and there's over 100km of it to enjoy.
Otherwise, for 4wd tracks, Boranup Drive comes highly recommended.
#17 Visit an Open Studio or Gallery
There's a really creative spirit to Margaret River and over 120 artists have come to call this their home.
Enjoy free insights into their work by learning about the Open Studios taking place during your visit or visit one of the many galleries.
From furniture design to printmakers, jewellers and sculptors there's tons on offer and the Art Geo Cultural Complex in Busselton is a real favourite.
#18 Swim in the Shadow of the Busselton Jetty
The jetty at Busselton is perhaps the most picturesque jetty I have ever seen and while you do have to pay to walk along it (boo), snapping her and swimming in her shadow, is both totally free and utterly delightful!
5 ESSENTIAL PACKING ITEMS FOR AUSTRALIA
#1 Good Camera – You will be pretty much snapping non-stop in Australia and will need a good camera to do this gorgeous country justice. I highly recommend the Sony A6000, which I use for all my travels and love, not least because it's light, compact and robust!
#2 Good Walking Shoes – There will be a lot of walking in Australia – from cities to national park! Make sure your feet are comfortable therefore with a pair of New Balance Trainers. Perfect for stylish strollling, I love mine
#3 Good Guidebook – I'm still a massive fan of the Lonely Planet Guidebooks and do think their Australia edition is well put together
#4 Good Water Bottle – Travelling in hot old Australia can be thirsty work, so make sure you have a metal water bottle that you can refill as you go, because tap water is drinkable… and free!
#5 Good Sun Hat – And there's no denying you'll need a good sun hat for protection in Australia too. In my opinion, you can't go past this Hello Sunshine one, which is both gorgeous and ideal for keeping the rays off your face.
Getting to Margaret River on a Budget

Driving
Self-drive really is the best option if you are heading to Margaret River as it will give you the most flexibility when it comes to exploring the region.
The cheapest way to do this is to rent a campervan in Perth and then you can sleep for cheap too (see more in the where to stay section).
Discovery Campervans is a great place to look for a deal as they compare hundreds of rentals to get you the best price.
Otherwise, you can rent a vehicle in Margaret River itself, through Margaret River Rent A Car, Dunsborough Car Rentals or Avis Busselton.
Fuel
A word of warning if you are heading down from Perth too – amazingly fuel tends to be a lot cheaper down south, especially in the small towns of Harvey and Pinjarra.
Head here to get some juice, rather than filling up in Margaret River itself or Perth if you can!
And remember Coles and Woolworths supermarket receipts get you 4c off p/litre at participating service stations if you spend over $30.
Coach
If driving isn't your thing, then you South West Coach Lines offer a public service from Perth to the South West region – letting you pick your destination town.
Trans WA also offer a coach service, departing from East Perth.
Budget Accommodation in Margaret River
The Margaret River Region is comprised of numerous little towns from Dunsborough and Busselton in the north, down to Augusta in the south. The town of Margaret river itself, sits in the middle.
As such, each little village has an array of accommodation, you just have to choose where you want to base yourself.
Check out my top picks here:
Recommended Backpackers / Motels
Recommended Caravan Parks
Conto's Camping
The awesome Conto's Campsite in Leeuwin-Naturaliste National Park is definitely one of the best budget accommodation options available in the Margaret River Region.
Only 20 minutes from town, but nestled in a clearing surrounded by the towering Karri forest, this newly refurbished campsite costs only $10pppn.
Run by Western Australia Parks and Wildlife, this large campground has several different sections with both grassy areas for tents, as well big spaces for caravans and everything in between.
We slotted in nicely here in our Landrover with the rooftop tent and were delighted with the peace and quiet of the place, the amazing night sky and the sound of lapping waves clearly audible from the nearby coastline.
Booking online for Contos is essential and sites are then allocated on a first come first serve basis.
There is a very friendly ranger in residence here with loads of info, as well as an awesome camp kitchen and fire pits with free firewood available! You're also very likely to see a kangaroo or 3!
We absolutely loved this spot and highly recommend it if you're looking to visit Margaret River on a budget.
When is it Cheapest to Visit Margaret River?
Summer (December- February) is definitely the peak season and busiest time to visit Margaret River, so expect prices to spike during this time.
Ditto school holidays when caravan parks and campsites fill up fast.
The other time to avoid Margaret River, if you want to keep costs down, is during any of the main festivals.
Food and surf festivals in particular see the place packed out and prices, especially for accommodation, can be much higher at this time.
Both spring (wildflower season) and autumn (warm days) are great times to visit Margaret River on a budget as the climate still allows you to get out and explore, but the crowds have thinned.
Nights are fresh during these shoulder seasons though, so bring lots of thick layers, especially if camping!
Other Helpful Budget Tips for Margaret River

In terms of amenities, the town of Margaret River itself is the biggest in the region and has both a Coles and Woolworths supermarket, which are great for stocking up on cheap food supplies.
As discussed, cheaper fuel can be found at some of the inland towns as well as in Busselton.
Visitor Centres in all the region's towns can provide you with lots of free maps and information so definitely utilise these as much as possible.
There's also a free app you can download called 'Your Margaret River Region App', which has loads of great listings, maps, itineraries and what's on guides.
If your accommodation doesn't offer free wifi, then look out for Telstra Air phone boxes, which have free public hotspots, as well as the Commonwealth Bank which provides it in their lobby. The main street in Margaret River also has public wifi free, as does the library.
PIN IT TO PINTEREST!
Despite being known as Markup River, hopefully this guide has shown you how to visit Margaret River on a budget and not feel like you're missing out on what this amazing region has to offer.
Please let me know if you've visited Margaret River before and what your favourite bits were?
Also, if you have any other budget tips to add, I'd love to hear them too 🙂