It may have taken us almost 6 months, but thanks to our great road trip around Australia, we've finally realised that the best places tend to lie at the end of the dirt track.
And perhaps, you could say, the longer the dirt track, the better the prize!
And so it was with Cygnet Bay Pearl Farm
, probably the most unique and memorable place we've stayed in Australia.
Located at the very top of the Dampier Peninsula in Western Australia, it took us about 3 hours to reach this remote spot from the nearest town of any size, Broome.
That's a fair old drive through red dust for a couple of night's camping.
But wow, we were glad we made the effort!
Cygnet Bay Pearl Farm was much more than a pearl farm and our experience was much more than we could have imagined!
---
Related Posts
---
My stay and tours were kindly sponsored by Cygnet Bay Pearl Farm but, as always, all views are my own.
This page contains affiliate links meaning BWSP may receive a small commission on any purchases.
---
It's hard to convey exactly what captured us most about the Cygnet Bay Pearl Farm.
Perhaps it was the sense of heritage, the sense of adventure, the rich cultural experience, the stunning Kimberley landscapes or the epic views that grabbed us?
Or perhaps it was the way this excellent destination rolled all these factors into one brilliant experience.
Either way, we were very happy that Cygnet Bay invited us to stay with them and very glad we made the trip from Broome to see them!
The Cygnet Bay Pearl Farm
Unsurprisingly, Cygnet Bay Pearl Farm
started its life as just that, a pearl farm!
In the 1960's, founder Dean Brown and his son were the first Australians, in fact the first non-Japanese worldwide, to master the technique of cultivating pearls in the same waters where the farm still operates today.
Living out of a rudimentary paperbark hut, in what was then an incredibly remote outpost of Western Australia, these 2 men quickly taught their findings to 2 indigenous Australians they had close relations with.
And so, Cygnet Bay Pearl Farm was born.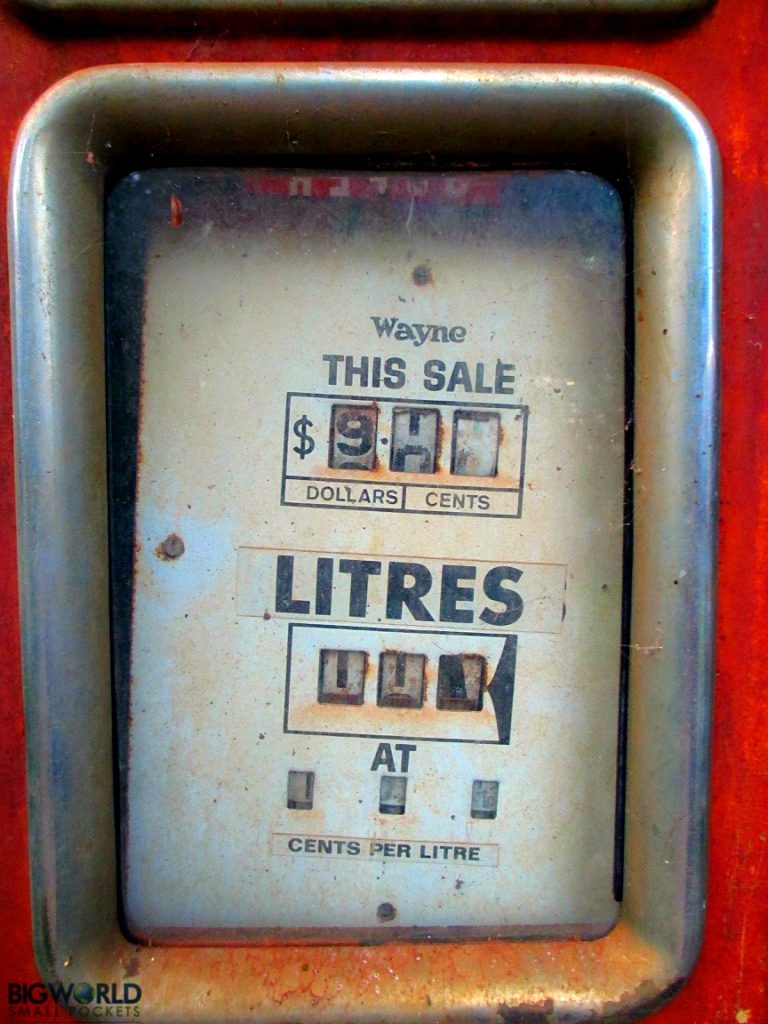 Still owned and run by the Brown family, now in its third generation, the tale of Cygnet Bay Pearl Farm is undoubtedly an Australian pioneer story of ingenuity and diversity.
The farm's and the family's story runs parallel to the historical story of a unique type of industry, still existent today.
Ever since its inception, Cygnet Bay has been at the forefront of nearly all the technological and environmental advances in the pearling cultivation business.
In 2009, Cygnet Bay Pearl Farm opened its door to the public, allowing visitors a direct insight into its working practices.
The strong reminders that Cygnet Bay is still a working farm, which are visible all around, is certainly one of the things that makes this destination so unique.
Even as you drive up the long driveway, abandoned boats, buoys and weights dot the track, piquing your interest in the pearling process and, if you're anything like me, reminding you that you actually have not the slightest idea how these precious beauties are formed!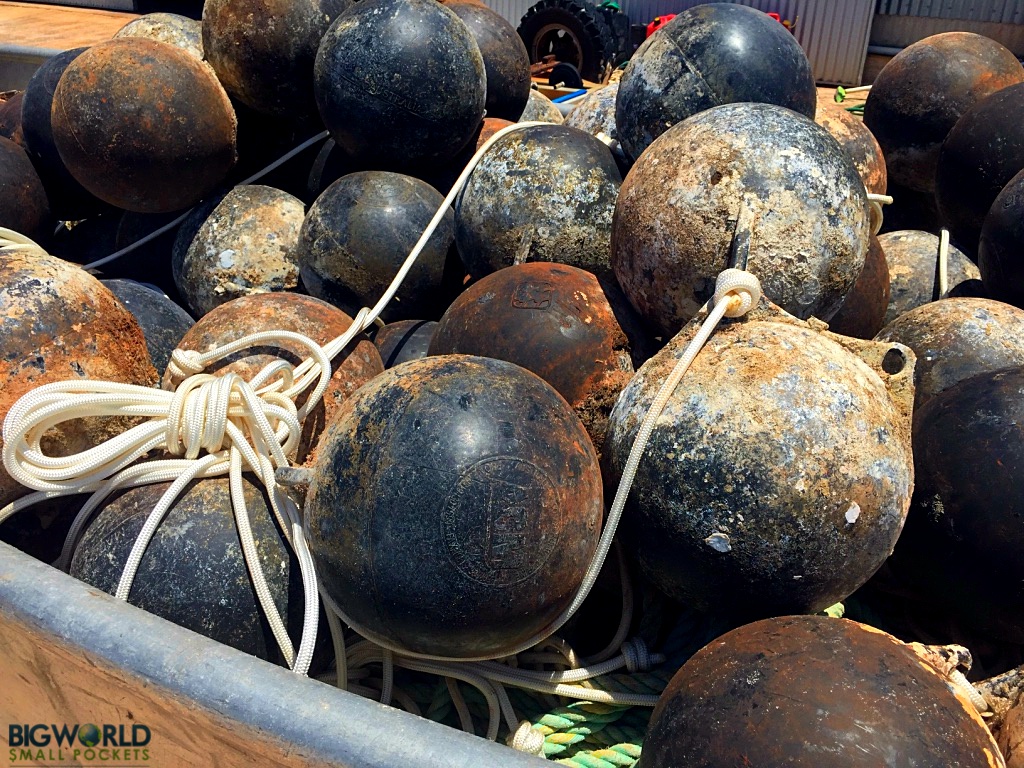 That's one reason why I loved the Pearl Farm Tours that Cygnet Bay offers, so much.
Brilliantly guiding through us the process, the technology and history of the work they do here, I was hard pushed to remember the last time I learned so much in 60 minutes!
Ending with a practised technician actually showing us the harvesting of a pearl and a chance to then learn about the grading of these marvellous creations, I almost felt like a pearl expert by the end of it … and quite pleased with myself!
Cultural Significance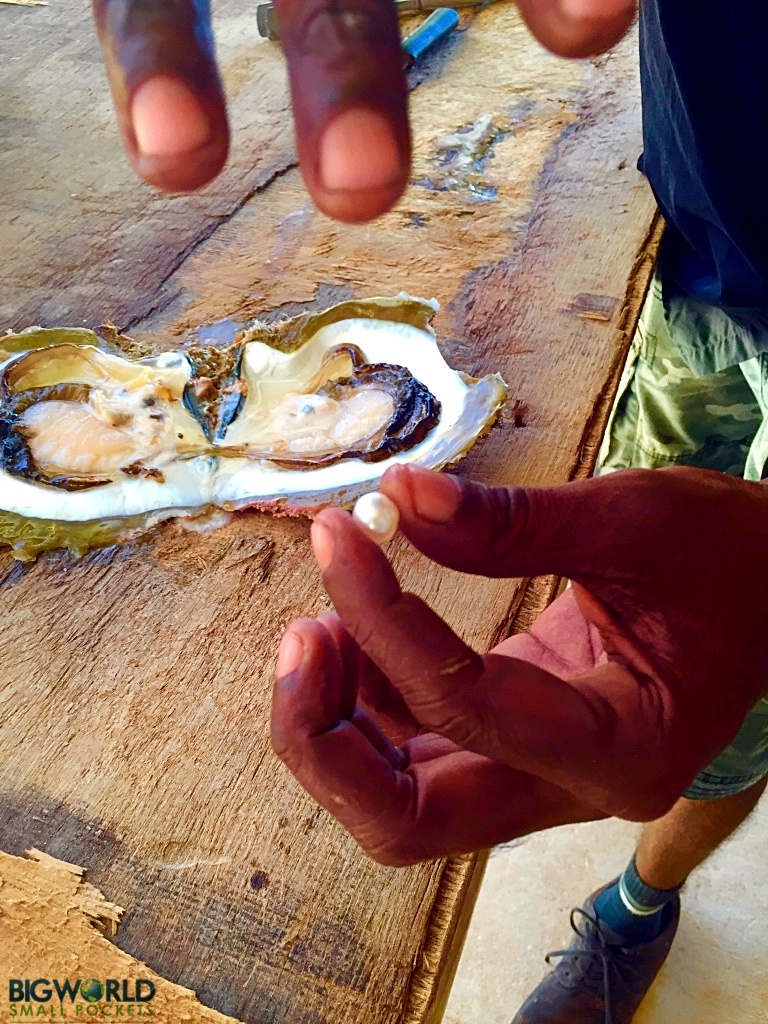 But I think the thing that really made the experience so utterly unique and interesting, was our pearl farm tour guide.
Terry was basically brought up at Cygnet Bay Pearl Farm
, his parents have been some of the Brown's initial employees.
As an indigenous Australian, Terry's family having been living in this area of the Dampier Peninsula for hundreds of years and his connection to the natural landscape and its associated pearling industry was both palpable and inspiring.
Having always worked closely with the indigenous Australians of the region, the Brown family and their pearl farm have maintained a commitment to continue working with local people and Terry told us some fantastic stories about having gone to school with the current owners and his relationship with them.
It felt very special to be taken around an area with someone so historically and personally connected to the place and our very natural interaction was undoubtedly one of the highlights of our time at Cygnet Bay Pearl Farm.
Adventure Tourism
But it was not only the pearl farm tour that made our Cygnet Bay experience so highly unique.
No, in the afternoon, we were treated to yet another one-off experience – the Waterfall Reef Tour aboard a 500hp inflatable rib!
Boasting the largest tropical tides in the world, this area of the Kimberley has some of the fastest moving ocean currents in the world…. And we got to experience them in 2 hair-raisingly brilliant hours!
Never before have the words "hold onto your hats" been meant quite so seriously as we took off at one heck of a pace. But the feeling of almost flying over the ocean was intoxicating!
Indeed, I found it impossible to wipe the smile off my face, with the adrenaline forcing me to continually grin like a small kid, and I'm sure, had I been able to turn around, I would have seen the other 11 passengers doing exactly the same!
This sea safari was a real adventure tourism experience and a once in a lifetime opportunity.
Its difference to our pearl farm tour in the morning, perfectly showcased the diversity of this incredible spot and the many different angles of Cygnet Bay Pearl Farm visitors can enjoy.
Unique Kimberley Landscapes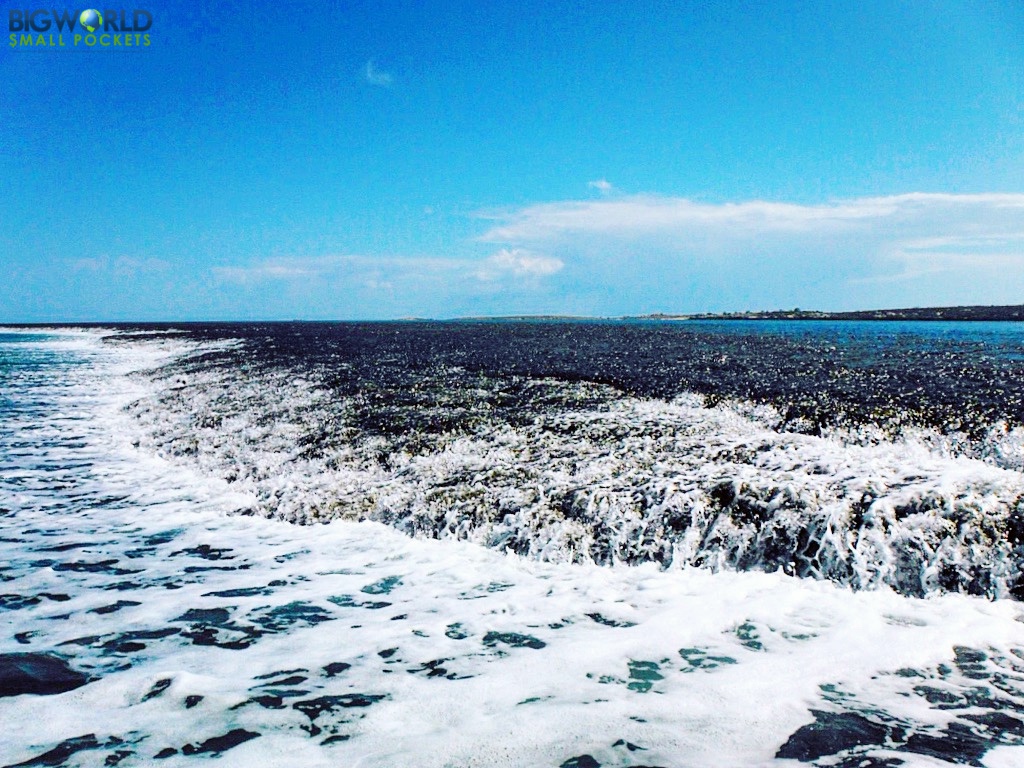 As if speeding across the waves of the outgoing tide weren't enough, our captain then brought us to some giant whirlpools, one or two up to 10m across.
Teetering on the edge of these huge swirls of water, and then darting off at just the last minute as they hurtled towards us, it felt almost like staring into a black hole – the wildness of nature swirling all around you.
But that wasn't all!
Finally, we made it to the piece de resistance of our tour, the waterfall reef.
This highly unique natural phenomenon can only be seen in this part of Western Australia the world over, and is created by the huge tidal movement of the Kimberley region, which literally sucks water off the reef at a colossal speed.
The result is something so utterly breathtaking, it's hard to believe you're really witnessing it – a waterfall cascading off a tropical reef in the middle of the ocean!
Incorporating this distinct part of the Kimberley's natural environment into their tourist offering is yet another element that makes Cygnet Bay Pearl Farm
stand out as one of the most unforgettable places we've visited in Australia.
Even when you're not whizzing around huge whirlpools or staring at horizontal waterfalls, the other scenery is also spectacular in its untouched beauty and magnitude.
From the islands of the Buccaneer Archipelago to the ancient red rocks that are millions of years old and the isolated beaches of the local communities, everything you see on this tour is special.
5 ESSENTIAL PACKING ITEMS FOR AUSTRALIA
#1 Good Camera – You will be pretty much snapping non-stop in Australia and will need a good camera to do this gorgeous country justice. I highly recommend the Sony A6000, which I use for all my travels and love, not least because it's light, compact and robust!
#2 Good Walking Shoes – There will be a lot of walking in Australia – from cities to national parks! Make sure your feet are comfortable therefore with a pair of New Balance Trainers. Perfect for stylish strolling, I love mine.
#3 Good Guidebook – I'm still a massive fan of the Lonely Planet Guidebooks and do think their Australia edition is well put together.
#4 Good Water Bottle – Travelling in hot old Australia can be thirsty work, so make sure you have a metal water bottle that you can refill as you go, because tap water is drinkable… and free!
#5 Good Sun Hat – And there's no denying you'll need a good sun hat for protection in Australia too. In my opinion you can't go past this Hello Sunshine one, which is both gorgeous and ideal for keeping the rays off your face.
Unforgettable Views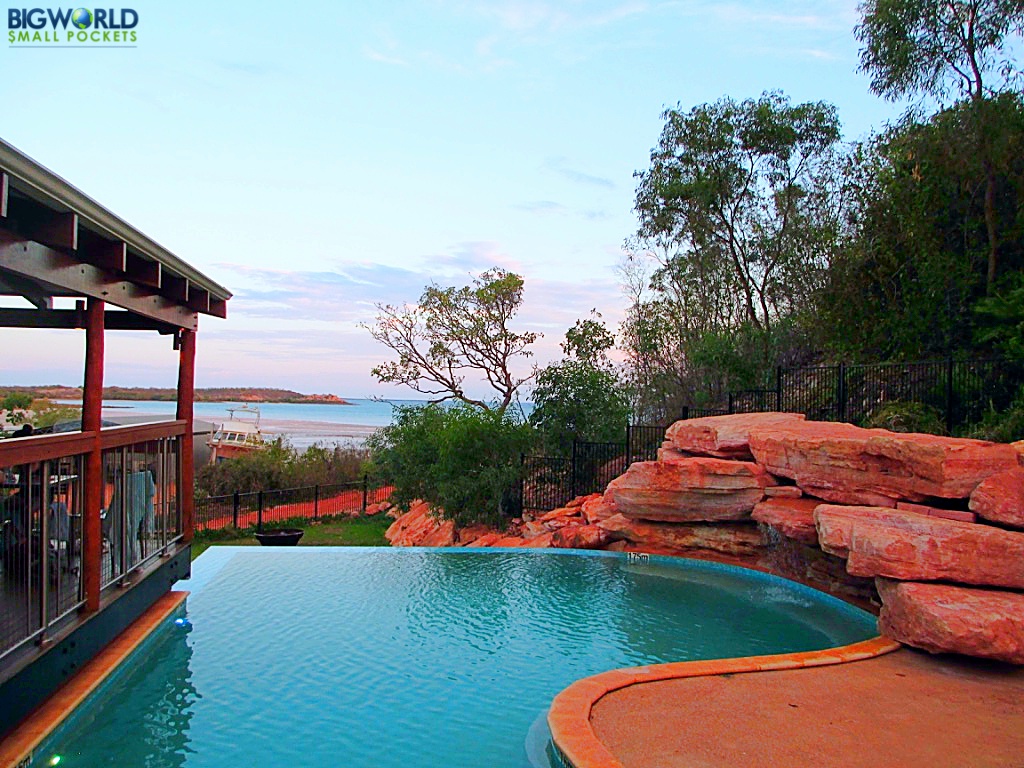 Back on land, the views from Cygnet Bay Pearl Farm
itself are pretty amazing too!
Take the infinity pool for example!
Well, I can think of worse places to relax with a drink and a meal to enjoy the view!
And the setting of our powered campsite wasn't bad either with its white beaches, shell-laden shores and turquoise water horizons stretching as far as the eye could see!
Because while you can easily make Cygnet Bay Pearl Farm a day trip from Broome, or enjoy one of their tours in the course of the afternoon, you can also stay overnight in this utterly unique spot.
From powered campsites and van spots to bush tents, deluxe safari tents and historic pearler shacks perfect for families or groups, there's really a plethora of accommodation to take your pick from.
All of the accommodation options at Cygnet Bay Pearl Farm are set away from the main reception area, giving them an idyllic bush camp feel that is as peaceful and remote as anywhere we've been.
It does however, also make them very isolated. If I was to find any negative point to say about Cygnet Bay Pearl Farm it would be that the camping area is quite far from everything, and a little hard to access and navigate!
You definitely need a 4wd if you're going to brave the sandy tracks to the campsite for example!
It was also scorching hot during our visit and, while the large camp kitchen provided some respite from the sun, our campsite had very little shade.
Despite the inviting campfire pit, it was way too hot to be sitting around toasting marshmallows, even at night!
That said the coastal views from the nearby beach perfectly complimented this unique Kimberley destination and if it is the bush camping experience you're after, rather than a cramped caravan park, this is your place!
Well, what else can I say?!
Perfect for an adventurous day trip, a history-filled tour of a working farm, a remote camping experience or the chance to gaze at the wonders of a totally distinct Kimberley landscape, Cygnet Bay Pearl Farm is definitely the most unique place we've stayed and a recommended addition to anyone's Australia bucket list!
Book your STAY at Cygnet Bay Pearl Farm HERE
PIN IT TO PINTEREST!