If you weren't already aware, Australians are hot on their coffee. No, not just hot … scorching. Yes, despite the high temperatures here, these crazy folk Down Under love nothing more than a good caffeine hit and short of being a beverage here, coffee is almost an art.
Melbourne is renowned for being the coffee capital of Australia, but I have to say (controversially) that I wasn't blown away by the coffee down there.
Yes, it was good; in fact, it was great, but I certainly didn't taste anything I felt I couldn't have got in my little, temporary hometown of Noosa on the Sunshine Coast in Queensland.
As a popular tourist spot, Noosa boasts an array of eateries, cafes and bars filled with people enjoying the amazing weather and beachside vibes.
With a real emphasis on health and happiness, clean living and quality food production, it's almost no surprise that the coffee here is generally top notch too.
Having been stationed in Noosa for almost 2 years now, I've sampled many a flat white from the local providers and certainly have my favourites!
Here are the 5 places I think you can get the best coffee in Noosa, Australia.
---
This page contains affiliate links meaning Big World Small Pockets may receive a small commission on any purchases at no extra cost to you.
---
#5 Zabe Espresso Bar, Tewantin
A fairly newcomer to the game, Zabe Espresso Bar is situated in the Noosa suburb of Tewantin, which can be found further along the river.
Despite, it's slightly out of town location, Zabe is no out of towner when it comes to coffee quality.
Using a local roasted product, the caffeine here is strong, bold and punchy.
Fitting well with the dark wooden decor, Zabe definitely stands out from the crowd and is one of my top places to find the best coffee in Noosa.
#4 Quenchers Espresso Bar & Juicery, Noosa Junction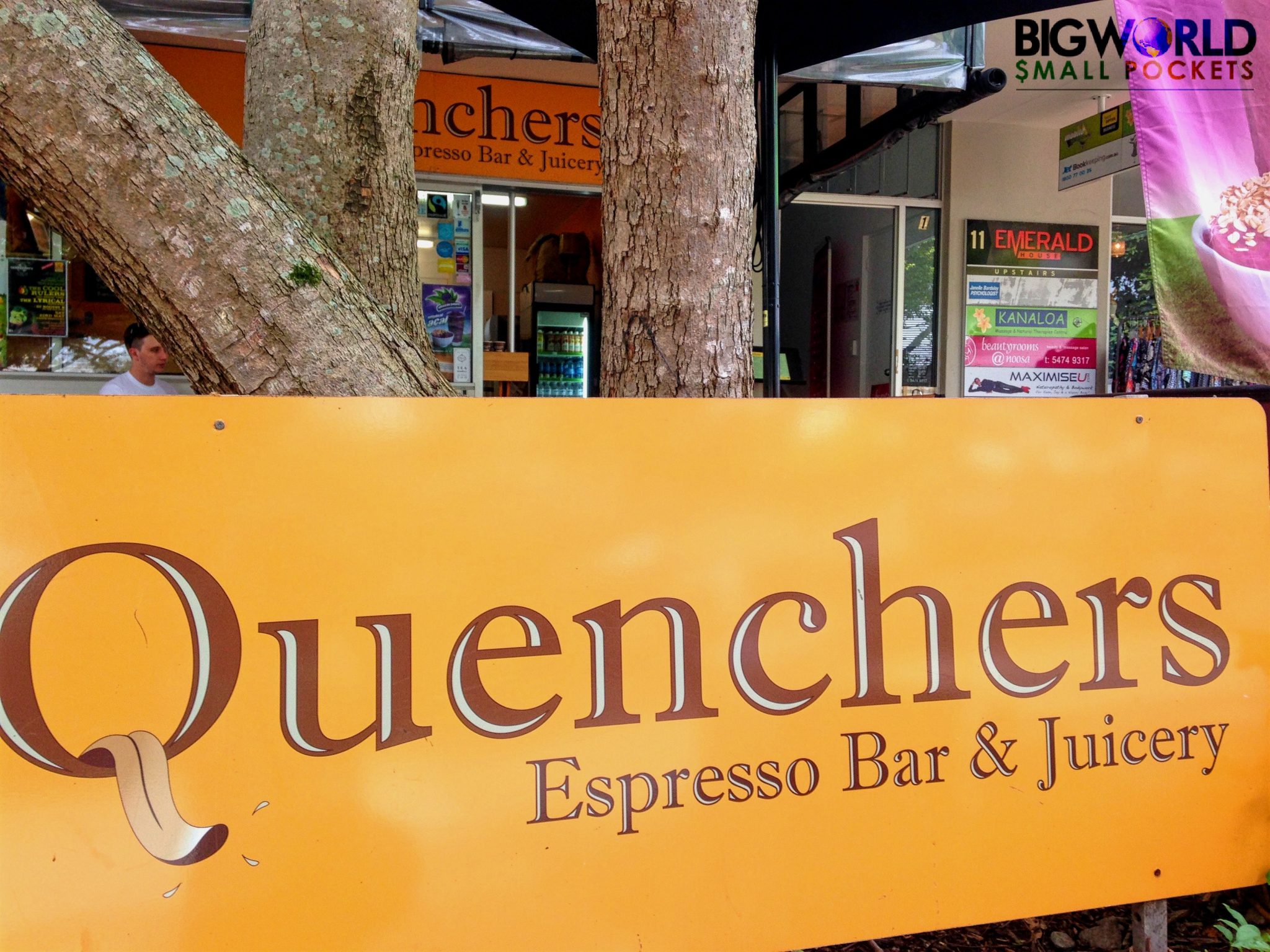 Next on my list of the best coffee in Noosa, is Quenchers – a little independent cafe situated in the heart of Noosa Junction.
Using Montville coffee – an organic, fair trade blend roasted in the nearby hinterland – I just can't get enough of owner Bazz's barista skills!
The service here is friendly, the place light and airy and there is a real local and unpretentious feel to this delightful cafe that makes it undoubtedly one of my favourite stops.
It's also one of my top 5 places to eat vegan on the Sunshine Coast, Australia.
#3 Little Cove Coffee Co, Noosaville
Along Noosa River, the bustling joint of Little Cove is an assured favourite with Noosa locals. Situated right near Noosa Farmers Market, I almost always pop in here after getting my weekly Sunday shop … and so do lots of others!
Serving double shots as standard, you're sure to get your full-on caffeine charge at Little Cove!
While you recover you can enjoy the sights and sounds of the in-house roastery which produces an array of great blends including both light, as well as darker, roasts.
#2 Costa Noosa Espresso, Sunshine Beach
Right on my doorstep here in Sunshine Beach, Costa Noosa Espresso is not to be confused with the more famous global Costa Coffee brand.
Very much an independent and local affair, this glorious coffee shop is run by a tight-knit husband and wife team, who are always happy to chat you through their award-winning blends.
The decor at Costa is precise and minimal, just like the coffee, which pairs back the flavours of this highly sort after beans and cuts right to its core.
Sit outside and enjoy the sounds of the nearby ocean while you sip some of the best coffee in Noosa.
#1 Clandestino Roasters, Noosaville
And coming in at number 1, is my actual all time favourite coffee. Clandestine Roasters, based in Belmondos Organic Market, never fails to hit the mark and, for me, takes coffee to a whole new level.
Smooth, sweet and strong, their winning cold drip formula delights my taste buds and their consistent milk quality is sheer perfection.
The setting of this cafe within an organic marketplace wonderfully compliments the high production ideals of the brand and the whole marketplace is fast becoming one of the go-to foodie locations on the coast.
Undoubtedly some of the best coffee in Noosa, Clandestine Roasters are passionate producers at the top of their game.
PIN IT TO PINTEREST!
So those are 5 places I think you can find the best coffee in Noosa, Australia.
Have you visited Noosa?
Where did you get your top caffeine fix?