One of the best things I love about currently living on the Sunshine Coast is people's attitude and awareness towards healthy, clean eating.
In an area that boasts a great quality of life due to its climate and natural surrounds, it's not surprising that many people here are also really conscious about what they put into their bodies.
Paleo cafes, gluten-free producers, organic food markets and health food shops abound, as do places to eat vegan on the Sunshine Coast – a surprising delight for many of us!
Spoilt for choice, I've put in the hard grafting of taste-testing most of these meat-free options as part of Big World's commitment to showcasing healthier, happier travel adventures and am now happy to report back with my top 5 places to eat vegan on the Sunshine Coast.
---
Related Posts
---
This page contains affiliate links meaning Big World Small Pockets may receive a small commission on any purchases at no extra cost to you.
---
#1 Ground Organics, Mooloolaba
Pioneers in wholefood circles this incredible café sits on Mooloolaba foreshore and boasts choice of inside or outdoor eating. With a great range of innovative menu items, their own nut mylks, incredible smoothies and desserts this place is a real treat for any vegan or vegetarians alike.
Started by a young couple, Ground Organic's holistic approach to food and what we put into own bodies is very inspiring.
Their branding dovetails into lifestyle and I love the little inspirational quotes you get with each drink!
All food is organic, unprocessed, local and yummy; no preservatives, additives or refined anything is ever used.
Check out the Mexican dish on the lunch menu if you can, the cashew cheese is heavenly!
#2 Kunara Organic Cafe, Forest Glen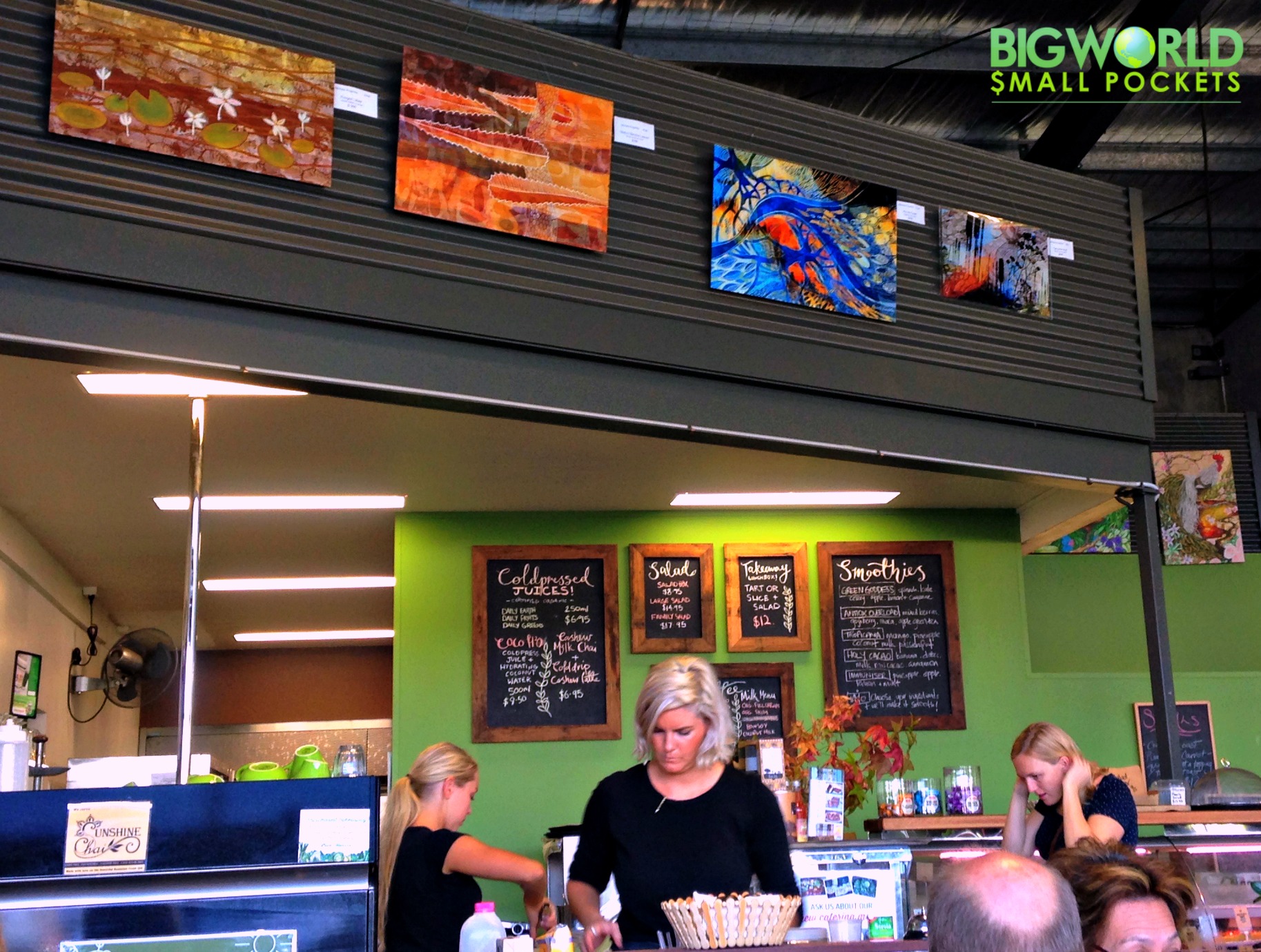 Attached to the expansive and wonderful Kunara Organic Marketplace, the Kunara Organic Café is an equal delight.
The setting is perhaps not as great as some of the other places on this list – given the fact you're just off the highway – but the food is well up there with the rest!
Do your bulk shopping at the marketplace and then hit up this cute little café come garden space for a yummy lunch.
The cafe boasts a freshly changing menu of vegan, raw and whole foods, plus some great coffee to boot.
I often have a vegan, gluten-free, super greens tart when I'm there – it's to die for!
The cafe is open 7 days a week, but just be aware that the kitchen closes at 3.30pm, so don't get there too late and risk missing out as I did on one sorry occasion!
#3 Lama Yeshe's Big Love Cafe, Eudlo
This is a bit of a different eatery because it's set within a wonderfully peaceful Buddhist centre up in the Sunshine Coast's hinterland.
The Chenrezig Institute, as the centre is known, is devoted to Buddhist study, meditation and retreat, but is open to day visitors who wish to explore the gardens or listen to some of the teachings from the Resident Tibetan Lama.
Chenrezig is a beautiful place to spend a day, with the Big Love Café's incredible chai and snacks being one of the highlights!
The Café is open 7:00am – 6:30pm, Wednesday to Sunday, and day visitors are also able to have a delicious vegan lunch here.
I had the most yummy curry when I was there last and ate it outside under a perfect blue sky – which always makes things taste better!
If you plan on visiting the centre and eating lunch at the Big Love Café, you will need to make a booking by 10am on the day, so either give them a call on 5453 2108 or book online.
#4 Living Kitchen, Maleny
I discovered this place during my first week on the Sunshine Coast and knew from that moment I was going to love this spot!
Set in the delightful hinterland town of Maleny, which has a very alternative and community-feel to it, the Living Kitchen is a raw food paradise.
With a highly innovative and exciting menu, the boy and I often make the trek into the hinterland from Noosa just to come here for lunch.
The café is only open until 3pm, so make sure you get there early to enjoy the deliciously different food from a spot near the window as you watch the quiet town go by.
I highly recommend trying the living Kelp Noodle Pad Thai, which is both incredibly good for you and scrumptious. And don't forget to grab a raw chocolate treat on your way out for the journey home!
#5 Quenchers, Noosa Junction
This is my default spot for a great cup of coffee in Noosa, as they use the delicious, organic, fairly-traded and locally roasted Montville blend, which I love.
They are also one of the few places I've found in Noosa who stock a range of non-dairy milks besides soy.
Quenchers Espresso Bar and Juicery, as it's officially called, also do breakfast and lunches, so make sure you try their lovely vegan acai bowls and lentil soups.
I love the friendly, low-key profile of this café and the fact that they are open 7 days the summer months, meaning I don't have to go too far to get some yummy vegan fare.
They also occasionally host vegan evening dinners, which are a delight, although you have to keep your ear to the ground to avoid missing them!
So those are my top 5 places to eat vegan on the Sunshine Coast. Would be great to hear about any other great vegan eateries in Australia you think I should try.