Having been stationed in Noosa on the Sunshine Coast of Queensland, Australia for some time, I got to know the nearest big city quite well!
Less than 2 hours drive away, Brisbane is the capital of the state of Queensland and as such, brings with it all the sights, sounds and smells of a lively metropolis.
Much as I love the relaxed and beachside feel of Noosa, it is always nice to get a bit of city excitement from time to time.
In particular, the cultural and culinary offerings of Brisbane far outweigh the choices of anything in Noosa and for me, this is a particularly big drawcard.
With a relatively small population of just over 2 million, Brisbane is not renowned for its cutting edge artistic output (something I do really miss about living in London), but it nevertheless has a fairly sizeable number of galleries, museums, exhibitions spaces and theatres which I've explored on numerous weekends and day trips there.
It also has a great burgeoning music scene and a delightful array of different suburbs offering some great world cuisine and wonderfully tucked away markets.
As such, I've compiled a list of the 5 best areas in Brisbane I love to explore, to make sure that you'll love your time in this sunshine city too.
---
Related Posts
---
This page contains affiliate links meaning Big World Small Pockets may receive a small commission on any purchases at no extra cost to you.
---
#1 Bulimba
Situated in South Brisbane, the trendy suburb of Bulima is definitely one of the best areas in Brisbane.
Easily accessible from the centre of the town, the best way to get there is by the delightful CityCat – a riverboat that is part of Brisbane's wonderfully cheap public transport network.
As such, speeding up the river on an open-top boat to this happening hideaway is a delight.
Originally home to a sugar mill and a brewery, this leafy enclave is now full of cute cafes and lovely bookshops, making it a clear hit on my list of the best areas in Brisbane.
Try the independent RiverBend Bookstore if you're looking to pick up a good read and then relax with a cold drink and a riverside view at the Oxford 152.
#2 Fortitude Valley
Notorious until the 1990's for its dangerous and seedy activity, Fortitude Valley is now one of the best areas in Brisbane if you want to party.
Full of bars, clubs, restaurants and backpacker hostels, the Valley, as it's known, also boasts a lovely Sunday morning market and a historic Chinatown.
It's full of live music venues and has some great pubs with a brilliant atmospheres and super craft beers on top.
My favourite is the Bloodhound Corner Bar and Kitchen, which offers some incredible Latin American food including gluten-free and vegan options (the nopale cactus tacos are a must!)
You can also enjoy a great selection of beers there and last time I got more than slightly tipsy after just 1 pint of their 7% 4 Pines Citrus IPA!
#3 New Farm
Something of a yuppie suburb, it's still hard not to fall in love with the appeal of New Farm, which is why it's on my list of the best areas in Brisbane.
With a delightful park situated on the edge of the river, Sunday afternoons in New Farm all about getting together with friends or family to enjoy a picnic and a stroll.
There is also the wonderful Brisbane Powerhouse, now a fun arts venue, which has regular, free live music, outside cinema events, art exhibitions and more.
In addition, a great paleo café – the Primal Pantry – is also nearby here, which made a great, healthy breakfast spot and the boy very pleased indeed!
#4 South Bank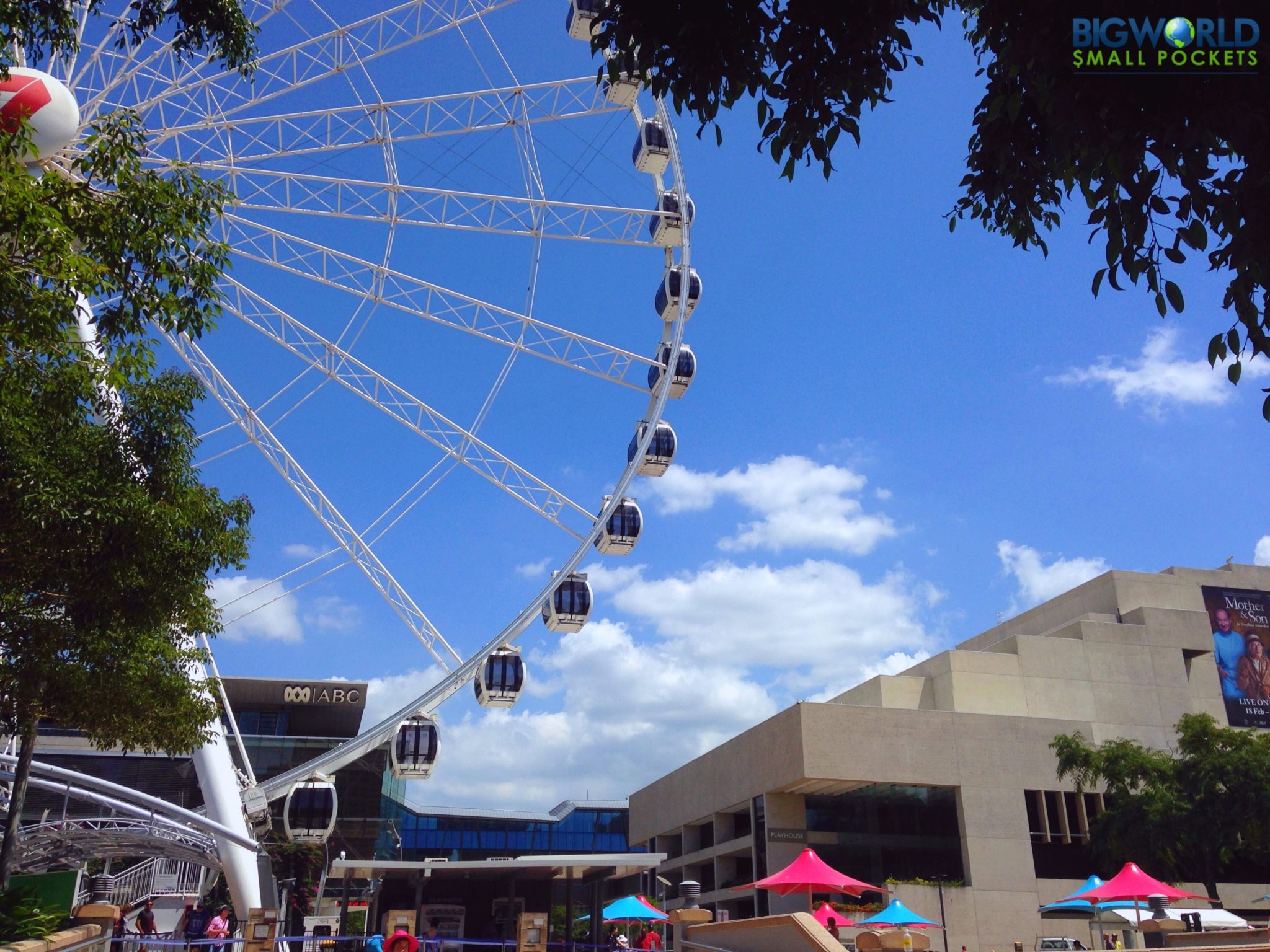 The cultural and touristic hub of the city, South Bank is undoubtedly one of the best areas in Brisbane and should be on any visitor's list.
Littered with cafes and parklands, it also boasts the largest collection of the city's mainstream artistic venues including the QPAC (Queensland Performing Arts Centre) and my favourite, the GOMA (Gallery of Modern Art).
Site of the infamous Expo 88, which really catapulted Brisbane from a country town into world city, there are also scattered remnants along South Bank of this global event, as well as some newer additions including a large ferris wheel and a wonderful riverside swimming pool and manmade beach.
For an Australian city sadly built along a river rather than the coast, this is a godsend in Brisbane and every day it's full of backpackers and families enjoying the sunshine under a view of the city's skyscrapers.
For more info about this area, check out my complete guide to Brisbane's South Bank.
#5 West End
Known as the rather more eclectic and alternative end of town, West End is another part of Brisbane that has undergone large-scale urban regeneration in recent years.
Saying this, it's still full of quirky cafes and characters and, being populated mostly by students and artists, definitely remains one of the best areas in Brisbane.
West End is also wonderfully ethnically diverse, which can be a rare delight in many areas of Queensland(!)
If I was going to live in Brisbane, West End would the place.
Discover this area on foot and happily stumble upon great street art, interesting vintage shops and delightful vegetarian cafes.
Discovering the West End is definitely one of the best things to do in Brisbane.
Where to Stay in Brisbane on a Budget
For a budget place to stay in Brisbane, I definitely recommend the Brisbane City YHA near the Roma Street Transit Centre.
I enjoyed a very comfortable night at this centrally located hostel, which was clean and had a great roof terrace.
5 Essential Packing Items for Brisbane
#1 Good Camera – You will be pretty much snapping non-stop in Australia and will need a good camera to do this gorgeous country justice. I highly recommend the Sony A6000, which I use for all my travels and love, not least because it's light, compact and robust!
#2 Good Walking Shoes – There will be a lot of walking in Australia – from cities to national park! Make sure your feet are comfortable therefore with a pair of New Balance Trainers. Perfect for stylish strolling, I love mine
#3 Good Guidebook – I'm still a massive fan of the Lonely Planet Guidebooks and do think their Australia edition is well put together
#4 Good Water Bottle – Travelling in hot old Australia can be thirsty work, so make sure you have a metal water bottle that you can refill as you go, because tap water is drinkable… and free!
#5 Good Sun Hat – And there's no denying you'll need a good sun hat for protection in Australia too. In my opinion, you can't go past this Hello Sunshine one, which is both gorgeous and ideal for keeping the rays off your face.
LIKE IT? PIN IT!
So that's my list of the best areas in Brisbane, Australia.
Have you visited this sunshine city?
What parts of town do you recommend?