Without a doubt, the Algarve in Portugal is one of the best beach regions in Europe, so it's no surprise thousands of us flock there each year to soak up the sun, sea and sand.
But with so many beaches to choose from – be they wide stretches with lots of facilities, or hidden coves that get you away from crowds – how do you know where to head during your holiday?
Well, after spending a week in this beautiful part of Portugal, I'm ready to bring you my list of the 10 best Algarve beaches I experienced.
From family-friendly numbers, to those with great eateries, parking access, wonderful hikes and secluded swimming spots, I've got you covered, so that you can worry less about which beach to head to and, instead, spend more time lapping up the striking views and stunning colours.
Yes please!
So here they are, my list of the top 10 beaches in the Algarve…
---
Related Posts
Top 21 Things to Do in the Algarve
---
This page contains affiliate links meaning Big World Small Pockets may receive a small commission on any purchases at no extra cost to you.
---
#1 Praia de Falesia
Coming in at number 1 on my list of the top Algarve beaches, it has to be Praia de Falesia.
Now forgive me, I may be a little biased, because this is the beach where I stayed at the Algarve, but honestly I think it's hard to top this spectacular stretch of sand.
Backed by amazing, orange-red cliffs and embedded pine trees, this is the perfect spot to take in sunrise or sunset.
Set at the bottom of the Pine Cliffs Resort where I stayed – check out my review here – the beach can be accessed directly from the hotel and, for guests, there's sun loungers here for free!
One of this hotel's top restaurants – Mare – is also located down at this beach too and is open to residents and non-residents alike. If you're looking for a top spot to dine on the sand, this makes an ideal location!
Located between Vilamoura and Albufeira, Praia de Falesia can be easily reached by car, and although it's a fairly steep climb down from the car park, this long and wide beach more than makes up for the effort!
Lifeguards and water activities are offered during the season and given that it's 6km long, you should be able to find a quieter spot here too.
#2 Praia de Marinha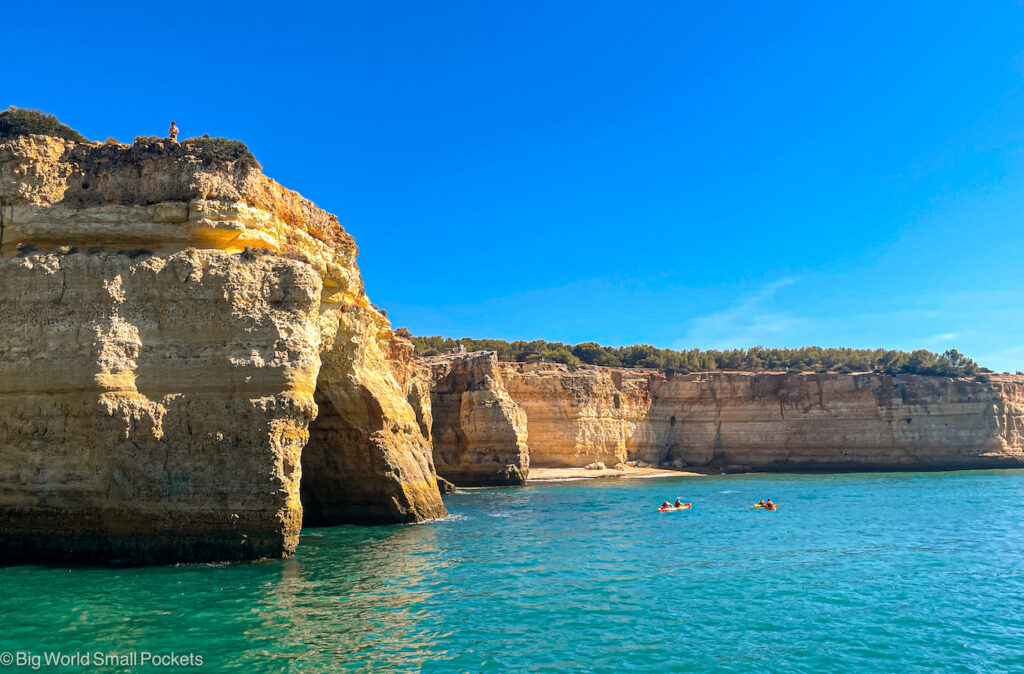 Further along the coast from Praia de Falesia, we reach Praia de Marinha.
I've listed this as one of the top beaches in the Algarve because of the amazing rock formations you can find all along the cliff face here.
Often sailed past if you decide to enjoy any boat tours from Albufeira, you can also access this beach by car.
Even though this beach is quite far from any major towns, due to its amazing landscapes the car park here fills up quickly, so arrive early if you're visiting during the peak months between June and September.
Often listed as one of Europe's top beaches, you can enjoy the lovely sand of this small beach (accessed by a set of steep steps) where loungers are available to rent, but most people come for hiking here as well.
With trails all along the clifftop leading to an array of other small coves and beaches, one of the top talks is the 6km Seven Hanging Valleys Trail from Praia Marinha to Praia Vale Centeanes.
If you are hiking, then you also can't miss the opportunity to see some of the Algarve's other standout natural attractions which are located nearby, including the famous Benagil Caves, the M Rock Formation and the Arco Natural.
#3 Praia de Carvoeiro
Continuing further west, we then come to Praia de Carvoeiro, another stunning Algarve beach.
Located at the foot of the town of the same name (Carvoeiro), this picturesque strip of golden sand is backed by the colourful buildings of this town and local fishermen's boats which bob in the beautiful blue green waters.
Because of the nearby town, there's lots of facilities here, including restaurants, bars, shops and toilets.
Lifeguards are on duty during the main season too and there's loungers to rent as well as a range of water activity equipment including jet skis and kayaks.
The beach itself is crescent-shaped, which generally makes for a calm swimming spot and, if you want to take a stroll, there's a boardwalk here too, which meanders along the coast until you eventually reach amazing caves and rock formations as well as a fortress.
Super pretty and great for photographers, Praia de Carvoeiro is also great for families thanks to the amount of facilities here and in the town above.
#4 Praia Grande
Situated on an estuary, that's also home to the Algarve city of Portimão, Praia Grande is popular with families thank to the safe swimming provided by its sheltered location.
There's a playground, umbrellas for rent and some beautiful sand to build castles with here too!
Shell collecting is also good and there's some lovely rock formations to explore at either end of the beach as well.
With views across the inlet to Portimão, Praia Grande offers 3 restaurants, pedalo hire, a car park that is usually quite quiet.
You can also catch the local bus here as well, which makes it a great choice for those limited to public transport.
#5 Praia Santa Eulalia
Back towards Albufeira we head now for this next entry on my list of top Algarve beaches.
Reached by boardwalks, this stunning sandy number offers exceptional sunset views and, with good restaurants located right behind the beach, if you're looking for a romantic or peaceful evening setting, and / or want to eat your meal to the sound of the waves, this is a great choice.
Restaurant Atlantico gets a special mention here thanks its stunning coastal views, alfresco seating as well as delicious local and international food.
This beach does get busy in the day, but with the bars and water sports and good parking on offer here, it's hardly a surprise!
Calm swimming, toilet facilities and bus access also make this a top choice for locals and tourists alike, but do beware there are, once again, steep steps to get down here from the car park.
You have been warned!
#6 Ilha Deserta
If you're looking for a totally different sort of beach during your time in the Algarve, than Ilha Deserta, located near the region's capital city of Faro, is hard to beat.
An island beach, found amidst the beautiful Ria Formosa Nature Reserve which makes up a large part of the coastline around this city, I reached this beach care of an amazing catamaran tour with iSea Charters.
Deserta Island is 9kn long, but only 1km and is home to just one person – Alves – who lives in the Warden's cottage.
This unspoilt island beach offers pristine sand and superbly clear waters with some facilities, such as lounge and umbrella rental.
There's also a fantastic restaurant here called Estamie.
Bookings here must be made in advance due to the seclusion of this eatery and its fantastic fish dishes.
#7 Praia Dona Ana
A wonderfully sheltered beach ideal for getting out of the wind, Praia Dona Ana is located near the town of Lagos and is definitely a popular spot.
And is it any surprise when Condé Nast Traveller Spain voted it one of the most beautiful beaches in the world in 2013!
Known for its wonderful rock formations and great swimming, the sand here is coarser than other beaches on this list, and while this can be a bit rougher underfoot (meaning many beach wearers here take sand / water shoes for getting into the water), it does mean fantastic shell collecting!
In recent years, Lagos council have recently removed some of the rocks here – apparently to create more space on the beach – so Praia Dona Ana isn't perhaps as striking as it once was – many used to compare it to the beaches along Australia's Great Ocean Road!
That said, it's still one of the top Algarve beaches in my opinion and is a fantastic choice for families and swimmers staying near the Lagos part of this region.
Amenities are good at Praia Dona Ana with toilets, lounges, umbrellas and lifeguards around but, as with many beaches on this list, there's a steep wooden staircase to get down from the car park which is not suitable for buggies, prams or those with mobility issues.
#8 Praia da Rocha
Quiet, Praia da Rocha is not, but if you're staying in Portimão and looking for a beach with great facilities and lots going on, this is definitely a top pick!
Popular and touristy, I'm not going to lie and say Praia da Rocha is a secluded haven but, stretching for miles, it's great for long walks and a top pick if you're looking for restaurants, bars, excursion options and activities.
Views are not as stand out here as they are at many of the other beaches on this list, but if you stroll to the western edge, you can get the best lookouts.
Alternatively, you can cross to the next beach, Praia dos Tres Castelos, through a tunnel in the rocks, to find a slightly quieter spot to enjoy the sand.
#9 Praia do Camilo
Also in the Lagos area, Praia do Camilo is another popular (read. busy spot) with good access.
Actually formed of 2 small beaches, you can get between them via a short tunnel in the rocks.
Views from the clifftop (before you descend to the beach) are breath-taking, so grab some snaps before you head down the steps to the sand.
With stunning high, limestone rock formations in the water, there's a restaurant and toilets by the stairs on the beach, but otherwise facilities are limited.
Lifeguards are on duty and stand-up paddle boards can be rented, but beware that at high tide, the sand space really sinks here and it can be tough to find space for your towel!
That said, swimming and snorkelling are brilliant at Praia do Camilo, so maybe take to the water if you can't find a spot to lie on the beach!
#10 Praia dos Arrifes
And finally, we come to number 10 on this list of the best Algarve beaches.
Praia dos Arrifes is located to the west of Albufeira and is a small beach with wonderful golden sand and great swimming as well as snorkelling opps.
Quite far from the town, you'll need to drive to reach here and the car park is small, so do get here early to grab a spot if you're travelling in the summer season.
You'll also want to book in at the popular Restaurant A Sardinha if you plan on enjoying lunch here!
Close to Praia dos Arrifes, you can also find Praia de Sao Rafael, which offers easy access (there's amazingly no steep steps to get here) and kayak rental, which you can make use of to explore nearby caves.
You can hike between these 2 beaches in around 10 minutes, so if you can't find a parking spot at one, it's worth checking out the other!
Both are stunning and of course offer those oh-so-pretty rock formations so typical of the Algarve region.
Top Travel Tips for the Algarve
When to Visit the Algarve?
I think the best time to visit The Algarve is during the shoulder seasons of May and June, or September and October, when the weather is good, but the prices and crowds low.
How Long to Spend in the Algarve?
I recommend 7-10 days in the Algarve.
Where to Stay in the Algarve?
I highly recommend the stunning Pine Cliffs Resort, which is situated just outside Albufeira.
Read the review of my stay here.
Travel Insurance for the Algarve
World Nomads offers simple and flexible travel insurance. Buy at home or while travelling and claim online from anywhere in the world.
Alternatively, if you're a long-term traveller, digital nomad or frequent remote worker seeking travel health cover, check out Safetywing's Nomad Insurance policies.
Travel Money in the Algarve
The easy way to spend abroad with real exchange rates, no markups and no sneaky transaction fees, I always travel to Portugal with my Wise card.
It works just like a debit card… and links easily with Google and Apple pay – sold! Grab yours here.
PIN IT TO PINTEREST!
So there you have it, my full guide to the best beaches in the Algarve.
No matter whether you've travelling as a family, a couple or alone; looking for solitude, striking scenery or a wealth of activities, these glorious coastal spots have you covered.
Are you heading to the south of Portugal soon?
Have any other questions about visiting the Algarve?
Then don't hesitate to drop them into the comments box below and I'll get back to you…