If there's one thing you can't miss during your time in Australia, it's the chance to experience some of the country's incredible wilderness.
From mountains to deserts, tropical islands to rainforests, the land Down Under has it all.  And wonderfully, much of it is super accessible care of Australia's fabulous national parks network.
We visited tons of them during our great budget 4wd around Australia and think they are both one of the top ways to get off the beaten track in Australia and definitely one of the best strategies for exploring the Land Down Under on a shoestring.
From Red Centre splendor, Great Barrier Reef brilliance, tremendous Tasmania and the Western Australia WOW-factor, here are the 22 Australian National Parks you must see.
#1 Karijini, WA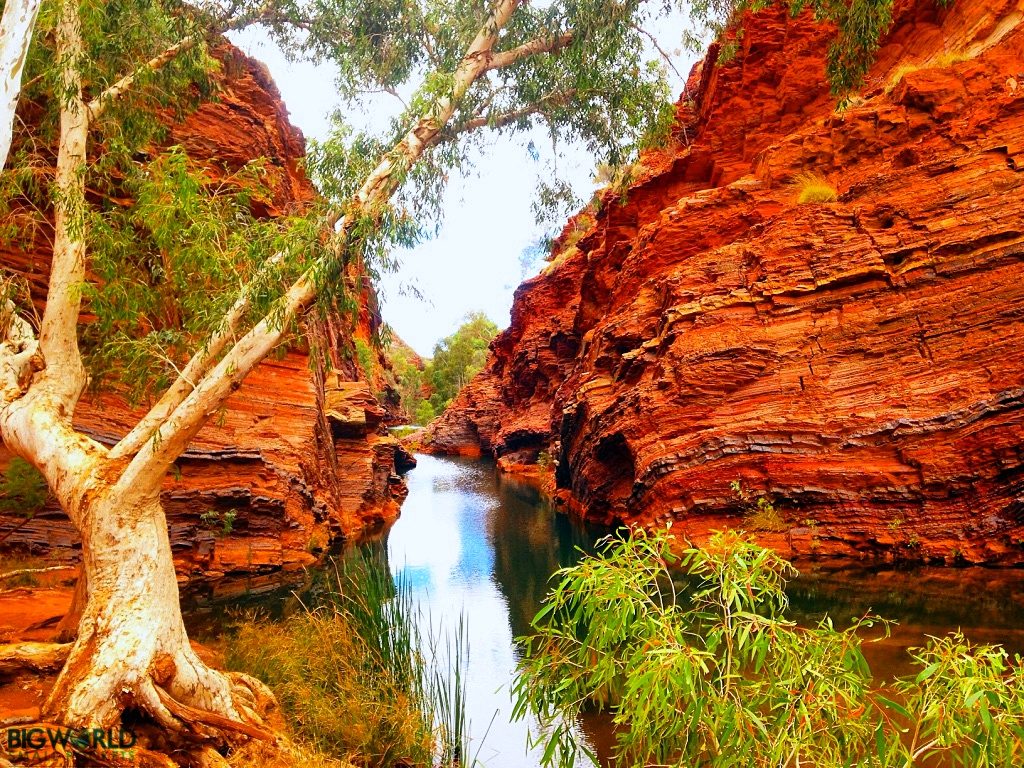 Up in the north of Western Australia, Karijini is renowned for its adventurous swimming holes and breathtakingly rugged landscapes.
Australia's second largest national park, this semi-arid area of the country is best visited during the winter months when the temperatures are sufficiently low enough for you to experience this place at its best.
With awe-inspiring escarpments, beautiful gorges and wicked views, Karijini gives you the choice of 2 good campsites, over 10 hikes and goodness knows how many incredible lookouts!
Must Do: Hike the Spider Walk at Hancock Gorge
#2 Kakadu, NT
Australia's largest National Park, Kakadu is simply enormous and requires at least 3 days to really explore it.
If you're short on time however, then check out the Top 5 Free Things to do in Kakadu National Park I recommend.
From endangered wetlands perfect for bird watching, through to rivers teeming with crocs and waterfalls that beggar belief, Kakadu is the big daddy of them.
No trip here is complete without watching the sunset from Ubirr or swimming at the top of Gunlom Falls, so definitely get this family-friendly giant beauty on your bucket list asap!
Must Do: Make the 4wd drive to Jim Jim Falls and cruise the Yellow Waters at dawn
#3 Whitsunday Islands, QLD
When it comes to images of paradise, the Whitsunday Islands National Park is hard to beat.
These tiny drops of heaven are scattered amongst the Great Barrier Reef and boast perfect white beaches, crystal clear waters and an array of awesome activities.
Be it a sailing tour, a helicopter flight, a camping trip or a snorkeling experience, the Whitsunday Islands really are one of the best Australian National Parks, which must be seen to be believed.
Hotspots include the famous Heart Reef and Hamilton Island, so make sure you have your sea legs on when it comes to soaking up the magic of this destination.
Must Do: Take in the splendour of sunset over Whitehaven Beach
#4 Cradle Mountain, TAS
Part of Tasmania's Wilderness World Heritage Area, Cradle Mountain is an ideal National Park for hikers.
Choose from ranger led-day walks or independent multi-day hikes, both of which will take you through the park's incredible ancient forests and dramatic gorges.
Joined with Lake St Clair National Park, it's Cradle Mountain itself that really dominates this part of the landscape and few can fail to be stunned by it.
If you're a wimp like me, then probably stick to the summer of shoulder months for this one – winter here gets mighty cold!
Must Do: Hike to Marions Lookout for sensational views of the mountain
#5 Blue Mountains, NSW
Starting only an hour outside the bustling metropolis of Sydney, the Blue Mountains feel like a world away.
So called because of the coloured mist the numerous eucalyptus trees here produce, the Blue Mountains make the perfect adventure day trip from Sydney.
Choose from abseiling, hiking, cycling, rock climbing and horse riding, or just admire the view from the famous scenic railway as the wonderful Katoomba Falls pass you by.
Must Do: Snap the famous Three Sisters – Instagram perfection!
#6 Wilsons Promontory, Vic
One thing that everyone whose been to Wilsons Prom always seems blown away by is the intense diversity of this park, which captures numerous different breathtaking landscapes.
From coastal views and secluded bays to rainforest walking tracks and wildlife drives, this National Park is a firm favourite of both Victorians and visitors alike.
Cameras at the ready, when it comes to walking, relaxing and immersing yourself in nature, Wilsons Prom is hard to beat and definitely ranks as one of the best Australian National Parks.
Stay: Tidal River Cabins
Must Do: Attempt the Mount Oberon Summit Walk
#7 Ikara-Flinders Ranges, SA
As the South Australian countryside turns into the expansive Outback, the incredible vastness of Flinders Ranges exerts itself.
Showcasing an astounding spectrum of colours, the Flinder Ranges are a hiker's paradise with rises and valley that seem to extend for miles.
If you're seeking peace and solitude, the Flinders Ranges could be the Australian National Park for you, especially as you'll really need a 4wd to see the most fascinating parts of this remote wilderness.
Must Do: Admire Rock Art at Arkaroo
#8 Litchfield, NT
Near the small, sleepy town of Batchelor in Australia's Northern Territory, is the wonderful Litchfield National Park.
Showcasing some of the area's largest termite mounds – seriously you can't believe how huge these are! – as well as great cascades and swimming holes, Litchfield National Park makes an ideal day trip from nearby Darwin.
Or stay a little longer by camping in the park and explore some of its fantastic hikes and 4wd tracks.
Stay: Wangi Falls Campground
Must Do: Swim at Florence Falls
#9 Kalbarri, WA
Just north of Geraldton in Western Australia, Kalbarri National Park showcases some of the state's most beautiful scenery and, at the right time of year, some of its most fabulous wildflower displays too.
Divided between 2 main parts, the inland section of Kalbarri is centered about a mighty twisting river gorge. With some wonderful walking tracks and photographic lookouts, this park makes for a fantastic day trip.
The coastal section of Kalbarri National Park features towering cliffs that loom over a windswept coast. The scenery up and down the land's edge is stunning and you have a good chance of spotting passing whales and dolphins too.
One of the most accessible National Parks on this list, accessible by all types of vehicle, Kalbarri National Park beautifully highlights the best of Australia's Coral Coast.
Must Do: Photograph Nature's Window!
#10 Carnarvon Gorge, QLD
The incredible Carnarvon Gorge National Park is little known by tourists, making it one of Australia's best-kept secrets.
Teeming with wildlife, awesome walking, aboriginal rock art and stunning lookouts, this tropical oasis is well worth the trek into Queensland's remote Central Highlands.
You can read more about this hidden gem in our Ultimate Guide to Carnarvon Gorge National Park, but safe to say we were blown away by this place and really couldn't recommend it enough if you are looking to explore the enormity of Australia's beauty off the beaten track.
Must Do: Hike to The Bluff for Sunrise
#11 Port Campbell, VIC
At the heart of the world-famous Great Ocean Road lies Port Campbell, perhaps one of the most iconic Australian National Parks.
For anyone that's ever seen a picture of the 12 Apostles, being greeted by these huge natural statues in real life is just as much of a breathtaking experience as you'd expect and one you're bound to remember.
The wonderful Lord Arc Gorge and London Bridge are also contained within the park's boundaries and between them, they really display the immense power and strength of nature on this wild edge of Australia.
Must Do: Marvel at the famous 12 Apostles
#12 Freycinet, TAS
Home to the iconic Wineglass Bay, Freycinet National Park on Tasmania's east coast is certainly one of the country's finest.
Camping and eco-retreat accommodation are both available within the park's boundaries, so it's well worth staying a few days here to really experience the full splendor of this unique location with its white sand beaches and abundant wildlife.
Be it photographing the pink granite peaks at dawn or hiking to the Wineglass Bay Lookout, this is a special place that shouldn't be missed.
Must Do: Discover the secluded cove of Honeymoon Bay
#13 Kosciusko, NSW
Containing Australia's highest point, this can be a cold and wintery National Park, located within the well-titled Snowy Mountains of Australia!
The beauty is however, that you can drive quite close to the summit of Mount Kosciusko, making the hike up there slightly more manageable at only 9km.
Do make sure you come prepared with the suitable gear for adventure to this national park and make sure you pick an appropriate time of year! The summit walk is only open from May-September, so this is definitely one of the Australian National Parks to visit in the summer.
Must Do: Take in the views from the summit
#14 Uluru-Kata Tjuta, NT
At the heart of Red Centre lies the iconic Uluru-Kata Tjuta National Park, home to Australia's most famous monolith.
The huge mound of Uluru (formerly known as Ayres Rock) sits at the heart of this massive reserve and truly has to be seen to be believed.
Alongside it is the slightly less famous, but no less striking, Kata Tjuta – an incredible rock formation just as beautiful as its larger cousin.
Get up early here to photograph the sunrise over both of these majestic structures and then enjoy walks around them that really highlight the best of this wild landscape.
Must Do: Hike the Valley of the Winds Walk at dawn
#15 Great Sandy (Fraser Island), QLD
Hot on the list of every backpacker, and for good reason, is the World Heritage site of Fraser Island, part of Queensland's Great Sandy National Park.
The world's largest sandbar, I always describe Fraser Island as being like a huge natural theme park for adults!
From stunning freshwater lakes to lazy-river experiences and close encounters with dingoes, Fraser Island is a non-stop adventure all completed in a crazy 4wd blur! You can check out my
Check out my recommended highlights when it comes to the best things to do on Fraser Island here.
At the end of the day, camp under the stars and relish the perfection of the night skies here!
Must Do: Bath in the stunning-coloured waters of Lake McKenzie
#16 Purnululu, WA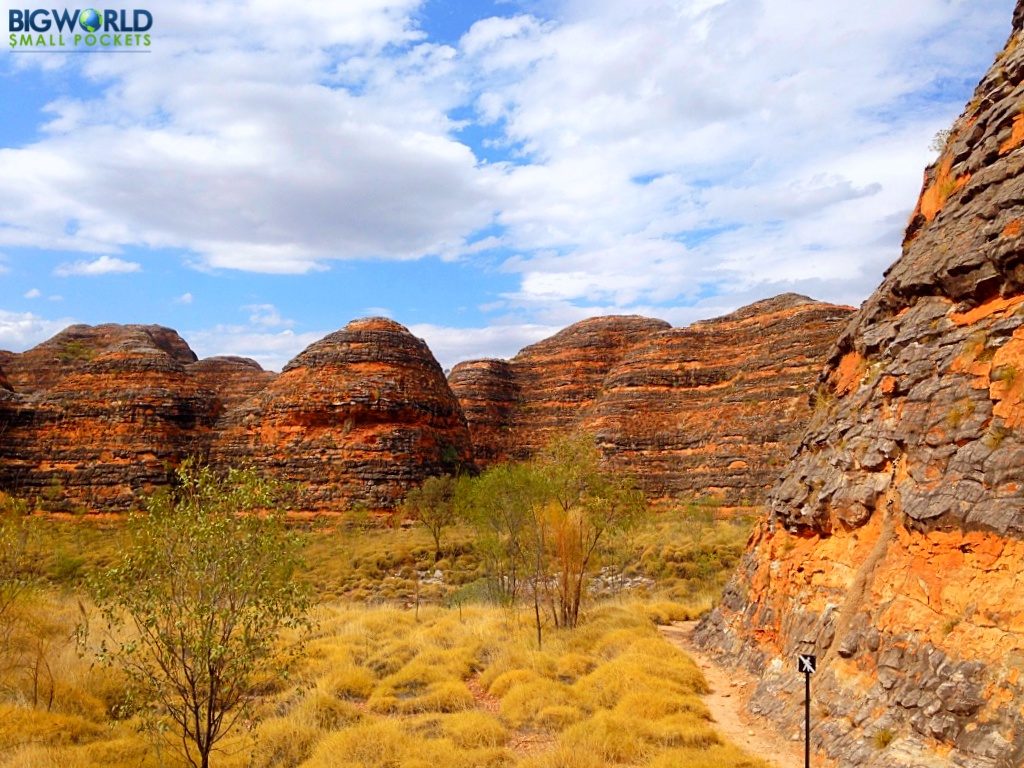 Also known as the Bungle Bungle, this remote example of Australian National Parks does take some getting to!
The easy option is a helicopter ride over the famous beehive-like domes of the park, or you can battle one of the worst roads in Australia, like we did, to spend a few days here at ground level.
Braving the drive is worth it however, when you get to see the incredibly striped rock formations close up as you hike in and around them.
You'll also get the chance to see the incredible Cathedral Gorge too, which is just as mesmorising.
Must Do: View the beehive domes in all their splendor
#17 Dorrigo, NSW
Dorrigo National Park sits high up in the New England area of New South Wales, but can easily be accessed from the nearby town of Coffs Harbour.
What this place is famous for is its waterfalls, so bring a rain jacket if you planning on heading here!
With a great skywalk platform that gives stunning views over this forested, mountain area, Dorrigo is highly accessible.
The drive onwards up through the Waterfall Way is also well worth it and, if you have the time, so is the nearby Cathedral Rocks National Park which features an amazing boulder-strewn landscape.
Must Do: Take in the Skywalk views
#18 Katherine Gorge, NT
Also known at Nitmiluk National Park, this preserved area of the Northern Territory actually features 13 gorges that have been carved into the landscape by the river here over millions of years.
The result is a stunning oasis in the middle of an otherwise arid, barren landscape. This makes Katherine Gorge a highly sacred place for indigenous communities and local wildlife alike.
I recommend 2 days in this park to hike the Southern Walks and undertake a cruise or a canoe up the gorge if funds allow.
May-September is definitely the best time to visit if you want to avoid the scorching temperatures!
Check out my Ulitmate Guide to Katherine Gorge National Park here.
Must Do: Hike the Southern Walks as far as Butterfly Gorge – possible in a day if you start early.
#19 Daintree, QLD
Home to the famous Mossman Gorge, the Daintree National Park is a glimpse into the life of a tropical rainforest at its best.
A drive and ferry ride north of the town of Port Douglas in the state's tropical north region, the Daintree feels like a real retreat from civilisation.
As a UNESCO World Heritage Site, this hot and humid area is teeming with life and exotic plants. The Great Barrier Reef runs alongside it, so there is plenty to explore both on land and at sea.
Choose from walking tours, 4wd adventures or cultural insights into how indigenous Australians lived in harmony with this unique ecology for thousands of years.
Must Do: 4wd the Bloomfield Track for dome hair-raising adventure
#20 Ningaloo Reef, WA
Now who in their right mind would want to pass up the opportunity to dive with whale sharks amidst the stunning tropical waters of Western Australia?
Certainly not me and that's why heading to Ningaloo Reef is easily one of the best experiences I've had in the Land Down Under.
This World Heritage Reef is so close to the shore that there's plenty of opportunities for you to spot dolphins, dugongs, rays, turtles and tropical fish, as well as the wonderful whale sharks, from one of the many boat trips.
In terms of access, Exmouth is the bigger access town with more going on, more boat trips and more dive companies.
Coral Bay just down the road is just a small beach hamlet, but the place to head if you want to see the giant manta rays.
Must Do: Take a dive or snorkel trip out to the reef.
#21 Boodjamulla, QLD
Another hidden beauty tucked away in one of Queensland's most remote area, Boodjamulla is an absolute winner in the league table of Australian National Parks.
Far up in the north of the state, the park makes a great stop if you are travelling the Savannah Way or towards Mount Isa.
With superb hiking, aboriginal rock art, kayaking opportunities and the best campsite ever, Boodjamulla should not be underestimated!
Check out our Ultimate Guide to Boodjamulla National Park if you're thinking of making the trek to this secret gem!
Stay: Boodjamulla National Park Campground (book in advance)

Must Do: Enjoy a swim under the Indarri waterfalls with the freshies!
#22 Cape Range, WA
And last, but by no means least, is one of the most fabulous coastal areas when it comes to Australian National Parks.
Cape Range may have been a little windswept when we were there, but that didn't take away from the magnificent coastline you can enjoy in this stunning preserved area.
Situated between Exmouth and Coral Bay, camping just back from the ocean here and enjoying days of relaxed beach time is what Cape Range is all about!
And Turquoise Bay really does have to be seen to be believed!
Stay: Cape Range National Park Campground (there's tons of different sites to choose from)
Must Do: Spot an emu!
Pin it to Pinterest!
So there you have it, the most amazing 22 Australian National Parks you must see.
Which ones have you been to and which ones were your favourite?
Let me know in the comments box below.
This page contains affiliate links meaning BWSP may receive a small commission on any purchases.