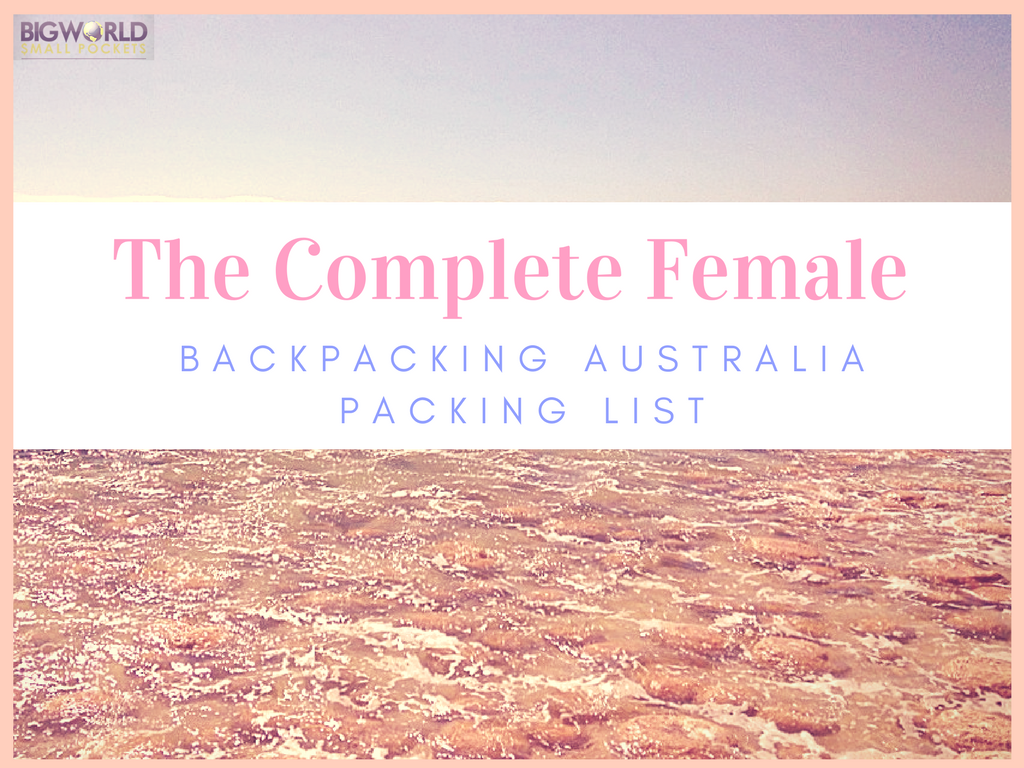 Unbelievable I know, but Australia isn't just a massive island of bouncing kangaroos and eternal sunshine.
Ok, well it is a massive island and there are a lot of kangaroos, but this place is seriously diverse and you'll probably be surprised when you get here to discover the range of climates and cities you're likely to experience.
As such, taking a read of my complete female backpacking Australia packing list, will definitely make sure you're prepared when it comes to your time Down Under.
It's designed for us ladies who want to travel light (especially when we have to carry their bags on our backs!) and broad enough to cover your whole time in Australia whether you're sticking to the cities or planning on getting remote in the Outback too!
And to help you even further, I've also included a free downloadable version of this female packing list at the bottom of the page, so that you easily refer to it whenever you're trying to decide what to take!
So, what are you waiting for girls? Get yourself ready for a trip of a lifetime with my ultimate female backpacking Australia packing list.
Clothes
1 Rain Jacket //

Who knew it rains in Australia?! News flash, it definitely does! If you want to learn about some more surprises you might experience, then check out my post about the 10 Things I Never Realised Before Coming to Australia.
1 Thick Hoodie or Sweater //

Essentially for evenings and winter days, especially down in Melbourne or Sydney! Trust me people, it ain't always sunny in the Land Down Under
1 Cardigan or Shirt //

Helpful in the evening and /or if you want something a bit smarter
1 Pair Leggings //
One of my travel essentials, ideal when you're exploring National Parks, hiking, camping etc. Also good under a casual dress or shorts. If you have room, take 2 pairs!
1 Long Jeans //
Great for going out in the evening or wandering around cities when shorts won't do
2 Pair Shorts //
Well you're going to need something for those beach days right?
1 Pair Exercise Pants / Shorts //
You'll quickly get used to the very outdoors and active lifestyle in Australia and, sooner or later, will definitely want to join in, so come prepared! I love my Nike Crew Dry Running Shorts for this purpose.
1 Summer Dress //
A great item for beach days or if you want to spruce up a bit
2 Sarongs //
You can't take enough sarongs travelling in my opinion and, as they are so light, I recommend 2 as a minimum. Perfect for using as a beach towels, a scarf, a bathrobe, a sheet, a laundry bag … the list goes on. Check out my post about the 20 Reasons Why You Should Always Take a Sarong Travelling for more details
6 Singlets or T-Shirts //
Choose a range of colours that match the trousers /shorts you've selected. Things get hot in Australia and tops get sweaty, which is why I recommend so many!
1 Quick-Dry T-Shirt //
Good for exercising or exploring the great outdoors. Go for a T-Shirt, rather than a singlet here, as this will protect your shoulders from sunburn when outside.
6 Pairs Underwear //
Small and compact will save you a lot of washing to have a few extra pairs
2 Bras //
Try to go 1 if you think you can and make extra use of your bikini or sports bra instead
1 Sports Bra //
Compact and quick to dry
2 Bikini / Swimwear //
Well you need something to enjoy those fabulous Australian beaches with, that's for sure. Hopefully they'll get so much use, you'll see packing 2 pairs as worthy of the space in your backpack!
3 Pairs Socks //
1 normal pair for outdoors stuff, 1 ankle-length pair for city days and another backup
Nightwear //
You can always double up on your day wear here to save room if needs be
1 Sun Hat //
Whether you want to bring a cap or a floppy, large designer number, the choice is yours. Just make sure you bring a sun hat of some description because that Aussie sun sure does burn!
---

Shoes
1 Pair Trainers //
Versatile, comfortable and essential if you want to see the natural beauty of this country at all
1 Pair Flip Flops //
Also bizarrely known as thongs, these guys are basically the national dress of Australia and therefore essential!
1 Pair Smart Sandals or Flats //
Nonessential in my book, but many people like to take them especially if they are spending a lot of time on a city
1 Pair Day Shoes //
Either converse, pumps or sneakers for exploring cities and towns on foot while looking a bit more stylish than running shoes!
---

Toiletries
1 Thin Toiletries Bag //
To hook or not to hook, that is the question! Either way just make sure it is light and thin.
1 Shampoo & Conditioner //
Small travel bottles available, although these are pricey
1 Deodorant //
I always prefer a natural crystal deodorant as they last forever
1 Toothbrush, Toothpaste, Floss //

1 Soap //
Keep in ziplock bag to prevent from getting soap slime on everything you own!
1 Razor & Spare Blades //
1 Nail Scissors & Nail File //

1 Tweezers //

Travel Handwash //
Great for doing emergency washing, such as underwear in a sink!
Cotton Buds //

Hair Bands //
Glasses and Contact Lenses //
If you wear them of course!
---

Medical
1 Natural Sunscreen //
I always a chemical-free sunscreen of 30 SPF or higher for those hell-strong Aussie rays
1 Aloe Vera  //
This doubles as a great moisturiser, soother and aftersun
1 SPF Lip Salve //
Very important for those high-altitude conditions
1 Natural Bug Repellent //
See my post about How to Make Your Own Cheap DEET-Free Insect Repellant or else there are plenty of ready-made products on the market
1 Tiger Balm //
An ideal remedy for headaches, sore muscles and insect bites
1 Tea-Tree Essential Oil //
A powerful antiseptic, anti-mould, anti-fungal cleaning agent. Also great to throw in a few drops with your washing and ideal for freshening up smelly bags / laundry etc. Also comes from Australia, so double points there!
1 Eye Mask & Earplugs //
Key for sleeping on long bus journeys and in hostels
1 Box Paracetamol, 1 Anti-Septic Cream & 1 Box Band Aids //
The only medicine you need to take
1 Moon Cup //
A Moon Cup or Dive Cup is the best way to deal with your time of the month when travelling ladies
Safety Pins //
Always handy
---

Other
1 Travel Towel //
I always recommend Sea to Summit because they are only brand that I find don't get smelly after all. I love them!
1 Day Pack //
Good for hiking and beach days
2 Books //
Swap them when you are travelling to keep your bag light
1 Notebook & Pen //
1 Combination Padlock //
Very useful for locking up bags and valuables when staying in hostels. Go Travelones are super
1 Multi-Tool //
Lots of people say you don't need this, but I find it very helpful. Choose a light, inexpensive one and make sure it has a bottle opener, corkscrew and knife
1 Pair Sunglasses //
1 Water Bottle // Try to get a metal one and steer any from those nasty plastic
1 Sleeping Bag //
If you're hiring a campervan or going remote these are great. Check out my top-rated backpacking sleeping bags for some great ideas
---

Electrical
1 Laptop / Tablet //
Internet cafes are a dying breed in Australia, so it is a great idea to bring your own device to Australia and quite safe too
1 Camera, Lens, & Charger //
You can't go wrong with a good old GoPro,, if you're looking to capture all that Aussie action!
2 Memory Cards //
Take large memory cards if possible and double up in case you lose one or fill it up
1 USB Stick //
Very helpful for backing up photos and important info
1 Adapter //
How you going to charge otherwise? Australia and New Zealand have the same type of plugs, so you can get one just for this area. However, I also recommend splashing out on a worldwide adapter – better value for many if you're travelling elsewhere after Australia or anytime in the future! Skross are a great brand that I highly recommended.
1 Headlamp & Spare Batteries //
Never travel without a headlamp and try to choose a product that uses commonly found batteries and has a red night light function. I love this one from Black Diamond.
---

Documents
Passport & Photocopies //
Flight Tickets //
Visa Documentation //
Mostly it's done electronically in Australia and tagged to your passport, but it is helpful to bring your reference number and any paper documentation you have too
Immunisation Documentation //
Always good to have with you anyway
Travel Insurance Policy //
Can't go wrong with the excellent service offered by World Nomads Travel Insurance in my opinion
Credit Card and Debit Card //
Cash in Small Thin Purse
Pin it to Pinterest!
So that's it, my complete backpacking Australia packing list.
Download your free version by simply entering your email address below and make sure you don't turn up on the other side of the world over packed but underprepared!
This page contains affiliate links meaning BWSP may receive a small commission on any purchases.
Save
Save
Save
Save
Save
Save
Save
Save
Save
Save
Save
Save
Save