Amman in Jordan is possibly the most chilled capital city I've ever been in!
Arriving here from Cairo, I could scarcely believe it when I woke up to find myself in the most, relaxed, stress-free and quiet of capitals, where life rarely even seems to stir before 10am!
But when it does get going there's a surprising amount to do in this cute city and with it being so small most things are even within easy walking distance – my favourite!
As such, I actually ended up spending over a week in Amman (ha!) and while you might not hang around for that long, it's likely that you'll spend at least a few days in this city on your arrival in and / or departure from Jordan.
But, a word of warning!
Most travellers start by saying they'll spend just a few days in Amman, but as they relax into this country's way of life and inevitably meet other travellers in this Middle Eastern hub, it's amazing how the days roll into each other!
So if Jordan is on your travel horizon, check out these 10 budget-friendly things to do in Amman – the perfect backpacker companion to your time in this very loveable capital.
---
Related Posts
---
This page contains affiliate links meaning Big World Small Pockets may receive a small commission on any purchases at no extra cost to you.
---
#1 Explore the Souk
Amman's lovely Souk sits in the centre of town and is a great place to pick up, well, just about anything you could need!
With an amazing array of fresh fruits and veggies, nuts and dried fruits, clothes, electrical bits and beauty products, it's the place to head if you've forgotten anything when you packed!
There's also some wonderful coffee shops situated within its many streets and taking time to refuel at one of these and watch the action pass you by is a great way to get into the spirit of Amman.
And it goes without saying, that the photo opps in this Middle Eastern market are pretty good too!
#2 Visit the Blue Mosque
Visiting the Blue Mosque in Amman, otherwise known as the King Abdullah Mosque, is definitely one of the best things to do in this city.
Holding an impressive 7000 potential worshippers, this gorgeous structure is the only mosque in the city that welcomes non-Muslim visitors.
Heading here may give you your first direct insight into the primary religion of the Jordanian people and the blue dome that gives this mosque its nickname is very beautiful indeed.
#3 Climb to the Citadel
One of my favourite budget-friendly things to do in Amman is to climb up the Roman Citadel, which sits on a hill peering down over the city.
And while the ruins of this ancient outpost are ok, it's really the views from its elevated position that make it worth the hike!
The cheapest way to visit Amman's Citadel is with the Jordan Pass – an online attraction ticket you should buy in advance of your visit to Jordan.
Including your visa fee, free entry to Petra, as well as a while heap of other attractions around the city, such as the Citadel, with the Jordan Pass, you can get in to here for free!
#4 Discover the Amman Museum
Jordan's newest museum sadly isn't included in the Jordan Pass, but it's well worth the reasonable entrance free and is certainly one of the best budget-friendly things to do in Amman.
With tons of interactive displays, interesting exhibits and its trump card – some of the Dead Sea Scrolls – this is the one museum you should definitely visit if you're interested in learning more about the incredibly rich history of the country of Jordan and its people.
#5 Marvel at the Roman Theatre
Sticking with the history vibe, checking out the extremely well-preserved Roman Theatre, which literally sits in the heart of this capital, is a great budget-friendly thing to do in Amman, especially if you have the Jordan Pass, because then again, entry is free!
If you're staying at Jordan Tower Hostel, then the Roman Theatre is literally next door, otherwise it's a few minutes walk from the main street and the Souk.
There's a small museum attached to the theatre included in the entrance price and while the signage isn't great (this is Jordan after all), it's amazing to be able to scale the seats and stalls of a place that humans have been visiting for hundreds of years.
#6 Snap the Colourful Streets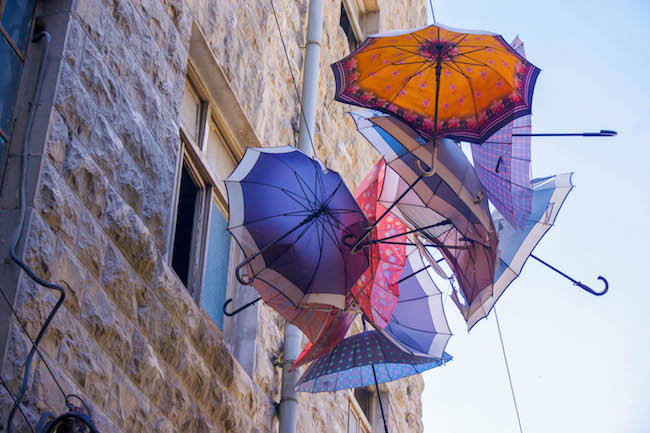 There's some really fun and funky streets to discover in Amman and just taking yourself for a wander in the city can be a great way to stumble upon them.
If you weren't aware, Jordan is built across a series hills and this, combined with the thin, winding and often cobbled streets, means getting lost is almost guaranteed.
But that's ok, because this safe city is kind of the perfect place for it and, in doing so, you never know what beautiful treats you might stumble upon.
My favourite was the umbrella stairway – let me know if you find it too!
#7 Treat Yourself at Wild Jordan
One of the city's best cafes, a trip to Wild Jordan is one of the must-do things in Amman.
Not super easy on the budget to be fair, it is worth however stopping by even just for a juice or a coffee to take in one of the best views of the capital.
A non-profit organisation that supports many of Jordan's national reserves and promotes environmental issues, Wild Jordan do a great job and it's worth supporting them.
Plus, their café makes for a great digital nomad spot and the staff will happily let you sit there and work for hours… trust me!
#8 Feast on Hashem Falafels
And while we're on the food vibe, it's hard to talk about budget-friendly things to do in Amman without mentioning the famous Hashem eatery.
Supposedly a favourite of the King of Jordan, this long-standing family kitchen is renowned for its amazing falafels and I can definitely testify to the fact they are delicious.
Served night and day and accompanied by yummy hummus, tea and ful, tucking in for a least one meal here while you're in Amman is almost a rite of passage!
#9 Day Trip to Jerash
Ok, so granted this one isn't in Amman itself, but Jerash – an incredibly well-preserved Roman City – is just an easy bus ride away and is a must-see in Jordan.
It makes for an easy day trip from the capital, but do set out early in the morning as you'll want at least a few hours to explore all of these amazing ruins.
Of course, the local minivans that run to Jerash also don't depart until they all full, so heading here early will give you plenty of time if the journey does take a bit longer than you'd hoped!
#10 Float at the Dead Sea
Another out of town suggestion, I couldn't resist squeezing this one in as it really was a highlight of my time in Amman.
Honestly, who knew floating could be so fun!
Hard to get to on public transport however, the best way to float in the Dead Sea is one of the budget-friendly tours organised by Jordan Tower Hostel.
This hostel groups backpackers together and arranges a driver and transport too, making it the best and easiest way to experience this crazy salt lake for yourself.
Also included in the Jordan Towers Dead Sea trip are the nearby sites of Mount Nebo and the Madaba Mosiacs, as well as some seriously panoramic drives and lookouts.
Paired with a local driver, the tours are also a great way to learn more about regular life in Jordan and to get some top tips on the best places to eat, shop and drink tea!
PIN IT TO PINTEREST!
So there you have it, my list of the best 10 budget-friendly things to do in Amman, the capital of Jordan.
Is this little Middle Eastern beauty on your bucket list yet?