Layer upon layer, story upon story, history upon history, stone upon stone, the city of Jerusalem has been built conquered, torn down and rebuilt perhaps more than any other in the world.
It's impossible for a short-term traveller here to even begin to start peeling back the complexity of this city, but I hope this Jerusalem itinerary will give you a chance to stand and see it and feel it.
Because this you can do.
Jerusalem is so rich and so deep and so entwined and so entangled; a confusion of cultures and cuisines, cobbled streets and close quarters that seem to blend and divide all at once.
I've never got so physically lost in a place as I did in the city of Jerusalem and I'm sure I've never been so lost for words to describe a place either.
I think the 2 go hand in hand.
But confusion is ok. Questions are ok. Curiosity is ok.
And here, to help you soak it all in, is my top Jerusalem itinerary for those on a budget.
---
Related Posts
---
My tour to the West Bank was kindly sponsored by Abraham Tours, but as always, all views are my own.
This page contains affiliate links meaning Big World Small Pockets may receive a small commission on any purchases at no extra cost to you.
---
Day 1
Arrive into Jerusalem and check into your accommodation.
I suggest staying in the new city centre, which has tons of great budget options like Abraham Hostel that are conveniently located near the Light Rail Train line.
Once you've settled in, take the first day of your Jerusalem itinerary to explore the fascinating new city of this ancient capital.
Hit up Jaffa Street for its shops and bars or the lovely pedestrianised Ben Yehuda Street to enjoy sitting at one of the great cafes or juice bars and people watching.
I really love the amazing bookstore / café called Tmol Shilshom, which is just off Jaffa Street and provides great coffee and delicious food amidst a bohemian and youthful atmosphere
The nearby Zion Square is also a great place to take it all, with regular fabulous buskers performing here and the new city also boasts a plethora of urban art to explore in its bustling streets.
Later on, head to the awesome Mahane Yehuda Market.
Packed full with all sorts of delicious treats, including some of the most amazing halva I've ever tasted, you can pick up some scrumptious fresh, local produce here for some great prices.
In the evening, this market is also worth a visit when all the trendy hipsters descend to its pop-up bars and restaurants to drink beer and eat yummy food in a lively and casual atmosphere.
Day 2
Today is the day in your Jerusalem itinerary to explore the Old City.
Start early and set aside a whole day for this… you're going to need it!
A great way to get to grips with this place is to take a free tour, which run daily and normally meet at Jaffa Gate.
As a super introduction to the winding streets of this city, its main sights and its history, a free tour is an ideal way to try and begin understanding this hugely rich and complex destination if you're on a budget.
As part of the tour, you should take in the 4 quarters of the city – Armenian, Muslim, Jewish and Christian – as well as the most important religious landmarks here including Temple Mount, the Western Wall and the Church of the Holy Sepulchre.
After the tour, return to these spots to explore them more (trust me, you'll want to) and then also make sure to take in the ancient ruins and cardo of the city, as well as its markets, gates and rooftop views.
The Via Dolorosa – the supposed path Jesus walked to his crucifixion – is also worth exploring.
Everything in the Old City is free to enter – a great thing for budget travellers.
Bringing your own lunch and water is a good way of keeping costs even lower here.
Day 3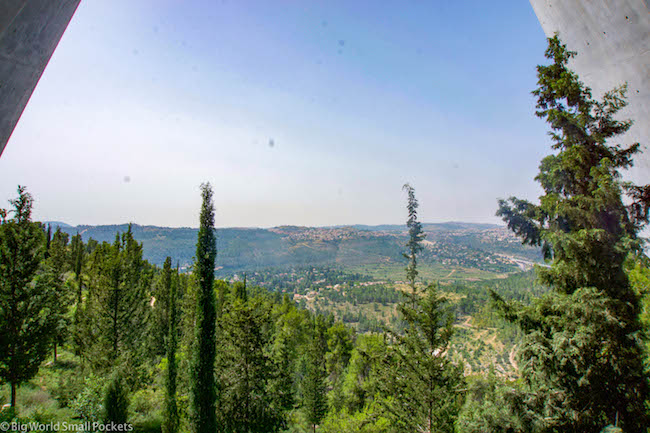 On the third day of your Jerusalem itinerary, I suggest heading to check out the city's fabulous array of museums.
Start off the Yad Vashem – Israel's official memorial to the victims of the Holocaust.
You'll want to allow a whole morning for this huge, information-packed and emotionally-draining memorial.
Situated a little out of the centre, the cheapest way to get to Yad Vashem is to take the Light Rail Train to Mount Herzl Station and from there, pick up the free shuttle service to the memorial.
Entrance is free and the grounds and views from the elevated location are also beautiful.
Spend the rest of the day exploring the Museum on the Seam, which is a controversial art space with revolving exhibitions located on the border between East and West Jerusalem.
Follow this with the Israel Museum, which boasts the Dead Sea Scrolls, as well as a huge archaeological wing, among its many treasures.
Day 4
This is the day to head out of the city of Jerusalem and expand your horizons by venturing across to the West Bank.
If this is your first foray into the Palestinian Territories, it's probably a good idea to take a guided tour to help you navigate the transport and security.
Abraham Tours offer some fantastic options for budget travellers and will pick you up and drop you back in Jerusalem at the beginning and end of your day.
Their full-day West Bank Tour will allow you to see the cities of Jericho, Ramallah and Bethlehem, or you can just choose a half day trip to Bethlehem if you're a little short on time.
Well organised and with informative local guides, having a professional explain to you the significance of what you're witnessing in these places really does add to the grandeur of this most ancient and troubled landscape.
Make sure you book direct for your Abraham Tour here to get the best prices.
Day 5
If you make it to Day 5 of your Jerusalem Itinerary without running out of steam, you're doing well, so why not spend a relaxing morning exploring the famous Mount of Olives.
With amazing views of the Old City from the summit here, it's best to visit earlier rather than later for the top snaps.
There's also many important religious sites on the Mount of Olives including the Church of Ascension, the Garden of Gethsemane and the Tomb of the Virgin Mary, as well as a Jewish cemetery that has been here since the age of the First Temple in Jerusalem.
In the afternoon it's time to bid your farewell to Jerusalem and start the journey to your next destination.
With an Extra Day for Your Jerusalem Itinerary
With another day up your sleeve in Jerusalem, I'd highly recommend taking the Abraham's Hebron Dual Narrative Tour.
A unique insight into this divided town, which is a sacred location for both Muslims and Jews, this tour gives travellers the opportunity to meet both the Jewish and Islamic communities that live in Hebron, to hear their stories and see what life is really like for them.
Had I any more time in Jerusalem, this is almost certainly how I would have enjoyed my last day, and I highly recommend making enough time for this trip if your schedule allows it.
And if you're a solo female backpacker in Israel, like I was, then check out this great article from my friend Melissa that has all the info you need.
When to Visit Jerusalem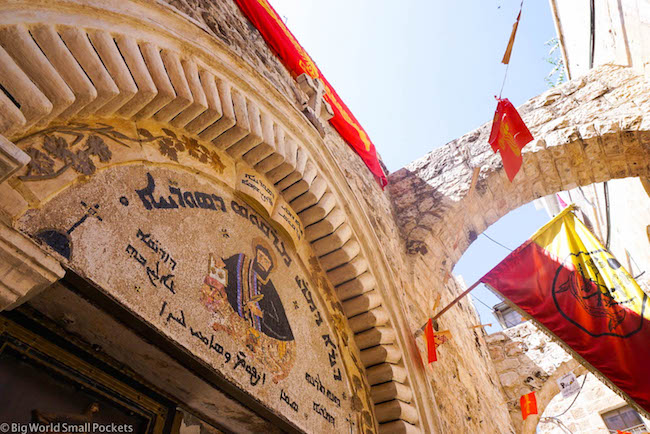 No question in my mind that you should definitely visit Jerusalem during the spring and autumn seasons i.e. from April to May and September to November.
This will allow you to get the most from the city without being either too hot or too cold!
How to Get There
Most people access Jerusalem by flying into Tel Aviv.
As always, I use Skyscanner to find the best prices.
If you are crossing into Jerusalem overland from Amman in Jordan check out this post that details all the in's and out's of crossing this border.
Travel Insurance for Jerusalem
I wouldn't dream of travelling anywhere these days without proper coverage and always recommend travel insurance from World Nomads which I've used during my time in this country and across the world.
World Nomads are actually one of the few companies that will insure you for a huge range of outdoor activities as standard – essential for a country like Nicaragua.
Alternatively, if you're a long-term traveller, digital nomad or frequent remote worker looking for travel insurance with Covid-19 cover, then look no further than Safetywing's great Nomad Insurance policies.
These guys will cover you at some seriously great prices, including if you have to quarantine!
5 Essentials to Pack For Jerusalem
#1 Israel and Palestine Lonely Planet – A great guidebook for the maps and background info on this layered and complex city.
#2 Camera – I highly recommend the Sony A6000 mirrorless camera, which is small, compact and ideal for adventurous travellers.
#3 Walking Shoes – There's gonna be a lot of sightseeing in Jerusalem, so good day shoes are a must. I love my New Balance trainers, which are city friendly and super comfy.
#4 Modest Clothing – If you're visiting Temple Mount or some of the other important religious sites in this city, come prepared with at least one long-sleeved, long-legged and shoulder-covering set of clothes.
#5 Small Day Backpack – With long days on your feet in Jerusalem, having a backpack to house your camera, sunscreen, water, snacks and maps is a must here and the Bobby Anti Theft Backpack is ideal for the job – I can guarantee it!
PIN IT TO PINTEREST!
Travelling to Jerusalem – a city we've heard so much about at school, in the news and through our culture – is almost otherworldly.
A place that becomes linked to so many stories and myths in our minds, it's easy to forget it's a real place, with real people.
But I guess that is exactly the richness of travelling in Jerusalem, for this is truly a place that raises more questions than it answers and more confusion than it clarifies.
I hope this Jerusalem itinerary will allow you to feel that too.