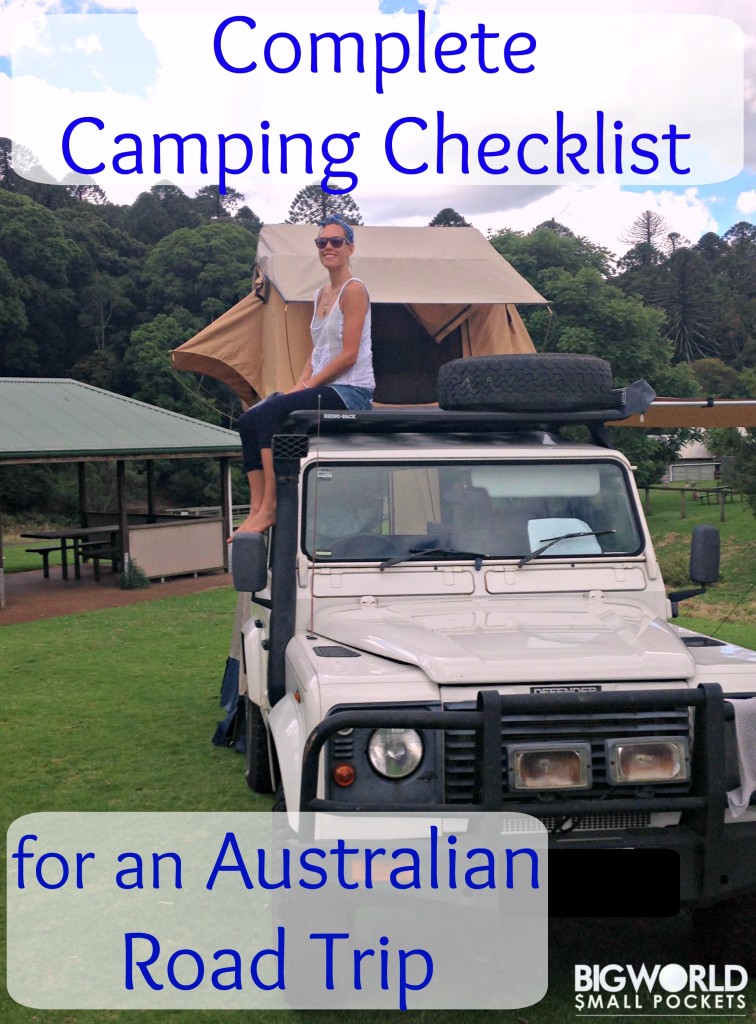 Having just returned from another beautiful camping road trip away in one of the gorgeous Australian National Parks, I thought it was about time I compiled a camping checklist for adventuring out into the wilderness in this massive country.
Like normal, the recent road trip to the beautiful Bunya Mountains National Park, was a bit of a last minute decision, involving very little preparation or planning. If we get 2 days off together we normally just grab it! As such, we very often forget something or somethings!
This time it was head torches (head lamps!) we forgot – a pretty crucial component of camping in the middle of nowhere! So frustrating! I immediately decided I need to write a camping checklist so that on our next Australian road trip adventure we don't forget anything.
Hopefully this camping checklist will also help you if you're looking to adventure out into the beautiful countryside of Australia. If you haven't camped Down Under before there might be a few surprise elements here you hadn't thought about, so get reading, get packing and get out there!
Fire & Lighting
First up, heat and light! They are a crucial part of any camping checklist.
Considering Taking:
Head Lamps
Firewood / Kindling
Matches / Lighter
LED light strips
As discussed head torches / lamps a key part on any camping checklist. They are the perfect hands-free lighting solution you need to read, cook or set up a tent when the light fades. I love my Vtin Aurora Headlamp because it's got several different lighting modes, is waterproof and the batteries last forever!
Many would argue that camping without a fire isn't any adventure at all, so if you're one of those people, make sure firewood is on your camping checklist, as well as something to start the fire with such as matches, firelights, kindling, newspaper or BBQ lighters. Service stations around Australia usually sell all this sort of the stuff.
Please bear in mind with fire however, that it is very important to check the fire regulations in your intended camping location. Due to the risk of bushfires etc, breaking any fire bans can have serious consequences in Australia including legal ones, so do follow the rules. As an example, some Australian National Park campsites allow fires and some don't, some allow them at certain times of the year and during certain conditions only – it varies, so make sure you research, read and obey the rules. Firewood should never be collected from Australian National Parks, so always make sure you stock up before entering any protected areas.
Other sorts of lights that you might want to put on your camping checklist include LED strip lighting, which can easily be bought from camping / hardware stores around Australia such as BCF or Bunnings. LED strip lights are super bright and use hardly any power. They can easily light up a camping area when hung on awnings, attached to the outside of cars or put inside tents. Some run off batteries and others charge off a vehicle's dual battery system – it just depends on the make and model. Do your research and find ones that work best for you.
Sleeping
Of course the most important element of any camping checklist is what you'll be sleeping in and on!
Considering Taking:
Tent / Swag
Mattress
Sleeping Bags / Blankets
Tarps
Tents come in all different shapes and sizes, so depending on how many there are of you, or where exactly you'll be go camping will affect what model you buy. Generally, I recommend getting a tent 1 man bigger than the number of people who will be sleeping in it i.e. if you want a tent for 2 people to sleep in, buy a 3-man tent! For other tips see my guide to buying a tent.
From pop-up tents to multi-wing castles, there's a huge range of models available, so just choose something that works for you … and will fit in / on your vehicle!
We now have our wonderful Simpson III rooftop tent, but before we bought this we camped our way on many Australian road trips, including all the way to Uluru from Noosa, just with a stand alone tent, so it's totally possible.
In terms of stand alone tents, I really like many of the Oz Trail models, which are designed for Australia camping, as well the Marmot Tungsten because of its freestanding capabilities (no need for poles) lightweight and lifetime warranty.
You'll also want to make sure that you have something to sleep on inside your tent. Roll out mattresses are great and I always recommend thermarest models as the best brand to buy. With simple inflating mechanisms, they will give you a great night's sleep and roll up to be small, compact and light.
You'll also want to put a sleeping bag on your Australian camping checklist. Believe it or not, Australia can get cold especially at night in areas of altitude or in the Outback. Saying that however, I've even been cold at night camping in Tropical Queensland! The fact that Australia temperatures do drop significantly was one of the things I never realised before coming to Australia, so don't let the postcards of sunny beaches fool you – a good sleeping bag is essential for camping here and I always recommend a snugpak.
A tarp is also a good idea for any camping checklist, but especially in Australia, where sudden heavy rain can ruin life in a tent. Hung above you a tarp can help shelter you from the rain and placed underneath a tent can help waterproof and insulate too.
Swags are a typically Australian camping item. They are somewhere between a tent and a bivvy bag and normally made of hardwearing, waterproof canvas with a built-in mattress. They are quick to put up and easy, but are more expensive to buy and bulky to carry. If you decide you want to hit the Australian bush in traditional style however, then get one along with a cork hat to complete your look as the jolly swagman!
Eating & Drinking
No good camping checklist is complete without eating and drinking, so make sure you have adequate food and beverages packed for the length of your trip.
Considering Taking:
Food
Water
Esky / Cool Box & Ice
Cutlery, Bowls, Mugs, Saucepans, Bottle Opener
Butane Gas Stoves
Table and Chairs
Washing Up Liquid / Cloths / Towels
Bin bags
Paper Towel
Food-wise, snacks and things that are easy to cook or assemble are great. As Australian weather is generally warm in the day, think about foods that will last well in the heat i.e. dried goods, nuts, tins etc.
Of course you want to make sure you bring plenty of water too. Think about having enough not only to drink, but also to wash dishes with, wash hands with, wash fruit / veg with and to put in the car radiator if you need. Large quantities of water can be carried in jerry cans, which are specific containers that come in all shapes and sizes and can easily fit into any vehicle. Just make sure the jerry can you use is made of food safe materials if you're storing drinking water in them.
Storing food is another key consideration for your camping checklist. We have a Waeco fridge, which we love, but this is an expensive and large item to carry and requires either a solar panel or dual battery system to run off.
If you want to keep it simple then just grab an esky (Australian word for cool box), which should help keep food cool and safe from animals etc. There are many different sizes available and many can be bought from Australian supermarkets, discount stores and hardware / camping shops. A good idea is buy a bag or 2 of ice and store these in the bottom of the esky before loading the food on top to keep it extra cold for longer. Ice can be bought from most service stations and supermarkets in Australia.
You'll also probably want something to eat on, so consider a table on your camping checklist. There are many collapsible models on the market, designed to be set up and transported easily. The ALPS Mountaineering Camp Table is a great example of a cheap, useful model. Camping chairs are also great when you want to eat or just sit and admire the view.
You'll also need plates, cutlery, bowls, mugs, saucepans, chopping boards etc to prepare food and eat with too. A sharp knife always comes in handy, as do spare Tupperware to store food. Don't forget a bottle opener!
Butane gas camping stoves, along with spare butane canisters can easily be bought across Australia, as can disposable BBQs. If you want to ensure you can make a cup of tea, eat food or boil unsafe water for drinking these are a must.
After all that eating and drinking you'll also want stuff that allows you to wash and clean up. A washing bowl, washing up liquid, as well as cloths and tea towels to dry dishes are essentials on a camping checklist.
Don't forget to put bin bags on your camping checklist too. In many remote places across Australia no bins are available and in National Parks, for example, it is essential you take all your rubbish home with you, meaning you'll need somewhere to store it in the meantime.
Toiletries & Clothes
Camping can be miserable when you don't have the right gear and as the Australian weather can change quickly you want to be prepared.
Consider Taking:
Warm Clothes (thick socks, hat, trousers)
Rain Jacket
Boots & Flip Flops
Insect Repellent & Sun Cream
Toilet Paper & Hand Sanitiser
Regular Toiletries
First Aid Kit
Fly Head Net
No matter where you're going in Australia, I recommend taking clothes suitable for rain, wind and cold as well as heat and sun. Even if it is hot and sunny in the day, temperatures can quickly drop here at night (as I've learnt on more than a few occasions) and you don't want to be cold in bed or miserable by the fire. I always take warm clothes to sleep in as it's easier to take things off into the night should you get too hot, rather than put them on.
A rain jacket and sun cream will also protect you from the Australian elements. In the Outback the amount of flies is astounding, so I certainly recommend taking a fly head net with you if you don't want to go insane!
Insect repellent is a good idea too. I always like to choose natural products if I can, so check out this great recipe for a DEET-free mosquito repellent I've discovered.
Toilet paper is a must and hand sanitiser is also useful in environments with low water resources and amenities. So too is a simple travel first aid kit containing things such as band aids, anti-septic, and cream for insect bites, burns or cuts.
And don't forget your toothbrush!
Activities
At the end of the day, camping is about getting out into nature and enjoying yourself, so don't forget to bring all the accessories you might need to have a good time.
Considering Taking:
Books / Writing & Drawing Material
Music
Hiking Boots & Gear
Swimming Costumes & Towels
Fishing Rods
Frisbee
Games
Make sure you pack clothes for walking or swimming if you want to enjoy any of these activities will camping in Australia and bring boots to keep your feet warm at night and protect them from ticks or leeches.
So that is my camping checklist for Australian road trips. Did I miss anything off? What do you always take camping with you in the Land Down Under?
This page contains affiliate links, meaning BWSP may receive a small commission on any purchases.